While in earlier times of basic entertainment, a home theater system was not a truly essential piece of kit, these days however, it is becoming a standard in most homes. The overall enhancement to the viewing experience in terms of sound quality and its surround effect makes a major contributing factor to its necessity.
From a weighted heavy bass that ensures you don't miss out of the heavy action, to the higher tweeter speakers, to their placements within your space, a home theater system (along with a great TV Screen) allows you to lose yourself completely for a few hours in the world of make believe – whether it's realistic and action packed or sci-fi and beautifully imaginative.
What Makes a Great Home Theater Sound System
The heart of any home theatre experience is its sound system. A great sound system can transform a simple movie viewing into an immersive experience, making you feel as if you're part of the action. This article delves into the components and features that define a great home theatre sound system.
1. Multi-Channel Surround Sound
A multi-channel surround sound system is essential for a cinematic audio experience. Systems like 5.1, 7.1, or even 9.1 channels provide a spatial audio environment, where each speaker contributes to a three-dimensional sound field. The ".1" in these configurations refers to the subwoofer, which handles low-frequency effects and adds depth to the audio.
2. High-Quality Speakers
The quality of speakers plays a pivotal role in sound reproduction. Look for speakers with a wide frequency range and high sensitivity, which ensure clarity and detail in both high and low tones. The material and build of the speakers also affect sound quality, with options ranging from classic wooden cabinets to modern composite materials.
3. Subwoofer Performance
A powerful subwoofer is key for experiencing deep, resonant bass. It should integrate seamlessly with the other speakers to create a balanced soundstage. The placement of the subwoofer in the room also impacts its performance, so experimentation may be necessary to find the ideal spot.
4. Advanced Sound Technologies
Technologies like Dolby Atmos and DTS:X are redefining home audio. These formats support overhead sound and enhanced spatial resolution, creating a more immersive and realistic soundscape. They require additional speakers or specially designed Atmos-enabled speakers.
5. Receiver Quality
The receiver is the hub of your home theatre's audio system. It should have enough inputs and outputs to accommodate all your devices and speakers. Look for receivers with high-quality digital-to-analog converters, support for various audio formats, and room calibration features to optimize sound based on your specific environment.
6. Room Acoustics and Speaker Placement
The design of the room significantly affects sound quality. Hard surfaces can cause echo, while soft surfaces can absorb sound. Acoustic treatments like panels and diffusers can improve room acoustics. Proper speaker placement is also critical to achieve the optimal surround sound effect.
7. Calibration and Customization
A great sound system must be well-calibrated. Many modern receivers offer automated calibration systems that adjust settings based on the acoustics of the room. Additionally, having the ability to manually tweak settings like speaker volume, distance, and crossover frequencies allows for a more personalized audio experience.
8. Connectivity and Integration
Your sound system should easily connect with other components of your home theatre, including TVs, streaming devices, and Blu-ray players. Wireless connectivity options like Bluetooth and Wi-Fi add flexibility, allowing you to stream audio directly from mobile devices or integrate with multi-room sound systems.
Top 10 Best Budget Home Theater Systems
Here in this post we take a look at some of the best and most amazing options of affordable Home Theater Systems that will allow you to re-create a complete cinematic experience in your own home. Note that some of these are home theater speakers only and would require a separate AV Receiver.
Speakers Only (Requires AV Receiver)

This 5.1 reference theater speaker package from Klipsch not only looks the part but sounds great too. It offers superior acoustic performance using Klipsch's Tractrix Horn technology and aluminium tweeters in both front, center and rear speakers bundled with a downward firing wireless subwoofer.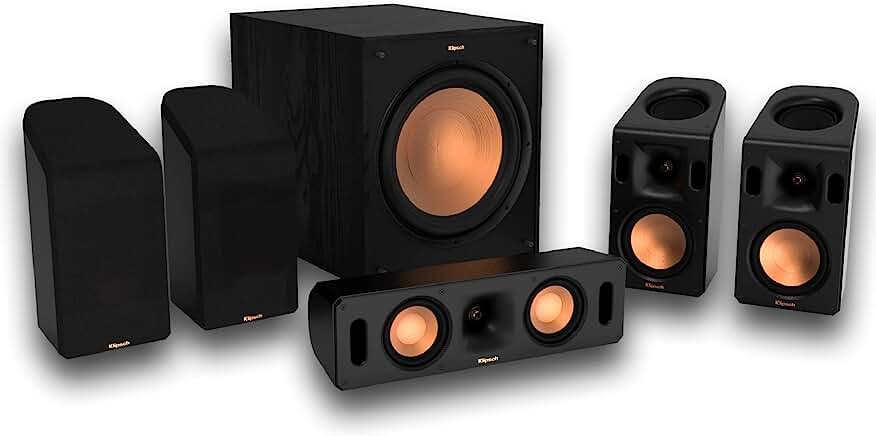 This system is known for Klipsch's signature sound quality, delivers crisp, clear, and immersive audio, making it feel like you're right in the middle of the action. Dolby Atmos support adds an extra layer of realism, with overhead sound effects creating a truly three-dimensional soundscape. The 5.1.4 configuration, featuring five speakers, one subwoofer, and four upward-firing speakers, ensures a balanced and dynamic sound field. The build quality of the speakers is solid, adhering to Klipsch's reputation for durable and aesthetically pleasing designs. Setup is straightforward, and the system is compatible with a variety of receivers, offering flexibility for different home theater configurations. Overall, the Klipsch Reference Cinema Dolby Atmos 5.1.4 System impresses with its ability to deliver a cinematic, enveloping audio experience, making it a worthy investment for any home theater enthusiast.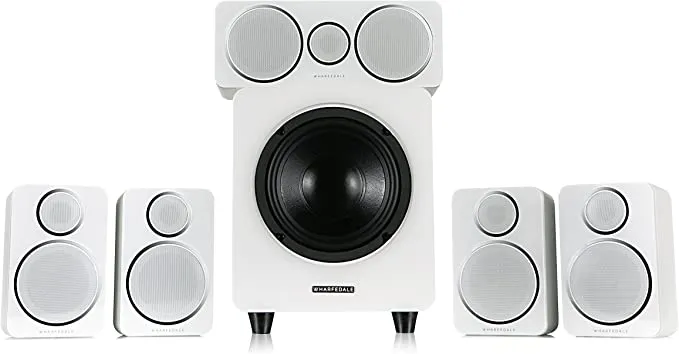 Wharfedale DX2 is available in black or white (shown above). Each of the front and satellite speakers pack a 19mm silk dome tweeter and 75 mid-range and bass driver. The center channel comes with 19mm silk dome tweeters and two 75mm mid-range and bass drivers. The powered 70W subwoofer comes with a 20cm long-throw bass driver to complete the 5.1 surround sound system. Add more satellite for a 7.1 system.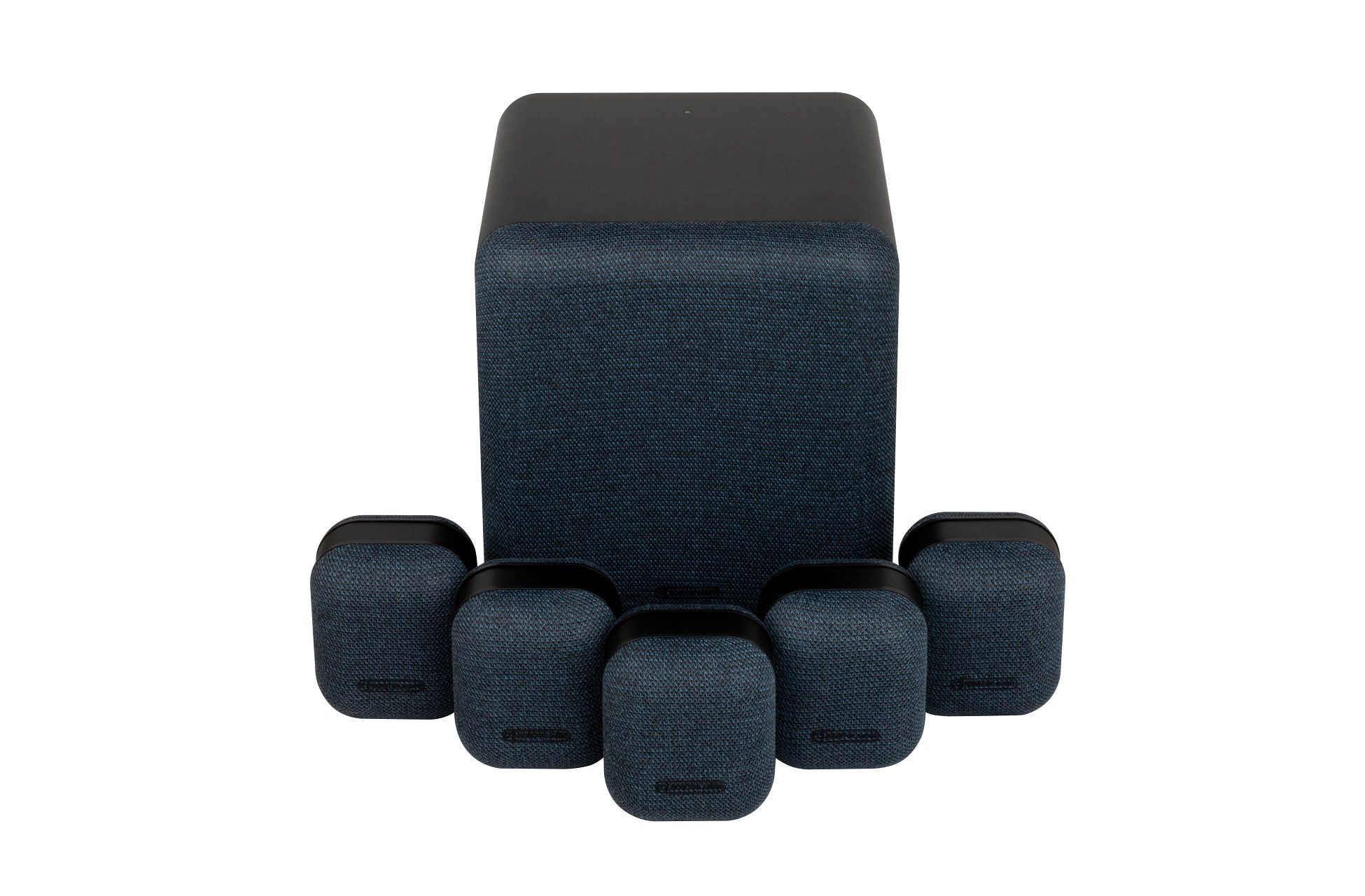 These compact, satellite speakers are deceptively powerful, delivering a rich and detailed soundstage that belies their size. With a design focused on minimalism and versatility, they fit seamlessly into any room decor. The 5.1 configuration, including five satellite speakers and a subwoofer, provides a balanced, immersive audio experience, making it perfect for both movies and music. The bass response from the subwoofer is particularly impressive, offering depth without overpowering the crisp and clear highs and mids. The build quality is top-notch, with a sleek, modern design that Monitor Audio is known for. While they might require a bit of tweaking to get the sound just right, the effort is well worth it. The MASS 5.1 system is an excellent choice for those looking for a high-quality, space-efficient home theater sound system.
AV Receiver Home Cinema Sound Systems
The Yamaha YHT-5960U Home Theater System is a robust all-in-one package that offers an impressive home theater experience for its price range. This system stands out with its 5.1-channel powerful surround sound, featuring Yamaha's renowned audio quality and clarity. The inclusion of a MusicCast-enabled AV receiver not only provides seamless streaming options but also supports 4K Ultra HD with HDR10, making it a future-proof choice for both audiophiles and cinephiles. The speakers, while compact, produce a well-balanced and immersive soundstage, with the subwoofer delivering adequate bass for a thrilling movie experience. The YPAO (Yamaha Parametric room Acoustic Optimizer) is a notable feature, automatically calibrating the sound to suit the room's acoustics.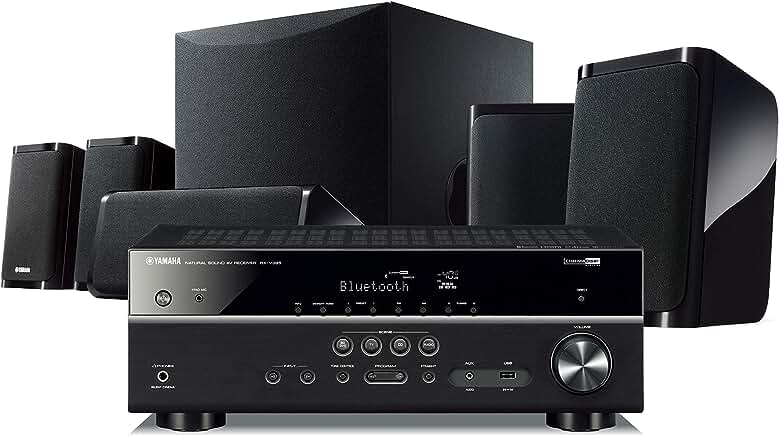 The Yamaha YHT-4950U 4K Ultra HD 5.1-Channel Home Theater System is an excellent choice for those seeking a balanced blend of quality, functionality, and affordability in a home theater setup. This system features Yamaha's signature clear and dynamic sound profile, brought to life through a 5.1-channel speaker setup that includes a powerful subwoofer for deep and resonant bass. The 4K Ultra HD support ensures compatibility with the latest high-definition video formats, enhancing your viewing experience with stunning visual clarity. YPAO room calibration technology is also available here, which automatically optimises the sound for your specific space, ensuring the best possible audio quality. Additionally, the system's Bluetooth compatibility allows for convenient wireless streaming of music from your smartphone or other devices. While it may not have the bells and whistles of higher-end models, the Yamaha YHT-4950U delivers a solid performance that is sure to satisfy most home theater enthusiasts, especially those who are setting up their first system.

This system impresses with its 5.1-channel surround sound, providing a rich and enveloping audio experience that enhances any movie or music session. The receiver is the star of the show, offering robust support for 4K/60p and HDR video, ensuring that it pairs well with modern visual equipment for a complete home cinema experience. Sound quality is crisp and detailed, with the speakers delivering well-balanced audio across a range of frequencies. The subwoofer adds a satisfying depth to the bass, rounding out the soundscape beautifully. The AV also includes useful features like Bluetooth connectivity, allowing for easy streaming from various devices. While the setup might require some tuning to get the perfect sound, the intuitive interface of the receiver makes this process relatively straightforward. Overall, the Onkyo HT-S3910 offers a great value proposition for those seeking a comprehensive, high-quality home theater system on a budget.
Powered Sound Bar and Subwoofer Sound Systems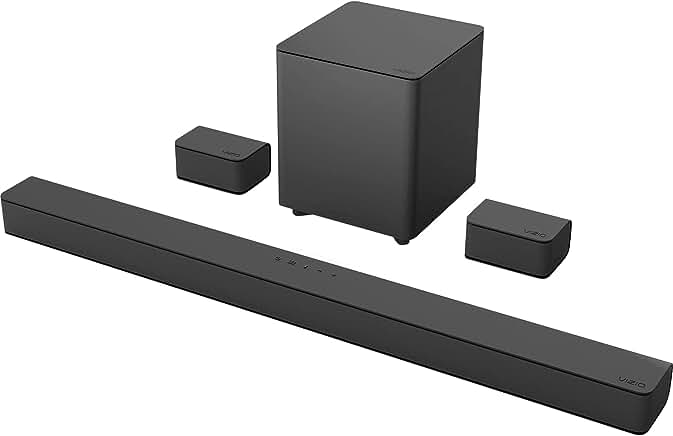 This is an impressive, budget-friendly option for enhancing your home entertainment experience. This system stands out with its sleek, space-saving design, making it ideal for those who prefer a minimalist setup without compromising on sound quality. The 5.1 channel configuration, featuring a soundbar, subwoofer, and rear satellite speakers, delivers a surprisingly powerful and immersive surround sound experience, greatly enhanced by the inclusion of Dolby Audio technology. The soundbar produces clear and detailed mids and highs, while the wireless subwoofer offers deep, impactful bass, adding an extra layer of depth to movies and music. Setup is straightforward, and the system offers convenient connectivity options, including Bluetooth for wireless audio streaming. The VIZIO V-Series 5.1 Home Theater Sound Bar is a great choice for those looking to upgrade their TV sound with a simple, yet effective system that offers good value for money.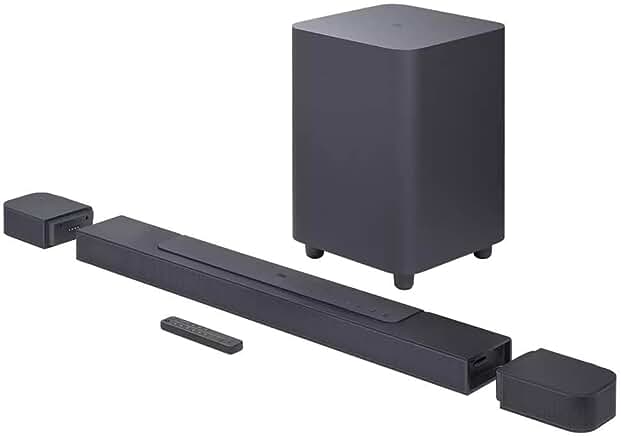 The JBL Bar 700 5.1-channel configuration includes a wireless subwoofer and detachable, battery-powered rear speakers, creates a truly immersive surround sound environment. The soundbar excels in delivering crisp dialogue and dynamic sound effects, while the subwoofer provides robust and punchy bass, adding richness to music and movies alike. An added advantage is the easy setup and user-friendly interface, along with versatile connectivity options including Bluetooth, making it a breeze to stream audio from various devices. The JBL Bar 700 is a solid choice for those who prioritize both aesthetic appeal and audio quality in a compact and convenient package.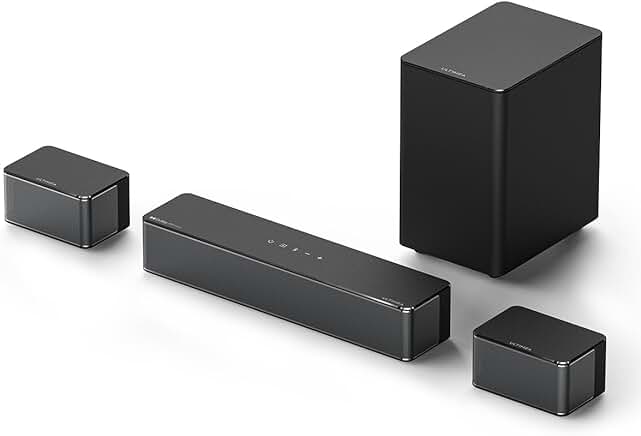 The ULTIMEA 5.1 Dolby Atmos Home Theater Sound Bar is an innovative and cost-effective solution for those looking to upgrade their home audio experience. This system stands out with its support for Dolby Atmos, offering an immersive sound that adds depth and dimension to your audio experience, making movies and music more engaging. The 5.1 channel setup, featuring a central soundbar, wireless subwoofer, and rear speakers, provides a balanced and dynamic soundscape. The soundbar delivers clear and precise audio, particularly excelling in vocal clarity, while the subwoofer ensures a deep and resonant bass. Its sleek design is a bonus, fitting seamlessly into most home decors. The setup is straightforward, and the system offers various connectivity options, including Bluetooth, enhancing its versatility. While it may not match the raw power of more high-end systems, the ULTIMEA 5.1 Dolby Atmos Home Theater Sound Bar represents a great value for those seeking a significant audio upgrade without a hefty investment.