Let's cut through all the technical jargons and get to the point, the Philips AC3256 is a big air purifier with HEPA filter that will clean the air and help people manage their allergies.
With one of the highest Clean Air Delivery Rate (CADR) of any air purifiers in the market, at 367m3/h this certain gets our vote. The Philips 3000 series air purifier can remove ultra-fine particles as small as 0.02um and can capture 99.97% of common airborne allergens.
Instead of boring you with all the specifications and features, we start by listing the good, then look at some of the short falls and what could be improved.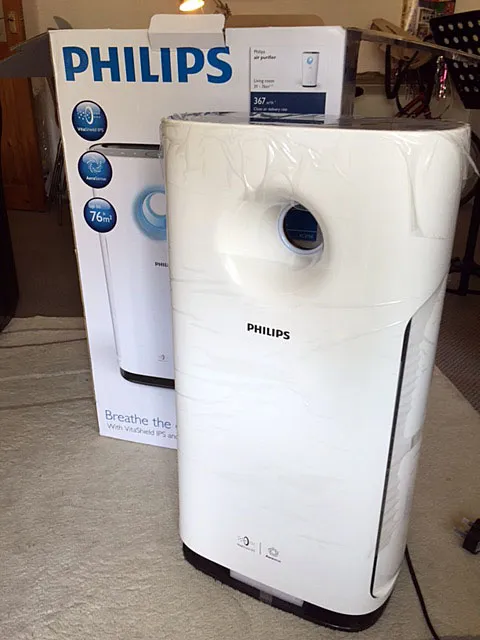 The Good
On switching on, air quality light indicator comes on in the 'air well' allowing users to quickly gauge the air quality around them. The colour ring offers easy feedback, bright red light for very dirty air, purple for moderately quality and blue for clean. As we live in a relatively clean environment, we only get the cool blue light. It does get to purple and red in heavy environments, we have seen this online with other users.
That is not the only air quality indicator. After a while, it works out the actual air quality using a professional sensor. This is found on the side panel near the middle of the unit. It offers real time benchmark of the indoor air quality using respiratory PM2.5 indicator. You start to worry when it detects a high PM2.5. Ours registers around 10 then drops to 1 or 2 after long term use, about an hour or two. The sensor is quite sensitive and can even pick up dust stirred by simply walking past the unit.
WHAT IS PM2.5: While it is not immediately clear to users, PM stands for Particulate Matter, and PM2.5 are particles in the air measuring under 2.5 µm (micrometres or microns) a measure used for atmospheric pollutants specifically organic dust, airborne bacteria or man made particles (construction dust and coal particles from power plant) but not gas pollutants. You may have heard of PM2.5 and PM10, these benchmarks have been used by governments to measure the air quality.
The high CADR meant it is capable of capturing 99% of bacteria in a hour and remove 99% dust, pet hair and pollen and even some viruses such as H1N1. While it is unlikely that we will need, but it also provides assurance for protection from harmful gases. Formaldehyde, toluene and TVOC was mentioned.
There are 5 speed modes (1-5) and 2 auto modes (auto and allergen auto).
In Auto fan speed mode, the unit is silent (33dB), quiet enough for use at night. Even right next to the bed.
There is a sleep mode (night mode) that turns down the fan speed and noise level. You can also turn off the lights on the panel and colour ring for an undisturbed, comfortable night sleep.
It is light and easy to move with a well thought out handle that looks like it is part of the design and not a handle at all.
The unit comes delivered with the filters in place, you will need to open it up and unpack the filters and re-seat them before using. Not a big problem as these are easily accessible.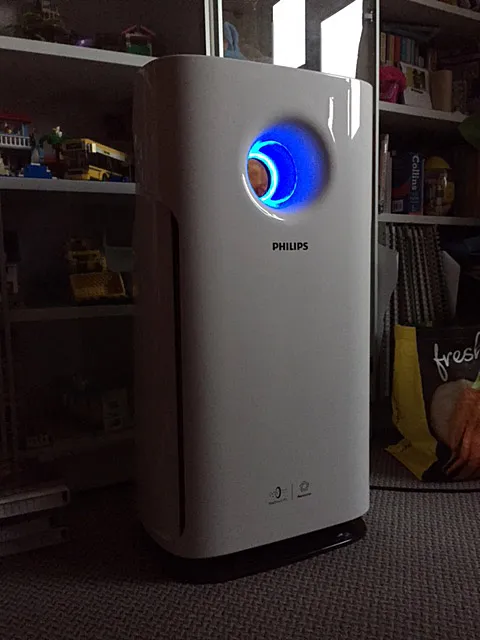 It has a three stage filter (see unpacking and fitting below):
Stage 1: pre-filter that filters out hair, dust and large particles, a carbon filter
Stage 2: activated carbon filter to remove odours and harmful gases
Stage 3: an extra thick NanoProtect HEPA and AC filter for highly efficient air purification.
The filters are easy to clean and replace. The front panel pops open at an angle and is kept in place with catches and magnets. You can quickly latch and click it back in place once all filters are installed.
It is a great protection for those suffering from allergies the biggest being Pollen causing hay fever. The most common culprit is grass pollen.
Sufferers experience constantly itching and streaming eyes and noses, and in 30% of cases, pollen asthma. Hay fever causes difficulties for sufferers in their domestic, social and working life.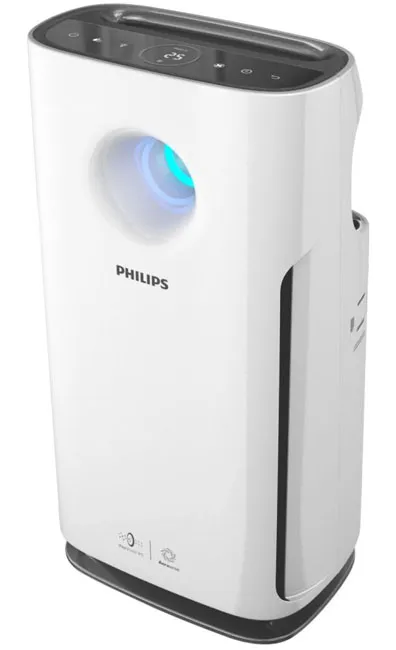 There is a special AL (allergen mode) mode designed to effectively remove common airborne allergens help sufferers manage their allergies better indoor.
Using the air quality sensor and indoor pollution level, air flow and operation time, it calculates the filter lifetime and alerts the user with a prompt should the filter(s) need replacing.
Sensor touch interface with big numerical display and intuitive options.
Its energy star certified and only consume up to 60 Watts of power.
Philips AC3256 Air Purifier does a great job at filtering and cleaning the air in your room. It can even double as a fan to move air around the room on a hot day if you don't mind the noise when you set the fan at high speed. Not only do you get cooling but fresher and cleaner air. We like how the center ring glows in different colours to indicate the air quality. You can turn this off by the way if you find it distracting at night. The timer option is great for clearing the air in the room during the day if you prefer to have it off at night. Still, even with it switched on in the evening and the dash and ring light off, you can hardly tell that it is there.
Unpacking and Fitting Process
The Bad
It does get loud when you put the fan speed up to 5. This is to be expected given its size. The unit is designed to push the highest clean air delivery rate and to clean air in big living rooms measuring 31 to 76 m2. Online sources indicate that it can be applied to rooms measuring up to 95 m2.
When setting the fan speed to high (4 or 5), you might want to close all the doors and windows and leave the room, as it does move the air around a fair bit and possibly stir up some dust around. It also lowers the room temperature considerably.
It is tall and certainly visible in a room. While it does not take up much in terms of foot print, it is not something that anyone can miss. It will most definitely be a talking point given its clean line, modern minimalist look and futuristic design, but dust does show on the control panel when things settles so have a dusting cloth handing.
While you can lock the control panel using the child lock function, it is supersensitive. The touch interface response to any touch and makes a warning beeps in child lock mode prompting children go for it even more. The touch panel even respond to a cloth that we used wipe the dust off it.
At the point of writing, the cost of replacing the filters can be prohibitive, especially the HEPA filter and the Activated Carbon. Hopefully, seeing that we are in a relatively clean environment, we would not have to do this too often and when we do, the product would have come down. See manufacturers website for replacements under parts and accessories. Alternatively, search on Amazon for 3rd party replacement HEPA and Activated Carbon Filters.
The manual did say that once the replace filter message comes on, you have a short grace period before the unit locks up. You can replace the filter with fresh ones and reset this following the steps there. This is to stop users from continuing to use the air purifier even when it is no longer effective given the state of the filter.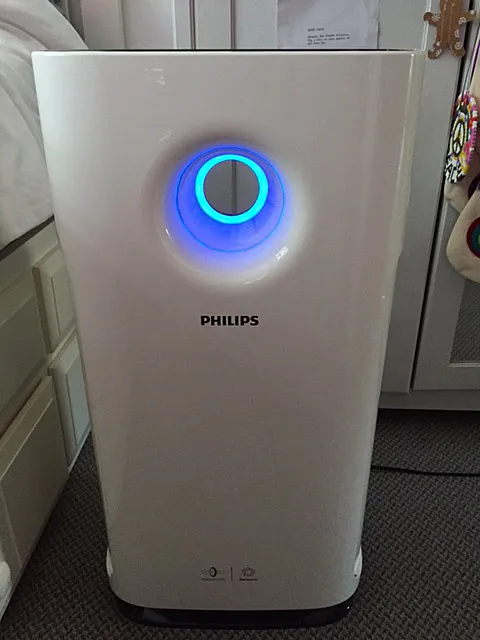 The Could Be Betters
Given that we are paying good money for this, and with todays connected world, the air purifier could be managed better with an App or via the Internet. Yes, it would be an overkill but hey, if I can control lights, speakers, room temperature, video cameras, locks and power switches over the cloud, it would be nice if I can control my air purifier too.
Also, the replacement filters can be priced more competitively. Seeing that we have already made a considerable investment and is pretty much locked-in to the make and model, the best Philips can do is to provide us with cheaper replacement filters.
You can get a smaller 2000 series model or 4000 series model
The Boring Bits – Technical Specifications
Overview
Air quality sensor(s): Aerasense Fine particle PM2.5 sensor
Effective area: 31–95  m²
Filters out PM2.5: >99% (1h)  %
Design & Finishing
Air quality sensor(s): Aerasense Fine Particle PM2.5 sensor
Fan speed indicators: Auto, Allergen Auto, Speed 1, 2, 3, 4, 5(Turbo)
Material and colour of main body: Plastic, White
Performance
Filters out PM2.5: >99% (1h)  %
CADR (cigarette smoke): 367  m³/hr
Filters out bacteria: 99.99% (1h)  %
Technical
Cord length: 2  m
Effective area: 31–95  m²
Frequency: 50/60  Hz
Power: 11~60  W
Stand-by power consumption: < 0.5  W
Sound level: 32.5~63.8  dB(A)
Cleaning Instructions
We recommend regular cleaning to prolong the life of the filters especially the outer filter which is easy to remove, clean and replace. It will take washing with running water too. Do this often to keep the more expensive main air purifier filter and active carbon filter clean. For cleaning instructions and how to reset the Philips Air purifier, see Philips AC3252, AC3254, AC3256 User Manual.