Despite the practical and aesthetic appeal of tiny home living, there are still some drawbacks that are holding many people back from making the shift. For instance, people who love hosting parties may feel that it's impossible to entertain guests in a tiny home.
10 Ideas for Entertaining in the Tiniest of Spaces
While it's definitely challenging to host get-togethers when you have very limited living space, it is not totally impossible. All you need is a dash of creativity and some planning to make it work. Here are some tips to help you entertain in a tiny home: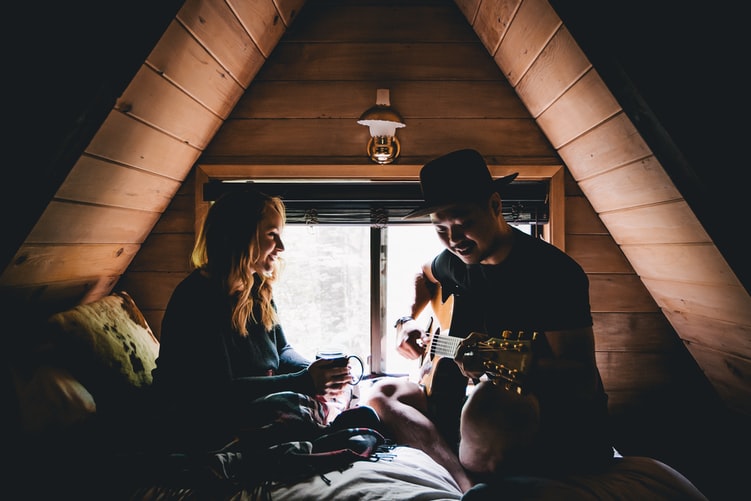 1. Keep it intimate
Attempting to host a large group in a small space is just a recipe for disaster. To make sure everyone is comfortable enough to have fun despite the limited space, keep invitations limited to just a few, cherished people. You can always meet your other friends over brunch or drinks outside, so reserve your house parties to a select few who are already comfortable with each other.
Keep in mind that the people you'll invite will most likely have to be in close proximity with each other for the duration of the get-together, so be mindful about who you have over.
Additionally, you have to be open and transparent to your friends about the space situation. If you absolutely can't handle an extra guest or two, tell your friends that you simply can't accommodate plus-ones. Alternatively, tell your friends to let you know beforehand if they absolutely must bring a companion to the party, so you could at least make provisions.
2. Make it an outdoor party
For special occasions like housewarmings or engagement parties, you might have no choice but to invite a crowd. In such cases, your best bet would be to take the party outside instead of trying to cram everyone inside your tiny home. There would be plenty of room to spread out and stretch everyone's legs outside, and with a bit more creativity, you can really spruce things up by having a themed outdoor get-together.
Luckily, it's a lot easier to make outdoor parties remarkable, especially if your tiny home happens to be neighbors with some lush and scenic nature views. Imagine roasting marshmallows on a small bonfire or stargazing while sipping on piping hot chocolate that keeps the cold at bay. Again, all it takes is a little creativity to make any space a suitable living space to entertain guests.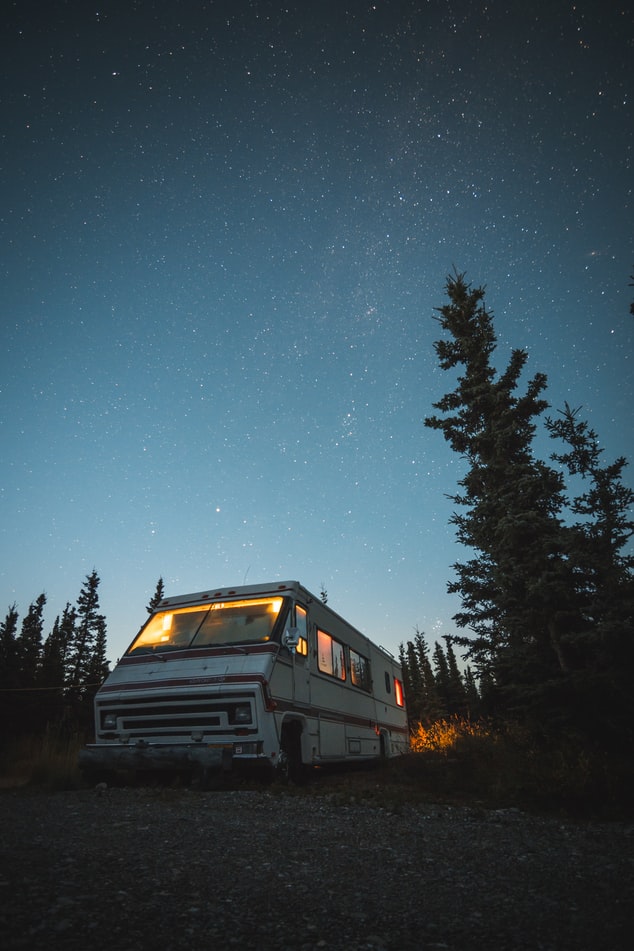 3. Create great ambiance through lighting
One way to make your outdoor party memorable is by putting up strings of fairy lights to create a warm, welcoming ambiance. Actually, even when you're going for an intimate party inside your tiny home, setting the mood with proper lighting is still an excellent idea.
For indoor parties, avoid bright overhead lights and focus on mood lighting. A combination of fairy lights and some strategically placed candles could accentuate the gathering area while keeping other portions of the house in the dark. Bear in mind that in a tiny home, the entirety of your house will be visible for everyone, unlike in a regular home where you can just clear out one space and keep the rest of the house out of sight.
As such, you have to be creative with highlighting the parts of your house that are guest-ready and casting shadows on things you'd prefer to keep private.
4. Keep the decor simple
Apart from lighting fixtures and candles, hold back from overdecorating a small space so it won't appear too cluttered. You could hang a backdrop on the wall or decorate the windows to give the place a festive look, but try keep counters and tabletops free for more important stuff like food and drinks for your company.
However, if you decide to move the party outside, then you might have more wiggle room to decorate, especially if there are trees within the vicinity. You could put up drapes and even lanterns up on the trees for a rustic vibe. Just know that there are creative ways to liven up a place without overdecorating.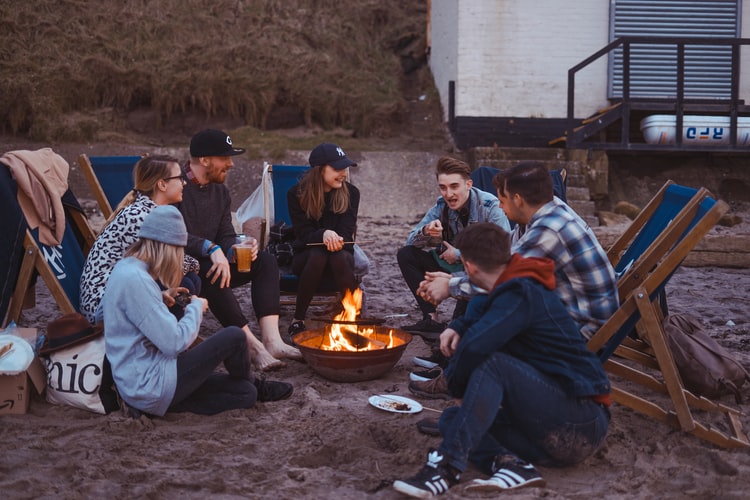 5. Go big on snacks
Given the limitations of your tiny home kitchen, it might be difficult to host an entire lunch or dinner party. Instead, you can go heavy on snacks — something that people won't need huge plates or utensils to eat. Finger food and a selection of drinks would do the trick, and wouldn't put much pressure on your kitchen either.
Another great idea would be to host a whole-day open house for big occasions when you can't really restrict guests to a select few. Let your friends know they can drop by for snacks and catching up at specific time slots on a given day. This will allow you to host as many people as you can without trying to fit them all in, and cramping the space.
Some friends will stay long enough for a quick drink, while others may linger longer, but generally, you'd have minimal problems with crowding with a whole-day open house. Again, you just have to prepare enough snacks to pull this off.
6. Have an option for guests to join virtually
If there's one thing recent years taught us, it's that virtual get-togethers can be done. Inform your friends and family that joining in through video call or a Zoom conference is a possibility. This might help to ease the pressure on their part to actually drop their commitments to honor your invite. At the same time, you'll also have the opportunity to catch up with them at no cost to your space.
For smaller occasions, you may even opt to just make it a 100% virtual gathering. You can prepare a Netflix party, a couple of online games, and even a virtual tour of your tiny home to keep things interesting.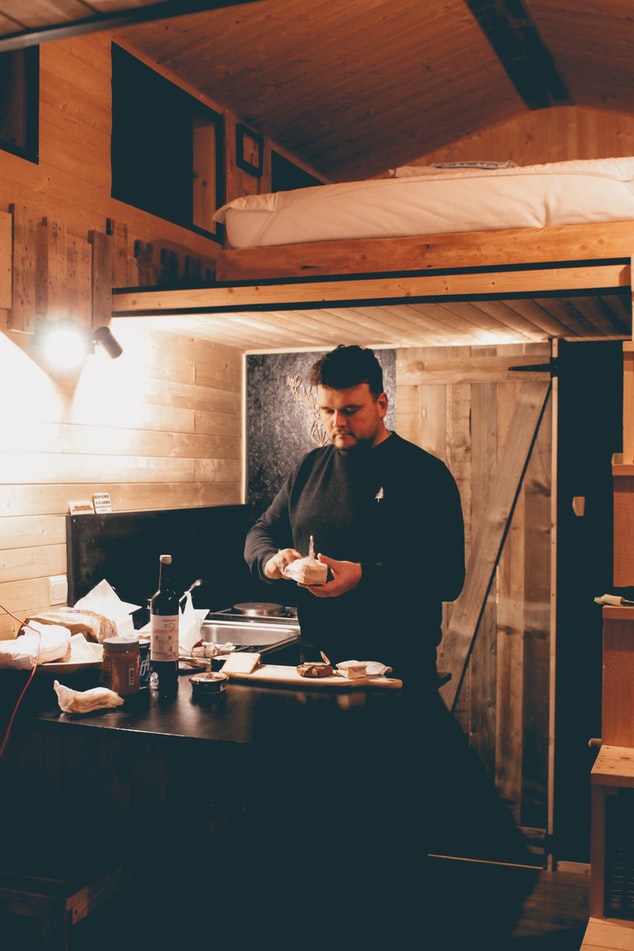 7. Stow away things you don't need for the party
Living in a tiny home means you're quite the expert at decluttering and putting things away. You also have to do this when entertaining guests. Think ahead and determine everything you'd need for the party. Everything else can be stowed away in the meantime, so they don't take up too much space where your guests could otherwise lounge or relax in.
Make sure to also stow away breakables. Since your guests might not be accustomed to moving around in a small space, they might have a tendency to bump into appliances or fixtures every now and then, especially if your party includes alcoholic beverages. Clear the space with anything that might fall and break to avoid any unwanted accidents.
8. Prepare a coat/bag rack
When you envision where to seat your guests for the party, don't forget to account for the coats and bags they would be bringing with them. These things take up space, especially if you don't have a designated area where your guests can temporarily dump their belongings for the duration of your party.
One good solution is to clear out some space in your closet for this purpose, or otherwise just take their coats and bags to rest on your bed while you spend time in the living area. However, the best way to go about this problem is just to invest in a coat rack. You can have a freestanding rack on the porch or a rack bar affixed on the wall near the door.
In any case, you just have to make sure your guests won't be uncomfortably hanging on to their stuff while trying to enjoy your party.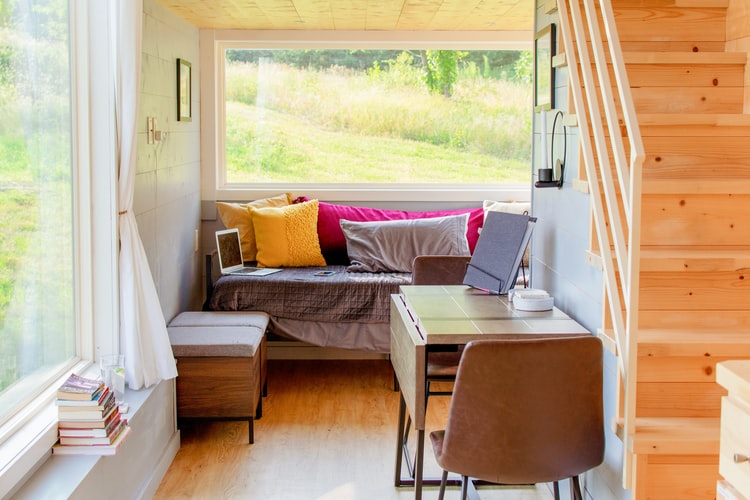 9. Spread out the 'attractions'
Another great tip to avoid overcrowding when entertaining in your tiny home would be to avoid stationing the 'attractions' in one space or area in the house. If you put the snack bar, beverage cooler, and jukebox in one area, for instance, then you can expect a lot of people to congregate there. It's even worse if you position these things near the bathroom, where people will also be coming and going.
Strategically place the food and drinks on opposite sides of the room to spread the people out, and make sure they are a considerable distance from the bathroom to give guests easy toilet access without having to squeeze through the crowd.
Here are some tips on how you can transform your tiny home into a welcoming space for entertaining guests.
10. Improvise, improvise, improvise
Finally, you really have to reimagine your space to try to make room where there was previously none, or to use a fixture in a way it has never been used before. A good example would be to plug the sink so you can use it as a wine cooler, or using the window sill as a stylish drink bar. Making the most out of your tiny home requires you to think outside the box so you that can utilize the space in the best possible way.
Final Thoughts
Don't be afraid to entertain in your tiny home. Believe it or not, you have space and the skills to pull it off. If you've been hesitant to try out tiny home living because of how much you love hosting parties and having people over, then you should no longer let it hold you back. Hopefully, the tips above will convince you that entertaining is very much possible even in a tiny home.
Written by Bella Toledo Edited by Li-ling Ooi