The Champagne Afternoon Tea is the ultimate luxury in the form of an afternoon tea party. Picture a beautiful flute of bubbling champagne served alongside a full, sumptuous afternoon tea menu, all in your own home.
Historically, it was a high-society affair. Women of the gentile classes in England decided to have their afternoon cup of tea with some cake and sandwiches. Over time, it grew to become more of a social event than purely a reason for sustenance.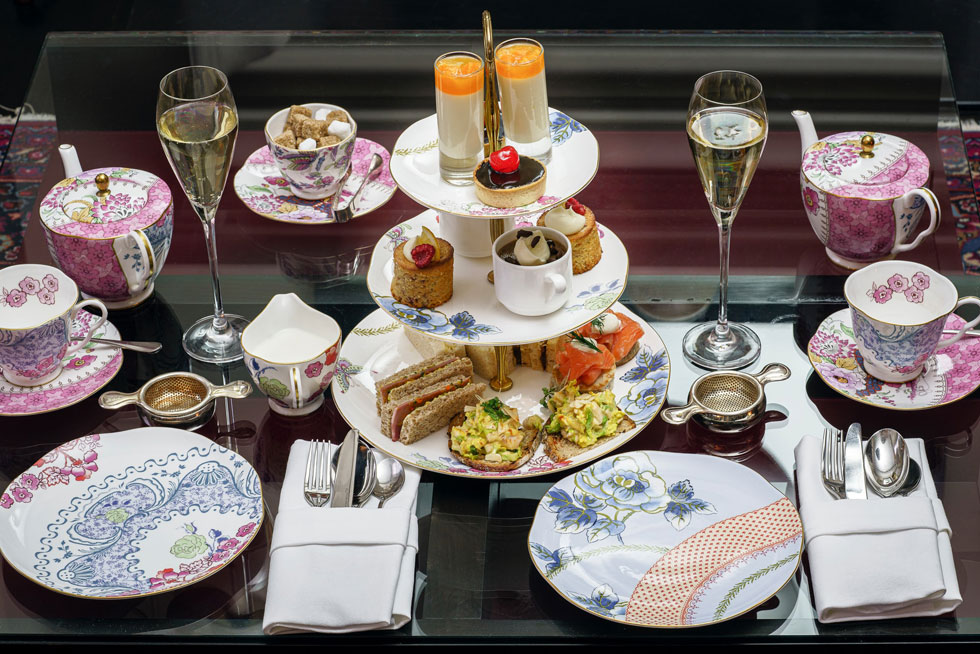 Being invited to tea with the Queen at the Buckingham Garden Party is one of the highest compliments possible, especially in the UK, however there's nothing stopping you from creating the whole wonderful experience for yourself, family and friends at home.
Create your own champagne afternoon tea party at home
Here in this post, we outline the food and drink essentials that you'll need to prepare and host your very own champagne afternoon tea.
A. Food
Food is one of the most important parts of the champagne afternoon tea experience. While there aren't any hard and fast rules as to what you have to serve, the spread usually consists of small, light, and easy to consume foods, complemented by a refreshing afternoon tea or light bubbly. Food can be served up in buffet style with guests mingling freely. Alternatively, for a slightly more formal gathering, intimate table gatherings of between 4-6 guests with food and drink piled and presented at each table.
1. Finger sandwiches:
Finger sandwiches are simply trimmed down versions of filling between pieces of bread. Do offer guests sandwiches on different types of bread, ranging from white to wholemeal to seeded and sour dough. This not only provides visual contrast but offers choice to guests and helps to manage their dietary requirements.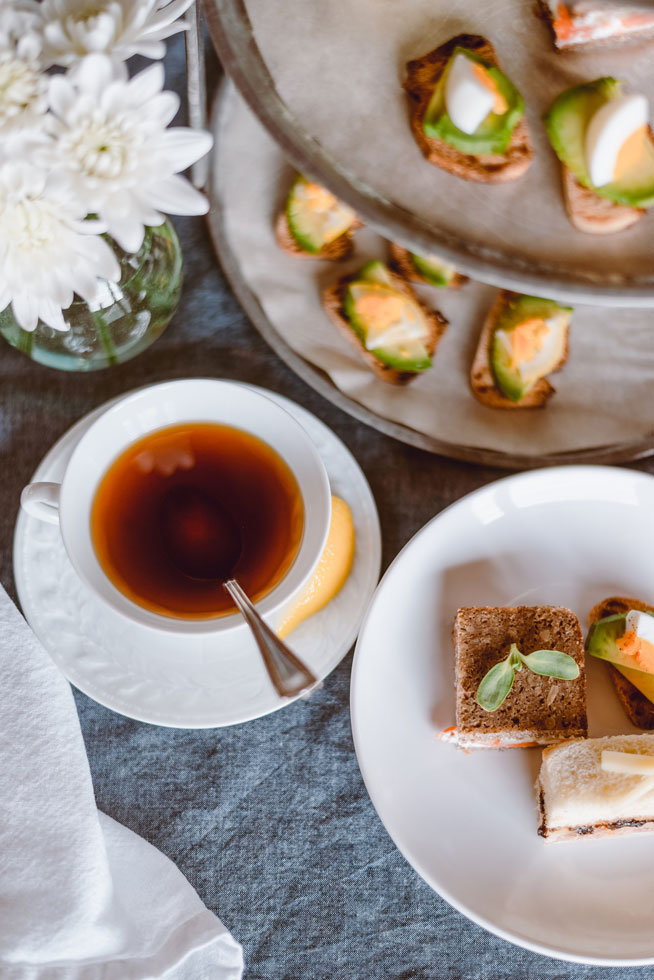 The crusts must always trimmed from the bread slices. Although the shapes could be cut in a multitude of ways from triangles to squares and diamonds. Equally attractive and unusual would be circular sandwiches cut out with a round mould.
Filling for sandwiches can be as imaginative or as mundane as you choose. Opt for crab meat on a bed of rocket, or salmon and cream cheese for a more luxurious experience. Alternatively you can also have typical classics such as ham and mustard, prawn mayo, egg and cress, roast chicken or just the plain old cucumber sandwich.
One of the Queen's (Queen's Elizabeth II) most treasured afternoon delights are her 'penny jammies' and cucumber sandwiches. Penny Jammies are simply jam on bread cut in to bite-sized circles. Meanwhile the Queen's favourite cucumber sandwiches are made of long strands of cucumber cut with a standard peeler placed on a bed of herbed cream cheese.
2. Savoury pastries:
Savoury pastries are not as essential as sandwiches at a tea party but often make an appearance to complement and extend the range of food. Mini pies, pork pies, scotch eggs, beef wellington and mini quiches add to the largesse and diversity of food. Most of these are offered in miniature, bite-sized and are accompanied by chutney or jelly.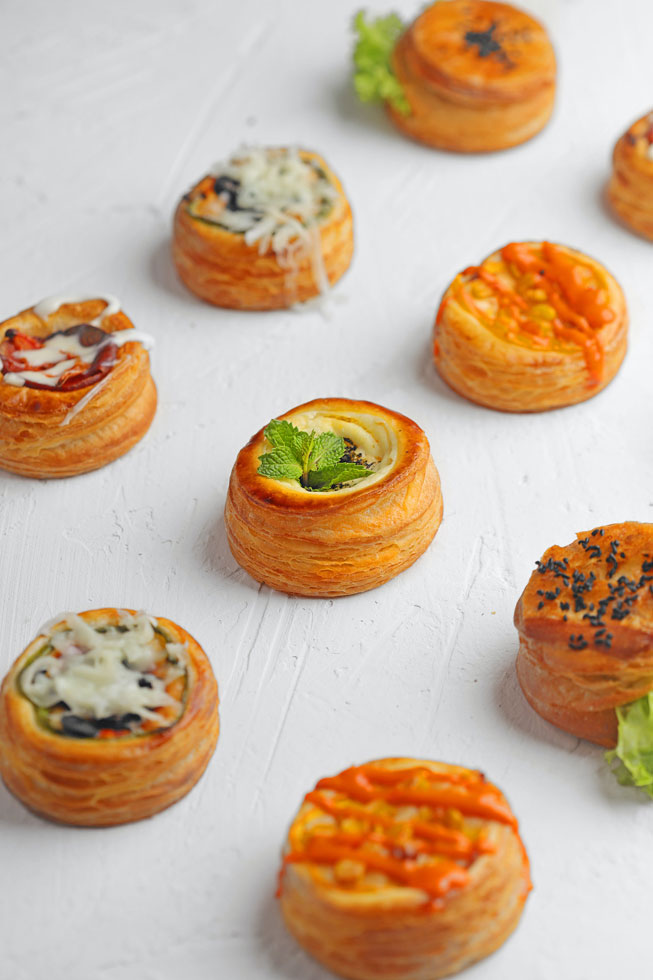 Almost all can be made or ordered in advance and tend to store really well in the fridge. Simply take them out at the prescribed time and serve up along side the sandwiches and other sweet tea-time treats.
3. Scones, jam and clotted cream:
Scones are often the entire purpose of a tea-time treat. Quite different from the American scone, the English scone is an almost bland crumbly and crusty mini 'cake'. Served with jam and clotted cream, the art of scone eating is always in the debate – 'clotted cream first or jam first?'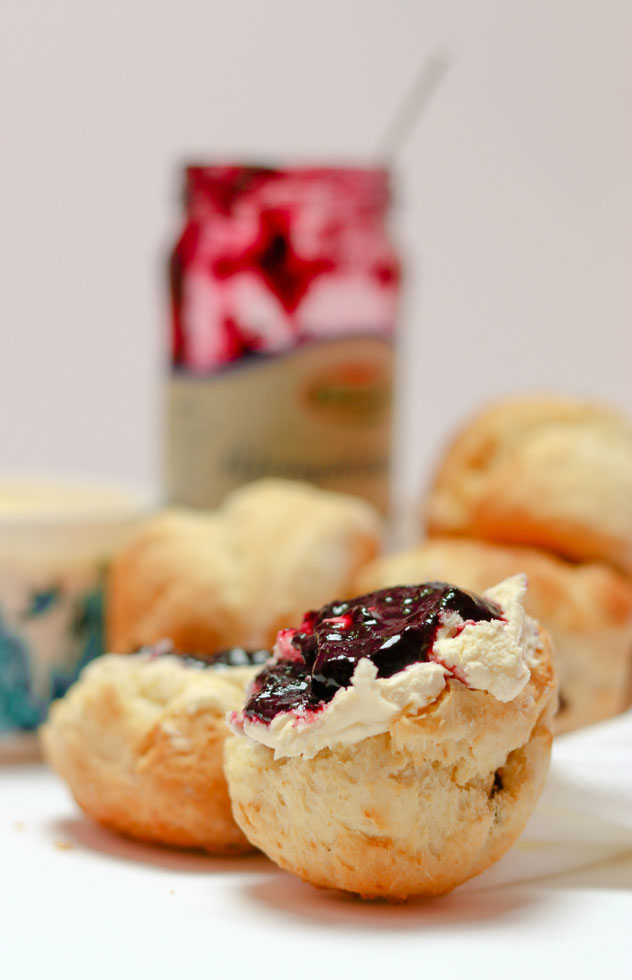 These gorgeous melt-in-your-mouth treats can be made in advance although they are heavenly fresh out of the oven. Use your smallest fluted cutter and you'll have perfectly beautiful treats, standing tall and proud on the tiered cake stand.
For a no-fail scone recipe, try the BBC Good Food recipe – Classic Scones with Jam and Clotted Cream
While scones are classically a sweet treat, if you'd like to increase the savoury options at your tea party, cheese only or cheese and bacon scones are a real treat too.
4. Assorted cakes and other sweet treats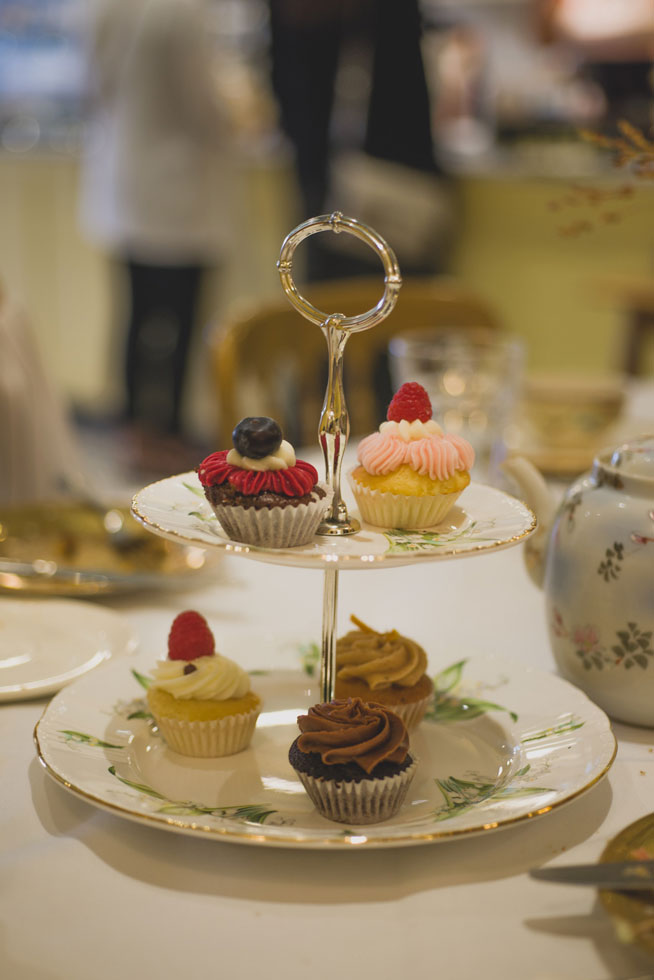 No tea party is complete without cakes whether in slices or in miniature. Typical must-have cakes include
a) Victorian sponge cake – in which two tiers of standard pound cake sponge is layered with a wonderfully light buttercream and strawberry jam. For an extra decadent touch, use fresh strawberries to finish.
b) Lemon drizzle cake – the simplest cakes are often the most amazing and the classic lemon drizzle is no different. The most important thing is all about 'getting it right' with the lemon drizzle. Use an appropriate amount of poppy seeds (just enough) and freshly squeezed lemon juice with tonnes of icing sugar for the perfect finish.
I have used this Lemon Drizzle cake recipe from The Londoner multiple times and it's successful every time.
c) Fresh fruit tartlets – Mini tartlets are the perfect bite-sized combination between sweet treat and healthy snack. A small shortcrust pastry cup, lightly smeared with custard, topped with fresh fruit such as sliced strawberries, currants or mandarin segments glazed with jelly or apricot jam.
d) Mini fairy cakes – while not always seen at grown-up tea parties, make an excellent whimsical addition to the whole light-hearted vibe of an afternoon tea party. Mini cupcakes are guillotined across their top mound which are then sliced in half. That same 'cap' is rearranged back on the top of the cake with some luxurious buttercream to look like butterfly wings.
Food is undoubtedly an essential part of any tea party. It is equally important to ensure that your guests are equally captivated by the taste as well as the presentation of the treats of your tea party. Read up on what we recommend for your Ultimate Afternoon Tea Service.
B. Drinks
While it is a given that every champagne tea party requires some bubbly whether it is Champagne or Prosecco, Asti or even pink Rose, it is just as important to ensure that your guests have other non-alcoholic drink options too.
1. Tea selection – Loose leaf Darjeeling, Orange Pekoe, Earl Grey and Lady Grey
While not essential, is is nice to be able to offer a range of tea options beyond the standard Assam or English Breakfast tea. Tea for the afternoons tend to be gentler, lighter versions of their morning counterparts. In the mornings, tea tends to function as a 'pick-me-up', while in the afternoons with the change in pace there is more time to sit and savour. The lighter afternoon teas tend to be slightly gentler and more flowery in nature.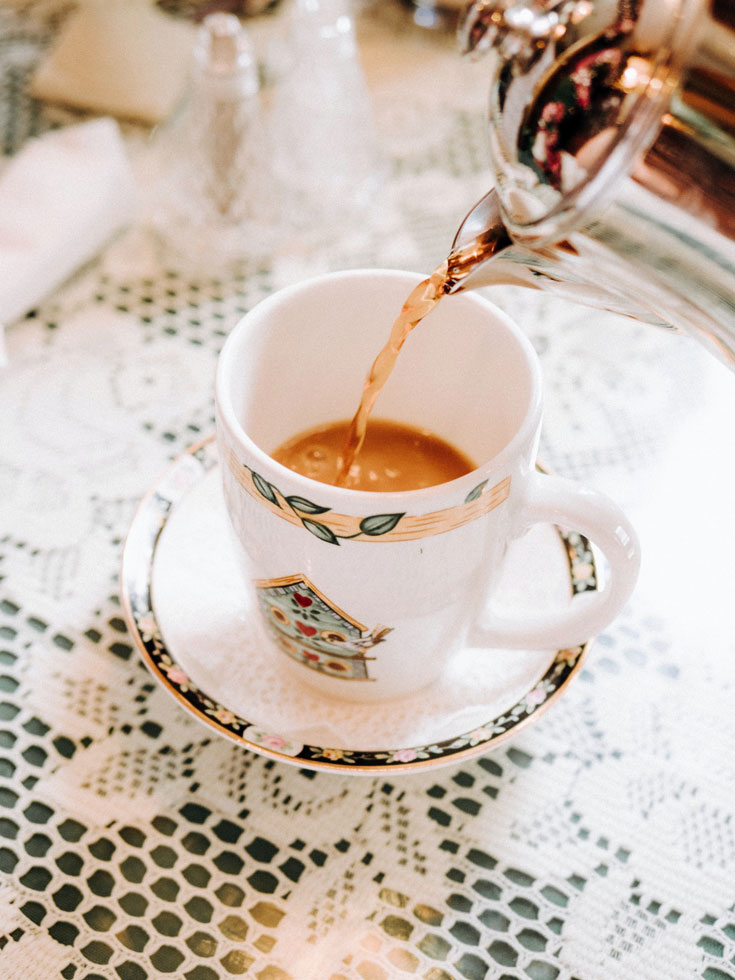 Among the most typical options to have available are:
a) Darjeeling – named for the highlands of India from which they are harvested. This slightly fragrant, lightly roasted tea is a beautiful addition to any afternoon.
b) Orange Pekoe – is made from the youngest shoots of the Camellia senesis tea plant. It has a very light essence and its delicate nature is a perfect paring with the cakes and pastries of a wondrous afternoon tea.
c) Early Grey – more bold in nature. It is scented with bergamot that offers a distinct smell and taste to the palate.
d) Lady Grey – where Earl Grey is bold and strong, Lady Grey is light and subtle. It is slightly darker and stronger than the Darjeeling or Orange Pekoe. Lady Grey is similarly infused with bergamot but with the addition of lemon and orange peel is it lighter and more citrusy in scent and flavour.
Whenever possible, always choose loose leaf tea in a teapot with a strainer or keep some tea leaf strainers on hand for your guests.
2. Coffee options – barista or cafetière and fresh grounds
If you have to hand a coffee machine then it is the perfect option for your caffeine loving friends. To be able to choose between an espresso, latte or cappuccino certainly adds to the variety.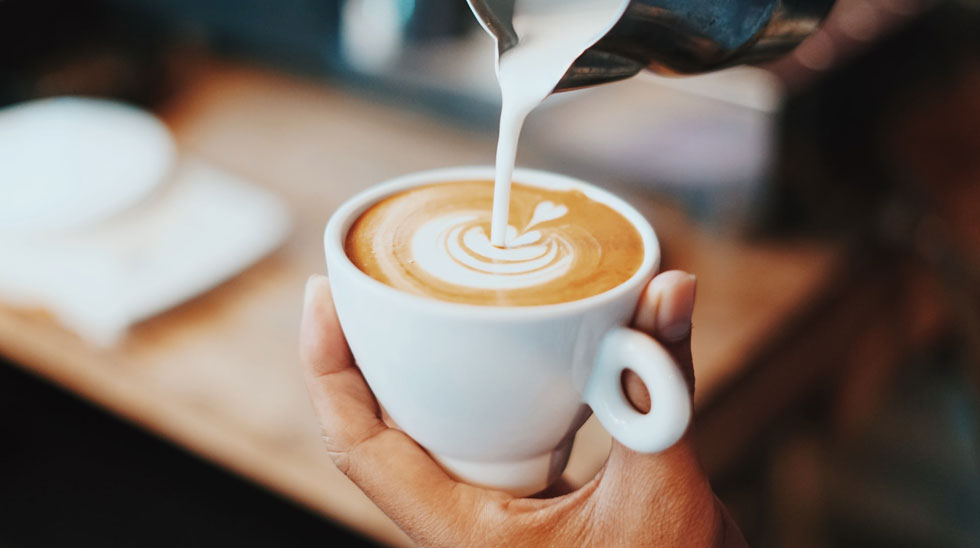 If however, you do not have that option, then our recommendation would be to at least offer coffee in a French press cafetière ideally with a couple of options of roast levels. A stronger level 4 or 5 to cater to those with a preference from stronger coffee, and a 3 for someone with a milder preference.
While coffee tends to be more forgiving in terms of options, please do remember to have milk and sugar to hand as well for those who prefer.
3. Bubbly selection – Champagne, Prosecco, Asti, Brut
What is a Champagne afternoon tea without any bubbly? Impossible, of course. So named entirely for the companion bubbly drink, the champagne afternoon tea relies on there being some bubbly to complement the sweet and savoury treats.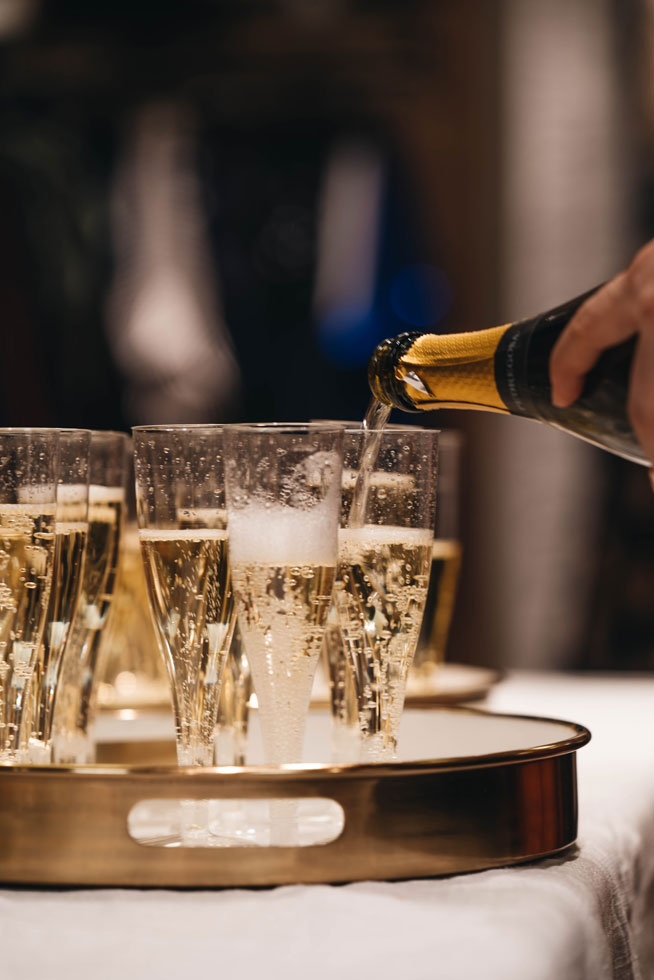 While Champagne remains the key highlight of the occasion, it may be wise and even economical to offer other types of bubbly selections such as Prosecco, Asti or even Brut.
Champagne is often the celebratory drink of choice. If the aim of your afternoon tea party is a celebration then it is perfect to ensure that everyone who wishes, has a flute of this perfect balanced, beautifully light, sparkly drink.
Prosecco is the more general option and can be more economical if volume is needed. Other bubbly options include Asti or Brut both of which are slightly drier than Prosecco.
For those who prefer non-alcoholic options, there is also sparkling grape or apple wine to consider as options.
Learn about Serving the Ultimate Afternoon Tea Experience
A champagne afternoon tea is the ultimate luxury tea experience, one that is not impossible to recreate at home yourself. Start with your food and drink options, then move on to check that you have everything in place for serving.
With your food and drinks in hand, next consider how you would like to 'serve up' everything. Every little effort goes towards making your champagne afternoon tea experience as luxurious as possible. After all, it isn't just the food and drink that make the experience, the presentation of it all counts just as much.