The festive and merry season of Christmas is upon us and it is time to jot down your wish-list and send it off to Santa. You have dug out almost all the props and ornaments from the storeroom, and the tree stands proudly in the corner ready to be glamorized. Besides that, you are on a prowl for perfect gifts for your loved ones. You can't make up your mind – sweaters and jewelry have been overdone, and let's be honest, nobody wants these played out gifts once more.
If you are looking for unique ideas to surprise your friends and family this Christmas, try out some of the following DIY ideas.
1. Stove Top Potpourri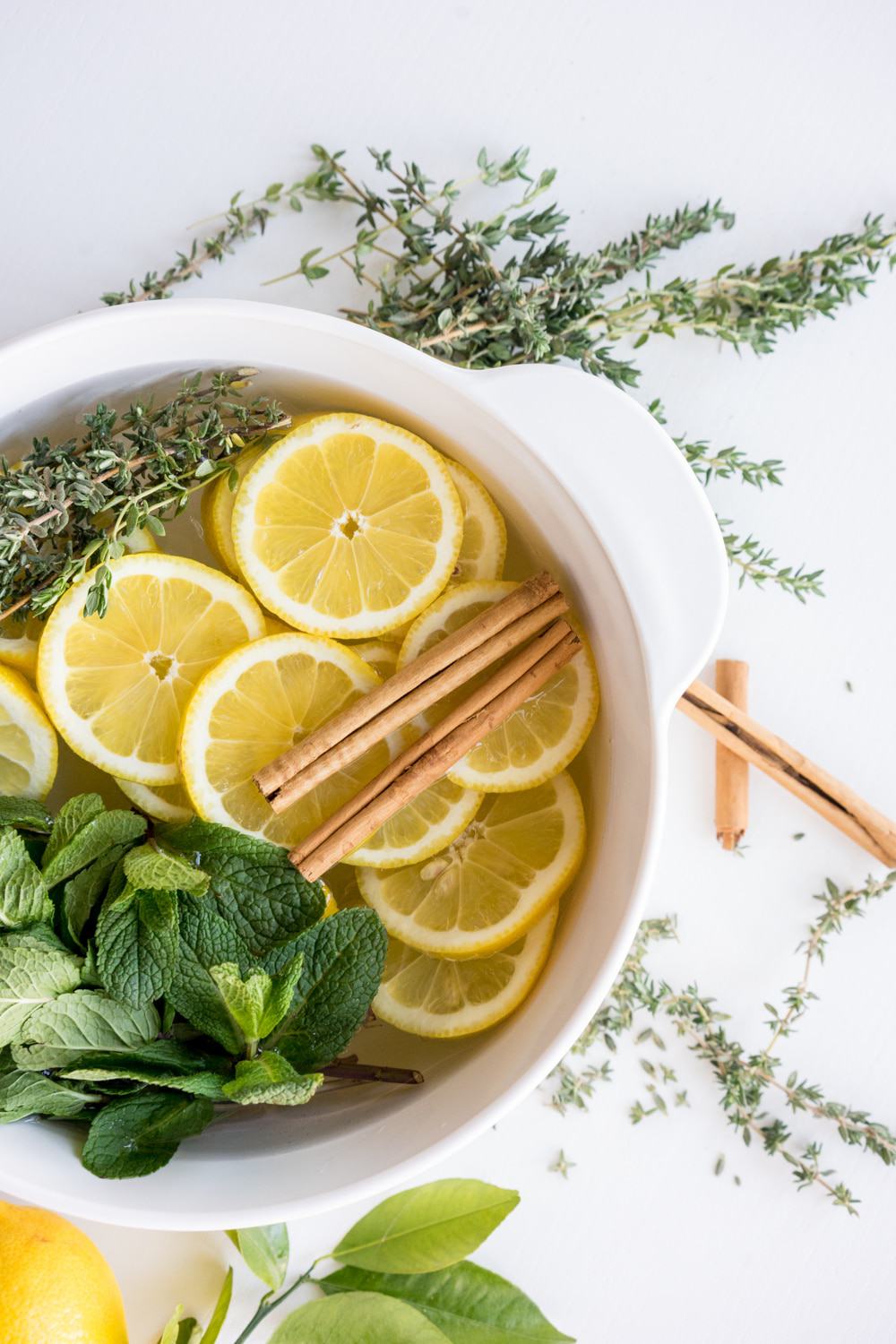 Sense of smell takes you back in time and it baffles me how it brings such vivid memories to mind. The peppermint sticks remind me of long school days when I would be waiting for the bus to pick me up while I lazily chewed on a soft minty candy, and the warm scent of cinnamon triggers bittersweet memories of my grandma and makes me smile in reminiscence. This Christmas share past memories with your loved ones through their favorite scents, and gift them a DIY stove top potpourri. Depending upon their favorite odors, combine lemons and oranges with rosemary and pine in a glass jar and stick a personalized label on it. You can find a full tutorial at Gathering Dreams.
2. Hand Stamped Wooden Spoons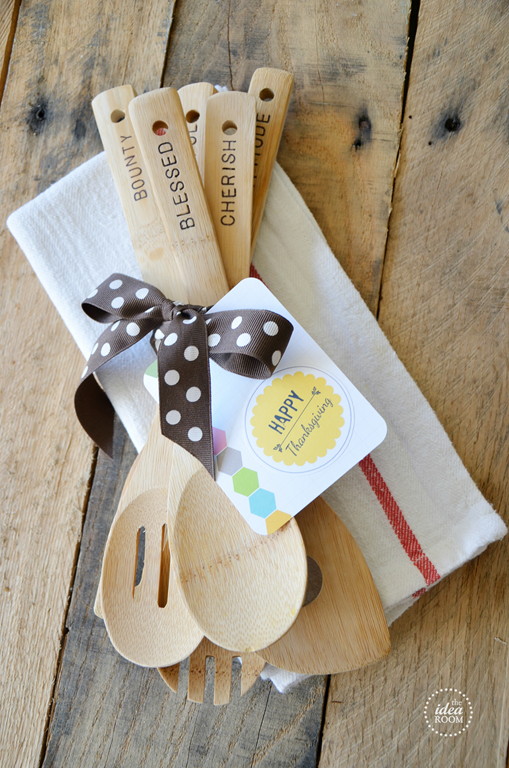 Hand stamped wooden spoons make a simple but sincere gift for a friend who loves to cook. You need a set of wooden spoons, a metal stamp kit, and a bright ribbon. On each spoon, write down a meaningful word with a pencil. You can jot down the person's name on one of the spoons as well. Next, stamp on each letter with the stamping kit. When the ink has dried, rub off the pencil's mark with an eraser. Tie a pretty ribbon around the spoons, and your present is ready to spark off wide smiles. Who wouldn't want to cook with amazingly customized spoons? Find the complete instructions at The Idea Room.
3. Accordion Photo Box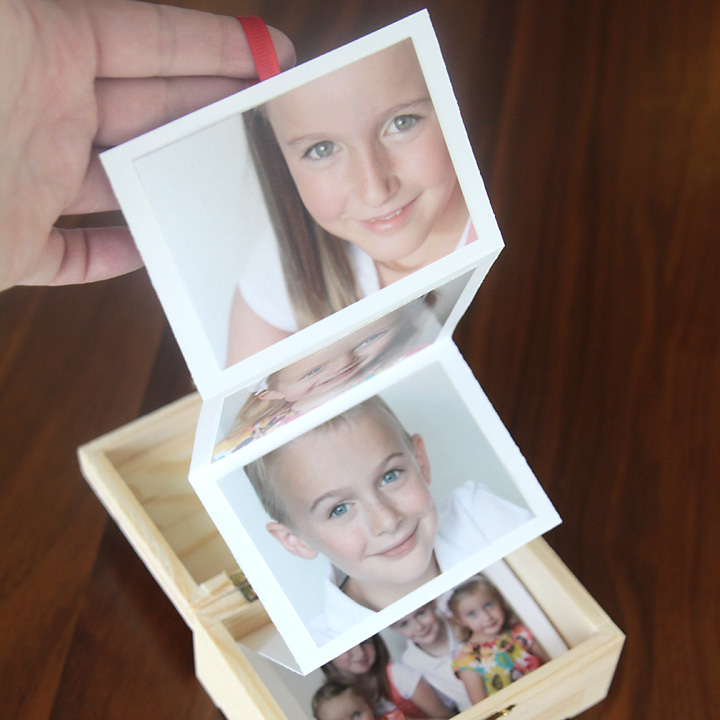 Here is a lovely DIY gift for grandparents who absolutely adore their grandchildren. It is actually a perfect present for a grandparent who lives far away but loves their grandchildren to pieces. If, for some reason, you can't meet up with them this year, make them smile with this thoughtful present. Take a plain wooden box with a fancy hook, a ribbon, some of your child's best pictures and an accordion paper. Stick photos on each section of the accordion paper and put a small loop of ribbon on the top. Place it inside the wooden box and send it off to the grandparents. Check out the full tutorial at It's Always Autumn.
4. DIY Color Blocked Wooden Vases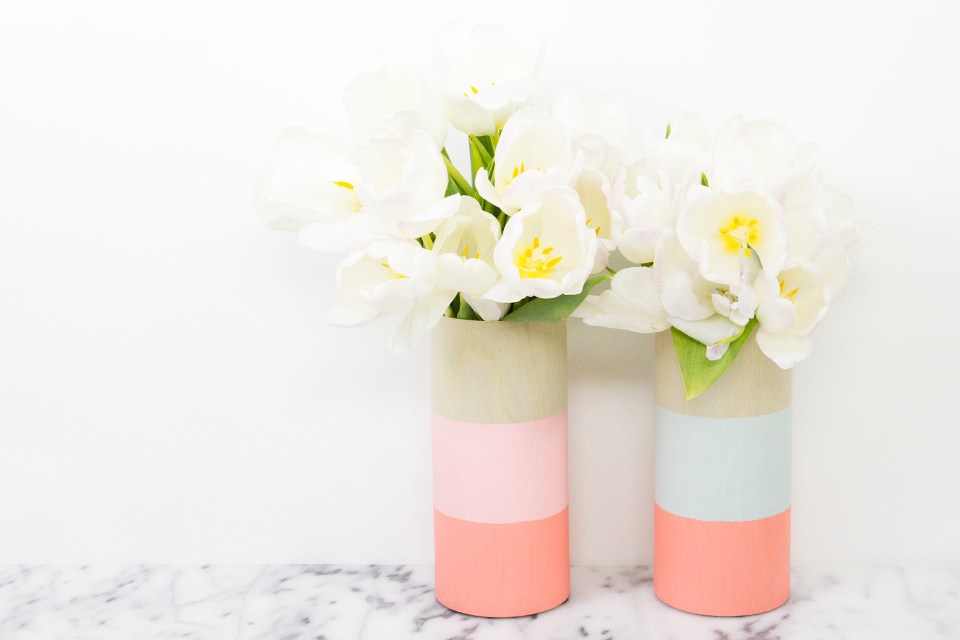 Spread Christmas fever across the neighborhood by sending some colorful vases to your neighbors. I once went to a housewarming party where the hosts presented each of their guests with homemade wooden vases. They were fabulous and rather easy to make. To make a wooden vase, you need a cylindrical glass vase (you can easily get it from Amazon), adhesive wood sheets, craft paint, and painter's tape. Cut the wooden sheet according to the height and circumference of the glass vase and divide it into three sections. Paint each section in a different color, and to avoid color bleeding, protect the sections with painter's tape. See complete instructions at Sarah Hearts.
5. Personalized Funny Coffee Mugs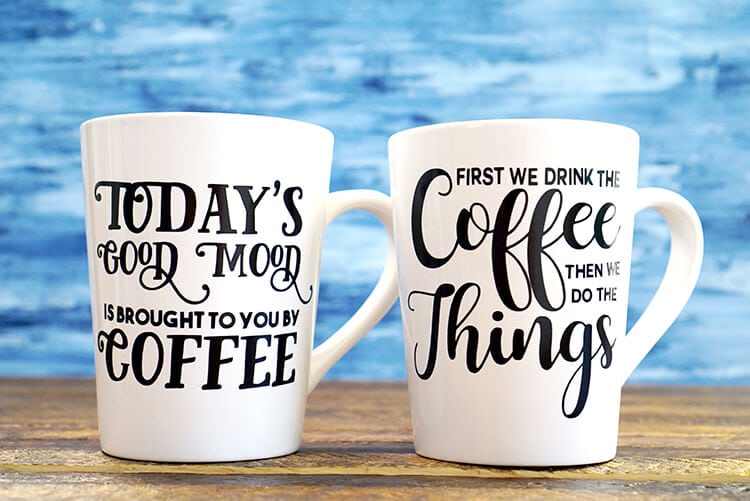 Customized coffee mugs never get old. If you are clueless as what to give as a present to a loved one, a mug with a catchy and personalized phrase will never fail you. All you need is a plain dollar store mug and a vinyl cutting machine. The machine is similar to a colored printer and it prints out letters and shapes on a thin sheet of self-adhesive plastic. The blade then cuts out the material. After printing out the desired phrase/shapes, you can transfer it to the coffee mug. It will make everyone's morning coffee a lot more special. Read full tutorial at Happiness is Homemade.
6. DIY Hand-warmers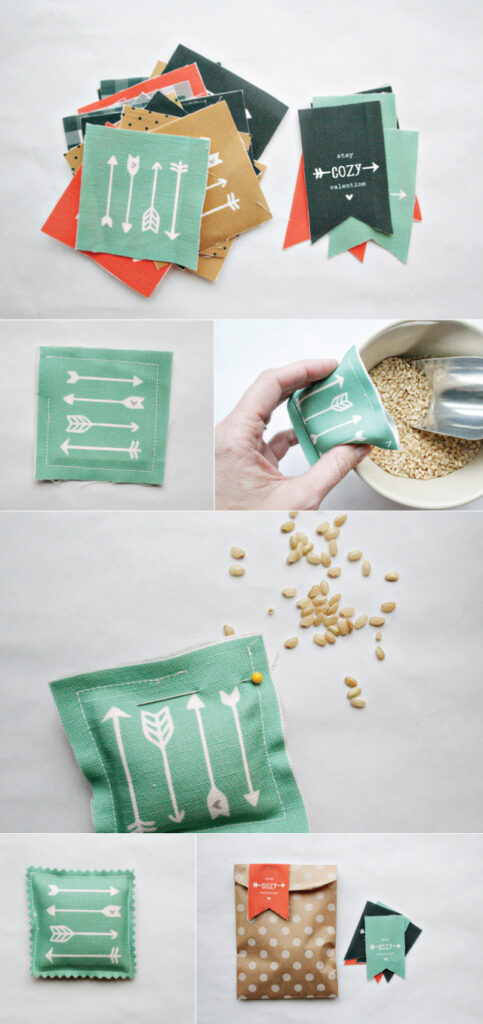 When your sister is walking to work on a snowy morning, she will put her freezing hands in her pockets to find a cozy hand-warmer you lovingly crafted for her. They are simple enough to make. Take any fabric lying around the house, insert rice grains into it and sew all the edges carefully to prevent any fall-out. The hand-warmers can be easily microwaved when you wish to heat them up. Try to find a fabric that is Christmas themed to keep up with the holiday spirits. Follow the instruction at Raeannkelly.
7. Man's Apron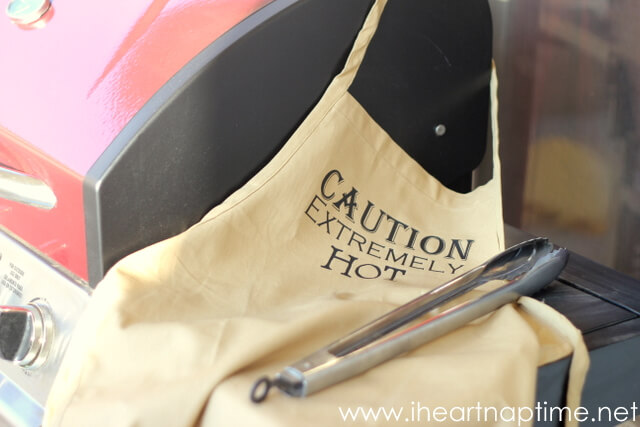 It is not an easy task to shop for a guy. Be it any occasion, it is a tough challenge shopping for presents for my husband, dad, and brothers. This year, I have decided to spruce up their kitchen game by giving them a DIY man's apron. Perhaps, it would motivate them to spend more time in the kitchen! Grab a plain denim apron from a local store and print out a funny phrase with a silhouette machine. Heat transfer the cutout onto the apron with an iron. If you are out of ideas, an apron might be able to make your dad's barbecues a lot more special.
8. DIY Fabric Covered Tree Ornaments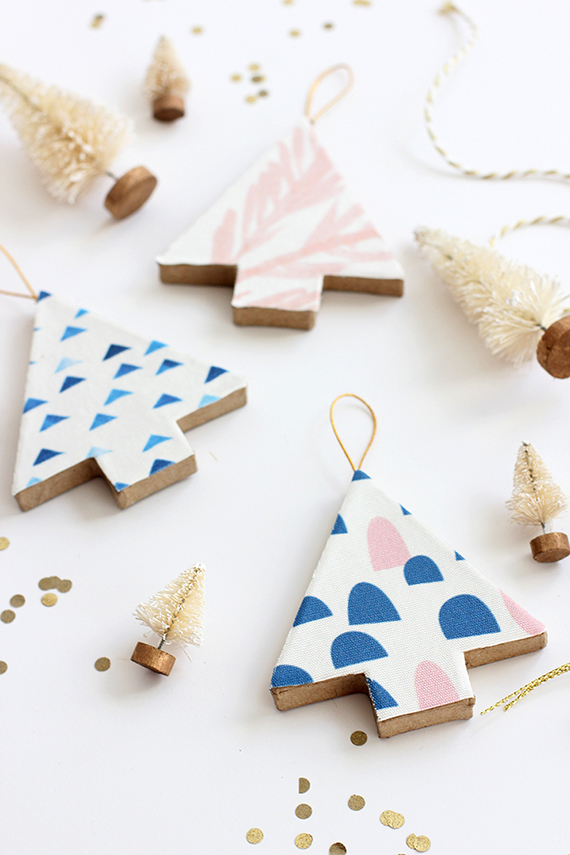 Does your mom go crazy when it comes to decorating the Christmas tree? Help her out by gifting her a handful of unique homemade tree ornaments. Her Christmas tree will spark a lot more than usual. Alice & Lois has a wonderful tutorial on how to make fabric covered tree ornaments. They were lucky to find plain, cardboard shaped ornaments but if you can't find it, you can draw and cut them out yourself and tie a small ribbon on top to hang. Next you need is a few printed pieces of fabric, glue, and a sponge brush. Trace the shapes onto the fabric and cut them out, glue the pieces onto the cardboard with a sponge brush, and they are ready to jazz up your holiday!
9. DIY Snow Globes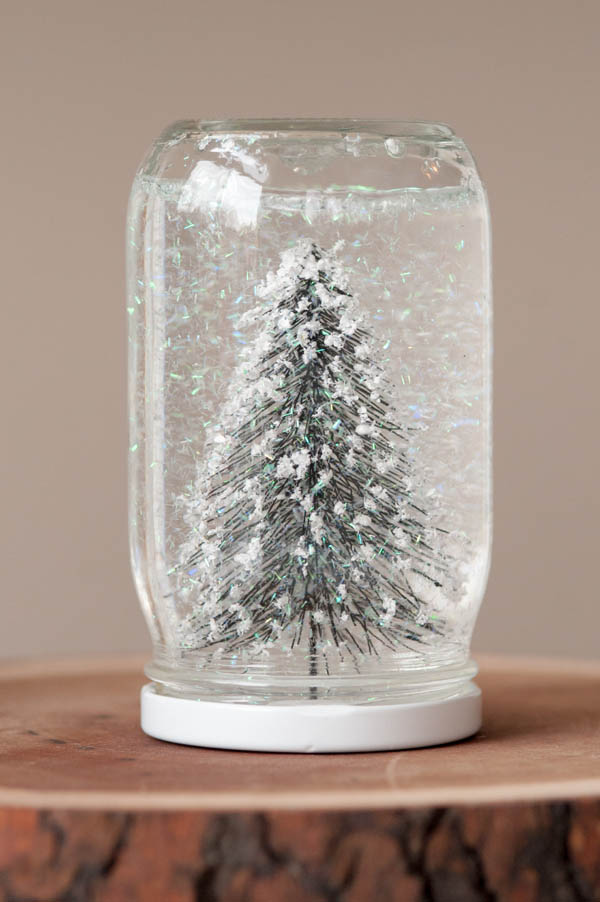 What's Christmas without snow globes? They are pretty to look at, trigger intense nostalgia and make children (and even some grown-ups) gaze in awe. This year charm your loved ones with sweet snow globes handcrafted with love. The Sweet Occasion can teach you how to make perfect snow globes. You need clean glass jars with lids, distilled water, glycerin, plastic trees or animals, glitter, epoxy, and sandpaper. Rub the sandpaper inside the jar to roughen up the surface, stick the mini figurines to the lid with epoxy, add distilled water into the jar with a drop of glycerin and as much glitter as you'd like, close the lid tightly and turn it upside down. The snow globe is ready to charm people.
10. Marbled Clay Dish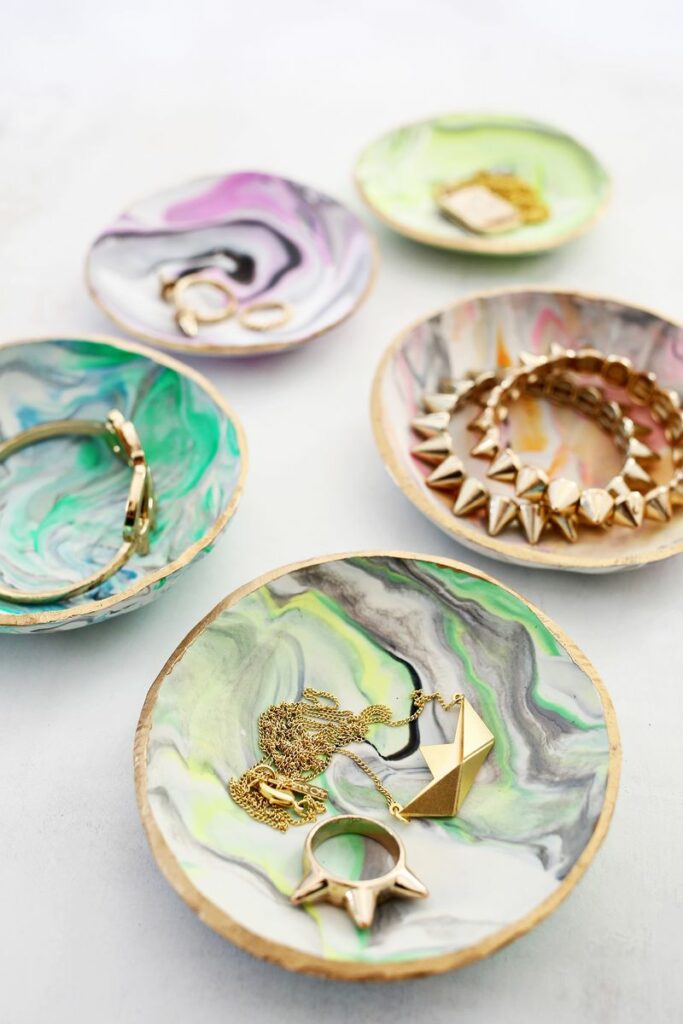 Do you happen to know someone who could use a colorful jewelry holder or an ashtray? Create marbled clay dish with utter love this Christmas! You will need white, black, and colored oven bake clay, an oven-safe bowl and gold liquid gilding. Braid all the clay together, turn it into a ball and flatten it with a rolling pin until it gives a marbled appearance. Place the circle into the bowl, and bake it for 15 minutes at 275°F. Once it has cooled down, paint the rim of the dish with golden paint. Read the full tutorial at A Beautiful Mess.
Yes, it is the thought that counts, but you can make the presents even more special when they are handcrafted with love and care. Make your loved one's Christmas memorable and exciting with these simple but meaningful presents.