In the summer months, our furry friends are prone to overheating, so how to keep them cool and safe. We take a look at ways to keep your dog cool during the summer:
14 Ways to Keep Your Dog Cool in the Hot Summer Days
Here are essential steps and tips to help prevent heat-related illnesses and keep your dog happy and cool
1. Provide shade
Our dog love the sun, especially during the winter months. He would choose to sit next to the window or where there is direct sun light. We call it dog sunning. But in the hot weather, it can get a bit too much. Ensure that your dog has access to shaded areas especially outside, in your yard or any outdoor space. Set up a canopy, use trees or umbrellas (parasols), or create a sheltered spot with a doghouse. We know that Ollie, our little Yorkshire Terrier would head for the shades any chance he gets during his walks and sits there when the heat gets too much. If you have a wide open garden with no trees for shades, you might want to consider a sun shade sail.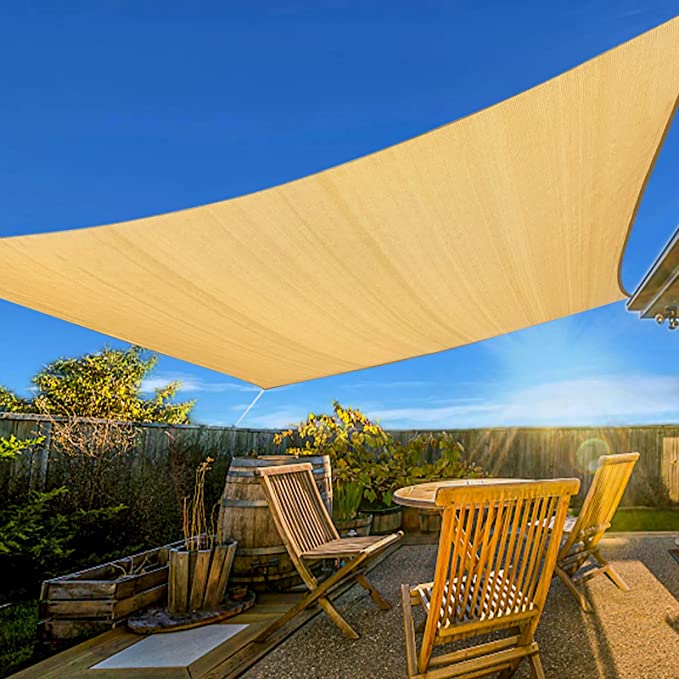 RELATED: Pet care tips every owner should know to keep their dog happy and healthy
2. Plenty of Fresh and Cool water
Keep a bowl (or two) of fresh, cool water available at all times. Check and refill it regularly to ensure your dog stays hydrated. We have a bowl of water upstairs too. Even though our dog spends most of his time indoor, we still make sure to keep him hydrated. Having easy to reach watering points, allows him to do just that. Also, on days when it is blistering hot, consider dumping a few cubes of ice into the water bowls.
3. Avoid hot surfaces
We don't think much of this especially when we have our shoes on, but it is worth paying attention to where your dog walks. Hot pavement, sand, or concrete can burn your dog's paw pads. Try to walk your dog during cooler times of the day or stick to grassy areas. If the ground is too hot, consider using dog boots or paw wax to protect their paws.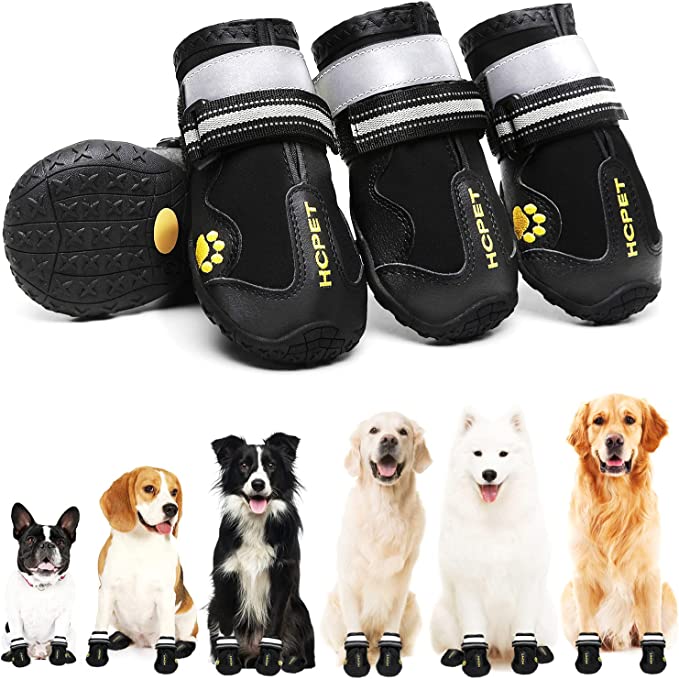 4. Choose the right time
No matter how much our dog asked to take him out for a walk during his regular time, this is just not suitable on a hot day. We try to delay and put him off for as long as we can, until the weather is cooler, the sun is behind the clouds or is setting. Picking the right time, also means, you and your dog are not under direct sunlight.
5. Limit outdoor activities
If your dog is anything like ours, he would automatically be turned off by the heat. Still, watch out for excessive heat and under the sun activties. Avoid rigorous exercise or playtime during the hottest parts of the day. Heat and exercise just do not go well together as it will lead to extreme exhaustion, As before, schedule outdoor activities for the early morning or evening when temperatures are lower.
6. Cool indoor environment
Keep your home cool by using air conditioning, fans, or opening windows to create a breeze. Provide your dog with a comfortable area indoors, away from direct sunlight. Sometimes, it is as easy as closing the curtain or blinds to keep the sun out. It you feel hot inside, think how a dog with feel in its natural coat of fur. To keep a dog cool, any regular fan would do the trick. However, it is worth investing in a portable desk fan, powered by rechargeable batteries, that you can place on the dog's level or mount on somewhere near your wherever he goes.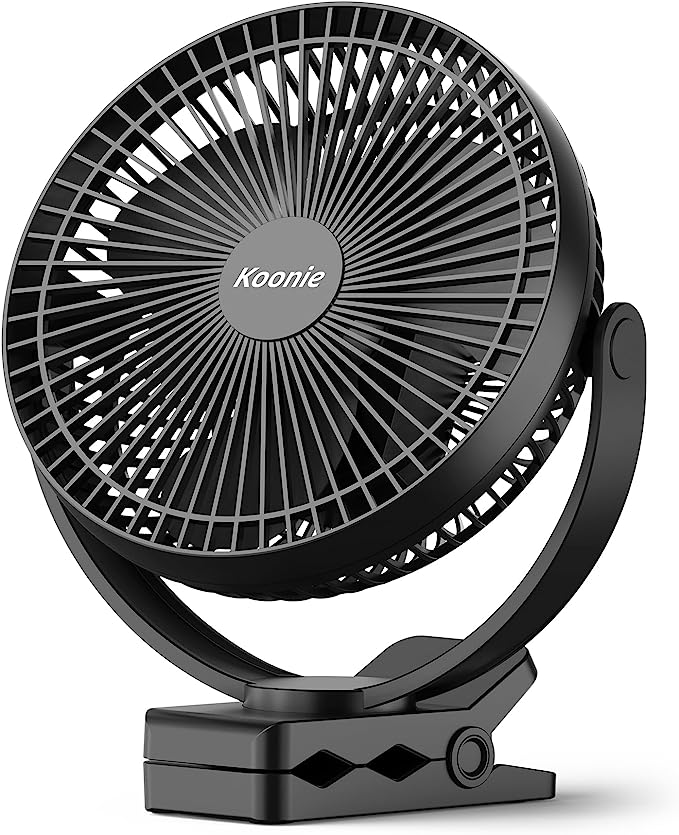 Search Rechargeable Fans on Amazon
7. Cooling accessories
Consider using cooling accessories such as cooling mats, bandanas, or vests specially designed to keep dogs cool. These can provide additional relief during particularly hot days. You may be wondering how a cooling vest works and wouldn't it be cooler for the dog without extra harness or vest. The answer, these breathable cooling vests are soaked in cold water and wrung out to remove excess water before putting it on the pet. As for the cooling mat, more about this in the next section.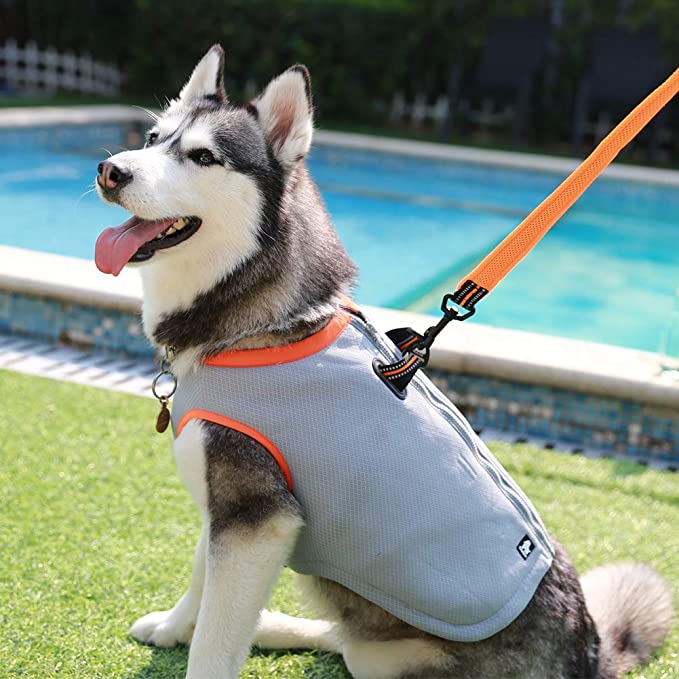 8. Frozen treats
Fancy an ice cream on a hot day? Your dog wouldn't mind one too. Prepare frozen treats for your dog to help them cool down. You can freeze dog-friendly fruits, such as watermelon or berries, or make homemade frozen treats using ingredients like plain yogurt or broth. These days, you can even buy ready made dog ice creams from the pet shop. And, as we mentioned earlier, even a few cubes of ice in the water bowl will help.
9. Never leave your dog in a parked car
It's crucial to never leave your dog unattended in a parked car, even for a short period. Cars heat up quickly, and the temperature can become dangerously high, leading to heatstroke or death. If you have to and for a short time only, look for a shaded area, or parking complex, and remember to leave the windows open.
10. Grooming
Regular grooming helps remove excess hair and keeps your dog's coat in good condition. However, be cautious with breeds that have double coats, as their fur provides insulation, so consult a groomer or veterinarian for guidance.
11. Dog Bath Pool or Paddling Pool
Portable and foldaway paddling pools are now available for pets. These are not your typical inflatable pools. You can see the ways how that could go wrong. These are foldable pools made from extra strong and tough PVC plastic. They are puncture and scratch resistant and makes for a perfect outdoor pool for the dog and even your kids. Our friend's dog, Harvey absolutely love the paddling pool and we are considering one for ours.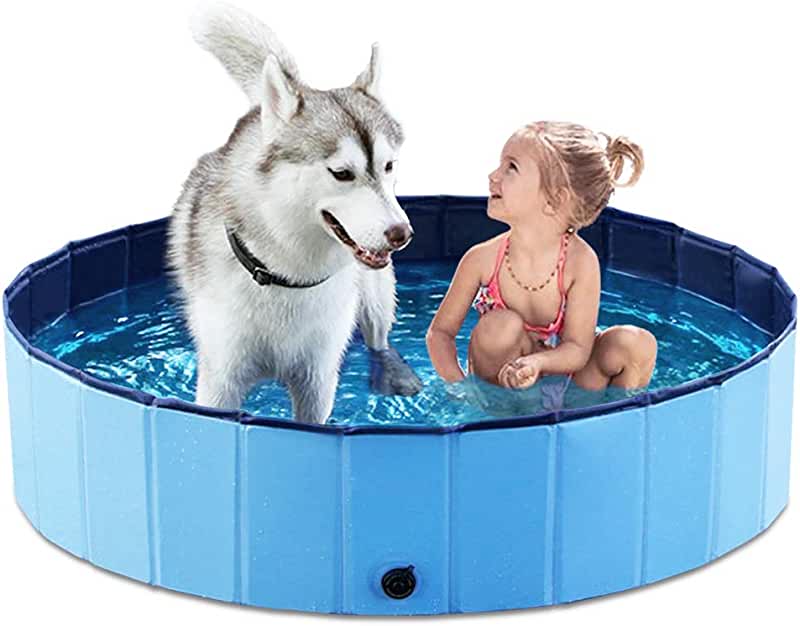 Search Foldable Dog Bath Pool on Amazon
12. Elevated Pet Bed
Heavily padded beds may be comfort in the winter and colder months but can accumulate heat quickly. In fact, our dog won't even go near it, preferring to sleep next to the bed on the floor in summer. You can pack away those dog sofa beds with its flush foam or soft cotton filling in favour of an elevated pet bed during summer. Air flow above and below the bed allow heat to escape from the dog's body. They are also available with a tent overhead for extra shade, useful for outdoor use.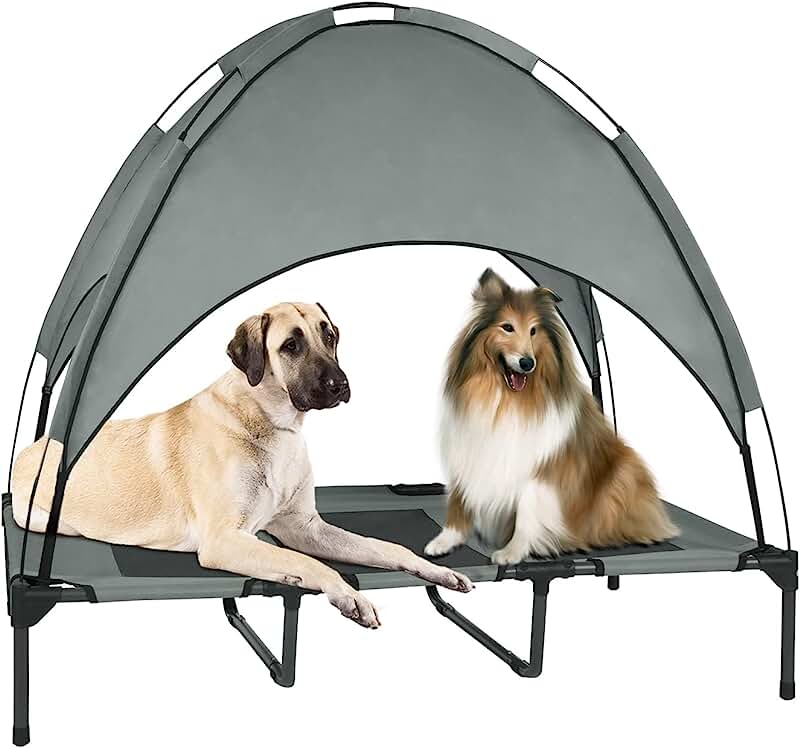 Search Elevated Dog Bed on Amazon
13. Floor Tile
Those who already have floor tiles at home can skip this tip. However, even if your dog spend some of its time in the kennel, it may be worth considering this next cooling method. If you have a spare floor tile, big enough for a medium to small dog, it is worth putting this down where your dog prefers to sit, sleep and rest. You might want to line the button of the tile with felt material to protect your existing flooring. Also watch out for tiles with sharp edges. Otherwise, a cool tile is just as good as a cooling mat. It goes without saying that you have to keep the floor tile in shaded area.
14. More frequent showers
Just like us, jumping into the shower the quickest way to bring down our body temperature. If your dog loves the shower or bath anyway, this will be the easiest way to help it stay cool. Use a watering spray gun with your garden hose to give your dog a quick shower outside.
15. Watch for signs of overheating
Last but not least, be vigilant for signs of overheating, such as excessive panting, drooling, lethargy, rapid pulse, or vomiting. If you suspect your dog is overheating, move them to a cool area, offer water, and contact your veterinarian immediately. Heat stroke is another common issue with overheated dogs and can lead to death. See RSPCA website for emergency first aid to treat heatstroke in dogs.
More on Cooling Mats
Dogs can benefit from cooling mats during the summer months, especially if they are prone to overheating or if they spend a lot of time outdoors. Cooling mats are designed to provide a cool surface for dogs to lie on, helping them regulate their body temperature and stay comfortable in hot weather.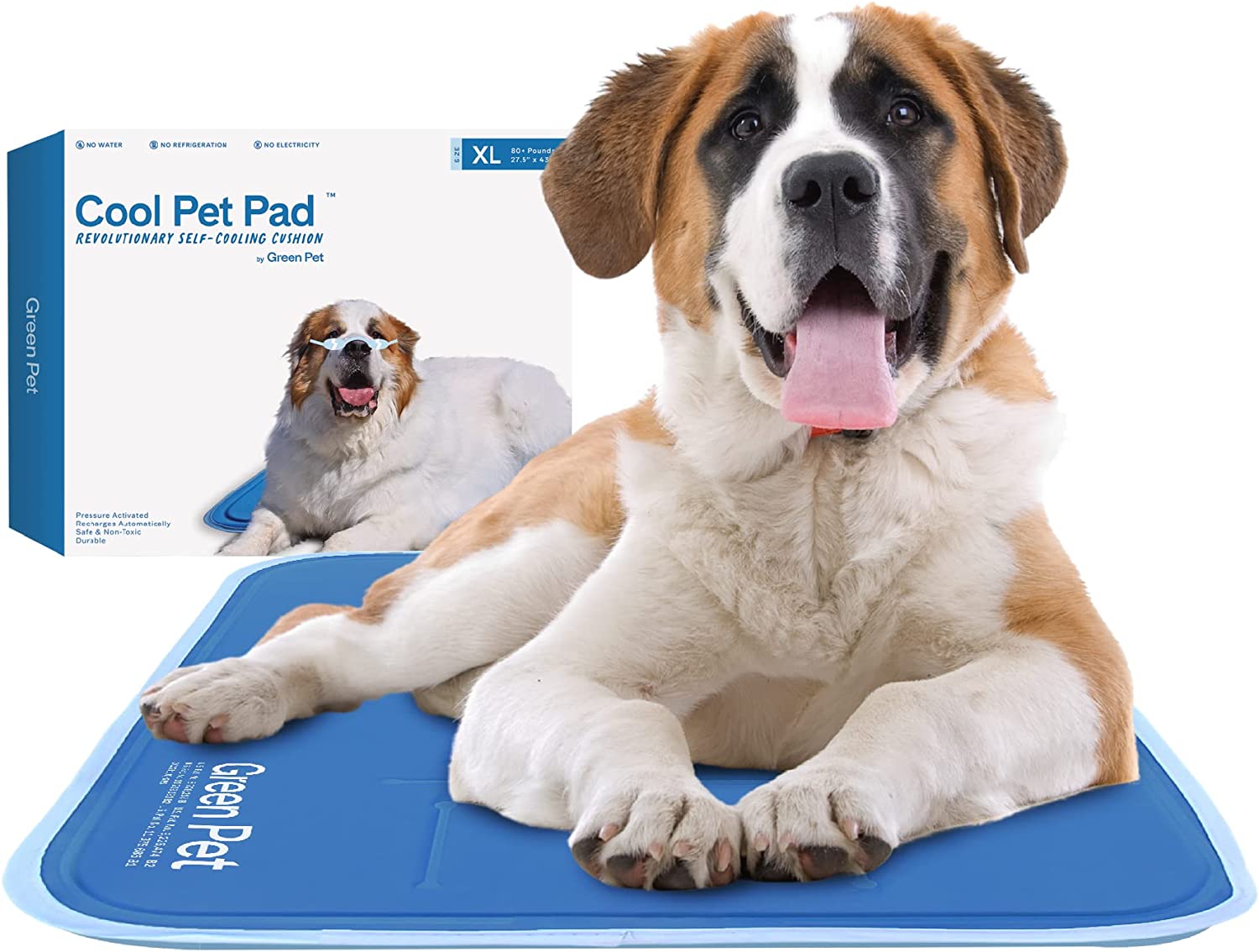 Search Dog Cooling Mat on Amazon
a. How do they work
Cooling mats typically contain a cooling gel or a material that stays cool even without refrigeration. They work by absorbing and dissipating heat from the dog's body, providing a refreshing and cooler surface. Some mats may also use a technology that activates upon pressure, which helps provide a cooling effect when the dog lies down.
b. Will my dog like it
To use a cooling mat, you generally place it in a shaded area or indoors where your dog likes to rest. It's important to introduce the mat gradually to ensure your dog feels comfortable using it. While some dogs may immediately appreciate the cooling sensation, others may take time to adjust. If your dog is anything like ours who loves to stay cool in the summer, it will take to the cooling mat quickly.
c. Who are they for
Cooling mats can be beneficial for dogs, especially breeds that are prone to overheating, like brachycephalic (short-nosed) breeds or those with thick coats. They can also provide relief for older dogs, dogs with joint pain, or dogs recovering from surgery, as the cooling effect can help alleviate discomfort.
d. The caveat
However, it's essential to note that a cooling mat should not be the only method of keeping your dog cool during hot weather. Just as we have listed in the previous section, providing access to shade, fresh water, and avoiding excessive physical activity during peak temperatures are equally important.
e. Other Considerations
When purchasing a cooling mat, consider the size appropriate for your dog, durability, ease of cleaning, and safety features. Always follow the manufacturer's instructions for proper usage and maintenance.
Remember, each dog is unique, and some may be more susceptible to heat than others. Monitor your dog closely during hot weather and adjust your cooling strategies accordingly.