It is an undeniable fact that recycling bins are an essential part of our home and the environment to keep up a hygienic and eco-friendly lifestyle. With these modern recycling bins, you can do it with style and elegance. These are not just any odd plastic bin, but they sit beautifully in any kitchen to match the decor with waste separate system for your all your recycling needs.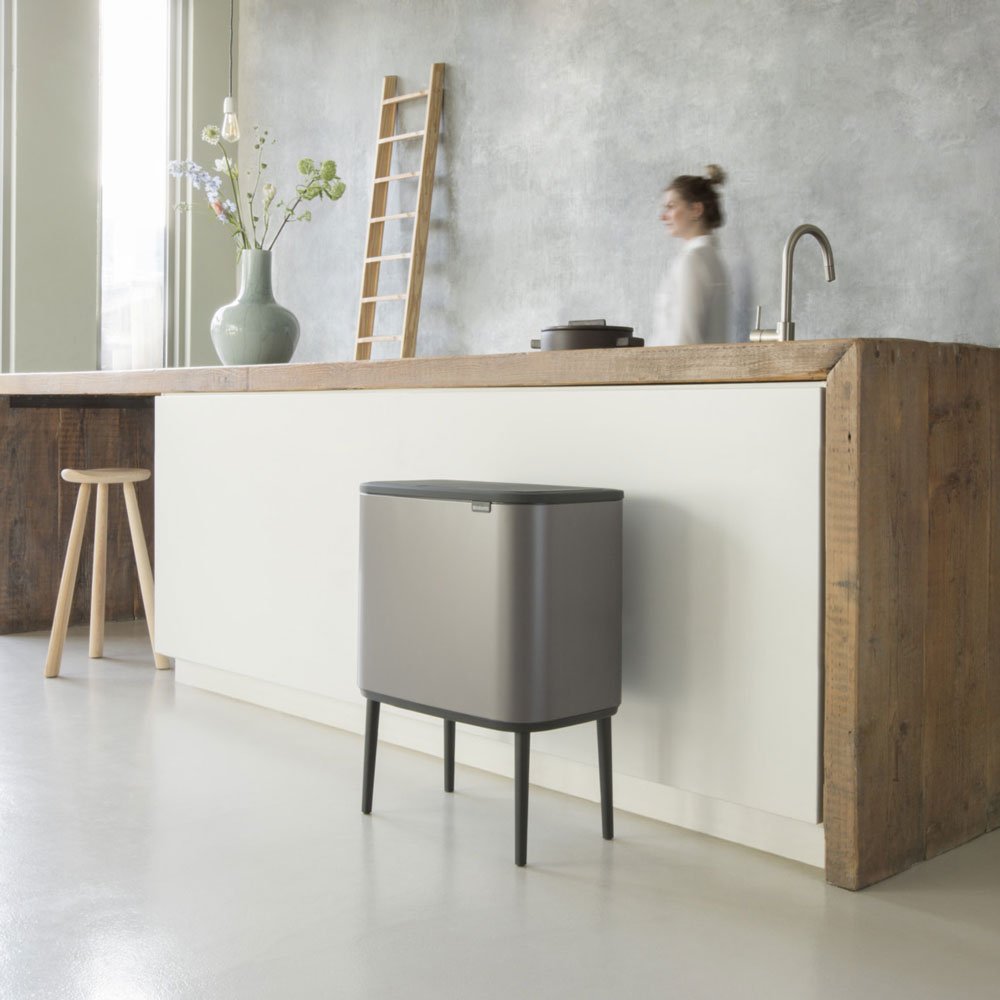 Finding a recycling bin that fits your mood and style is always a major plus. There is a huge variety of different bins depending upon your needs and desires. A recycling bin may have one, two, or more compartments, which can be used for dry waste like papers or wrappers and wet waste like rotten vegetables, food leftovers, fruit peels, etc. You can choose the one that fits your style and to suit your kitchen's decor.
Search Recycling Bins on Amazon
The Best Recycling Bins for Your Kitchen
You'll find a huge variety of recycling bins in the market but before you choose one you must make a note of a few things. Make the smart choice to pick the best out of the rest. Well after a long long exposure here is the list of the eight best compartment bins and would love to share it with you.
1. Brabantia Bo Touch Bin
Brabantia Bo Touch is a trash bin that not only stores junk but ais also beautiful to look at. It has a durable body and an elegant look. It can be better called the designer's choice because it has a clean, minimalist aesthetic that makes it look less like a bin and more like a piece of furniture.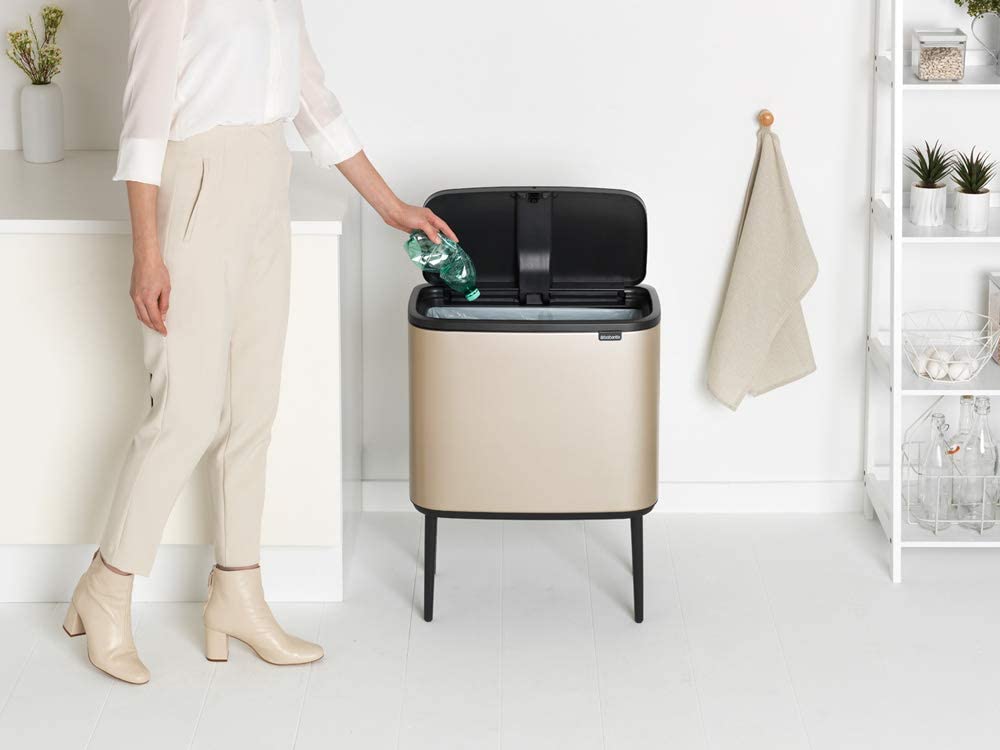 It has four legs supporting a cabinet with up to 60-litre capacity (Bo Touch Bin Hi model). It is both beautiful and smart at the same time with 5 storage options of 60-litre, 2 x 30-litre, 36-litre, two-bin 11+23 litre, or three-bin 11-litre. The inner buckets are made from 100% recycled materials, so it's definitely a sustainable choice.
The Brabantia Bo Touch Bin has ideal waste separation with its multiple compartments, so it allows you to organize everything efficiently. The two or three stylish buckets are removable for an easy-to-clean option. It perfectly fits against the wall and is very stable. It's ergonomic as it is reachable without bending down and comes with a 10 years warranty.
2. SimpleHuman 2 in 1 Recycle Bin
This is the kind of recycling bin that will fit perfectly in any home and take care of all your kitchen waste needs. It has a stylish outlook that would complement any modern kitchen. Apart from its good looks, it also has the added bonus of a thoughtful design. These bins come with a liner dispenser around the back to store replacement bin liners. The lid of the bin are supported by patented hydraulic system for that soft and silent close action. Even the pedal is made to last and covers the full width of the unit. It makes throwing trash a better and more effortless experience.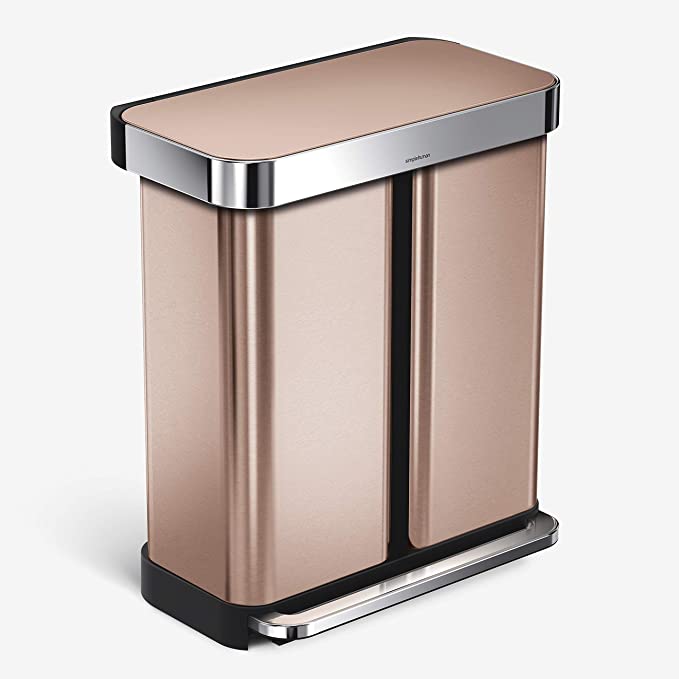 The simple human 2-in-1 recycling bin with two compartments for a total of 58-litre total capacity. It is made of stainless steel with fingerprint-proof technology and that patented soft-closing lid. It also has a removable inner compartment and bag retention system. A smart sensor driven option is also available to make it even easier to use the bin with voice and infrared motion sensor. To lift the lid automatically, just say "open can" or wave your hand over the sensor. Definitely a bin worth buying if you're into smart tech and automation.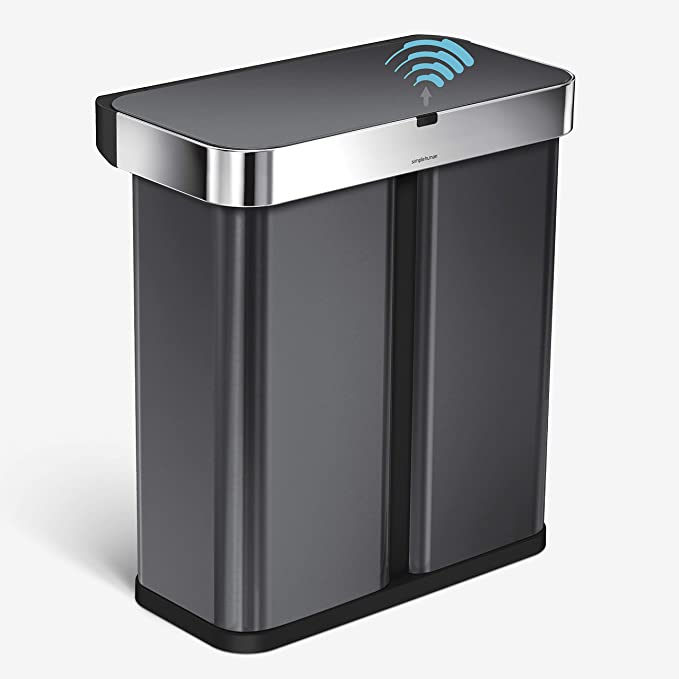 3. Charles Bentley 3 in 1 Recycle Bin
Charles Bentley recycling bin is a bit more utilitarian. It possesses 3 separate compartments, 15L capacity each with removable inner buckets and individually controlled lid and pedal. It manages waste so skill-fully and clear cut that you nobody can get it wrong.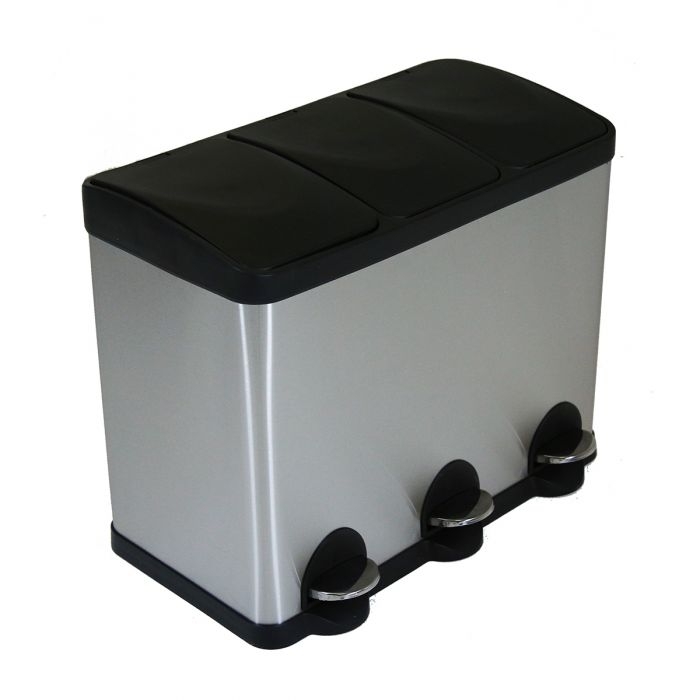 It's very ergonomic and you can open it easily with the foot pedals. This bin is the perfect solution to complicated rubbish separation and allows you to easily compartmentalize all your waste into it quite effortlessly.
4. EKO Ecofly Butterfly DLX Phantom Recycling Sensor Bin
This EKO DLX bin has all the features of an excellent recycling bin – it is both stylish and slim; perfect for furnishing your kitchens with. But don't be deceived by its size, there are two 20-litre removable inner compartments in there for a total of 40-litre capacity.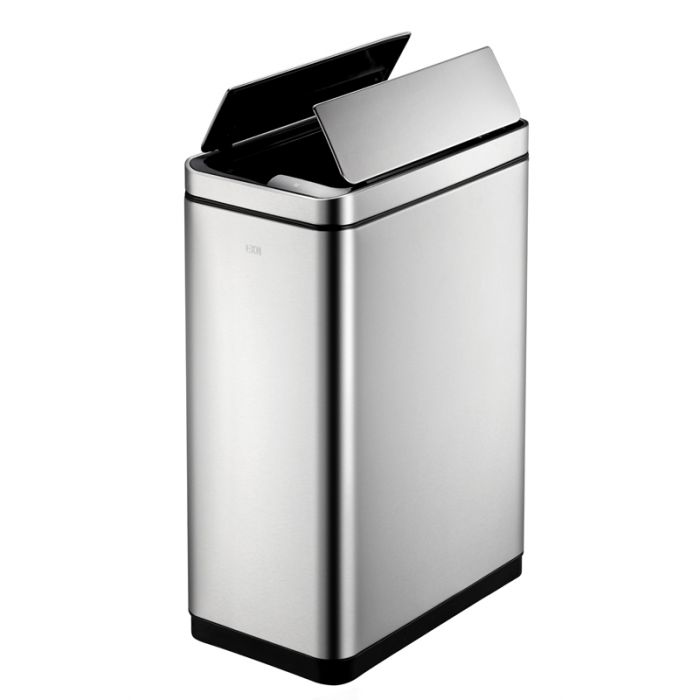 Its smart design has custom-fit liners which you may buy from EKO's website and John Lewis. It comes with a motion sensor and digital screen that has a timer showing how long is left until the lid closes. However, you can simply tap it if you want to keep it open. It's stainless steel body is definitely good to look at and you can open it smoothly just by a wave of your hand and or voice command. 
It has a soft closing butterfly lid so it doesn't make a noise while opening or closing. The lid runs on a battery that drives the system and the plastic bag fixer inside makes it easy to throw all the garbage out. Here is one for those working with small spaces. The EKO DLX will fit anywhere and still offer plenty of waste storage. We recommend using high capacity rechargeable batteries to keep the bin working for longer and less waste.
5. Joseph Joseph Titan Trash Can
Joseph Joseph Titan Trash Can is not so much a recycling bin but an environmentally friendly trash can with a difference. It is the perfect choice for furnishing your contemporary kitchens with a modern flair. It features an innovative design with a hygienic compactor system that reduces the trash. As a result, you won't really have to take out the trash too often. It features a patented compaction system and a design that allows it to hold three times more weight than similarly enabled bins. You can also easily compact the trash without getting your hands dirty.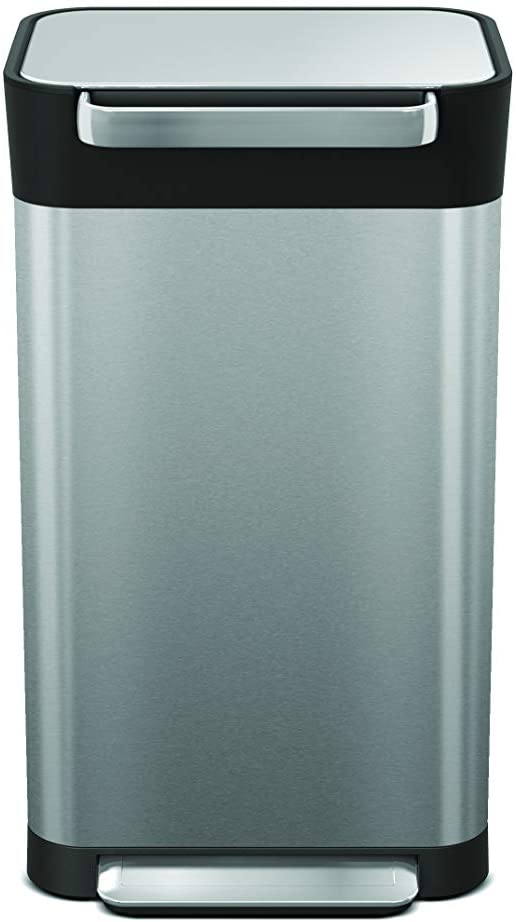 The anti-tear design enables it to not stretch or pinch the liner. This trash can has a stylish and sleek fingerprint-proof stainless steel coding. This makes it super easy to clean, as well as compatible with most kitchen decor. The Titan is available in 20 and 30 litre capacities. And, given that you are going to empty it less frequently, it also comes with an odour control system built into the lid.
6. Joseph Joseph Totem series
The Joseph Joseph Totem series recycling bins come with two containers, one on top of the other. They are also available in three different sizes; Max (60L), Compact (40L) and Pop (60/40L). The third option, the Pop swaps the bottom container for a bucket for dry recycling waste.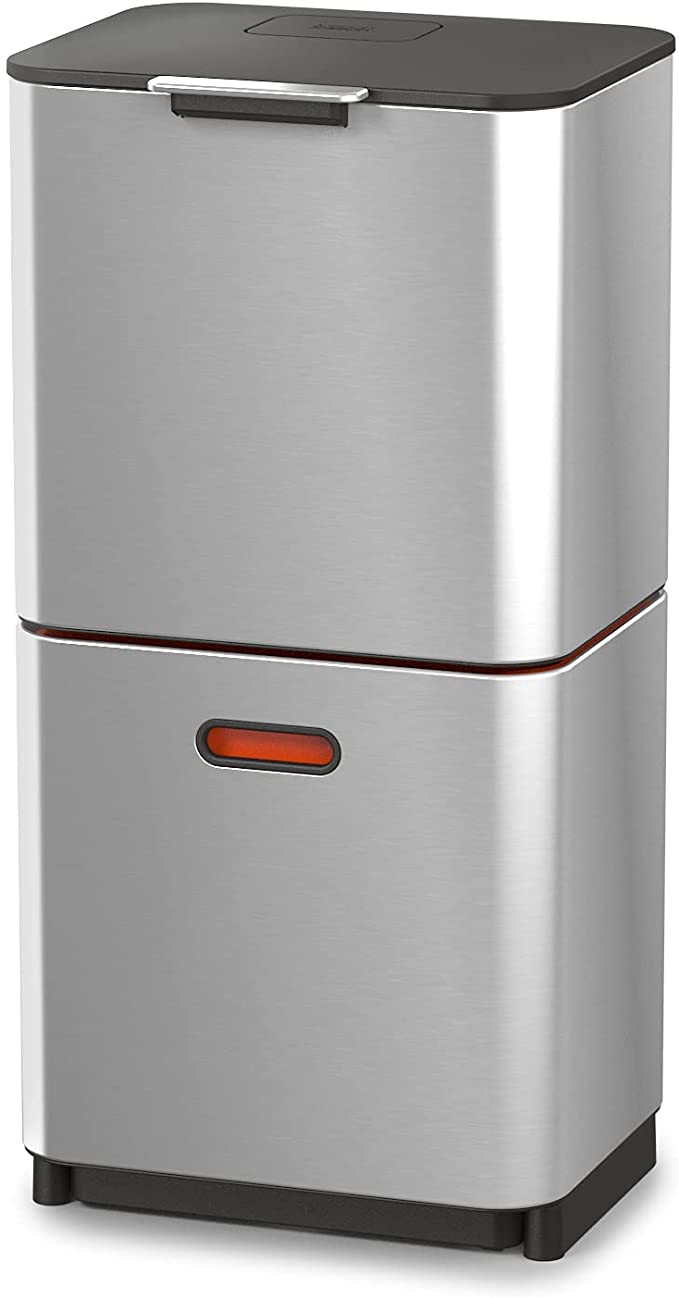 To top container comes with different compartments for good waste and general waste. The former is a 3 litre removable food waste caddy with lid that sits in the bigger 20 litre compartment. The bottom container comes with a full 20 litre compartment for a total of 40 litre capacity. If that is not enough, pick the 60 litre model. All removable compartment comes with liner retaining holes and carrier bag hooks. Finally, the top lid comes with a built-in odor filter while the bottom compartment simply slides out using the front facing handle. Colour options include granite grey, stone white, stainless steel, light grey and white.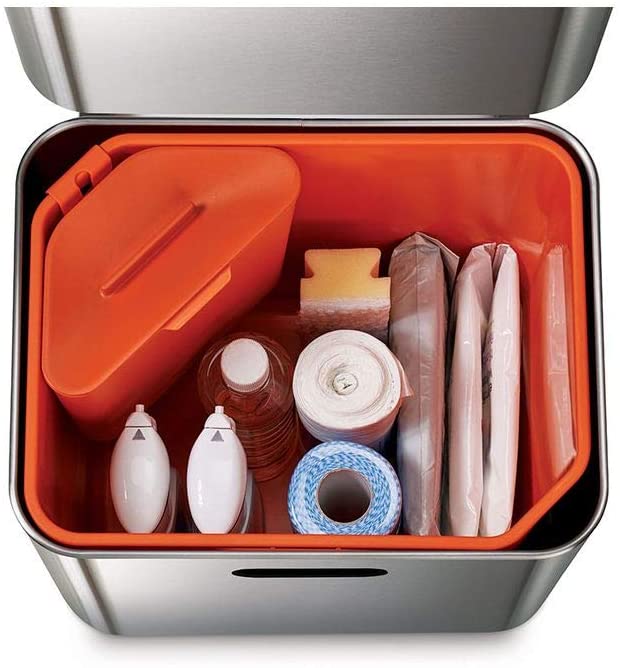 7. Morphy Richards 977121 Pro Recycling Kitchen Bin
It doesn't take long before other manufacturers follow the vertically stacked design with drawer over two or three individual tall compartments side by side. Following very closely to the Joseph Joseph Totem Max above in terms of design but with even bigger waste and recycling capacity at 75 Litre with two compartments, 50 Litre general waste chamber with food wast compost caddy complete with own lid, and 25 Litre lower drawer with removable divider. But it doesn't just stop there. There is a motion sensor and motor that drives the top lid accompanied by a digital LED display to let you know when lid is closing. Pick from Ivory with Rose Gold Accent, All Silver, Silver with Rose Gold Accent and Titanium (below) options to suit your kitchen and taste.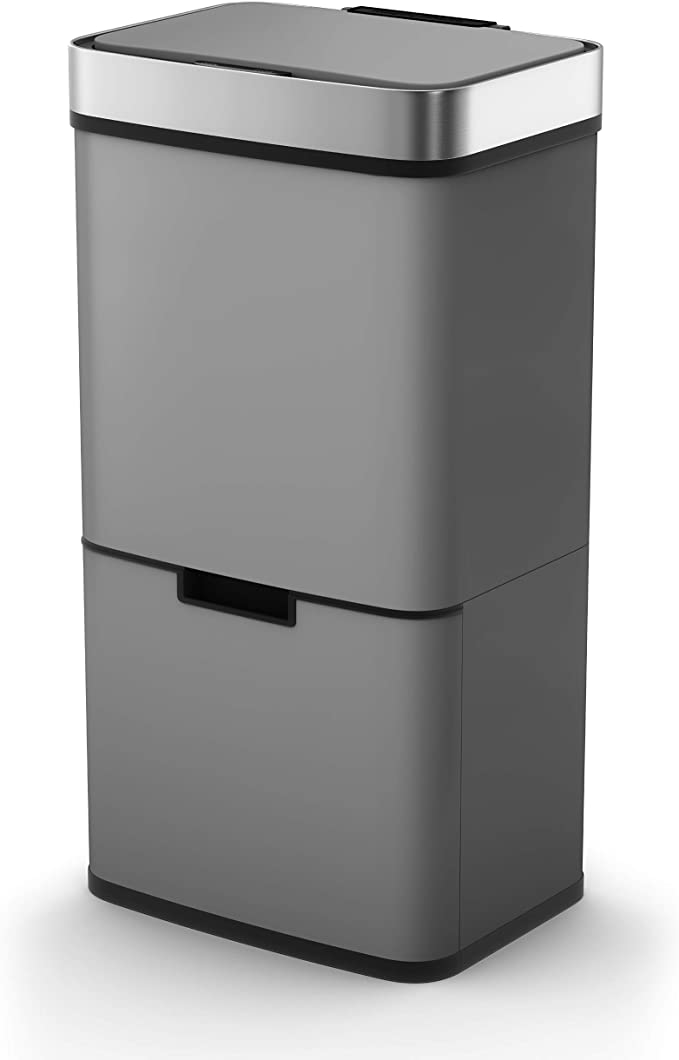 8. SONGMICS Waste Separation System
The relatively unknown brand is making waves with affordable yet premium looking entries. Available with two or three compartments, these are not just your traditional pedal bins but comes with well thought out designs like soft close and silent lid, removable inner bucket in each compartment with handle and convenient pedals.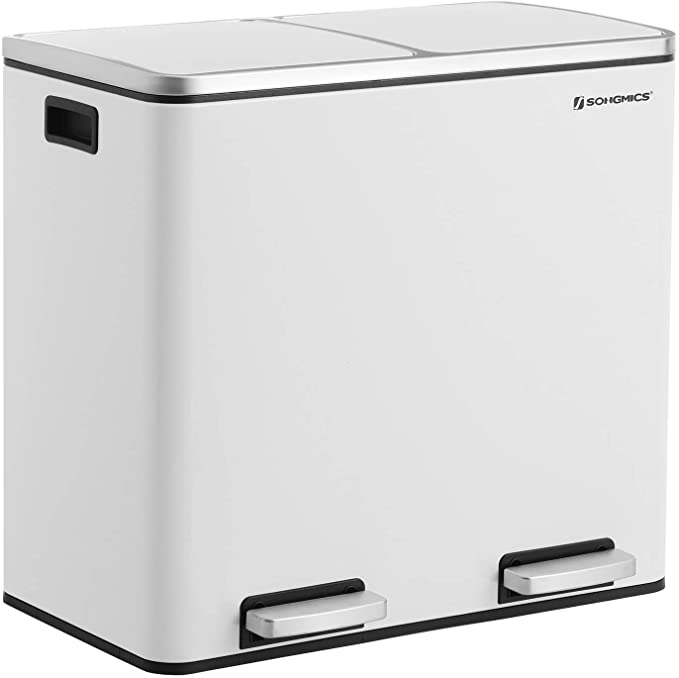 Do's and Don'ts
There are a thousand styles, variations, shapes, and sizes of a garbage bin for you out there but you need to pick the one that is most suitable for your lifestyle and needs. If you just want things to be simple, then smart bins might not be for you. Similarly, if you like keeping up with changing times, then you definitely need to opt for automated options. However, if you're looking for some solid takes, here are some that you can put on your checklist:
Size: The best bucket size

for a person or two is with a capacity of 15 L – 20 L, while 30 L to 40 L is great for three to four people and 40 L to 50 L is best for 4 or more people. So, you need to be very careful about the sizes while buying a bin. 

Style: There are many different shapes and styles of buckets out there. They vary in aesthetics, material, and visual quality. You should pick one that suits your interior design and surroundings the best. Stainless steel options look great in modern, glossy, high-end interiors while matt and scandi-modern bins look the best in rustic, down-to-earth, woodsy, and understated spaces.
Garbage liners: It's important that your bin allows you to pick out the trash easily. You don't want your hands getting dirty, which is why good garbage liners are really important. You should definitely check them out when browsing for yours. They need to be the right size to make the most of the compartment size.
Automation: If technology is important to you, then you'll be delighted to know that automated recycle bins are a rising trend, and you'll certainly be seeing more of those in the future. Voice and motion sensor activated soft open lid are becoming more and more common
Finding a bin may be a complicated task for you but these tips will surely help you to get all the answers to your questions.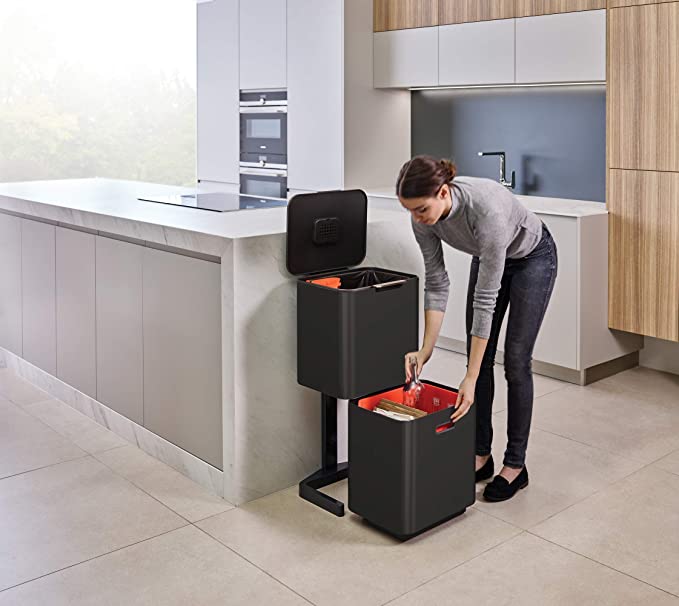 Search Recycling Bins on Amazon
ZG