In the myriad landscape of beverages, tea holds a special place in cultures across the globe. It is not just a drink; it's an emotion, a tradition, and for many, a daily ritual that speaks of comfort and tranquility. As we take you on a journey through the teas of the world, steep yourself a cup and let's explore this ancient elixir's delightful diversity.
1. China – The Cradle of Tea
Our tea journey starts in China. From the verdant hills and mist-shrouded mountains of China, the cradle of tea where this beloved beverage has woven itself into the very fabric of cultural life. As the origin country of Camellia sinensis, the tea plant, China's contribution to the tea world is unparalleled, with an ancient heritage that spans thousands of years. From the delicate complexities of green tea to the nuanced fermentation of Pu-erh, Chinese teas are as diverse as the landscapes from which they hail. Each province boasts its own unique variety, steeped in legend and perfected over centuries. Here, tea is not just a thirst quencher but a living art, a focus for meditation, and a cornerstone of social tradition. Join us as we explore the majesty of Chinese tea, a treasure trove of flavors and aromas that continues to captivate connoisseurs and casual sippers alike.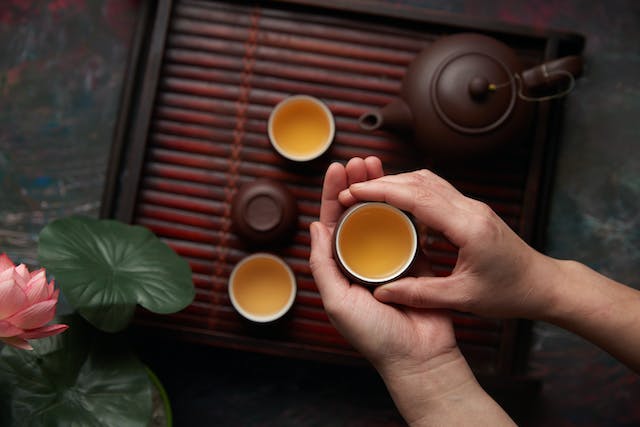 – Green Tea
China's tea history dates back thousands of years and green tea is arguably its most famous export. Renowned varieties like Longjing (Dragon Well) and Biluochun are celebrated for their delicate flavors and health benefits.
– Oolong Tea
Halfway between green and black tea, Oolong teas like Tieguanyin offer a complexity of flavor that can range from sweet and floral to rich and smoky.
– Pu-erh Tea
Aged like fine wine, Pu-erh teas are fermented and can be found in both loose leaf and compressed forms. They are known for their deep, earthy flavors and can be steeped multiple times.
2. Japan – The Art of Tea
The next part of our tea journey takes us into the serene world of Japan, where the art of tea is a choreographed ritual of grace, a testament to the culture's dedication to beauty, harmony, and precision. In Japan, tea isn't just a beverage—it's an integral part of the national identity, rooted in the revered practices of the tea ceremony, or 'chanoyu,' which encapsulates the principles of Zen and the transient beauty of life. From the electric green of powdered Matcha that froths like the sea in a chawan to the soothing, steamed leaves of Sencha, Japanese teas are a celebration of the senses. They invite a moment of calm reflection in the hustle of modern life, offering a sip of peace that has been perfected over centuries. As we delve into the Japanese tea landscape, we'll discover how each leaf tells a story of the seasons and the meticulous care of the tea masters who cultivate them.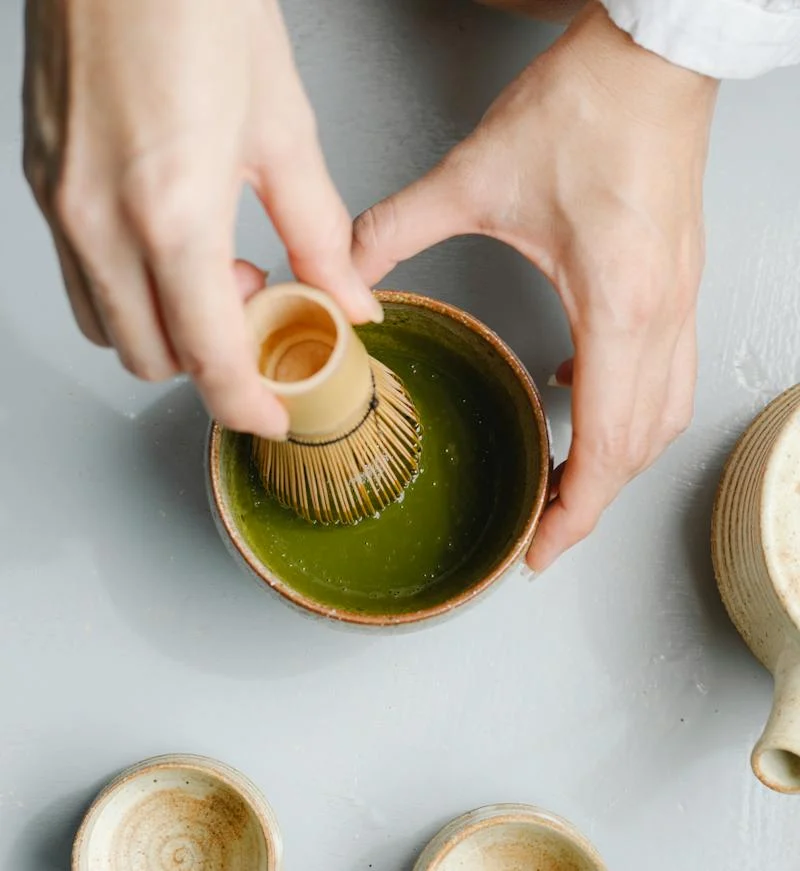 – Matcha
The vibrant green powder known as Matcha is central to the Japanese tea ceremony and is treasured for its rich, umami flavor and health-giving antioxidants.
– Sencha
Accounting for nearly 80% of the tea produced in Japan, Sencha is appreciated for its refreshing grassy notes and is often enjoyed as an everyday tea.
3. India – The Land of Diversity
India's relationship with tea is as colorful and diverse as its landscapes and people. Winding through the bustling spice markets, over the majestic Himalayas, and into the verdant Assam plains, tea forms the backdrop of daily life across this vast country. Indian tea is a tapestry of rich flavors, from the bold, malty Assam to the floral notes of Darjeeling and the spicy kick of Masala Chai, a brew that has become synonymous with the warmth of Indian hospitality. Each cup is a reflection of a culture that has embraced and transformed tea into an enduring emblem of unity amidst diversity. As we explore the nuanced spectrum of Indian teas, we encounter not just a drink, but a phenomenon that carries the essence of India's history, its regional nuances, and the pulse of its contemporary beat.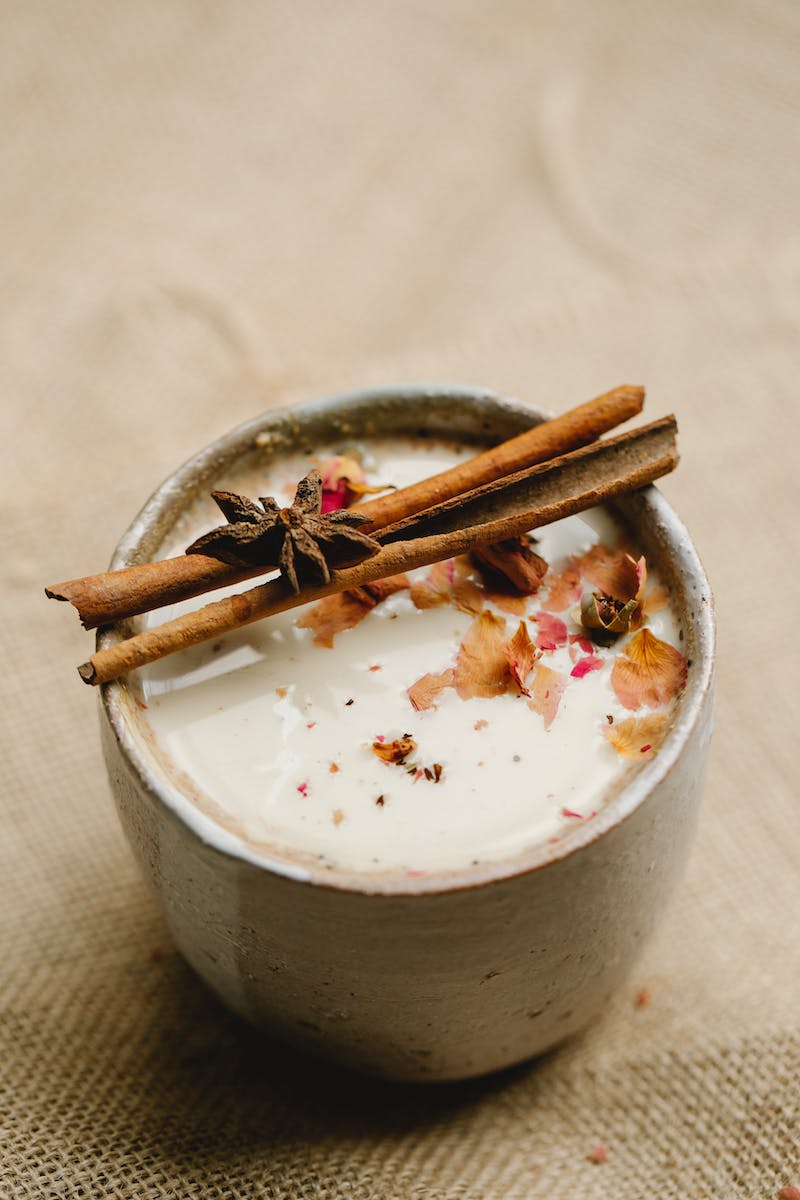 – Assam Black Tea
Bold and brisk, Assam tea from the northeastern region of India is often used in breakfast blends and is perfect for those who love a strong, malty cup.
– Darjeeling Tea
Sometimes referred to as the "champagne of teas," Darjeeling produces a lighter, muscatel-flavored black tea that is highly coveted around the world.
– Chai
Masala Chai, a spiced tea blended with herbs and milk, has won hearts globally for its soothing and aromatic qualities.
4. Sri Lanka – The Island of Ceylon Tea
Sri Lanka, the teardrop island nation formerly known as Ceylon, is steeped in a legacy of tea that rolls like its lush green hills into the deep blues of the Indian Ocean. The cool highland breezes, intermittent mists, and fertile soils have blessed this island with a perfect canvas for tea cultivation. Ceylon tea, renowned for its bright, bold flavors and rich amber hues, is a testament to the island's colonial past and its metamorphosis into a global tea titan. Each variety, from the strong and full-bodied to the light and aromatic, tells the story of Sri Lanka's regional distinctions and the subtle artistry of tea processing. This introductory stroll through the Sri Lankan tea gardens reveals an enchanting world where tradition blends with innovation to produce teas that resonate with tea lovers around the globe.
– Ceylon Black Tea
From the strong and rich to the delicate and fragrant, Ceylon teas offer a wide spectrum of flavors, influenced by the island's diverse topography.
5. United Kingdom – A Nation of Tea Drinkers
The United Kingdom's time-honoured tea culture is a woven fabric of history, ritual, and social fabric, steeped in every cup savoured from the cliffs of Cornwall to the bustling streets of London. A nation renowned for its tea drinkers, the UK has transformed the simple act of tea drinking into a quintessential British pastime, synonymous with comfort, class, and conviviality. The ritual of afternoon tea, a meal in itself with delicate finger sandwiches and scones, is a cherished break in the day, while the robust wake-me-up brew of English Breakfast tea has become a morning staple. Here, teas like the fragrant Earl Grey and the hearty English Breakfast are not just beverages; they are cultural icons, steeped in lore and enjoyed with a steadfast reverence that endures through the ages. As we explore the UK's love affair with tea, we uncover a rich blend of tradition and taste that continues to evolve, yet always remains distinctively British.
– English Breakfast
A blend of various black teas, primarily Assam, Ceylon, and Kenyan teas, English Breakfast is a robust, hearty tea that pairs perfectly with milk and sugar.
– Earl Grey
Infused with the oil of bergamot, Earl Grey has a distinctive citrus flavor and is one of the most recognised flavoured teas in the world.
6. Morocco – Mint and Green Tea
In Morocco, the pouring of mint tea is as theatrical as the country's vibrant souks and as welcoming as its sun-soaked medinas. Known affectionately as 'Moroccan whiskey,' the ubiquitous mint tea is a cornerstone of social life, an expression of hospitality, and a symbol of friendship. Brewed with a generous handful of spearmint leaves, this sweet, aromatic beverage is traditionally served in ornate glasses, poured from high above to create a frothy top—a ritual that captivates the eye as much as the brew delights the palate. Sipping tea in Morocco is to partake in an age-old ceremony, a moment of rest and conversation that flows through the day from dawn till dusk. It's here, against a backdrop of rugged mountains and desert expanses, that tea becomes more than a mere refreshment—it's an act of connection, a shared experience steeped in centuries of tradition.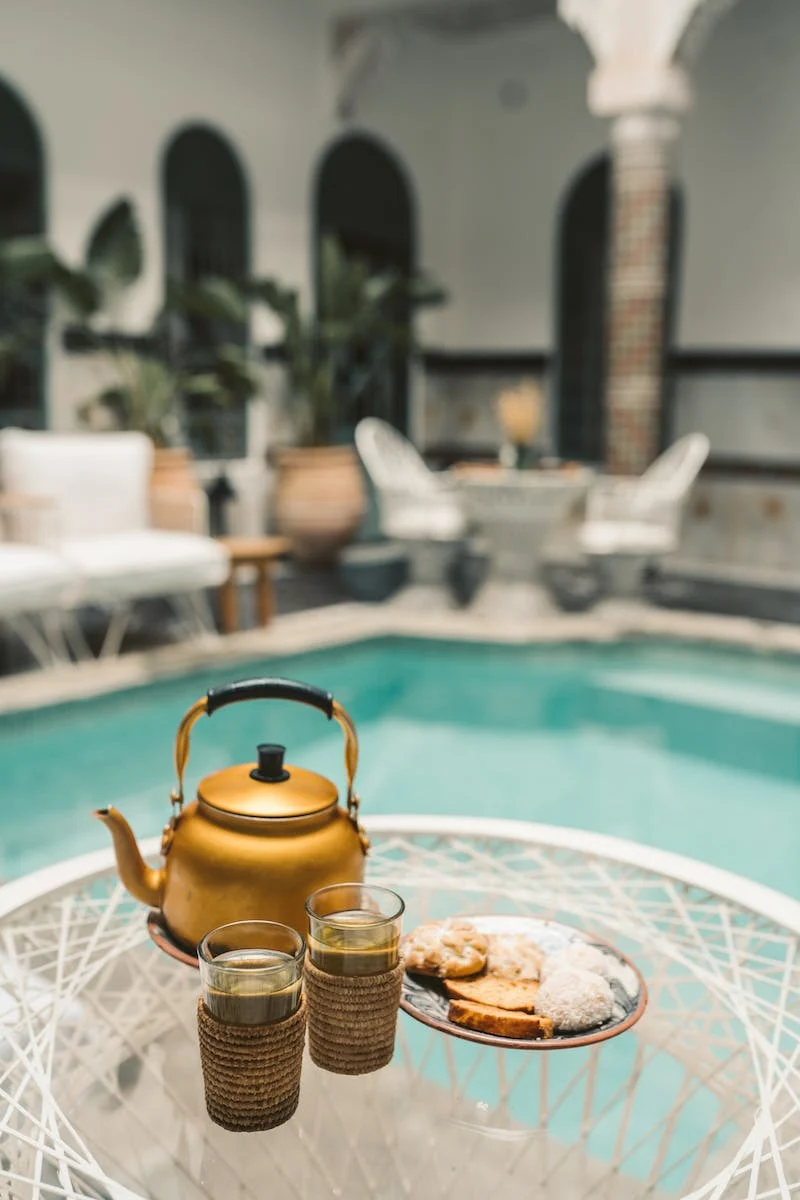 – Moroccan Mint Tea
Traditionally a blend of Chinese gunpowder green tea and spearmint leaves, this sweet and refreshing drink is central to Moroccan hospitality.
7. Turkey – Land of Tea and Hospitality
Nestled at the crossroads of continents, Turkey's tea culture is as rich and inviting as its history, an integral thread in the social tapestry of this hospitable land. In the bustling streets of Istanbul, along the azure coasts of the Aegean, and in the quiet villages dotting the Anatolian plateau, the offer of a cup of tea is a universal sign of friendship and hospitality. Turkish tea, or 'çay', is typically brewed strong in a distinctive two-tiered teapot and served in elegant, tulip-shaped glasses that are as much a national symbol as they are a vessel for drinking. The act of sharing tea in Turkey transcends mere refreshment, reflecting a way of life where slowing down to savor the moment and enjoy good company is paramount. With each sip of the deep crimson brew, one partakes in a ritual that has warmed the hearts and spirits of generations.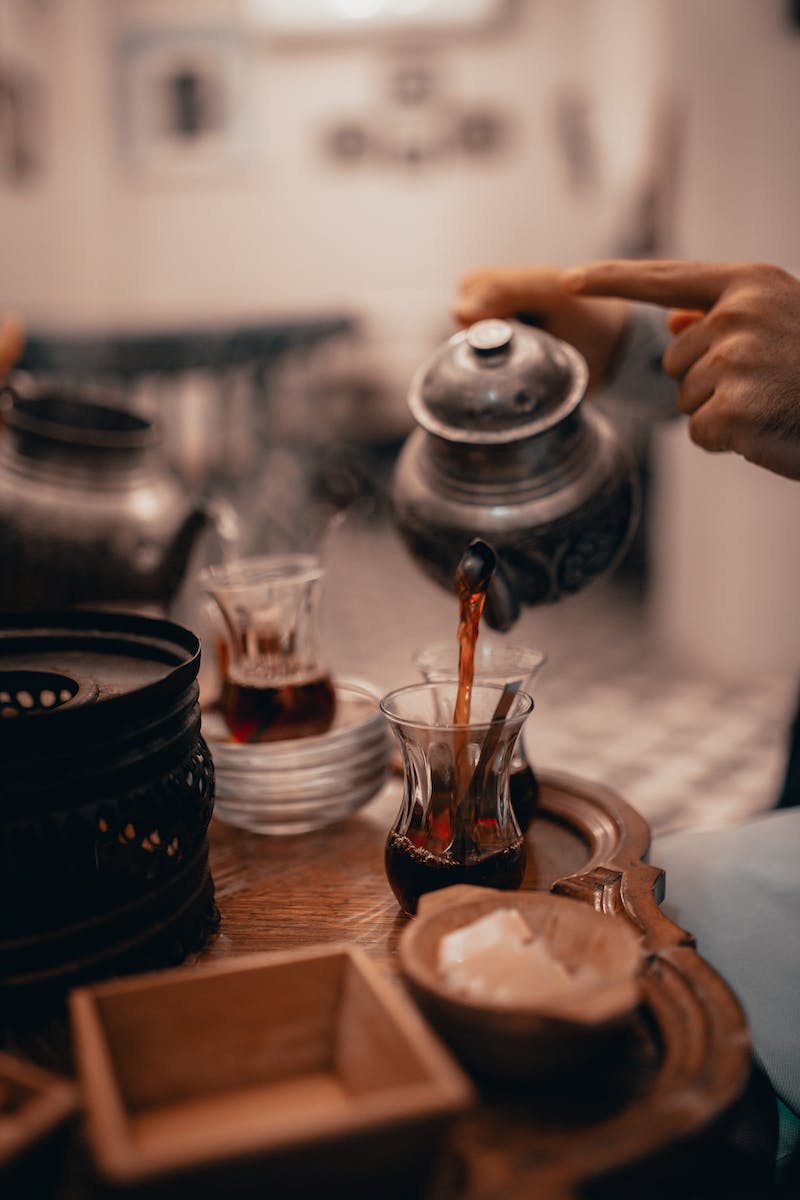 – Turkish Black Tea
Consumed in large quantities, Turkish black tea is strong and is often brewed in a special stacked teapot, served in tulip-shaped glasses.
8. South Africa – The Red Bush Tea
Amidst the rainbow nation of South Africa, amidst its sprawling savannas and rugged Drakensberg mountains, thrives the rooibos bush, giving rise to the uniquely South African 'red bush' tea. Rooibos tea, with its deep red hue and sweet, earthy taste, is a source of national pride and global delight, treasured for its caffeine-free properties and antioxidant richness. In the local language of Afrikaans, 'rooibos' means 'red bush', a name that perfectly captures the essence of the tea's vivid color and origin. This herbal beverage, often enjoyed with a slice of lemon or a dash of honey, is not only a soothing drink but also a reflection of the country's diverse botanical heritage. It encapsulates the spirit of South Africa—a land of warmth, resilience, and natural beauty.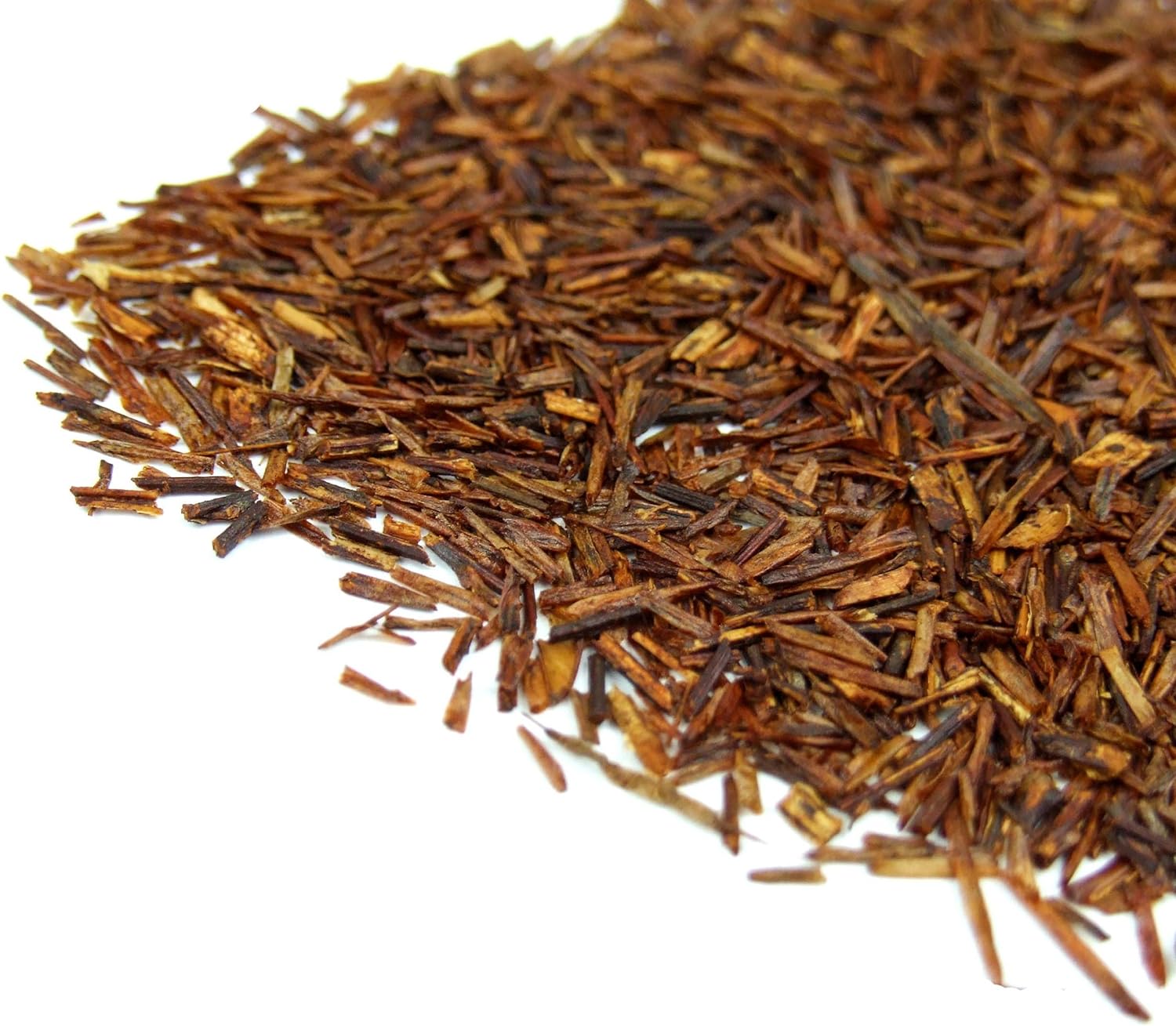 – Rooibos
Rooibos or Red Bush tea is naturally caffeine-free and is known for its rich mineral content and sweet, nutty flavor. It's often enjoyed with milk and sugar, or as an iced tea.
9. Argentina – The Mate Culture
In the verdant lands of Argentina, where the Pampas stretch wide and the tango stirs the soul, yerba mate reigns as much more than a mere beverage—it's the lifeblood of a nation's shared culture. This traditional South American infusion, with its earthy flavor and grassy aroma, is less about the drink itself and more about the ritual that surrounds it. The mate culture is a symbol of communal identity and togetherness, typically enjoyed from a shared gourd ('mate') and sipped through a metal straw ('bombilla'), signifying unity and egalitarianism. Whether in the bustling avenues of Buenos Aires or the tranquil foothills of the Andes, mate is a daily ceremony, a social equalizer, and a cherished custom that knits communities together, sip by communal sip.
– Yerba Mate
Yerba Mate is more than just a tea; it's a social drink traditionally consumed from a shared gourd and metal straw, signifying community and bonding.
10. Taiwan – The Bubble Tea Phenomenon
Not quite a tea with an origin but a choice of different tea with added milk, sugar and that all important tapioca pearls to make that perfect Bubble Tea.
In the bustling night markets and neon-lit streets of Taiwan, a playful concoction known as bubble tea has bubbled up from a local specialty to an international sensation. Originating in the 1980s, this Taiwanese creation—also known as boba tea—melds the old with the new, combining the traditional elements of tea with sweetened milk and the novel texture of tapioca pearls. These chewy spheres at the bottom of a colorful, iced and often creamy beverage have captured the hearts and palates of people across the globe. Bubble tea is more than just a trend; it's a cultural export that embodies Taiwan's innovative spirit and its ability to bring joy through a simple sip of tea. This delightful treat, customizable with a variety of flavors and toppings, invites experimentation and has inspired a worldwide community of aficionados eager to share in the joy of Taiwan's most famous and beloved beverage.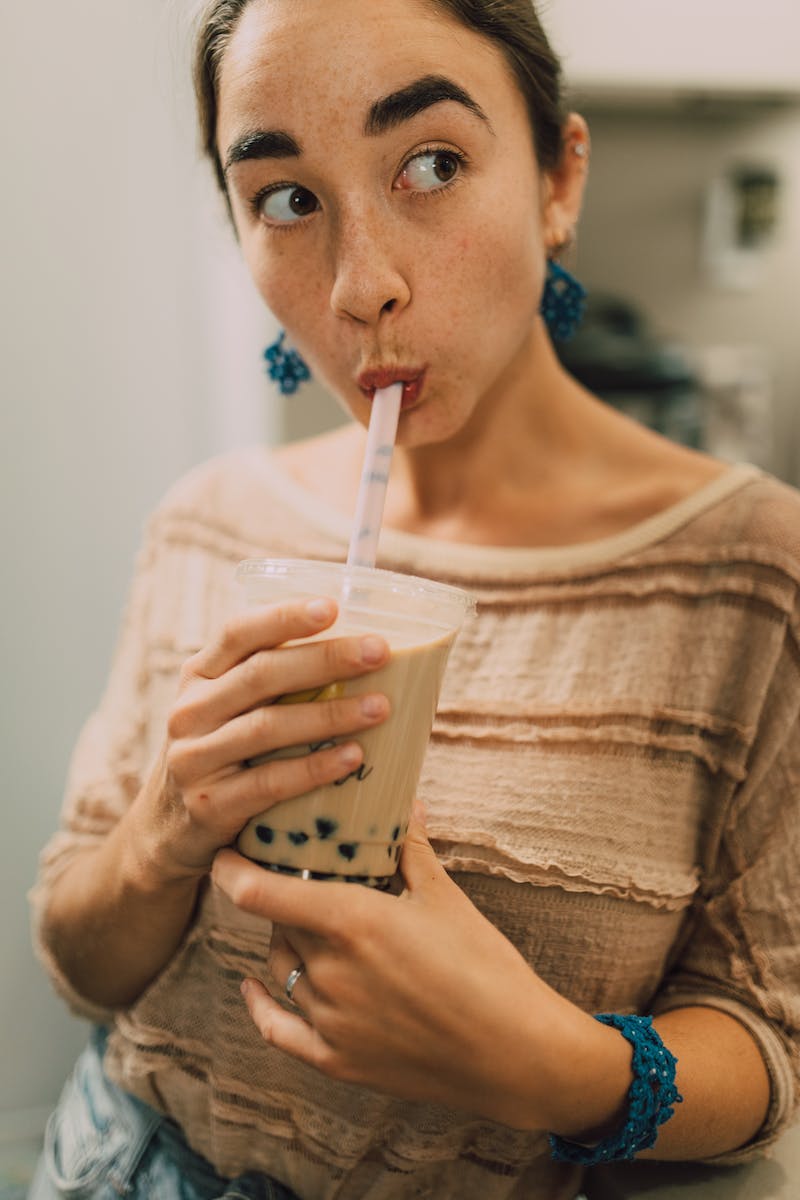 – Bubble Tea
Originating from Taiwan, bubble tea is a fun and frothy take on tea. It combines tea with milk, fruit, and chewy tapioca balls or fruit jellies.
Final Words
Each type of tea offers a window into the cultures and traditions that cherish it. Whether it's a ceremonial Matcha, a robust Assam, or an aromatic Earl Grey, each cup tells a story. Exploring the teas of the world is like embarking on a sensorial and cultural odyssey—one that promises to delight and soothe the soul, one sip at a time. So, the next time you steep your favorite leaves, take a moment to appreciate the journey they've been on, from distant lands right to your teacup.