Smart toasters, have you heard of those? Instead of the traditional toasting method based on time, these smart toasters come with colour sensing technology that automatically monitors the bread to ensure that they are toasted to the shade of gold that you like, automatically changing the time accordingly to suit thickness, accumulated heat etc. Still think choosing a toaster is easy?
Let's Start with Smart Toasters
Ever had your second round toasts darker than your first, even when the brown setting is the same. These traditional time based setting do not compensate for accumulated heat causing subsequent cycle to produce darker toasts. New generation toasters take into account the thickness, bread type, moisture, room temperature, accumulated heat from previous toasting, freshness of the bread and gluten content to set the right level of toasting.
The object is to achieve the right browning level whatever the factors. The feature is important to automatically adapt the toasting time according to the bread in the slot versus traditional fixed time mode and stopping the toasting cycle at the right time for exactly the browning level you asked for every time.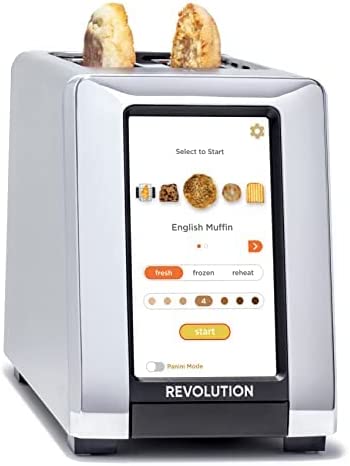 Search Smart Toasters on Amazon
Then there are the all-singing and all-dancing toasters programmable to toast, not just slices of bread but bagel, crumpet (English muffin), frozen waffles, toaster pastry and panini (with sandwich press). The latter also lets you toast quesadillas, melts and more. You do this all on a fully digital touchscreen interface to set the type, if your bread is fresh, frozen or just for reheat, browning level and more.
This and other revolutionary features make picking the right toaster that bit more interesting.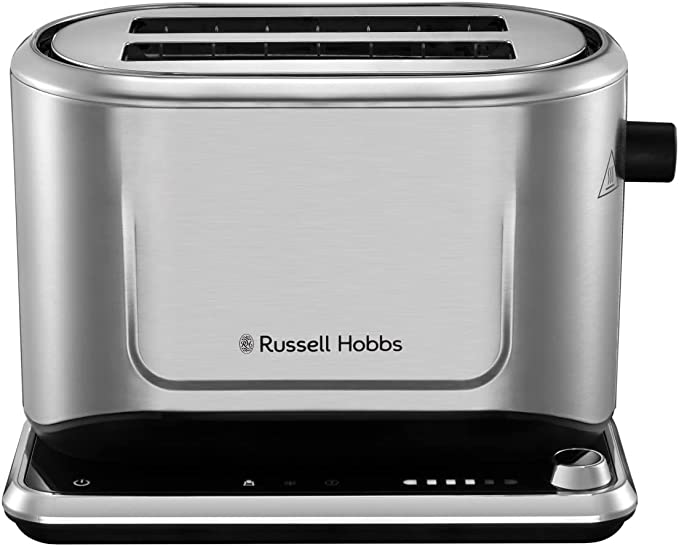 How to choose the right toaster: 8 things to consider
For something as simple as a toaster, you will be surprised how many features you need to consider when choosing the right toaster for you and your family. We break it down to these 8 basic points:
Which Design & Colour: this is pretty much subjective and is very much up to personal taste. Modern minimalist designs may suit modern kitchen decors more but there is no stopping someone who prefers retro designs from picking up a tastefully designed unit that also goes well with a modern kitchen. Of course, you would also consider the colour and finish, both of which again are subjective. You could get the style, colour and shade that matches existing appliances or the finish of your counter top, back splash or cabinet doors. Basic co-ordination like design and colour means your toaster will not be out of place in your kitchen.
Should I Get a Matching Set: most manufacturers also make matching kettle and small appliances like press grill, coffee maker, espresso machines, blender, table top oven, juicers, coffee grinder, microwave oven and more. Case in point, Breville (Sage in Europe) with its range of small appliances including pizza and ice cream makers. If you already have an appliance from your favourite manufacturer, you may wish to start there when considering a toaster. Also consider the lines or series a product is from e.g. a toaster from the same line as the kettle.
The Number of Slots: two slots for singles or couples to four slots for a small family to toast 4 slices at once. The latter is also suitable for those who prefer different settings, a sort of his and her toaster in one. Some four slot toasters have two sets of controls, and with that, its own brown settings, light or dark. You can use these independently (2 or 4 slices). Without the hassle of changing to your favourite setting, you can pick the side to use or for the type of bread you are toasting. If you have the need to make more than 4 slices of toast in one go, then go for a commercial 6-slot toaster or a conveyer toaster.
How Deep And Wide Are The Slots: Your typical square or rectangular loaf would fit all toasters but what about tall farmhouse loaves or bloomers and boule with flat and wide round shape. It will be a difficult to check if you are buying your unit online. But if you like your country/farmhouse loaves then it is worth checking your chosen toasters if they will fit. Measure the height and width of your favourite bread and make a card board replica and hit the stores to try the toasters out.
Lift mechanism: we see this as essential feature in modern toasters. They ought to have a spring loaded or standard lever to lift the toaster slightly so you can lift it up easily without burning your fingers or worst, electrocuted. Spring loaded toaster returns the slice to its normal position after toasting. However, some allows the user to lift it beyond its normal ejected position pushing the toast out of the slot. You can then safely retrieve it. Look for high-lift feature.
Centering mechanism: some toasters come with metal mesh on either side that collapses in when the toasts are loaded. A spring loaded push down lever loads the slices and centers them at the same time. This works to ensure that the slice of bread does not lean to one side causing uneven browning. The self-centring  is particularly useful if you prefer medium to thin slices.
Thickness: talking about medium to thin, what about thick slices. If you slice your own loaves or prefer thicker slices, it is worth looking out for extra wide slots that will take thick slices. If the slots are too small, there is risk that your thick slice bread will be too close to the heating element, burning it every time.
Standard Features: These features are what we would consider as standard. Ones you would expect in every toaster that you consider. Still, they are worth looking out for just in case. Here's a list of the standard features one would expect from their toaster:

Browning Setting – this is usually a dial that changes how long your bread stays in the toaster for your favourite browning level.
Mid-cycle cancel – here is a quick cancel button if you change your mind or think the toast is ready without letting the cycle finish.
Reheat or Defrost – this is again pretty standard today. If you freeze your bread, and just want it defrosted, not brown, then use the defrost option. Same goes to already toasted bread left in the toaster. If you just need it reheated, then use the reheat option. The two settings are usually the same.
Cool sidewall – this is more of a safety feature and with all things related to safety should come as standard. The exterior body of the toaster should be cool to touch even when in operation. This is to avoid burning your fingers if you or worst, a child accidentally touched the side wall of the toaster.
Ease of use: accessible dials and soft touch controls, LED indicators, digital display or meter are all helpful features to control the toaster.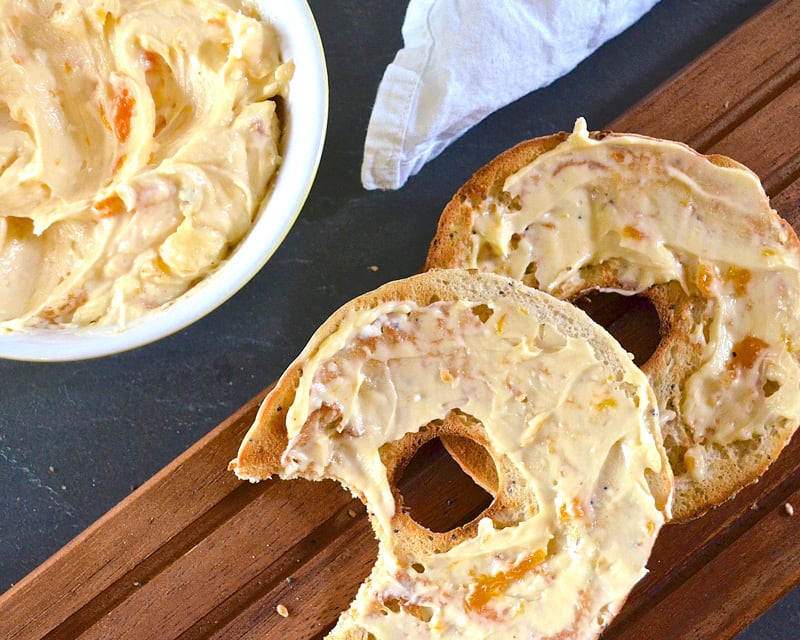 Going Beyond Toasting Slices of Bread
Warming Rack for Pastries and Buns, Bagel or Crumpet Option, Grilled Cheese / Sandwich Rack. This last bonus feature is for those who wish their toaster can do more than just toast slices of bread. And, why not. It is time to update the age old toaster and introduce some modern features. Here, we look at features built-in or achieved with added accessories.
Integrated or add-on warming rack that goes on top of the toaster lets you heat up your favourite pastries such as croissants or pecan plait Danish pastry or buns.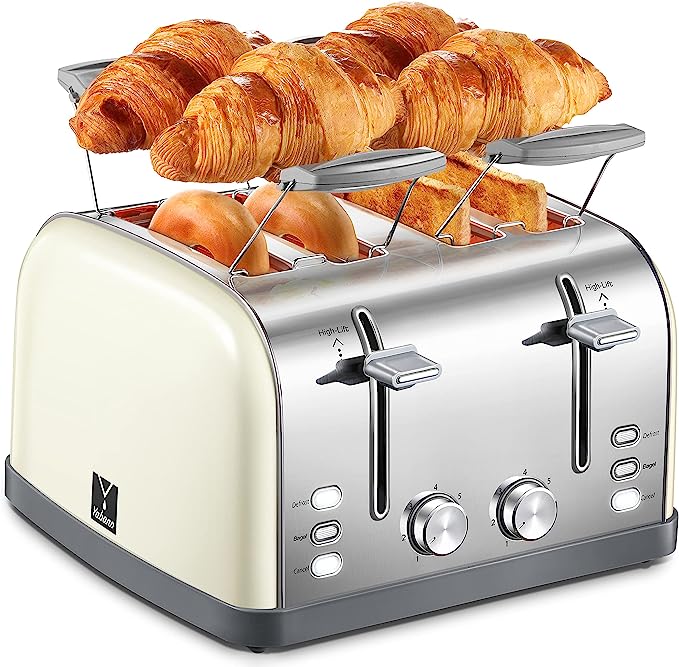 Bagel or crumpet setting lets you toast the inside of the bagel and warm the outside for that perfect bagel, crunchy and chewy at the same time.
Finally, the grill cheese or sandwich rack accessory is a drop in cage that holds your sandwich together and toasts only the outside so if it is a cheese sandwich, you get warm and gooey inside, while the outside is golden and crunchy.