From the moment I unboxed the Dualit Classic Polished Kettle, it was clear that this appliance was designed with a keen eye for style without compromising on functionality. The kettle's polished chrome finish and clean lines give a nod to classic kitchen aesthetics, making it a standout on my countertop. But beyond its good looks, the kettle has a suite of features that make it a worthy addition to any kitchen.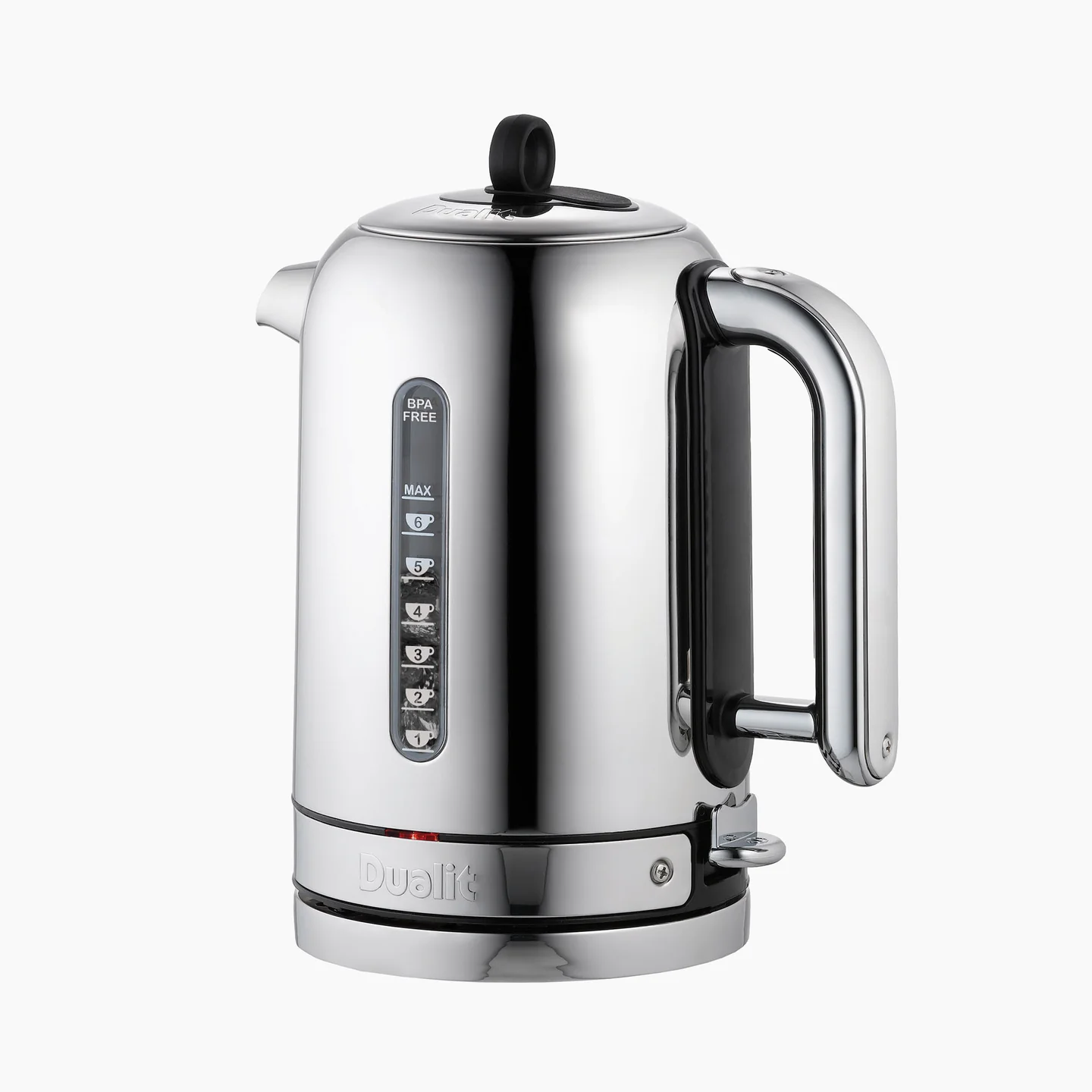 Why Choose Stainless Steel Kettles
What prompted us to replace our kettle even though it is still working and has provided us with years of service is that it is made of plastic. Apart from the heating element in the base of the kettle, the entire unit is made of black plastic down to the viewing window and limescale filter mesh which has disintegrated over the years. So, we made a case for ourselves to switch to a stainless steel kettle. Why choose stainless steel over plastic? Before we jump into the review of our Dualit Classic Kettle, let's take a look at reasons for choosing a stainless steel kettle.
Durability
Long-Lasting: Stainless steel is renowned for its strength and resistance to dents and damage. Unlike glass or ceramic kettles, which can break if dropped, a stainless steel kettle can last many years with proper care.
Corrosion-Resistant: Stainless steel resists rust, staining, and corrosion. This means it can withstand constant exposure to water and steam without deteriorating.
Health and Safety
Chemical-Free: Stainless steel does not leach chemicals. Some plastic kettles may release BPA or other potentially harmful substances when heated, but stainless steel remains stable.
Taste Preservation: It is non-reactive, meaning it won't impart any metallic taste to the water, ensuring the pure taste of your tea or coffee.
Performance
Efficient Heating: Stainless steel is a good conductor of heat, which allows the kettle to heat up quickly and evenly. This can save time and energy.
Keep Warm: It retains heat well, keeping your water warmer for longer compared to other materials.
Aesthetics
Timeless Look: Stainless steel kettles come in a range of finishes, from matte to shiny, and can fit into any kitchen decor style, from traditional to contemporary.
Consistent Appearance: They maintain their look over time, as stainless steel doesn't discolor easily, even after years of use.
Maintenance
Easy to Clean: Stainless steel is non-porous, which makes it easy to clean and sanitize. It is often dishwasher-safe and does not require special cleaners.
Hygiene: The non-porous surface of stainless steel makes it difficult for bacteria and germs to adhere and survive, promoting better hygiene.
Environmental Impact
Recyclable: Stainless steel is 100% recyclable, which can't be said for all plastic or glass options. This makes it a more sustainable long-term choice for environmentally conscious consumers.
Energy Efficient: Due to its good heat retention properties, it may require less energy to keep water hot, thereby reducing the overall energy consumption.
Versatility
Induction Compatible: Many stainless steel kettles are compatible with induction stovetops, unlike kettles made from other materials.
Wide Range: You can find stainless steel kettles with various features, such as temperature settings, keep-warm functions, and filters for hard water areas.
Cost-Effectiveness
Value for Money: Although stainless steel kettles can sometimes be more expensive initially, their durability often means they offer better long-term value than cheaper alternatives.
The Drawbacks
Stainless steel kettles offer numerous advantages, they are not without drawbacks. They can be heavier than their plastic counterparts, and the exterior can become quite hot to the touch when the kettle is in use. On top of that, without proper care, even stainless steel can eventually show signs of wear and tear, such as water spots or fingerprints, especially on high-polish finishes.
Elegance Meets Performance in the Dualit Classic Polished Kettle
Under the gleaming facade of the Dualit Classic Polished Kettle lies a harmonious blend of elegance and utility. With its mirror-like chrome finish and gracefully curved lines, the kettle commands attention, bringing a touch of sophistication to the kitchen.
The sturdy stainless steel construction gives it a substantial feel, reassuring users of its quality with every use. Its ergonomic, silicon grip handle provides both comfort and insulation, making pouring a smooth and safe experience.
The weighted base and tactile switch complement the kettle's sleek silhouette, exuding a retro charm that doesn't just sit in the space but elevates it. This kettle isn't just an appliance; it's a statement piece that performs as beautifully as it looks, marrying the timeless allure of classic kitchen design with the demands of modern functionality.
Performance
The Dualit Kettle boasts a rapid-boil feature that's as impressive as advertised. The 1.7-liter capacity is perfect for a family, heating enough water for several cups of tea in just a couple of minutes. The 2.4kW element means you're not left waiting around for your brew, a real boon for busy mornings or when entertaining guests.
Design
I'm a fan of the patented Whisper Boil™ feature, which significantly reduces noise when the kettle is in use. It's a feature that you don't know you need until you experience it—no more having to raise your voice over the sound of boiling water. The stay-cool handle is ergonomically designed, allowing for a comfortable grip, and the precision-pour spout does not drip, eliminating those pesky water spots on the counter.
Ease of Use
The kettle has a rotary power base, making it effortlessly easy to place back onto the base, a feature that both right and left-handed users will appreciate. The push-button lid keeps you from encountering steam when refilling, and the cup level indicators are a helpful guide for boiling only the amount of water you need, which is better for energy efficiency.
Durability
Dualit is known for its durability, and this kettle lives up to the brand's reputation. It feels sturdy, and the materials are top-notch. The element is replaceable, which is a fantastic feature, suggesting that this kettle is made to last and won't need to be replaced as soon as the element burns out—a common issue with lesser models. A bit more on this in the next section
Longevity – Is it a Kettle for Life?
The Dualit Classic Polished Kettle boasts a distinctive and highly praised repairable element design, setting it apart in a market where many kettles are discarded once their heating elements fail. This design ethos not only exemplifies Dualit's commitment to sustainability but also offers long-term cost savings to consumers.
By allowing the element to be replaced, Dualit ensures that the lifespan of the kettle extends significantly beyond that of its competitors, reducing waste and the need for frequent replacements. This feature reflects a nod to more traditional, durable goods that were made to be repaired rather than replaced.
For consumers, this approach means that an investment in a Dualit kettle is not just for a household appliance, but for a product that can be maintained and cherished for years, perhaps even decades, with proper care. This repairability is a testament to Dualit's dedication to quality, environmental responsibility, and respect for their customers' investment.
To answer the question, is it a kettle for life? We like to think so.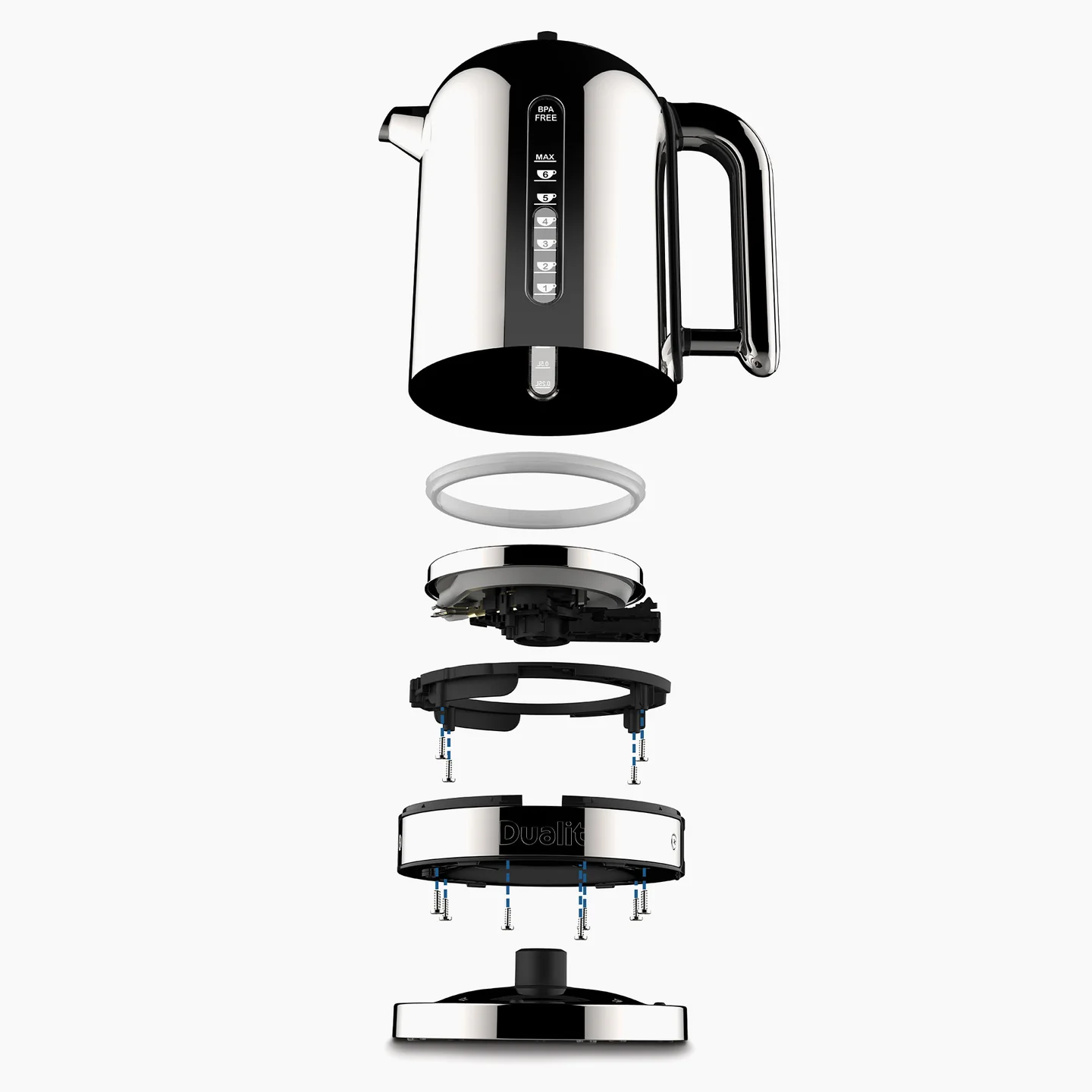 Disadvantages
If there's any downside to this kettle, it's the price point. It's on the higher end compared to other kettles on the market. But given its robust build and elegant design, the investment seems justifiable, especially if you're looking for long-term value.
Final Thoughts
The Dualit Classic Polished Kettle marries form and function beautifully. It's not just a kitchen appliance but a statement piece that does its job excellently. For those who appreciate the finer things in life and don't mind spending a little extra for a premium experience, this kettle is certainly worth considering.