Stop messing around with a George Foreman or small clamp shell grills. Get professional cafe level results at home whatever you are preparing be it panini, grilled sandwich, steak, burgers, chicken or vegetables with these large contact grills. They come with floating heated cooking plate that levels with the lower plate, searing function, solid hinge, large handle and more.
If you still insists on something smaller, more compact and ultimately more affordable, check out our budget contact grills that make the cut for under a hundred dollars. For everyone else, read on.
Features: 5-in-1 Functions, LCD Display, Digital Temperature Controls (175-450 degrees), Sear Function, Removable and Reversible (Grill or Griddle) Cooking Plates, Plates and accessories are Dishwasher safe. Opens flat with 180-degree hinge.
Cooking Surface: 100/200 sq.in. (4/8 servings)
Power: 1500W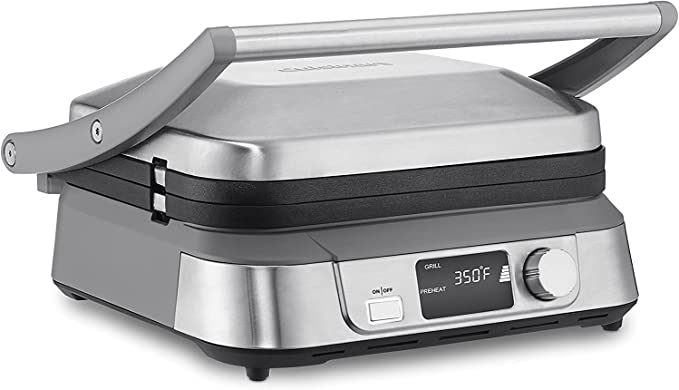 The Cuisinart GR-5BP1 is good large starter grill. While it may not be as large as its bigger siblings such as the Griddle Deluxe and Griddle Elite below, it is still mighty big. Open up the unit at 180 degrees and the handle turns into a stand to give you a flat cooking surface. You can then design which side of the cooking plate to use; the grill or griddle. You could do half grill and half griddle to cook pancakes or eggs and bacon side by side. It comes with a big LCD display, control knob and power button on the front for easy access. It does lack a few features that would otherwise make it complete such as independent temperature controls for the cooking plates, step-wise height adjustments for the floating lid and smokeless mode.
Features: 9 cooking programs, 2 cooking modes (standard or from frozen) and manual cooking with 4 temperature settings. Perfect grilling result for beef from rare, medium to well done with ring light indicator and beep.
Cooking Surface (6-8 servings)
Power: 1800W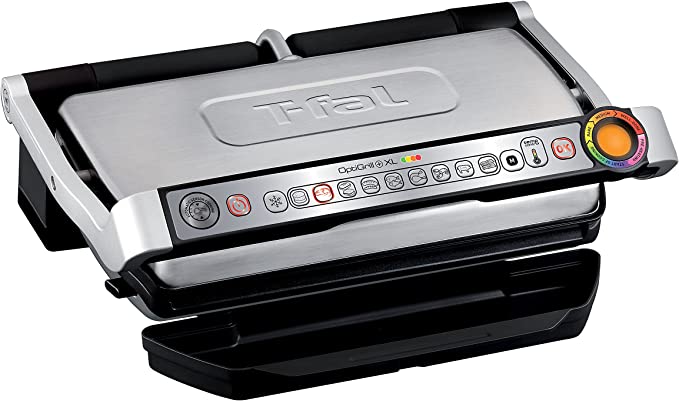 The bigger of two contact grills from T-fal, the Opti-Grills focus on delivering the best food based on clever cooking programs. For the Opti-Grill XL, there are 9 automatic cooking programs altogether. Choose from burger, poultry, sandwich, sausage, red meat, fish, pork, bacon and shellfish. It ticks all the right boxes; dual heating plates, big handle, solid hinges and large cooking surface. But what it does best is in preparing red meat just how you like it. Wait for the grill to preheat. Put your steak in and wait for your indicator light to come up. These lights are for rare, medium and well done and they come with an audible beep too so you don't really have to wait around, just count your beens. If you would rather do things manually, use one of four temperature settings to prepare your mean. There is even a defrost mode to deal with frozen food. Oh, those grill plates are removable too, too bad they are not reversible. Together with the drip tray, they can just go into the dishwasher after cooking.
ALSO:
T-fal Opti-Grill Indoor Electric Grill
Features: Automatic Sensor Cooking
Cooking Surface: 93 sq.in. (4 servings)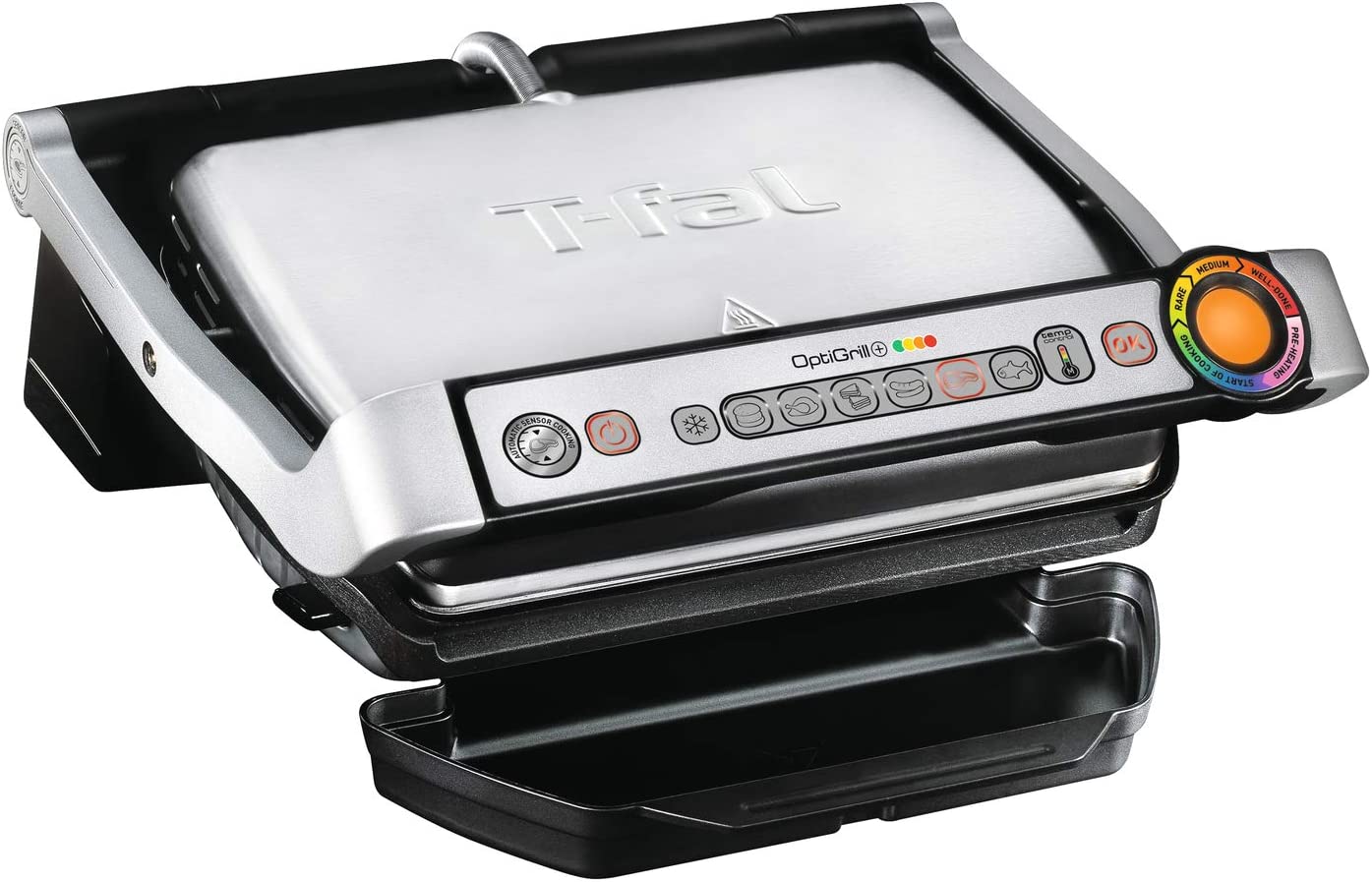 Features: DuoControl independent temperature controls for top and bottom plates, Smokeless mode, 175-425°F plus a Sear Function
Cooking Surface: 100/200 sq.in. (4/8 servings)
Power: 1800W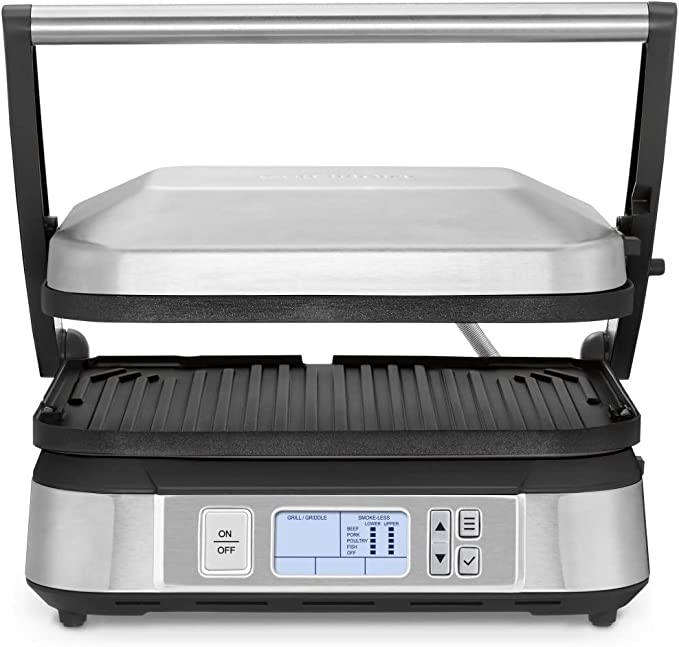 If the first Cuisinart from our list above doesn't cut it because it does not let you control the temperature of the upper and lower cooking plates, this one will. Not only does it come with digital display, simplified controls and buttons, doing away with the knob, it also supports DuoControl Heating that lets you sent the temperature for the upper and lower grills independently. But the biggest feature is the smokeless mode.
For that you need to extend the lefts in front to tilt the grill back so the grease drains quickly into the drip tray. Use it with the smoke-less mode and you will have a near smoke free cooking experience. Plus, the lid and top cooking grill doubles as flat cooking surface when you open it up into a full grill and or griddle. Yes, those cooking plates are reversible so you can choose between a grill or griddle or a mix of both, one for each side.
Features:

3-in-1 Electric Panini Maker, Reversible Plates (grill or griddle) with Double Cooking Surface, Stainless Steel. Opens flat with 180 degrees hinge, sear up to 450 degrees F, digital display, temperature control. Dual heating plates. Plates are removable and dishwasher proof.

Cooking Surface: approx. 120/240 sq. in. (5/10 servings)
Power: 1500W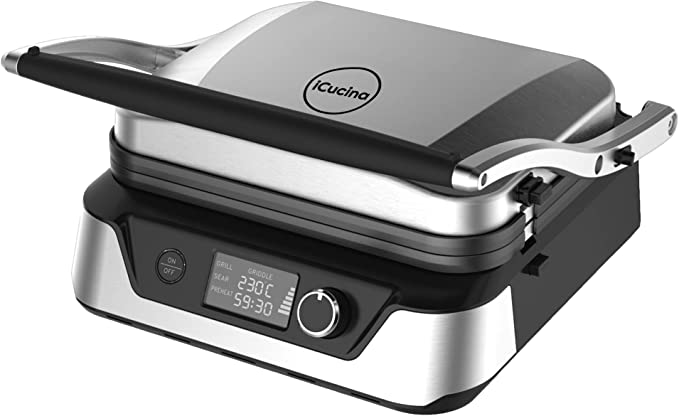 This sleek little number may look small in the picture but it is just as big as all the other contact grills here. The iCucina Griddle Grill Combo comes with reversible cooking plates (grill or griddle) and searing function by increasing the heat up to 450 degree Fahrenheit. Then Digital Display and control knob is a dream to use. It lets you control the temperature to the plates although not independently. You can turn it into a table top flat grill / griddle combo to prepare breakfast or BBQ too. Once you have finished cooking, leave it to cool down, unlock the plates and stick them in the dishwasher.
6-in-1 griddle, reversible plates for grill or griddle. Independent Temperature Controls for Top and Bottom, simple knob controls with red/green LED lights for each plate, up to 500 degrees Fahrenheit. Open flat with 180 degree hinge. Plates are removable and dishwasher proof.
Cooking Surface: 120/240sq. in. (5/10 servings)
Power Rating 1800W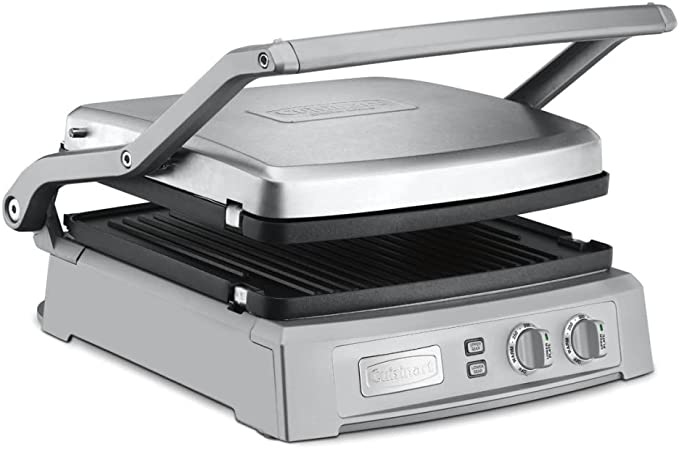 Next we have another Cuisinart, the GR-150P1 Deluxe Electric Griddle is a retro and industrial looking unit. It is without a doubt a large unit with chunky hinges for the lid and a big handle bar. There is a step up slider on the right arm to sent the desired thickness (6 different heights) of the floating upper grill to maximise the contact on the food. There is nothing fancy here. No digital backlit displays or light up buttons. Just two knobs and two buttons. There is a red/green LED indicator though to take a way the guess work so you know with the desired temperature is reached. The knobs are to control the upper and lower plates independently. The two buttons up front are to active the sear function for top or bottom plate. These boost the temperature to 500-degree Fahrenheit for up to 2 minutes. Make no mistake this is a powerful unit with a power output of 1800W. A more advanced alternative would be the Cuisinart Griddle Elite found at the bottom of the list.
Think you have seen too many Cuisinart contact grills, so have we. This next large contact grill is from DeLonghi. The Livens All Day Combination Contact Grill is a modern grill that got everything right. It supports give cooking functions. These are contact grill and panini press, open full grill, open full griddle and half grill/half griddle. It differs from the Cuisinart in that the plates, while removable, are not reversible. The grills and griddles are offered separately. This is because the plates are designed with heating elements embedded.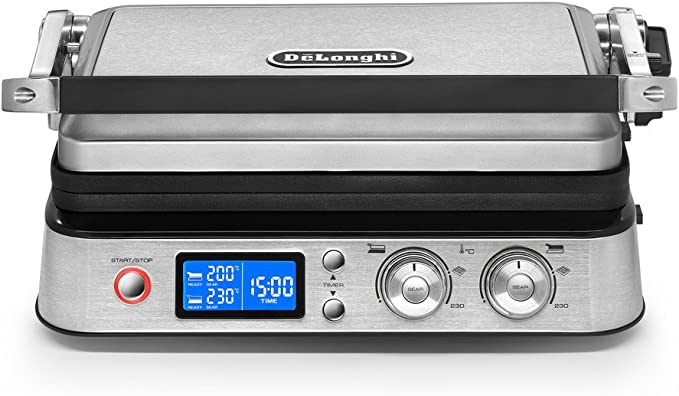 Unlike the other grills here, where the heating elements stay on the unit and you simply mount the reversible cooking plates near it. DeLonghi puts the heating elements directly into the plates. Here lies the problem, you need to fit the electrical contacts back on properly to use it and be sure not to bend them. DeLonghi does say that these removable grills, griddles and waffle plates if you choose one that includes them are dishwasher safe.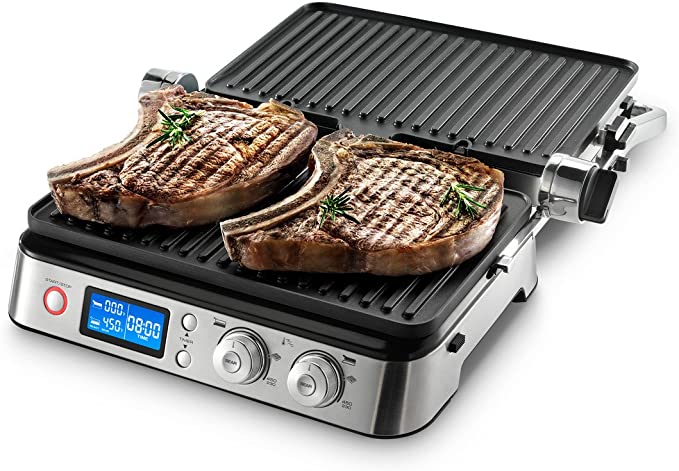 Each plate offers 14.5 x 9-inch cooking space for 130.5 sq. in. and  261 sq. in. when open, that is big enough for up to 12 portions. The temperate control for each plate can be controlled using the pair of knobs. There is even a helpful timer function and large backlit LCD display for temperature setting and cooking timer. The hinge is clever too with FlexPress System that doesn't crush the food and even allows the upper plate to float above the food to broil a steak or crostini.
Features: Panini/Contact Grill Mode and BBQ Mode (lay flat), Temperature and Timer Control Dials, Element IQ, searing temperatures 320F to 450F
Dimensions: 14″ x 14″ x 5 3/4″
Power: 1800W
Like the DeLonghi above, this Breville contact grill uses embedded heating elements for direct heat transfer. That way no heat is loss. This means faster preheating and cooking. Searing temperature can go higher too. The grill is smart too with Element IQ. It automatically adjusts the temperature when it detects a temperature drop when cold ingredients are introduced to the pre-heated grill. This helps compensate for heat loss.
The upper plate is also held with arms that support six different height adjustments to accommodate thin to large and thick food without crushing it. These plates are removable and can be interchangeable. You get one griddle (ribbed plate) and one flat grill, so you can decide which one goes on top and which one goes at the bottom. This can be a disadvantage if you want to have seared marks on both sides of your food. It also does not offer independent temperature controls for each plate and no
Features: Three one-touch cook settings; Panini, Burger and Sear. Independent temperature controls for each plate, open flat BBQ mode, reversible plates (grill and griddle).
Cooking Surface: 9.8 x 11.8-inch each, 120/240 sq. in. (5/10 servings)
Power: 1800W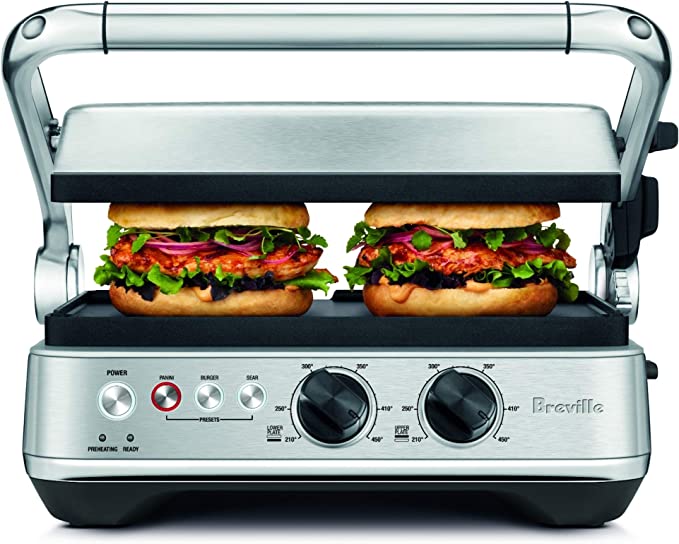 Another Breville on our list. This one may not have an LCD display or timer, but it does offer independent controls for the upper and lower plates. It also offers three easy to use one-touch cook functions. Use them for panini, burger or to sear your food. Otherwise, simply use the knobs to control the temperatures of the plates. Quick light indicators turns on when to show when the unit is preheating or when it is ready to cook. Chunky handle and arms that let you set different height settings to accommodate different thickness of your food complete the unit giving it that professional look. But unlike the Breville Smart Grill above, this use exposed heating elements. Which also means that the dual sided ceramic plates (grill and griddle options) are reversible and removable. Here's what it looks like in open flat BBQ mode. Optional waffle plates are available to buy to swap out these non-stick plates for added versatility.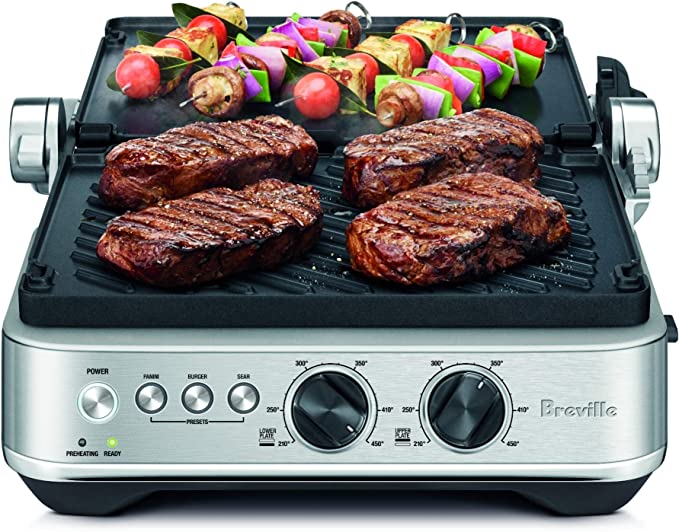 Features: 6 cooking options (contact grill, panini press, full grill, full griddle, half grill/half griddle and top melt). Digital LCD display and LED indicator lights. Dual zone (upper and lower) temperature control, 60-minutes countdown timer with digital controls. 6 level height adjustment arm. Removable and reversible dishwasher proof plates. Open flat.
Cooking Surface: 120/240sq. in. (5/10 servings)
Power: 1800W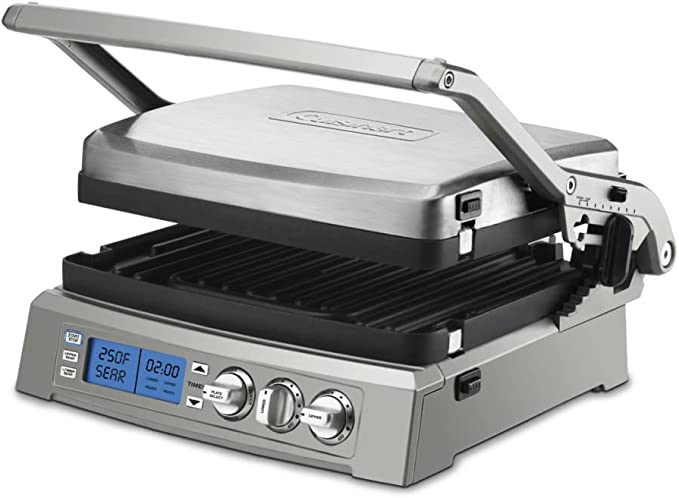 We saved the best for last. The Elite Griddle is the more up market version of the Deluxe Griddler we see above. While the Deluxe version is all manual, the Elite gives you more controls, a digital LCD display and count down timer. You still get knobs to control the temperature for lower and upper plates but there is a third knob to control the plates you want the heat on. For the latter, switch to heat between upper, lower or both plates. There is also a sear function just like the Deluxe. This lets you boost the temperature up to 500-degree Fahrenheit for up to 2 minutes. You do this via buttons on the control panel. Pick between upper or lower plates to commence searing. Just like the Deluxe, the plates are reversible and are both dishwasher proof.
Functions: 6-In-1 Multi-Grill: contact grill, contact griddle, panini press, mixed grill/griddle, open grill, and open griddle, 180 degree hinge, lay flat design
Cooking Surface: 12.6 x 8.7-inch each, 109.6 sq. in. or 219.2 sq. in (lay flat)
Power: 1600W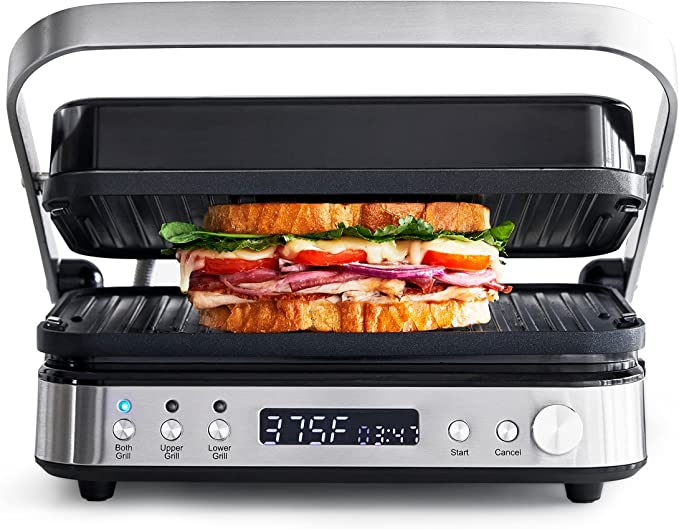 Features: LCD display, countdown timer (30-60 mins), independent temperature controls, temperature range 175℉ to 450°F, 180 degree hinge, lay flat design.
Cooking Surface: 100/200 sq.in. (up to 8 servings)
Power: 1600W