When it comes to enjoying delicious waffles at home, having a good waffle maker is key. However, if you're on a budget, finding the right waffle maker that balances cost with quality can be a bit of a challenge. Here's a guide to help you find the right budget waffle makers without compromising too much on performance and durability.
We also included some of our favourite budget waffle makers and reasons for picking them.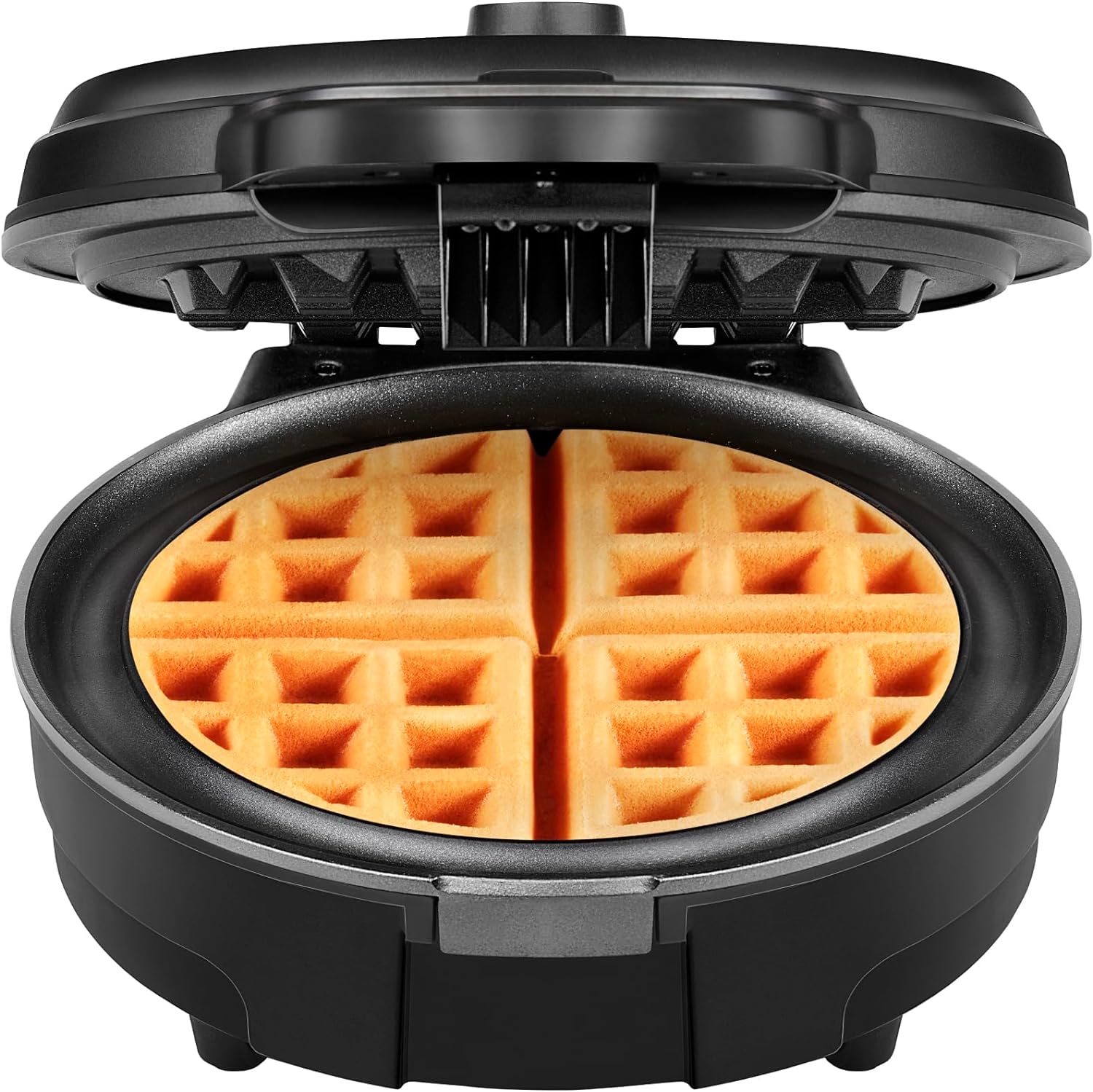 One of the cheapest and most affordable waffle maker around, the Chefman comes comes with anti-overflowing design with its built-in moat, vented cool touch handle, safety locking latch, ready indicator lights, non-slip feet and 7 shades browning settings. Non-stick surface is a given of course but temperature control and mess free moat are real bonuses on a budget unit. Also included is a measuring cup for just the right amount of batter.
RELATED:
Understanding Your Needs
1. Start with the Basics
Before jumping into the various options available, consider what you really need. Do you prefer traditional or Belgian waffles? How many waffles do you need to make at a time? Understanding your basic requirements will help you avoid paying for unnecessary features.
Key Features to Look For
2. Non-Stick Surface
A non-stick surface in a waffle maker is an indispensable feature, irrespective of the price point. The primary advantage of a non-stick coating is the ease it brings to the waffle removal process. Everyone craves that perfect waffle which is crispy on the outside and fluffy on the inside, and a non-stick surface ensures your waffles come out intact, without sticking or tearing apart. This feature is especially beneficial for those who are new to waffle making or for recipes with a tendency to stick. Plus, the ease of cleaning offered by non-stick surfaces cannot be overstated. Waffle batter can be messy and can easily bake onto cooking surfaces. With a non-stick surface, the post-cooking cleanup is reduced to a simple wipe down with a damp cloth, saving time and effort and keeping your waffle maker in good condition for longer.
Regardless of price, a non-stick surface is a must. It not only makes waffle removal easy but also simplifies cleaning.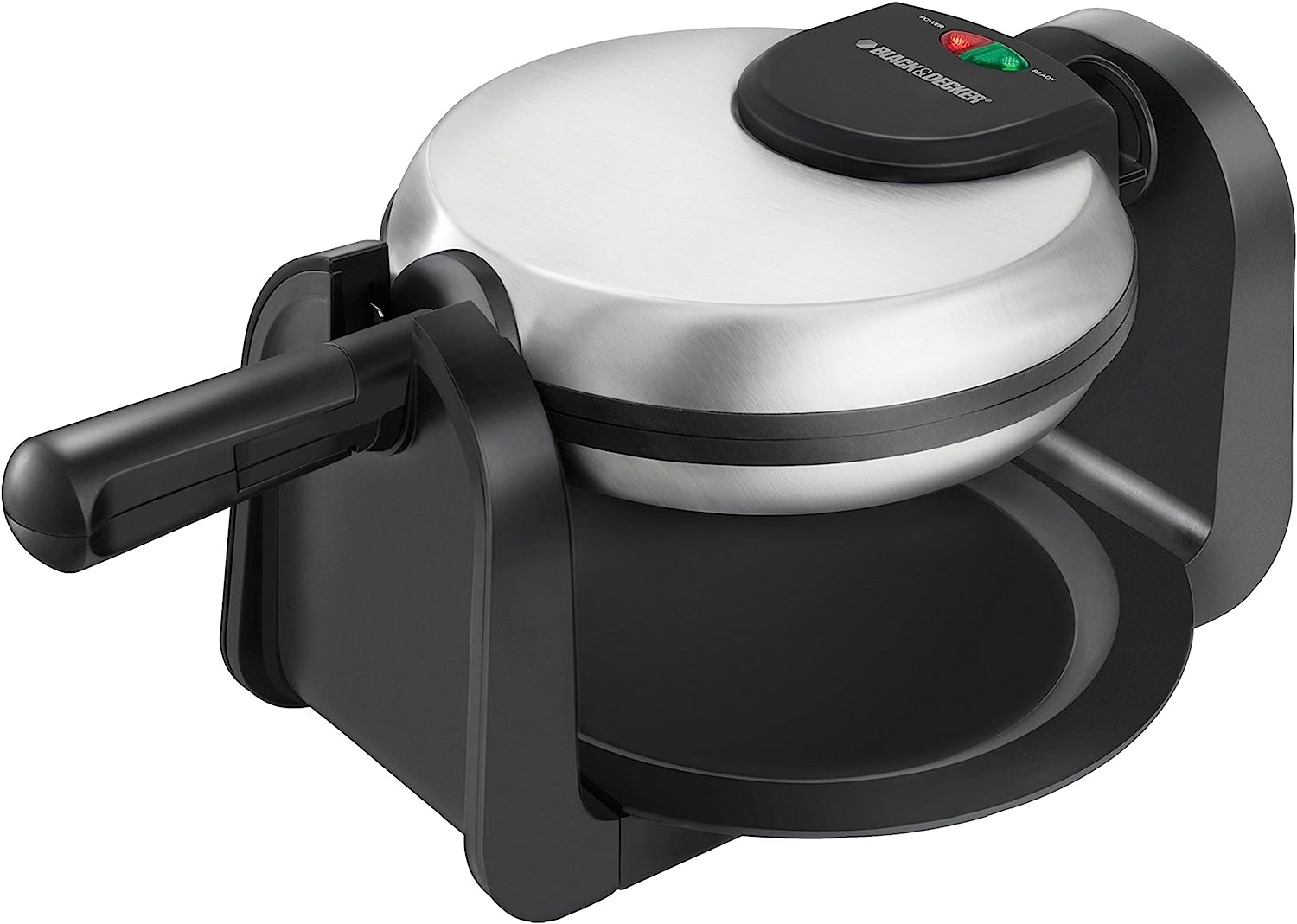 If you think flip or rotating designs are reserved for expensive or premium units, think again. This Black+Decker is not only affordable but comes with a sturdy design and waffle irons that flips an evenly cooked 7-inch waffle. It also comes with a non-stick drip tray to catch battery overflows. It is not the easiest to store away but at least the handle folds to the side so it is out of the way.
3. Simple Temperature Control
When it comes to temperature control, budget waffle makers might not offer a wide range of settings, but basic adjustable temperature control is a feature you should look for. The ability to adjust the cooking temperature is crucial for achieving the desired crispiness of your waffles. Some like them lightly browned and soft, while others prefer a darker, crisper texture. Simple temperature control allows you to cater to these different preferences, enhancing the versatility of your waffle maker. It also helps in accommodating different types of batter – for instance, whole grain batters might require a different cooking approach compared to classic ones.
While you might not get advanced temperature settings in budget models, look for ones with basic adjustable settings to control how crispy your waffles turn out. Still, it's not the end of the world if temperature control is not available especially on cheaper and more affordable models. You simply have to increase or decrease the cooking time for darker or lighter browning or to cater to different ingredients in the batter mix.
4. Indicator Lights
Indicator lights are another feature that, while simple, significantly improve the usability of a waffle maker. These lights usually indicate when the waffle maker is properly preheated and ready for the batter, as well as when the waffles are cooked. This takes the guesswork out of the cooking process, especially for those who are not yet confident in their waffle-making skills. Indicator lights help prevent undercooked or overcooked waffles, ensuring a more consistent outcome. Even in budget models, this feature is common and adds a level of convenience that can make your waffle-making experience much more enjoyable and successful.
These are helpful for knowing when the waffle maker is ready to cook and when waffles are done, a simple feature that is usually found even in budget models.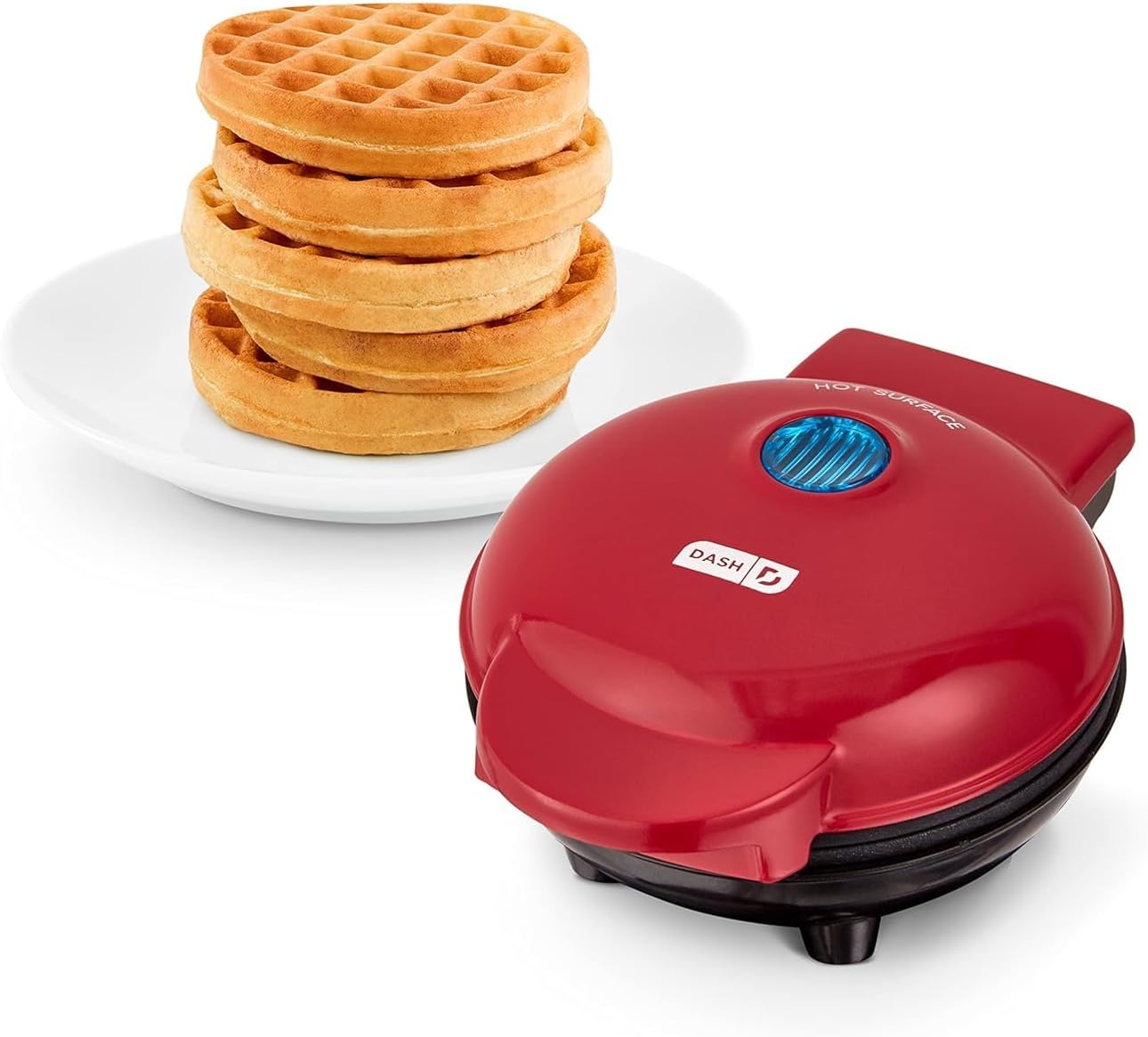 Dash Mini Waffle Maker makes 4-inch waffles for one and is available in various colours and iron designs. For the latter, choose from your standard round waffle, heart shaped, skull, pumpkin, bunny and beach style with pineapple motif. And, if making one mini waffle is just too slow for a group of friends of family, consider the Dash Multi Mini Waffle Maker that makes four 4-inch waffles in one go. It even comes with two drip channels to prevent mess or use it to cook waffle sticks that you can eat.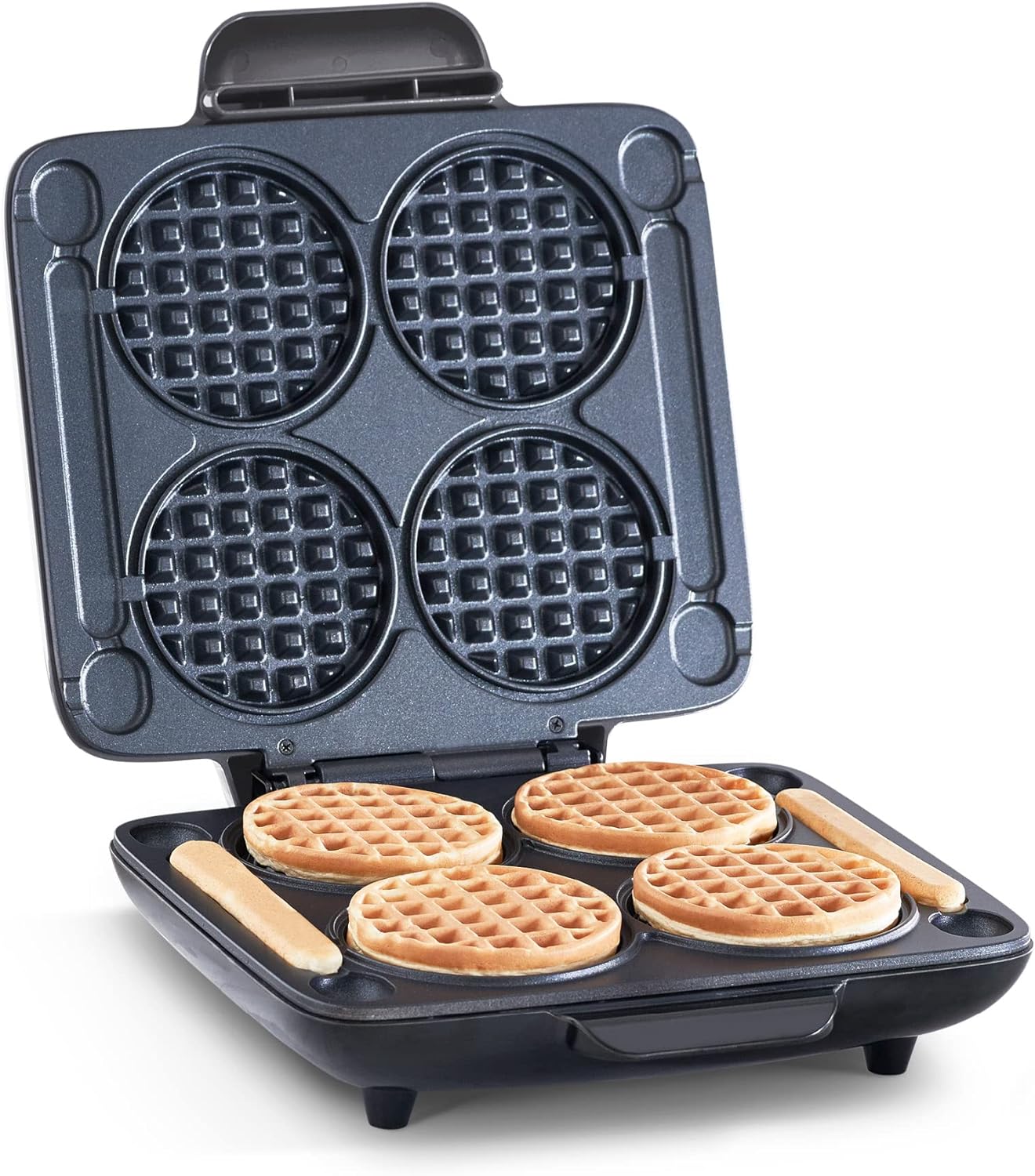 Where to Compromise
5. Size and Capacity
When it comes to selecting a budget waffle maker, size and capacity play a significant role, especially in terms of cost. If you're not regularly cooking for a large group, opting for a smaller or single-waffle maker can be a wise choice. These compact models are not only more affordable, but they also have the added benefit of being space-efficient, making them ideal for smaller kitchens or for those with limited storage space. A smaller waffle maker heats up faster and can be easier to handle and clean, making it a convenient option for quick breakfasts or occasional use.
If you're not regularly cooking for a crowd, consider a smaller or single-waffle maker, which is often cheaper.
6. Brand
In considering budget waffle makers, brand recognition can be less of a priority. While top-tier brands often come with a higher price tag due to their established reputation and marketing, many lesser-known brands can provide similar quality at a more affordable price. These brands may cut costs by focusing on basic functionality rather than expensive marketing campaigns or high-end finishes.
However, it's important to do your research. Reading customer reviews and ratings can provide valuable insights into the real-world performance, durability, and any potential issues of these budget-friendly models. Reviews can often reveal how these waffle makers compare to more expensive options in terms of quality and longevity.
You might not be able to afford the top brands, but many lesser-known brands offer decent quality at a lower price. Be sure to read customer reviews for real-world insights.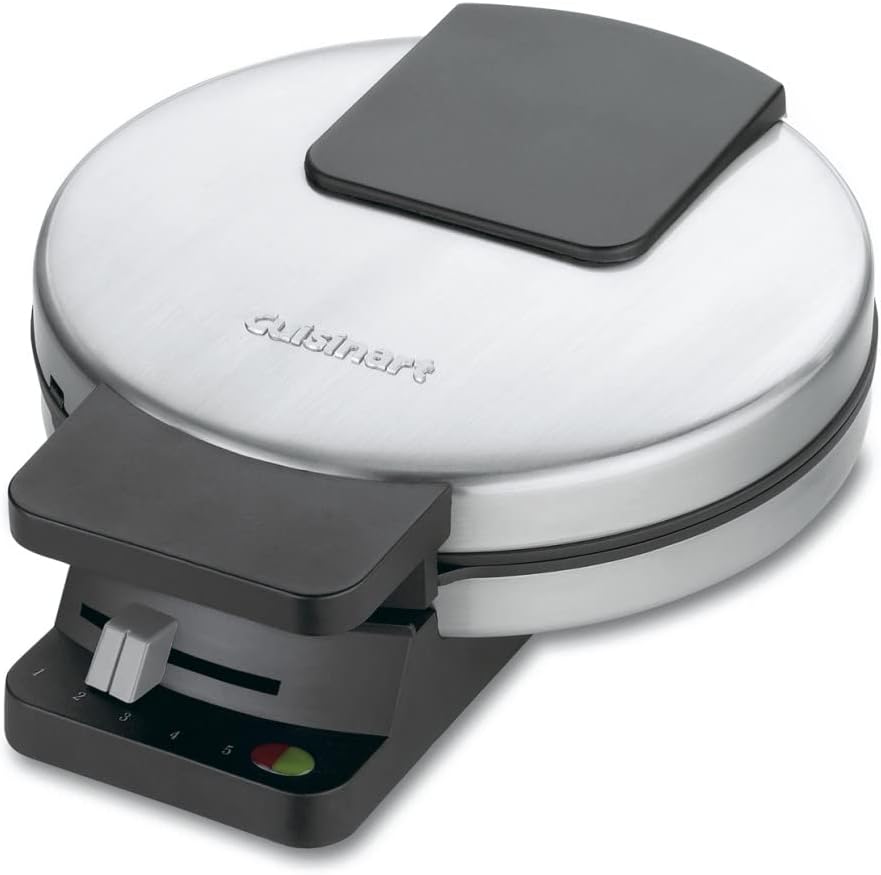 Here is a branded unit that doesn't come with a hefty price tag. Cuisinart WMR-CAP2 is a round classic waffle maker that is not only popular with buyers but tick all the boxes for a great waffle maker. Temperature control with 5 settings, indicator lights, brushed stainless steel finish compact and non-stick waffle iron for ease of removing the cooked waffle and cleaning. To store away, latch the lid, wrap the cord around the base and tuck the plug prongs into the grooves on the side and stand it on the opening end.
7. Extra Features – You may not need
When budget constraints are a consideration, it's also wise to focus on the essential features of a waffle maker and forgo the extra frills. While features like removable plates, audible alerts, and rotating designs can enhance the waffle-making experience, they are not essential. Removable plates, for instance, offer easier cleaning, but a fixed-plate waffle maker with a good non-stick coating can be just as easy to maintain.
Audible alerts and rotating designs are convenient but not necessary for making delicious waffles. By focusing on the core functionality – consistent heating, reliable non-stick surfaces, and basic temperature control – you can find a waffle maker that fits your budget yet still delivers excellent performance. This approach allows you to invest in a product that provides the best value for your specific needs without paying for additional features that you might not use.
Features like removable plates, audible alerts, and rotating designs are nice but not essential. Focus on the basic functionality.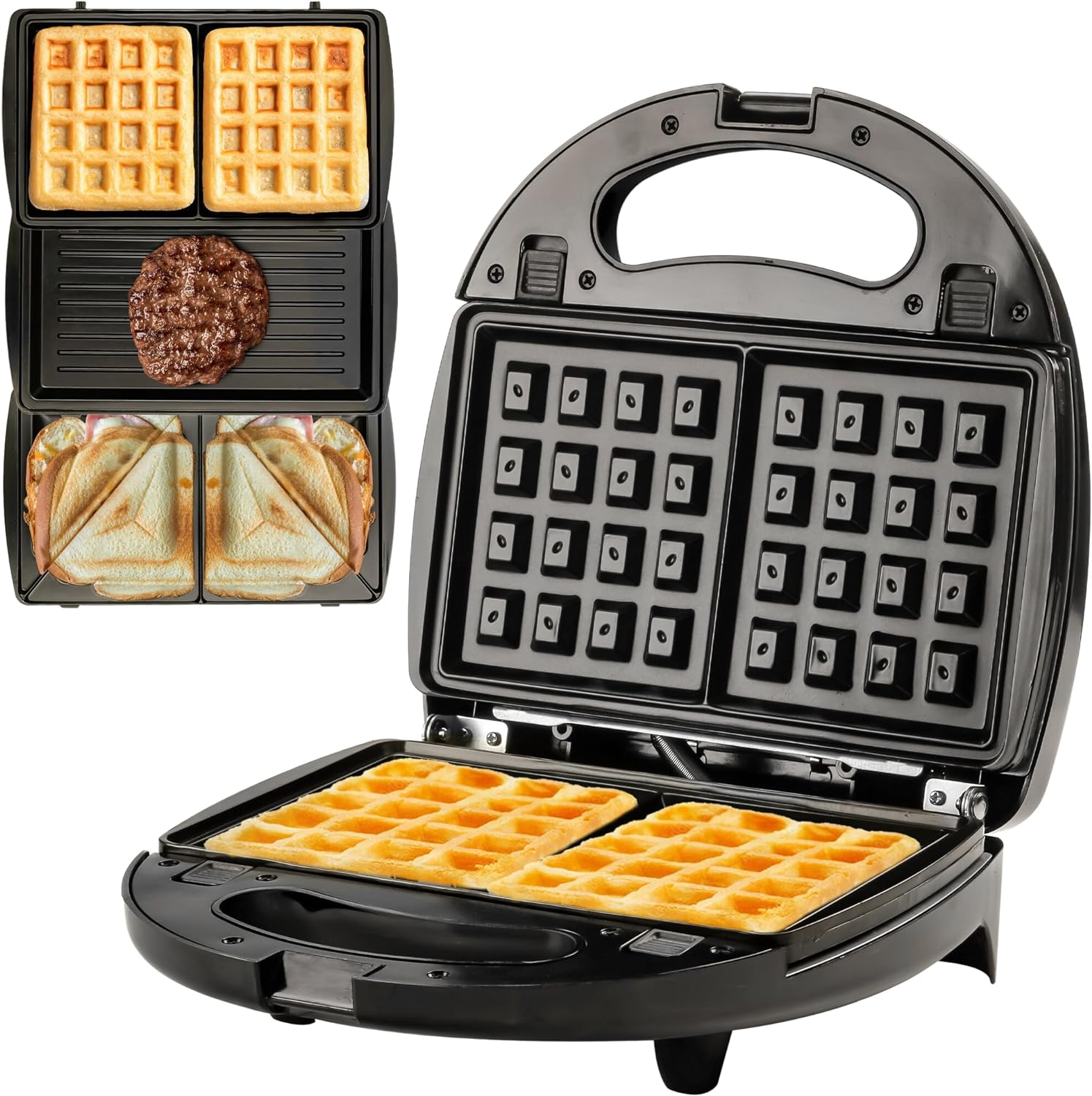 Want a waffle make that makes more than waffles, check out the OVENTE 3-in-1 Electric Sandwich Maker. It comes with three sets of detachable non-stick plates that lets you grill, make sandwiches or two square waffles. On top of its versatility, all the basic features are there like cool touch handles, compact and portable as well as LED indicator lights.
Where Not to Compromise
8. Safety Features
When shopping for a budget waffle maker, it's crucial not to overlook safety features in favor of a lower price. Basic safety elements like cool-touch handles are essential to prevent accidental burns while handling the appliance, especially when it's in use and hot. This feature is particularly important if you have children in the household or if the waffle maker is frequently used.
Another safety aspect to consider is the stability of the waffle maker. Look for models with stable feet or non-slip grips to ensure the appliance stays securely in place during use. This stability is vital to prevent the waffle maker from sliding around on the countertop, which could lead to spills or injuries. These safety features are typically standard, even in budget models, and are critical for safe operation.
Even on a budget, don't compromise on safety. Ensure the waffle maker has basic safety features like cool-touch handles and stable feet.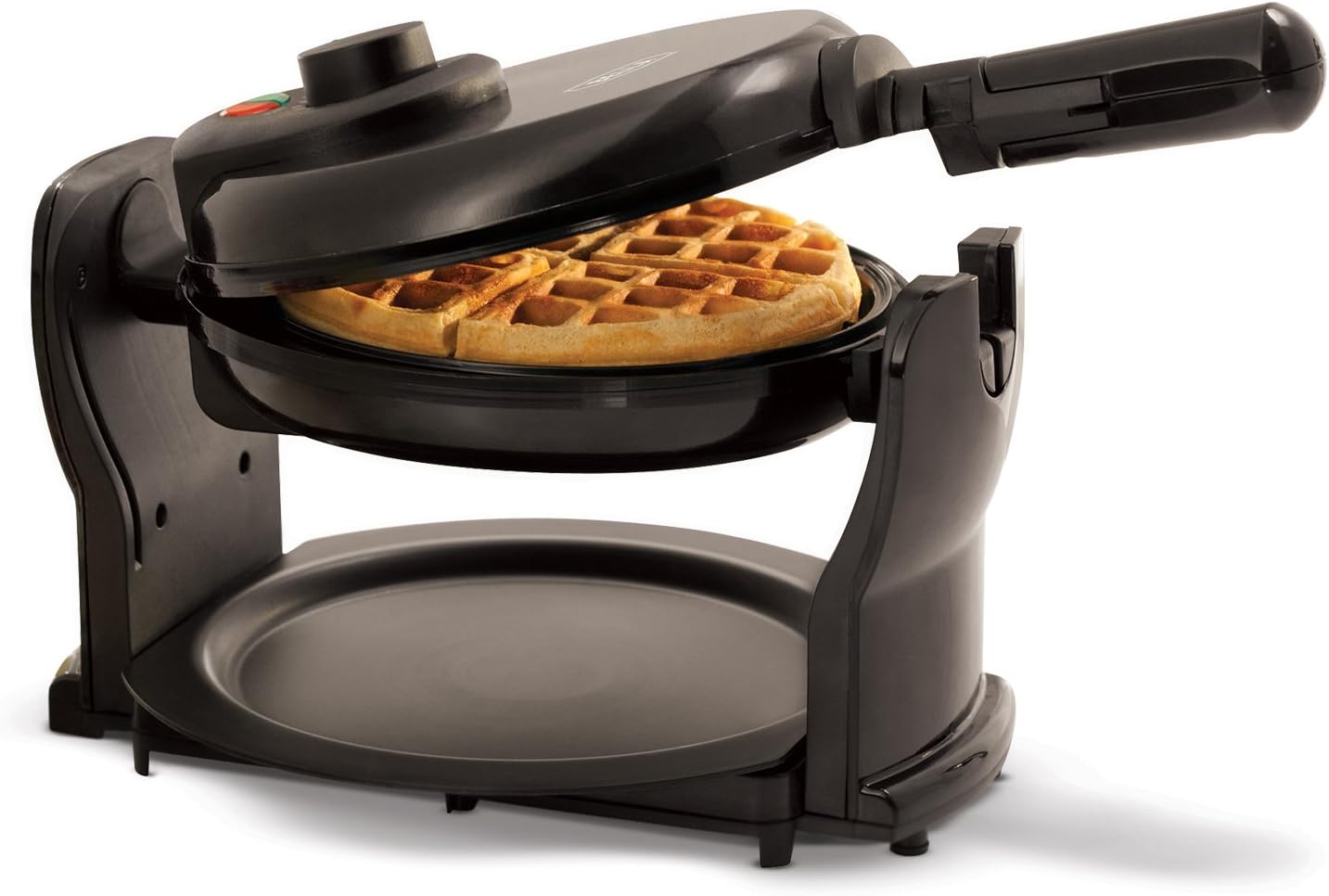 Another affordable rotating waffle maker, this time from BELLA. The waffle is available in stainless steel finish or black. For storage, spin the iron sideways and fold the handle down to lock it in place. It does have an advantage over the Black+Decker unit in that it comes with temperature control for 9 browning levels. Thanks to the removable drip tray and non-stick iron, it is also easy to clean up after.
9. Durability
Regarding durability, investing a bit more initially in a waffle maker with good build quality can be more cost-effective in the long run. A durable waffle maker will withstand regular use and last longer, saving you from the need to replace it frequently. Look for models with solid construction materials and well-built components. Sometimes, paying a little extra for a well-constructed waffle maker from a reputable brand can result in better performance and longevity, ultimately offering better value for your money.
This doesn't mean you have to go for the most expensive option, but rather look for a balance between affordability and quality. Check for warranties or guarantees that might accompany the product, as these can also be indicative of the manufacturer's confidence in the durability of their appliance. Remember, a durable waffle maker is not only a more economical choice in the long run but also a safer one, as well-built appliances are less likely to malfunction or cause accidents.
A slightly higher initial cost for a more durable waffle maker can save money in the long run. Look for a waffle maker with a good build quality.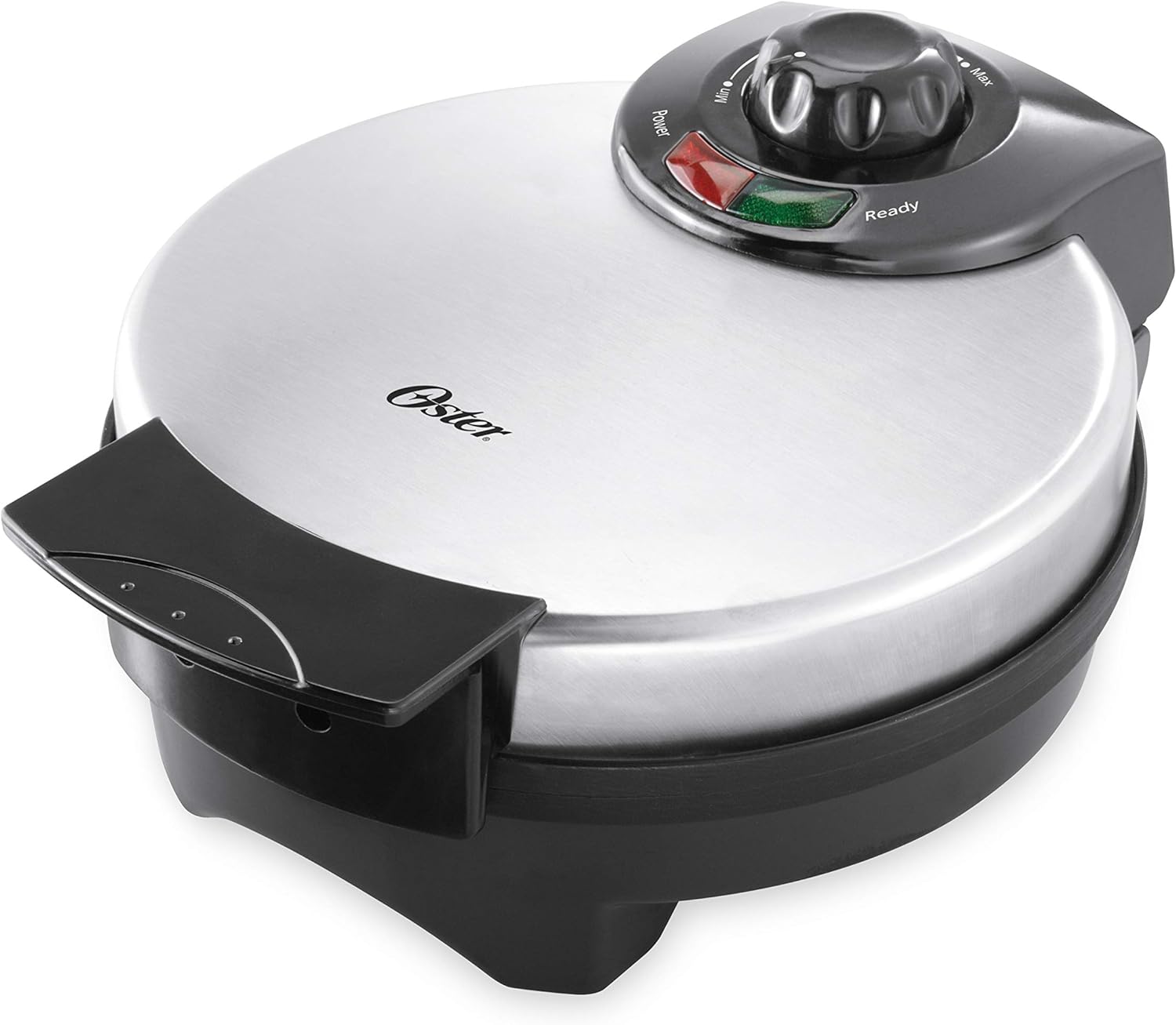 For a full size 8-inch round waffle, this Oster Belgian Waffle Maker is the one to pick. With a stainless steel lid, it is durable and easy to clean.  It even comes with adjustable temperature control, indicator lights and cool touch handle.
Shopping Tips
10. Read Reviews
Customer reviews are invaluable for understanding the performance and longevity of budget waffle makers. When shopping for a budget waffle maker, read the customer reviews. Reviews from other buyers offer a wealth of real-world information that you simply won't find on a product's packaging or website. These insights can include everything from how evenly the waffle maker cooks, to its ease of use, clean-up, and even how it holds up over time. Reviews can also highlight potential issues that might not be immediately apparent, such as inconsistent heating, difficulties with the non-stick surface, or design flaws. They also often contain helpful tips and tricks from experienced users, which can greatly enhance your own usage experience. Spending time reading these reviews can give you a much clearer picture of what to expect from a budget waffle maker and can help you make a more informed decision.
11. Look for Deals
Keep an eye on sales and discounts, especially during holiday seasons or special sale events. Retailers often have sales during certain times of the year, such as holiday seasons, back-to-school periods, or during special sale events like Black Friday. Signing up for newsletters from your favorite stores or using price-tracking tools can alert you to when prices drop on the models you're interested in. Additionally, don't overlook refurbished or open-box items, which can be significantly cheaper than buying new. These items are often in like-new condition and can offer excellent value for money.
12. Check Warranty
Finally, checking the warranty offered with your chosen waffle maker. A good warranty can be a lifesaver especially when purchasing a budget model. It adds an extra layer of security to your purchase providing peace of mind, assuring you that the manufacturer stands behind their product and will support you in case of defects or problems. It also indicates the confidence a manufacturer has in the durability and quality of their product.
RELATED: