Whether you're a crispy waffle enthusiast or a lover of fluffy, Belgian-style treats, selecting the perfect waffle maker can take your morning breakfast to a whole new level of deliciousness. From looking at the vast array of styles and features to understanding the nuances of material and design, we're here to guide you through every step.
Preheat your curiosity and get ready to discover how the right waffle maker can turn your kitchen into the heart of joyous breakfast gatherings and sweet, syrupy memories. Let's find your ideal match for those golden-brown delights!
RELATED:
10 Factors to Consider When Choosing Your Perfect Waffle Maker
Consider these factors carefully to find a model that suits your preferences and lifestyle.
1. Choosing the Right Type of Waffle Maker:
Traditional or Belgian
First up, we need to look at the basics. You need to ask yourself, what kind of waffles do you like? Are you after a traditional waffle or Belgian waffle. The type of waffle maker you choose is crucial in determining the texture and style of your waffles. If you're a fan of thin, crispy waffles with a golden-brown finish, then a traditional waffle maker is your go-to. These are excellent for creating that classic waffle experience, perfect for a light, crunchy bite. On the other hand, if your taste leans towards thick, fluffy waffles with deep pockets begging to be filled with syrup or fruit, then a Belgian waffle maker is the ideal choice. These waffle makers are designed to produce a thicker waffle with a soft, airy interior, giving you that indulgent, luxurious breakfast experience.
Shape and Size
Next, think about the shape and size of your waffles. Waffle makers aren't just limited to the standard round or square shapes – there are plenty of options for fun designs like hearts, perfect for special occasions or adding a bit of whimsy to your breakfast. Size also matters, especially if you're catering to a large family or hosting brunch gatherings. Some waffle makers can cook multiple waffles at once, saving time and ensuring everyone gets their breakfast hot and fresh. So, whether you're after the thin and crispy or the thick and fluffy, or maybe even something a bit more unique, there's a waffle maker out there to suit your cravings and needs.
Search Rotating Waffle Maker on Amazon
2. Profiles – Flat Lay (Horizontal), Rotating or Vertical and more
This is where things get interesting. Domestic waffle makers come in all shapes and sizes each with its own unique features and benefits. The most common among these are the Flat Lay or Horizontal Waffle Maker. The traditional waffle make lays flat on the counter with a lid that closes over the batter. It's great for even batter distribution and typically easier to store.
Next we have the Waffle Maker with Rotating Iron. This is designed for those who love a perfectly even cook. This type allows you to flip the waffle during cooking, ensuring even batter distribution and consistent browning on both sides. It's ideal for achieving a uniform texture, especially for thicker Belgian waffles. It also adds a little 'theatre' to the whole waffle making process.
Lastly, the Vertical Waffle Maker is a space-saving innovation, where batter is poured into a top-mounted spout and cooked in an upright position. This design is excellent for precise batter portioning and is a boon for smaller kitchens, also adding a modern twist to the waffle-making process. Each of these profiles caters to different preferences and kitchen setups, offering a range of options for waffle-making enthusiasts.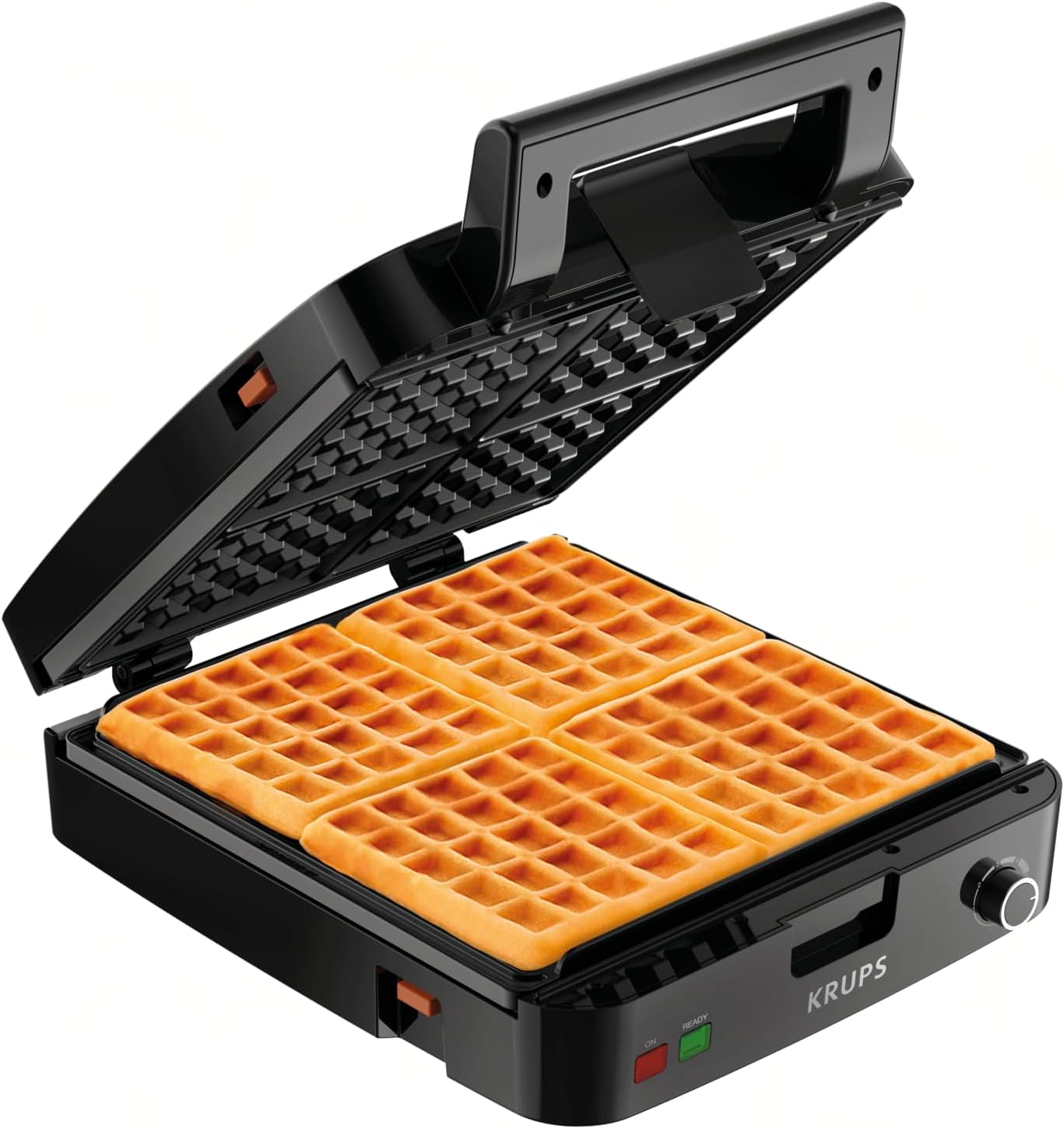 Other Waffle Maker Profiles You Might Consider
But, that not the end of it as there are other waffle maker profiles that goes beyond how the waffle irons are laid out. These are outlined below:
Dual Iron Waffle Makers: For increased efficiency and productivity, these waffle makers feature two or more separate cooking grids, side by side or one on top of the other to cook multiple waffles simultaneously. They are perfect for a small family.
Stuffed Waffle Makers: These are designed to create waffles with fillings inside, like fruit, chocolate, or cheese. They have deeper grids and a unique design that seals the batter and filling together, creating a stuffed waffle.
Multi-Function Waffle Makers: These versatile appliances come with interchangeable plates, allowing you to make more than just waffles. You can switch out the waffle plates for flat griddle plates to cook pancakes, eggs, or even sandwiches.
Novelty Waffle Makers: These waffle makers come in various fun shapes and sizes, like animal and heart shapes, characters, or holiday-themed patterns. They are especially popular with children and can make breakfast more entertaining.
Mini Waffle Makers: Compact and space-saving, these small appliances make smaller, single-serve waffles. They are ideal for small kitchens, dorm rooms, or for those who want a quick and easy single waffle without much cleanup.
Bubble Waffle Makers: These are unique and playful twist on the traditional waffle designed to make bubble-shaped waffles sometimes known as egg waffles or Hong Kong waffles. These waffle makers have a distinct honeycomb-like pattern that forms spherical pockets on the waffle.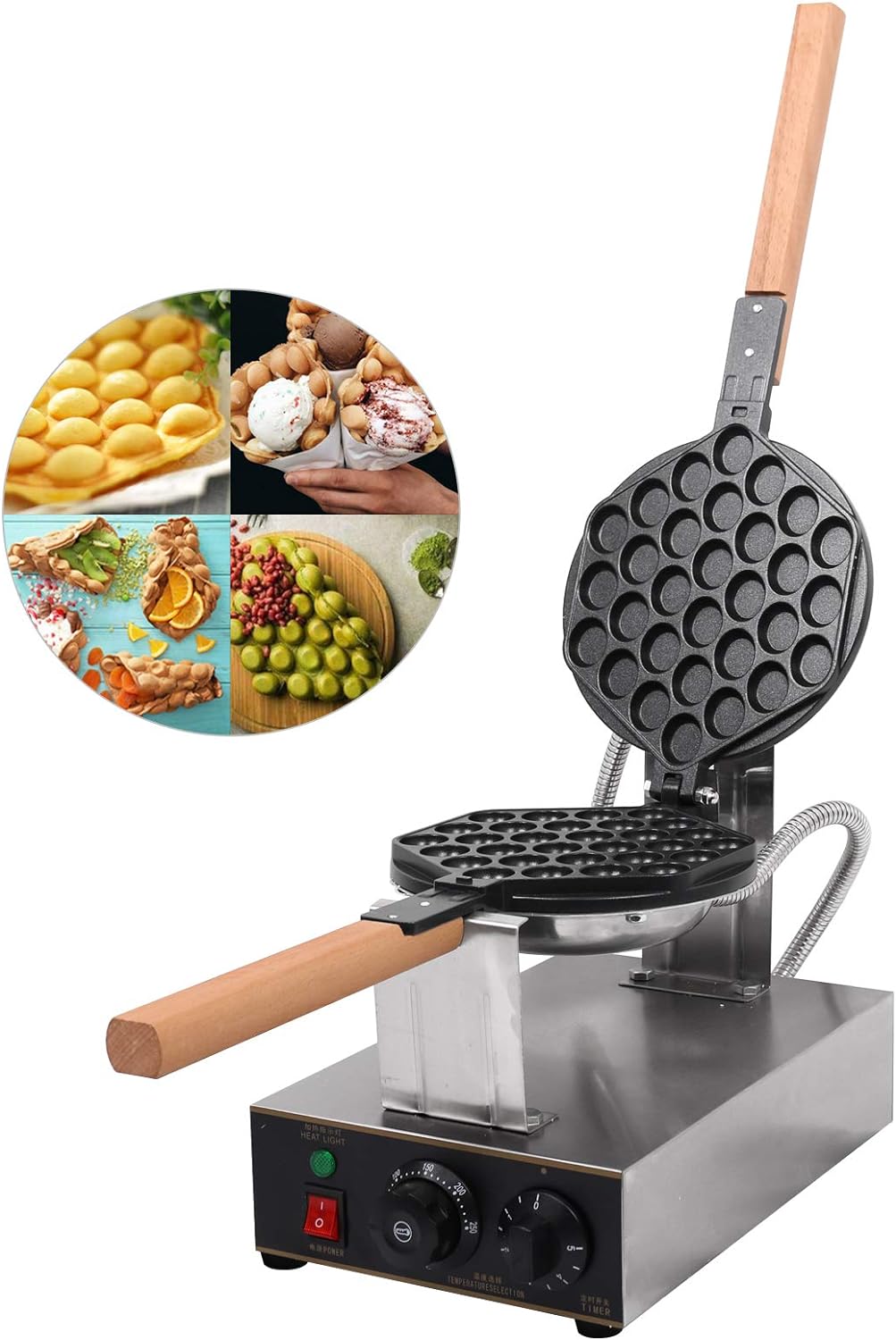 Search Bubble Waffle Maker on Amazon
3. Material Matters in a Waffle Maker
Non-stick Surface
One of the most crucial aspects to consider is the cooking surface. A non-stick surface is not just a convenience; it's a game-changer. With a non-stick coating, your waffles will slide out effortlessly, maintaining their perfect shape and texture. This feature is particularly handy for those who may not be as experienced in the kitchen, ensuring a successful waffle experience every time. On top of that, the ease of cleaning that comes with a non-stick surface cannot be overstated. A simple wipe-down with a damp cloth or a gentle wash is all it takes to keep your waffle maker looking as good as new. This ease of maintenance ensures that your waffle maker remains a hassle-free tool in your kitchen arsenal, always ready for your next breakfast adventure.
A non-stick surface is a must for easy waffle release and quick cleaning.
Material
When it comes to the material of the waffle maker itself, you have some great options, each with its unique benefits. For those who appreciate tradition and durability, cast iron is an excellent choice. Renowned for its superior heat retention and even heat distribution, a cast iron waffle maker is perfect for achieving consistently well-cooked waffles. However, it's worth noting that cast iron can be quite heavy and requires a bit more care to maintain its seasoning.
On the other end of the spectrum, stainless steel offers a modern, lightweight alternative. It's rust-resistant, easy to clean, and usually comes with a sleek design that can complement any kitchen aesthetic. Whether you choose the enduring reliability of cast iron or the sleek efficiency of stainless steel, the material of your waffle maker plays a pivotal role in the quality of your waffles and the enjoyment of your cooking experience.
Choose cast iron for long-lasting use and even heating, or go for stainless steel for a more modern, lightweight option.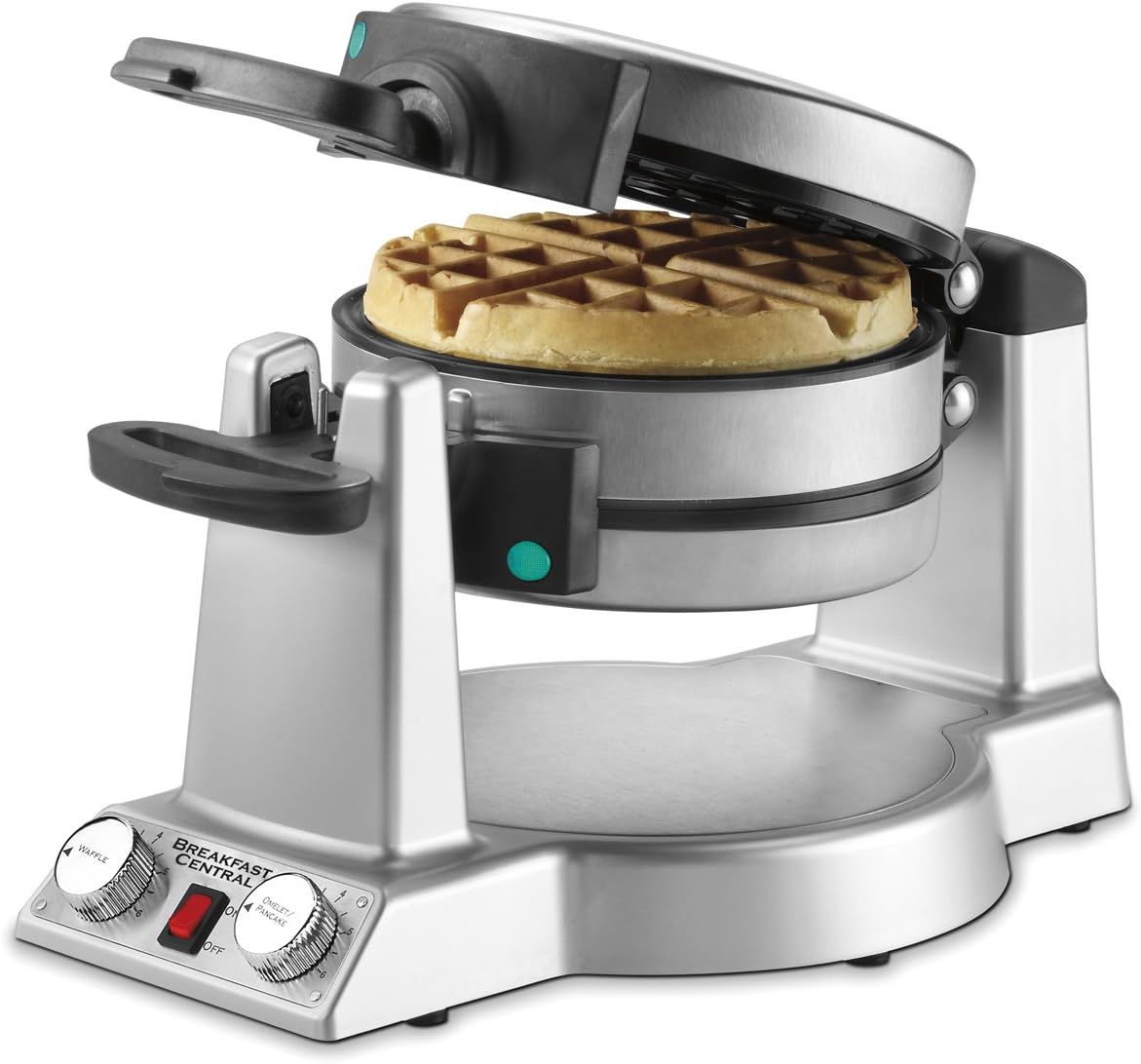 Search Waffle Maker with Temperature Control on Amazon
4. Getting the Perfect Waffle Texture
Adjustable Temperature to Control the Crispiness
Fancy a crispy or a soft waffle? The choice is yours with the right settings, and achieving that perfect texture starts with adjustable temperature control. This feature is a game-changer, allowing you to tweak the heat to suit your preference for either a golden, crispy exterior or a soft, fluffy inside.
Even Heating to Avoid Undercooked Spots
Even heating is just as crucial. A waffle maker that distributes heat uniformly across the surface ensures that every part of your waffle cooks at the same rate, eliminating the disappointment of undercooked spots or uneven browning.
It's the combination of these two elements – adjustable temperature and even heating – that gives you the power to master the art of waffle making. Whether you're serving up a stack of light and airy Belgian waffles or thinner, crunchier classic ones, these features help ensure every waffle you make is cooked to perfection, matching your texture preferences every time.
5. User-Friendly Features
Indicator Lights/Audible Alerts for when to pour the batter and remove the waffle
Waffle making should be fun and fuss-free, right? One of the most convenient features is the inclusion of indicator lights or audible alerts. These little helpers take the guesswork out of the equation, signalling when your waffle maker is perfectly preheated and ready for the batter, and again when your waffles are cooked to golden perfection.
Drip trays to catch batter overflow and to keep the counter clean
A relatively new feature that adds to the convenience is the drip tray or moat. We've all been there – overzealous pouring leading to batter spilling over the edges. Drip trays are the unsung heroes in these scenarios, catching any overflow and keeping your counters spotless. This means less time cleaning up and more time enjoying your delicious creations. Together, these user-friendly features – from the helpful alerts to the practical drip trays – make waffle making a truly enjoyable and hassle-free experience, whether you're a seasoned cook or a beginner
6. Safety First with Your Waffle Maker
Cool-touch Handles
Hot surfaces and hands don't mix, so let's talk about safety. When it comes to waffle makers, safety features are not just add-ons but essentials. Cool-touch handles are a must-have to ensure that you can open and close your waffle maker without the risk of burns. This feature is particularly crucial when you're in the midst of a busy kitchen or if you have little helpers eager to assist with breakfast.
Locking Mechanism for Rotating or Vertical Type
Another important safety feature is the locking mechanism. This is especially vital for waffle makers that rotate or have a vertical design. A good locking mechanism ensures that the waffle maker stays securely closed during the cooking process, preventing any hot batter from spilling out and causing burns or messes. This feature not only promotes safety but also aids in even cooking, as it maintains consistent heat and pressure on the waffles. With cool-touch handles and a reliable locking mechanism, you can focus on creating delicious waffles while keeping safety at the forefront.
7. The Cleanup Process
Nobody likes the aftermath of cooking, so let's make it easier.
Removable Plates Makes Cleaning a Breeze
Nobody likes the aftermath of cooking, so let's make it easier. One of the best features to look for in a waffle maker to simplify cleanup is removable plates. These plates can be easily detached from the appliance and washed separately, making them a breeze to clean. Whether you choose to rinse them under running water or put them in the dishwasher, the convenience they offer is unparalleled. Additionally, the importance of easy-to-clean surfaces cannot be overstated.
Easy to Clean Surfaces
Opt for a waffle maker with a non-stick coating and minimal crevices. This design choice ensures that batter doesn't stick or accumulate in hard-to-reach spots, making the cleanup process as simple as a quick wipe with a damp cloth. This ease of cleaning not only saves time but also encourages regular use of the appliance, as you're not deterred by the thought of a lengthy cleanup. The combination of removable plates and easy-to-clean surfaces transforms what could be a tedious, time-consuming task into a quick, effortless process, letting you enjoy your waffles without dreading the cleanup.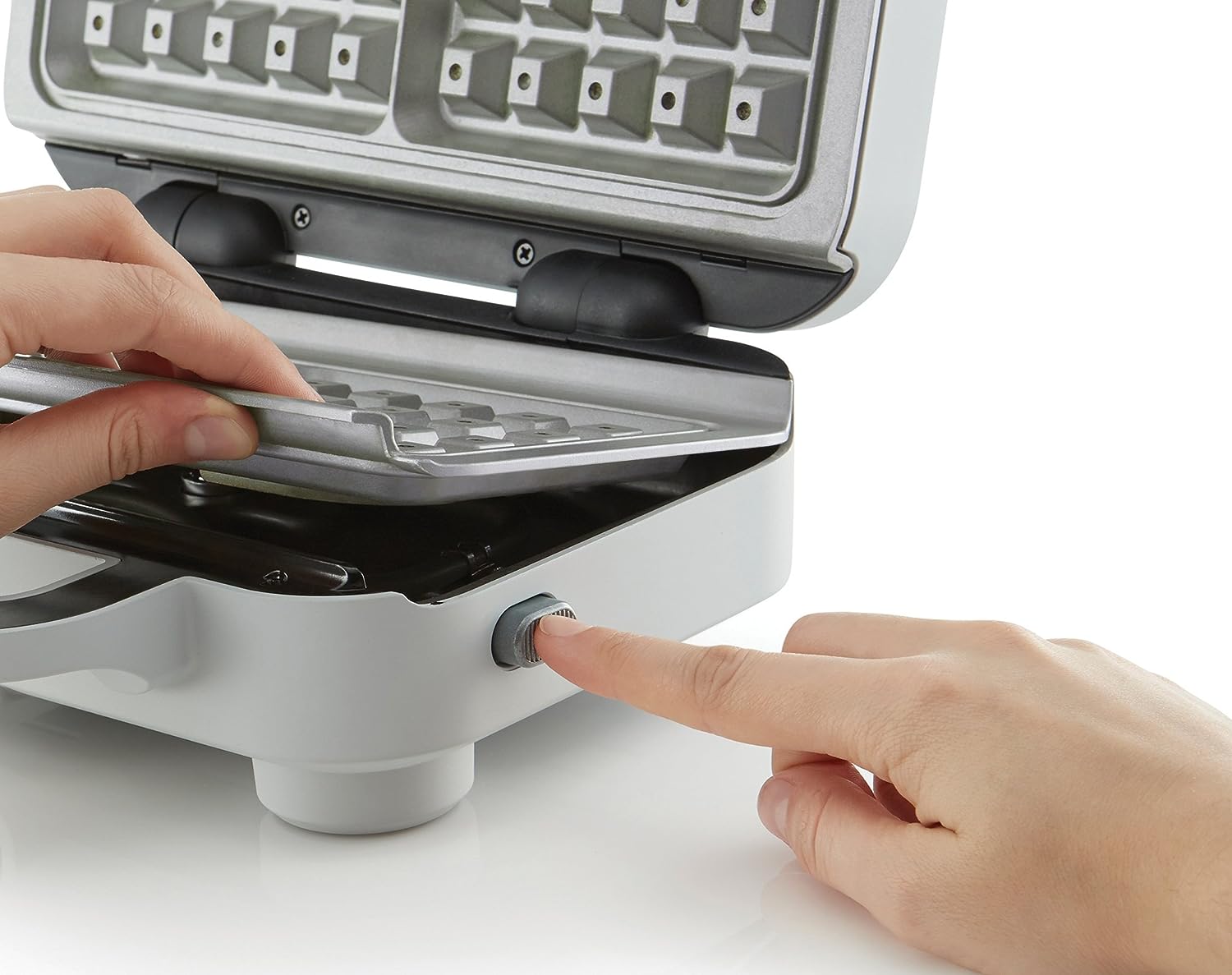 Search Waffle Maker with Removable Plates on Amazon
8. Versatility and Extra Features
Multi-functional Models with Swappable Cooking Surfaces
Want more bang for your buck? Some waffle makers can do much more, offering versatility that extends beyond just breakfast. We mentioned this before under the different waffle maker profiles. Multi-functionality is a key feature in many modern waffle makers. Imagine a single appliance that not only bakes perfect waffles but also transforms into a sandwich grill, or even a griddle for cooking eggs and bacon. This kind of versatility is ideal for those with limited kitchen space or for anyone who loves multi-purpose gadgets. It means you can enjoy a variety of meals with just one appliance, making it a cost-effective and convenient choice.
Rotating or Flipping for Even Cooking
Also mentioned under the different device profile is the innovative rotating and flipping feature. These waffle makers can be turned or flipped during cooking, ensuring that the batter is evenly distributed and resulting in evenly cooked, perfectly browned waffles every time. This feature is especially beneficial for thicker Belgian waffles, where even heat distribution is key to achieving that desirable crispy exterior and fluffy interior. With these extra features, your waffle maker becomes not just a weekend breakfast tool, but a versatile kitchen appliance that enhances your cooking experience across various meals.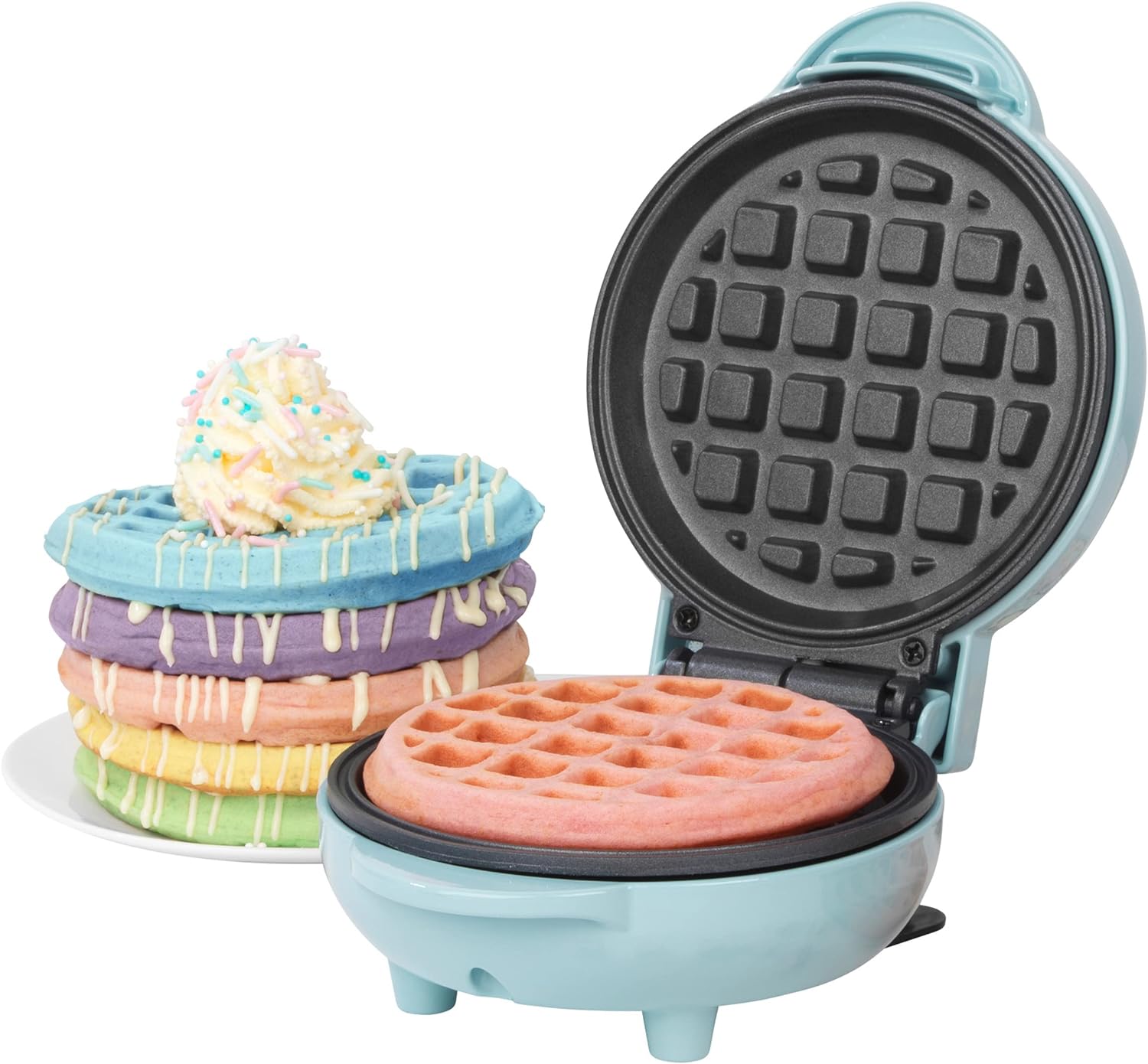 9. Size and Storage Solutions
Compact Design for Smaller Kitchens
Not much counter space? No problem! The beauty of modern kitchen appliances lies in their ability to fit seamlessly into our lives, and waffle makers are no exception. If you're working with a smaller kitchen, look for a waffle maker with a compact design. These sleek, space-saving models can easily be stored in a cabinet or on a shelf, ensuring that your kitchen remains uncluttered and functional.
Cord Storage to Keep Things Tidy
But it's not just about the size of the appliance; cord storage is another thoughtful feature that enhances the practicality of your waffle maker. A built-in cord wrap or a retractable cord keeps things neat and tidy, eliminating the hassle of dealing with tangled wires in your kitchen drawers. This feature is particularly useful when you want to store the appliance away after use, helping to maintain a clean and organized kitchen. With a compact design and convenient cord storage, your waffle maker becomes a hassle-free addition to your kitchen, ready to whip up delicious waffles without taking up valuable counter space.
10. Brand Reliability and Warranty
Reputable Brand for Peace of Mind
Invest in a waffle maker that is going to last. When it comes to appliances, especially those like waffle makers that are expected to perform consistently over time, choosing a product from a reputable brand is a wise decision. Well-known brands often equate to reliability and quality, backed by years of experience and customer trust. These brands typically invest in research and development to offer better features, durability, and user experience. Also, they are more likely to provide responsive customer service and support.
Warranty to Protect Your Investment
Another crucial factor is the warranty. A good warranty is not just a safety net; it's a sign of a company's confidence in its product. It ensures that your investment is protected against manufacturing defects or unexpected failures. A robust warranty can save you from future expenses and hassles, giving you peace of mind that you're covered in case anything goes wrong. By choosing a reliable brand with a strong warranty, you're not just buying a waffle maker; you're investing in a dependable kitchen companion for delicious breakfasts for years to come.
11. Final Considerations: Reviews and Budget
Read the Reviews
Last but not least, let's talk about value and feedback. In the final stage of selecting the perfect waffle maker, turning to customer reviews can be incredibly insightful. These reviews are like nuggets of gold, offering real-life experiences and insights that you won't find in product descriptions. They can provide information on the long-term durability of the product, its performance under everyday conditions, and even tips and tricks for getting the best results. This feedback from actual users can significantly influence your decision, helping you choose a product that has been tried and tested in real kitchens.
Budget – finding a balance between features and your budget
On the other hand, balancing your needs with your budget is equally important. While it's tempting to go for a waffle maker with all the bells and whistles, consider what features you truly need and will regularly use. Sometimes, a more modestly priced model without the fancy extras can serve your needs just as well. It's all about finding that sweet spot where the cost aligns with the value it brings to your kitchen. In essence, by weighing customer reviews and aligning your selection with your budget, you ensure that you get a waffle maker that not only meets your culinary desires but also offers true value for money.
12. Industrial or Commercial Waffle Maker
If money is no object or if you decide to turn your little waffle making adventure into a business, consider an industrial or commercial waffle maker. These are in a whole different league altogether. They are specifically engineered to meet the high demands of a professional kitchen environment, such as in restaurants, cafes, or breakfast buffets. These waffle makers are built for durability and efficiency, capable of withstanding the rigors of continuous, daily use.
They typically feature a more robust construction, often made of heavy-duty materials like stainless steel, to endure the constant wear and tear of a busy commercial setting. One of the key advantages of these waffle makers is their ability to cook multiple waffles simultaneously, significantly increasing output to cater to a large number of customers. This is particularly useful during peak hours in a restaurant or buffet setting.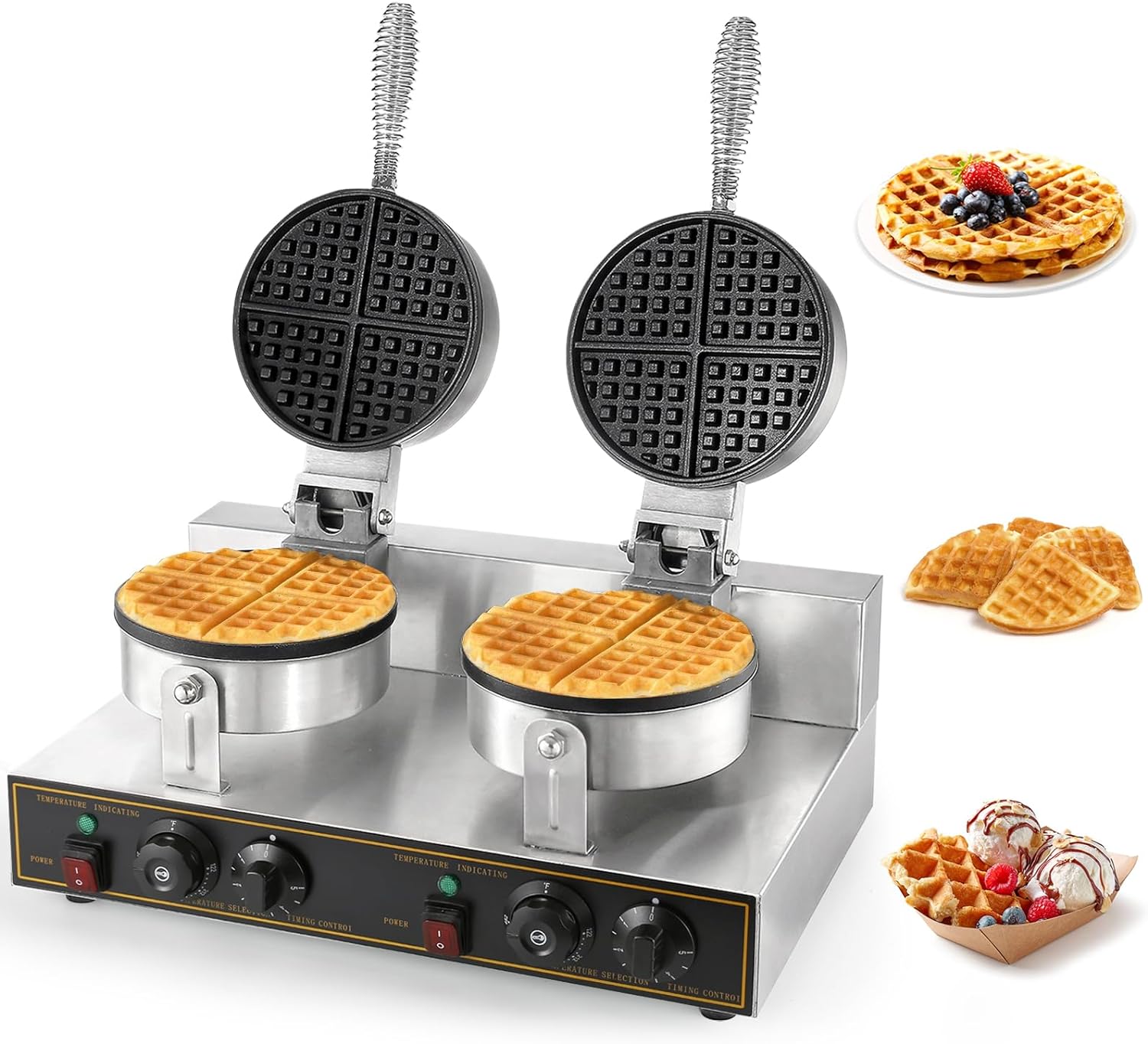 Search Commercial Waffle Maker on Amazon
To add to that, these commercial waffle makers often come equipped with advanced features such as digital timers, temperature controls, and consistent heating mechanisms. They ensure that each waffle is cooked uniformly and to perfection, meeting the high standards expected in a professional culinary environment. Additionally, they often have non-stick plates for easy release of waffles and quick cleanup, which is crucial in fast-paced commercial kitchens. Quite simply, industrial or commercial waffle makers are indispensable tools for businesses that require reliable, efficient, and high-volume waffle production.
As for the question of do you really need a commercial waffle make, if you have the money and space for it and is really into making waffles – why not?
RELATED: