High-capacity air fryers are perfect for cooking for groups and large parties. They are versatile kitchen appliances, which is why more people are buying one for themselves or their loved ones. One of the disadvantages of earlier air fryer models was that most had a small capacity. These meant users had to cook in batches. The cooking functions were also limited. Not anymore, here are 10 of the best large capacity air fryers packed with useful features.
In the past, you would be lucky to have one that had at least five cooking functions and a decent enough size to fit a few pieces of chicken. These days, it is easy to find air fryers with more than ten preset functions and a large cooking basket. We know that not all air fryers are made equal. But air fryers with large capacity and multiple cooking functions do not come cheap. However, they do make up for their initial cost in the long run. If your budget allows, it pays to spend a little more to get a large capacity unit with more features.
A Must-Have for Healthier Cooking
Fried food tastes great, but it is not that great for your health. Air fryers were initially marketed as a appliances that promote healthier meal preparations without sacrificing flavour. That still holds true to this day. But today's air fryers are more than just great for frying. Depending on the model, it can have up to ten or more preset cooking function. These large capacity fryers can be used to bake, dehydrate, air fry, and roast food among other functions.
Air fryers are not just meant to make crispy fried food with a lot less oil. As a practical cooking appliance, large capacity air fryers can be used for meal prepping. Air fryers cook food through convection, which means it functions in the same way as an oven. You can roast vegetables, fry chicken and fish, cook tofu, or make a hearty open-faced sandwich, the air fryer does it all.
The one main concern about air fryers is that they are bulky. It can be an eyesore on a kitchen counter. However, manufacturers have improved on the design of these appliances. Aside from improving on its functionality, they now have a sleeker design. So not only do they look good on the counter top but is a great cooking appliance to have in the kitchen to assist with food preparations.
Top 10 Large Capacity Air Fryers
Almost every brand of kitchen appliance manufacturer makes an air fryer. They are nearly as common as blenders. Here are some of the best air fryers that are currently available in the market:
The Uten Air Fryer has a more conventional drawer style cooking basket with up to 6.9-quart capacity. At 6.9-quart or 6.5 litre, it is big enough to fit a whole chicken up to 5-pounds. It comes with eight presets that lets you fry, grill, bake and roast and features a digital soft touch control panel on the top of the unit. Out of the air fryers on the list, this is one of the most budget-friendly options. Perfect for those who are new to the world of air fryers.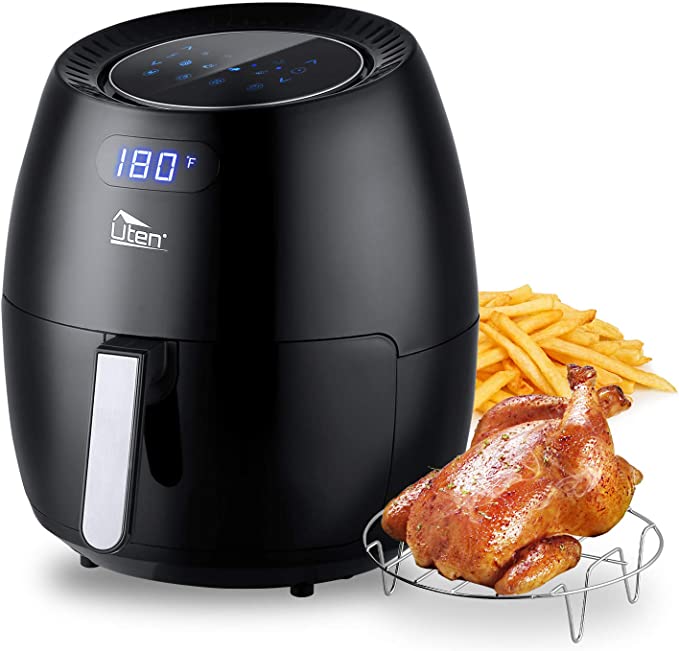 This Convection Toaster Oven Air Fryer from Cuisinart is the top of the line TOA-65 model with digital controls. The cooking chamber can fit a whole turkey and with its two shelves design it can be used to prepare multiple food at once. It boasts seven functions, including a slow cooking function, dehydration and proofing. Cuisinart is known for its state-of-the-art kitchen appliances, so expect nothing less than excellent quality and beautiful design. It comes with a 1800W motor, fan and heater for improved cooking and air flow. Stainless steel finish and industrial design with large drop down handle and door is a noice touch making this look every bit a professional table top over that it is.
The Instant Vortex Plus has a large 10-quart capacity. Made by the same company that gave us the Instant Pot pressure and multifunctional cooker, they have since added Air Fryers to their line of products dubbed the Instant Vortex range. While air fryers from the brand are mainly drawer style, this is their flagship table top convection oven with air fryer and rotisserie function. It has seven cooking presets and a rotating fry basket which ensures that food is evenly cooked. Unlike the drawer style air fryers, there is no flipping, turning and shaking required with this one. The rotisserie basket does it for you. Besides the basket, you also get two cooking trays, rotisserie spit and forks, drip pan and rotisserie fetch tool.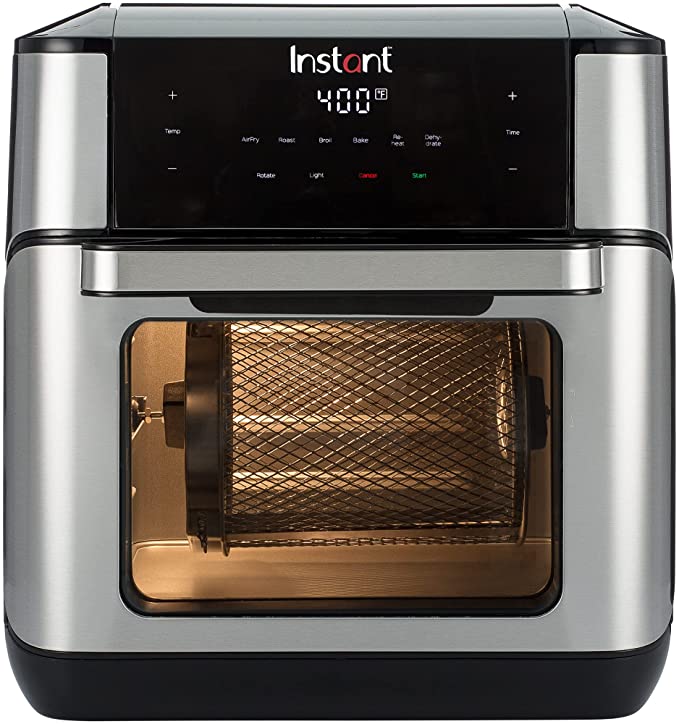 Cooking Functions: Air fry, broil, bake, roast, dehydrate, reheat, rotisserie, toast, warm, convection oven.
Using 5 heating elements, this next table top convection oven from Emerill Lagasse is a 9-in-1 appliance with 12 pre-set cooking presets. It will handle basic tasks like up to 6 slices of toast to roasting whole turkey with its rotisserie function to air frying crisply fried chicken and slow cooking vegetables. It will even dehydrate jerky and fruit, bake pizza and desserts and more. Using a more conventional interface, with control buttons and display on the right side of the oven, it is both familiar and beautiful and definitely an excellent addition to any kitchen. The Power AirFyer 360 Deluxe comes with three crisper basket, rotisserie spit, rotisserie stand, 2-pc. pizza rack set, baking pan, drip tray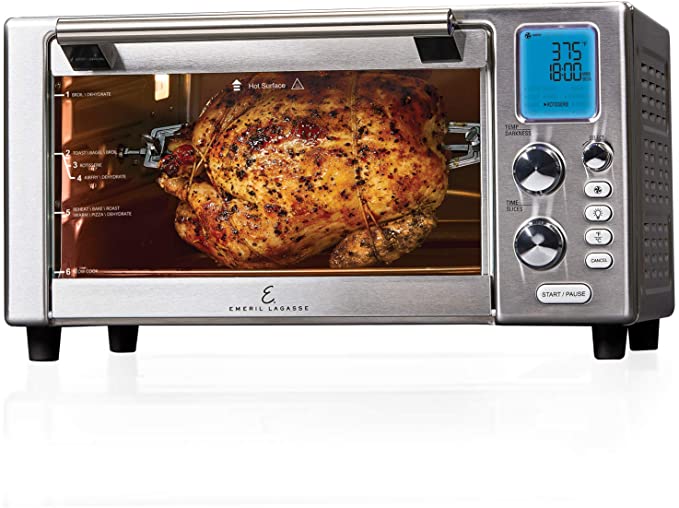 COSORI makes one of the best drawer style air fryers. Their COSORI Air Fryer May XL with 5.8 Quarts is very popular with buyers. However, this Air Fryer Toaster Oven CO130-AO has one of the largest capacities out of all air fryers on this list—a whopping 32 quarts or 30 litres! Of course, being COSORI, there is also a slightly smaller model with 26-quarts or 25 litre capacity. It has 12 preset cooking options and includes accessories with the purchase. As a smart gadget, it is compatible with Alexa. Users can monitor the cooking process and progress through an app they can download on their smartphones.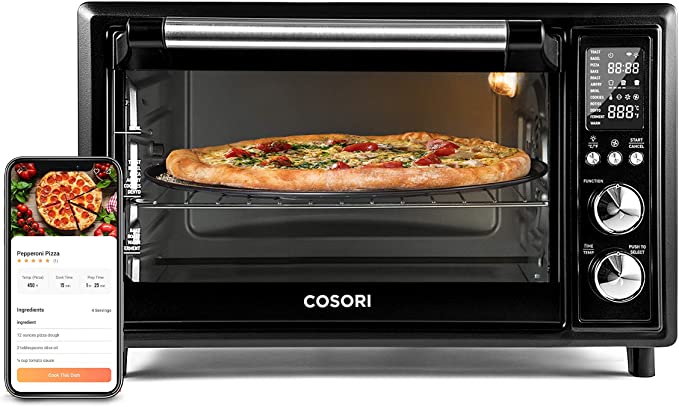 The DT201 is the company's flagship air fryer. The company famous for its blender is first to introduce dual basket drawer style air fryers. The XL Pro Air Fry Oven has ten preset cooking functions. It is quite large and can take up quite a lot of kitchen counter space, but it performs other functions as well, making the investment worthwhile. Convenient features include quick 90 second preheat, true surround convection air fry with high velocity fan and rear heating source for even heat so no rotating of pans or flipping of food is required.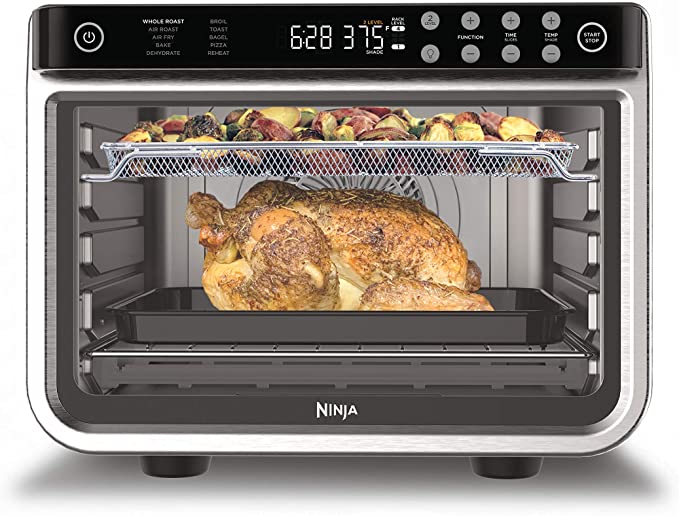 Cooking Functions: Air Fry, Whole Roast, Air Roast, Bake, Dehydrate, Pizza, Broil, Toast, Bagel, and Reheat.
The Breville BOV900BSS is a countertop convection oven with Air Fryer capabilities and has 13 cooking functions—the most out of the air fryers on this list. It doesn't come cheap at nearly $400, it is a small investment. Still, it is a very versatile gadget with 6 independent quartz elements to intelligently create the idea cooking environment using sensors and digital PID temperature controls for even heat throughout. To get an idea of its capacity, it can fit a 14-lb turkey and 12-cup muffin trays. Not only can it make crispy dishes using less oil, but users can also use it for baking treats for the whole family.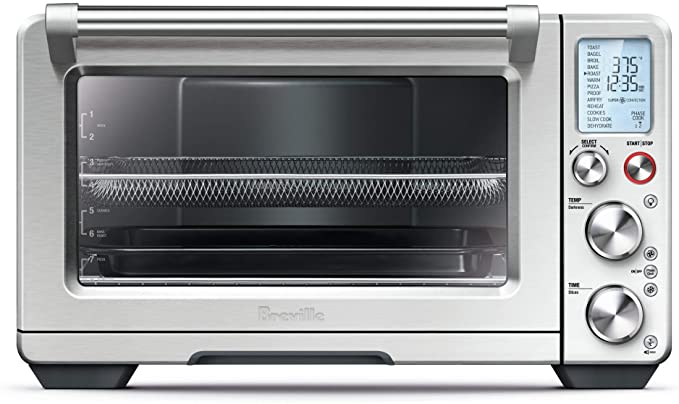 Cooking Functions: Toast, Bagel, Broil, Bake, Roast, Warm, Pizza, Proof, Air Fry, Reheat, Cookies, Slow Cook and Dehydrate
The NuWave Brio is a large-capacity air fryer that includes accessories for the rotisserie function. These include rotisserie skewer and separate rotisserie basket. Try include mesh tray, drip tray, mesh rack and grill rack. The last one is a grilling pan, a grill plat to turn your air fryer into smokeless indoor grill to cook meat with that delicious sear and grill marks. But the one secret weapon that other air fryers do not include is a digital temperature probe. This allows you to know exact how you like your meat cooked, just insert the prove and set the temperature and away it goes. Like all the other air fryers on this list, it can be used for various tasks like baking, dehydrating, and roasting.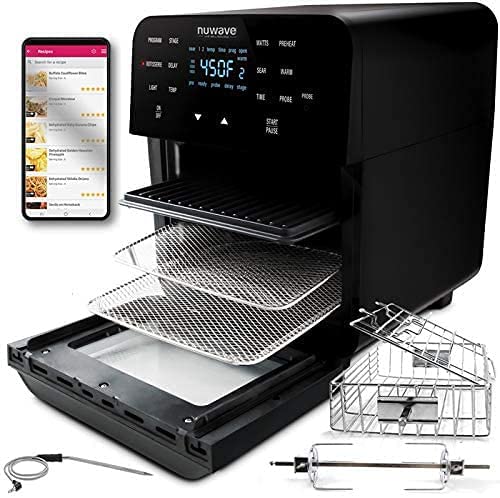 Cooking Functions: air fry, broil, roast, grill, sear, bake, reheat and even dehydrate
Gevi offers two table top oven, the first is a 20qt Air Fryer Toaster Oven Combo in silver and the second is this, also a 20qt combo in black. Design wise, they are slightly different but cooking functions are the same. It comes with an LED screen and soft touch control panel with a knob to set the temperature and time. It can function as a dehydrator, rotisserie, and toaster. Users will all get accessories and recipes to help them get acquainted with this device.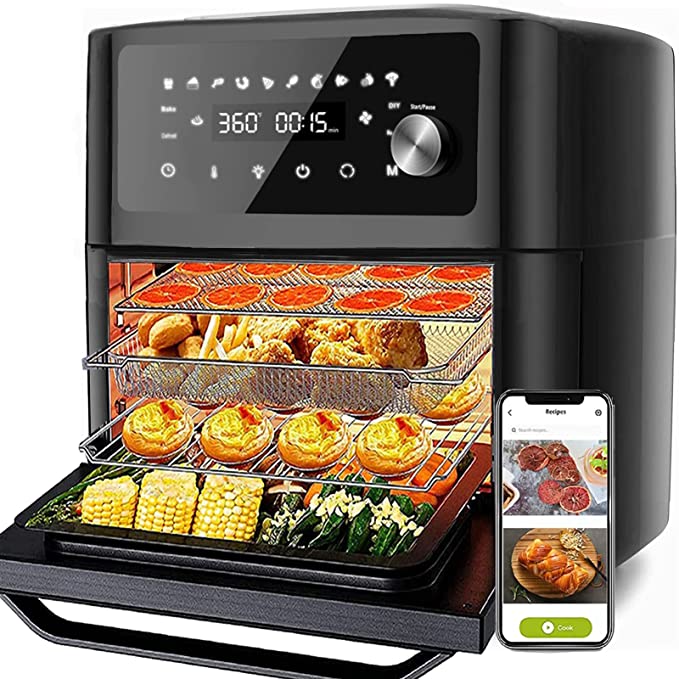 The Elite Gourmet EAF9100 is a conventional looking table top oven with a decent 25.6qt capacity that allows it to can fit a 12-inch pizza or a whole large chicken. It comes with a no nonsense four knob controls perfect for technophobes who do not like digital displays and soft touch buttons. The package includes recipes to give users an idea of what they can do with this air fryer oven, three level rack placement and three different racks that includes a wire rack, air fryer basket and a bake pan. Below the oven is a removable crumb and drip tray that slides out easily for ease of cleaning.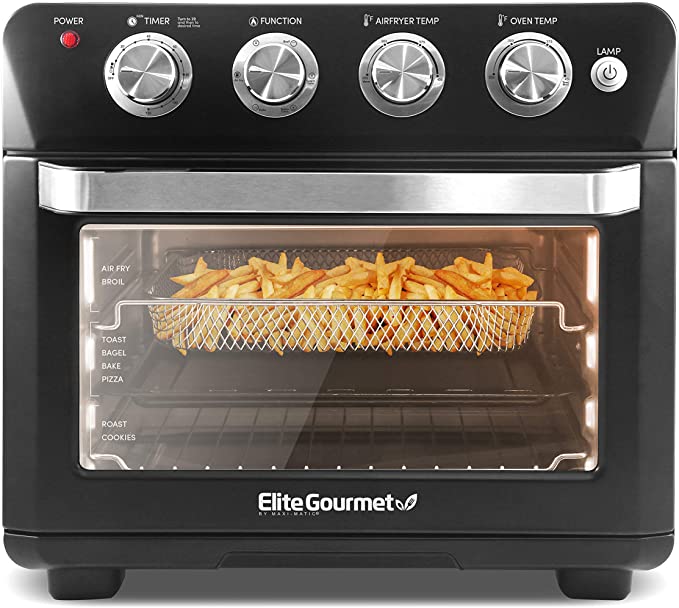 Cooking Functions: Baking, Air Fryer, Toaster, Toaster Oven, Roasting, Grill
Why You Need a Large Capacity Air Fryer
If you're looking to invest some money into a kitchen appliance, choose one that is versatile, sturdy, and multifunctional. Most air fryers come with various cooking presets, functions, and attachments. One machine can perform the tasks of different kitchen appliances. It's up to you to decide which ones you will need the most.
These cooking functions and presets take away the guesswork and additional cost of having to buy other appliances. Bake, broil, toast, rotisserie, roast, dehydrate, and air fry your favorite food using one gadget. Although, in reality, you can only use one of these cooking functions at a time. So if you are planning a party, you might need to borrow your neighbours or have your conventional oven fired up as well.
Air fryers also make for the perfect gift for friends and loved ones, whether it's for a birthday, holiday, or housewarming.
How to Decide Which One to Get
Before adding any of these to your cart, consider the following factors: your budget, cooking needs, and space. Air fryers used to be a bit of a novelty kitchen gadget—reserved for those who have some extra cash to spare. Now, you do not need to spend an excessive amount to get the best kind. There is an air fryer model for every budget. Choose one that fits your budget, just make sure that it has the functions that you need.
Think of your space. If your kitchen counter is relatively small or it's already crowded with your essential cooking items, carefully consider the dimensions of the air fryer you're looking to get. Likewise, measure the available storage space. Modern kitchens now have to consider room to store table top appliances such as blenders, mixers, rice cooker, bread maker, pressure cooker and now air fryer. For oven style air fryers, it is likely that you need a dedicated space for this. Have a ruler and tape measure on hand to get the precise measurements of the counter top available and check this against the oven's dimensions.
A Few Things to Consider About the Air Fryer
Some large-capacity air fryers might need a long pre-heating time. If you're looking to cook large amounts of food, it should be something to be mindful of. Air fryers are also known to be quite noisy—if you're looking to buy a large air fryer, then consider the possibility that it might make a lot of noise and how that might impact your home. For example, a large, noisy air fryer (while convenient) might not work in a small apartment.
Also with its' big capacity, enough to swallow a whole turkey, it is going to need a lot of room in the kitchen. It will be easier to find the best spot for the air fryer if you have accurate measurements.  Other quality and actual use concerns can be solved by reading reviews. Like shopping for any kitchen gadget, air fryers will have their pros and cons even if it claims to be the best and most sophisticated model at the moment.
Energy Efficiency
When we talk about the versatility and practicality of air fryers, it is often seen through the lens of being budget-friendly and economical. However, people tend to gloss over the fact that it can be energy-saving as well. Convection ovens are already more efficient than traditional ones. These modern air fryer ovens takes it even further. They not only save time, sometimes up to half the cooking time, but save on energy too.
Aside from giving users the freedom to explore the various cooking functions and recipes they can try, air fryers can encourage people to cook at home and to do so using just one gadget. Having a multi-use kitchen appliance can help streamline a household's energy consumption and carbon footprint. It will eliminate the need to buy other devices that perform some of an air fryer's tasks. In addition, instead of ordering out of dining out, cooking can be a fun bonding activity for families.
Final Thoughts
There are many brands that make and sell air fryers at various price points. Air fryers are fast becoming a staple kitchen appliance for homes because of their versatility and practical benefits. Depending on which model you go for, some air fryers eliminate the need to buy multiple separate appliances that will just clutter up the kitchen counter. We have given you pointers on how to choose a suitable large capacity air fryer, what to watch out for and some very good reasons to get one as well as the top 10 air fryers in the market right now. Let us know of your experience with any of the air fryers on our list or any that you may have.
References: