Here is a look at the top 5 best coffee grinders using burr instead of blades to grind coffee beans to the right fineness.
The best burr grinders are those with slow grinding action, keeping the beans cold while crushing them to the right grind size depending on your preferred method of preparation (French press, filter or espresso) to ensure that the aroma and body of the coffee is preserved.
Unlike blenders with its blades, grinders use grinding wheels and gears such as one shown below. These grinding wheels are designed in a conical fashion, allowing whole beans to be pushed through slowly while crushing them to the fine grounds that you prefer. Good conical burr grinders let you decide how fine you want your ground depending on the brew you are making.
Coarse grounds for percolators and cafetieres, medium for filter machines or fine for espresso makers. However, these days, fine grounds are also used in cafetieres for stronger coffee.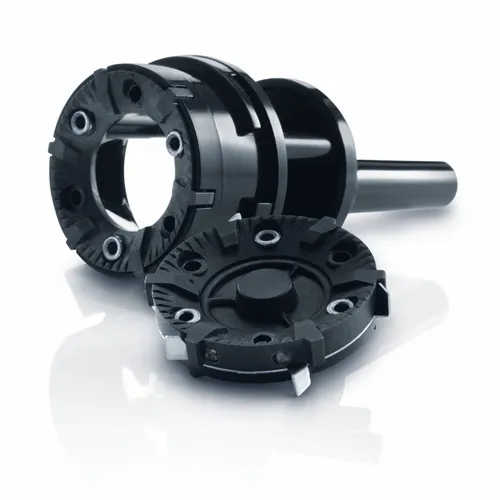 Top 5 Best Coffee Burr Grinders
Our top 5 best coffee burr grinders is as follows:
Let's take a closer look at each of these.
A coffee grinder that looks the part, just like those you see in the bistros and coffee shops with an IF product design award to show for. The Bodum Bistro is a stainless steel burr grinder instead of a blade grinder so it crushes the beans instead of slices through them. With timer and adjustable grind settings, this is definitely the grinder for serious coffee lovers.
There are 12 grind settings to choose from to satisfy even the strictest coffee connoisseurs and allow you to enjoy the same bean in more ways than one. All you need to do is to turn the upper bean container or more commonly known as the bean hopper, moving the marker from coarse to fine depending on your preference or brewing method. It will then go to work delivering your perfectly ground beans.
The grinder is also easy to use and clean, simply lift up the bean hopper when the bean is emptied, lift out the upper burr and brush out any grounds left behind. As for the anti-static catcher, the container for grounds at the bottom with the rubber lid, cleaning this is just as easy. The catcher is made of borosilicate glass and together with the lid, keeps your ground beans fresh.
Typically, five seconds of grinding will leave you with enough grounds for a cup of coffee. If you would like a long coffee for two, try twenty seconds of grinding. You can control this manually with the on/off button or use the pre-set timer. When using the preset settings, make sure you have enough beans in the hopper. The grinder will complete the cycle and switches off automatically giving you the exact amount of grounds.
What You Need to Know
a burr grinder with push button and pre-set time to grind the right amount of coffee
adjustable grind settings with for espresso to french press
holds 220 grams of coffee beans in see through glass container
available in black, red, lime green and off white
includes a friction clutch to prevent damage to the grinding gear
the ground coffee catcher is made of borosilicate glass to reduce static clings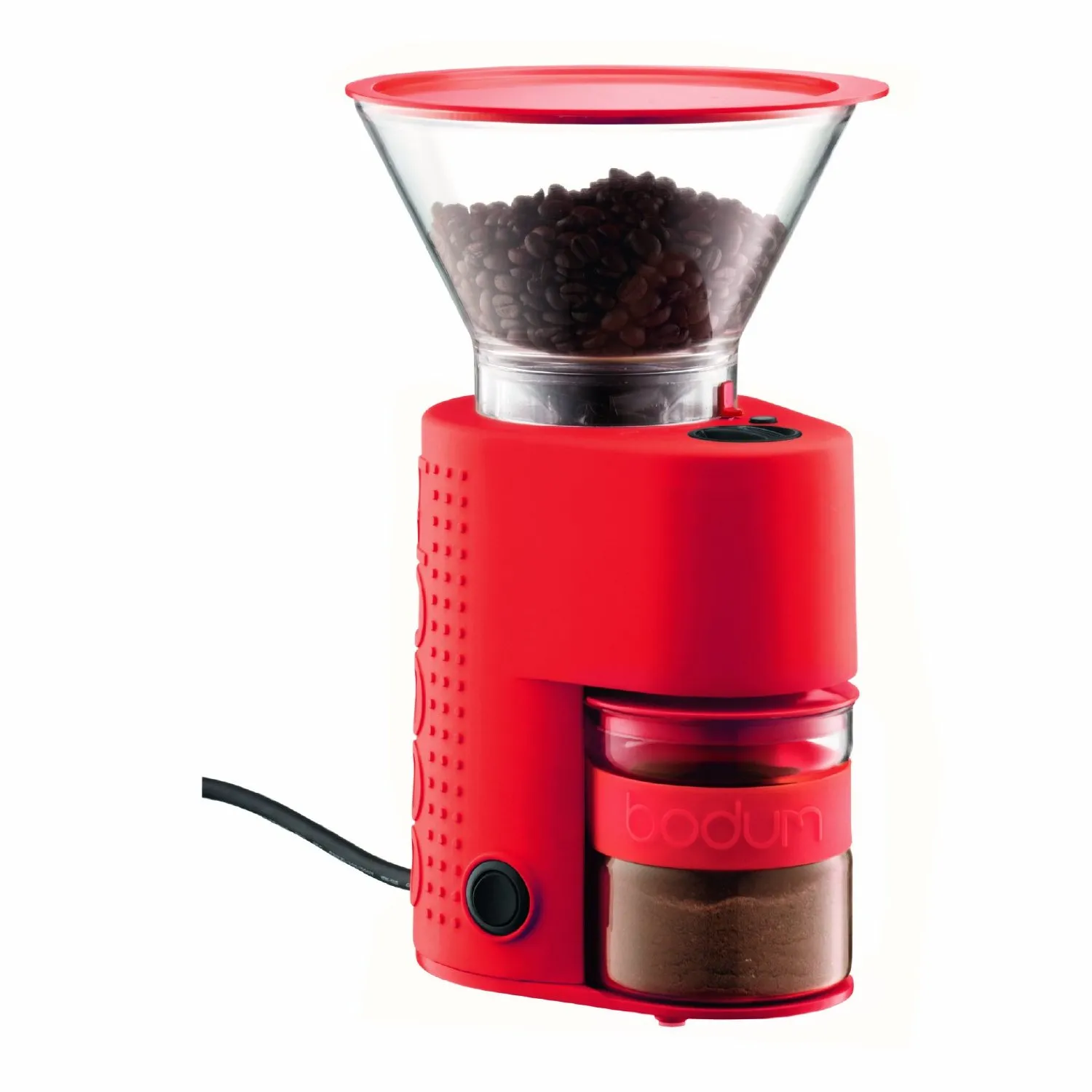 This slow grinding conical coffee grinder is said to be slower than any grinders you find in the market and it does not disappoint. The Dualit Coffee Grinder looks deceivingly big but is enough for any household use. The slow grinding action leaves the ground with plenty of aroma and minimise the clogging effect of oily or flavoured beans. Spinning slowly also produces less heat leaving your grounds in the right temperature.
This modern minimalistic burr grinder with its transparent and removable bean and ground container lets you see when you need more beans or when your grounds are ready. The slow and steady grinding action is made possible with 150 watt motor combined with gear reduction.
Apart from the 10 grind settings for how fine or coarse you like your ground, it also comes with portion settings. Unlike Bodum that uses pre-set timer, Dualit offers the clearer portion settings. Choose from anything between 1 to 10 portions, one for each cup of coffee you wish to prepare. This takes out the guess work giving you just the portion you need.
You also do not have to worry about refilling the hopper often as it will hold up to 250 grams or 35 portions of beans. The bean hopper resembles that of those found on bean to cup automatic machines like those you see at Starbucks machines albeit smaller.
When done, the burrs are removable for easy cleaning. They can be removed quickly and easily allowing you to 'flush' out the ground residuals. This is great for when you intend to use a different bean. That way, when you change to a different bean, it will not taste like the last one.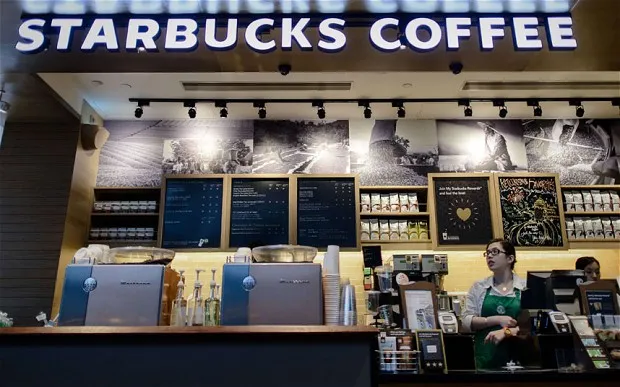 What You Need to Know
conical burr grinder with ten grind settings (course, medium, fine)
powerful motor and rear gear reduction allows for slower, cooler grind
holds 250 grams of coffee beans 35 portions
portion control with dosing selector for just the right amount that you need
removable burrs for quick and easy cleaning
Graef Coffee Grinder

A German manufactured Coffee Grinder with aluminium diecast housing and finished in white lacquer. The conical grinder is made from stainless steel and is designed to turn slowly for a grinding action that does not produce much heat. This protects the aroma of the beans and preserve its taste so you can enjoy your coffee the way it should be.
The Graef Coffee Grinder comes with 24 grind settings. For dosing, the grind container handle on the unit act as a power button. Simply push the grind container towards the base and the grinder will come on, churning ground beans into the container. You can also use the electronic shot timer for 1 or 2 cups doses direct into porta filter although it can get a little messy as ground beans can get blown over. An acrylic jar with lid is included.
What You Need to Know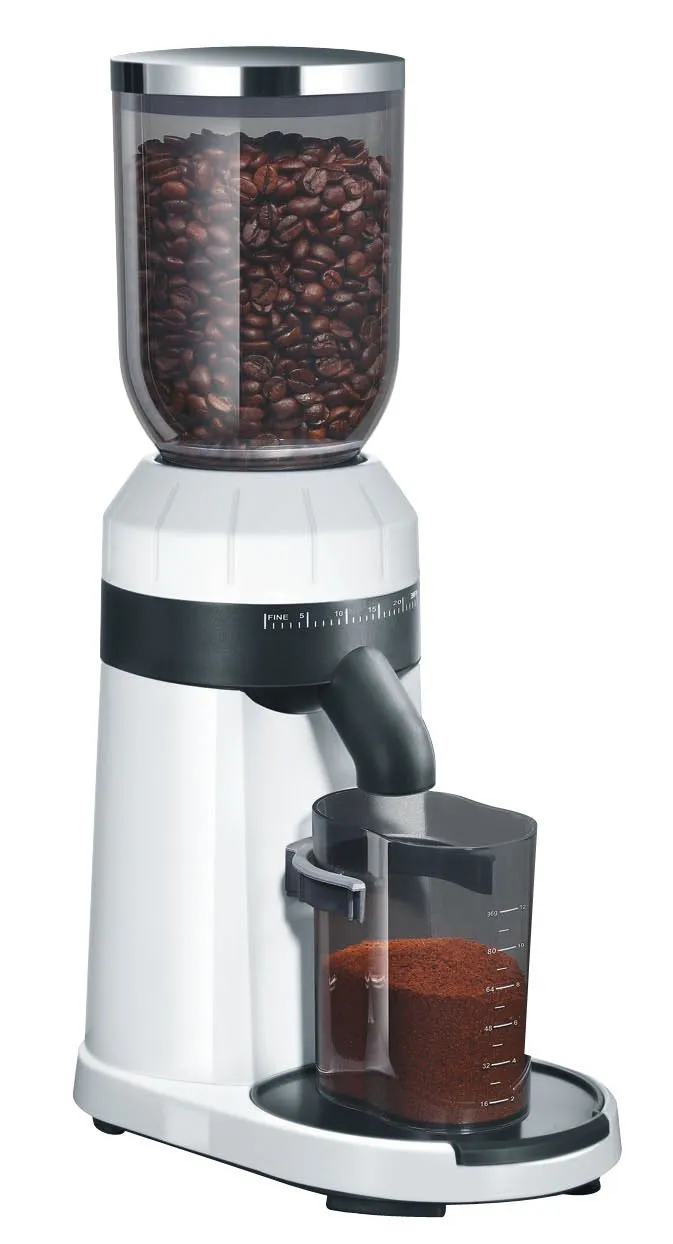 The Smart Grinder Pro uses Dosing IQ technology to automatically adjust the dose when you change the grind to give you the precise amount of freshly ground coffee. Here is a full size grinder with a big 450 grams bean hopper, double most of the burr grinders featured here.
Also known as the Breville Smart Grinder Pro Coffee Grinder in the U.S., the popular grinder is a perfect companion to Breville's espresso machines. Its stainless steel conical burrs are designed to minimise grinding heat thereby keeping the flavour and aroma of the beans intact.
Digital display coupled with precision electronic timer offers exact dosing down to 0.2 seconds. You can increase the dosing time by 0.2 seconds increment and you will get consistent amount of grounds every time. As for fineness or grind settings, choose from a range of 60 precise settings. Regardless of your brew, be it the finest grind for that prefect espresso to the coarsest French Press Grind, you are bound to find the right one for you.
While the unit is shown with espresso filter and porta-filter cradle for direct dosing, like what you get in the cafe, an air-tight storage container is also included. This fits directly under the dosing chamber so your grinds goes straight into the canister with lid and sealing cap to maintain the beans freshness.
What You Need to Know
Powerful 165 Watt stainless steel conical burr grinder with adjustable dose control for one touch grinding
60 grind settings, choose between cups for French press or filter coffee and shots for espresso machine
Backlit LCD display
450 grams removable hopper with locking system for bean transfer and two porta-filter cradles suitable for dosing directly into 50-54mm filters and 58mm commercial espresso filters
Air-tight storage canister and burr cleaning brush also included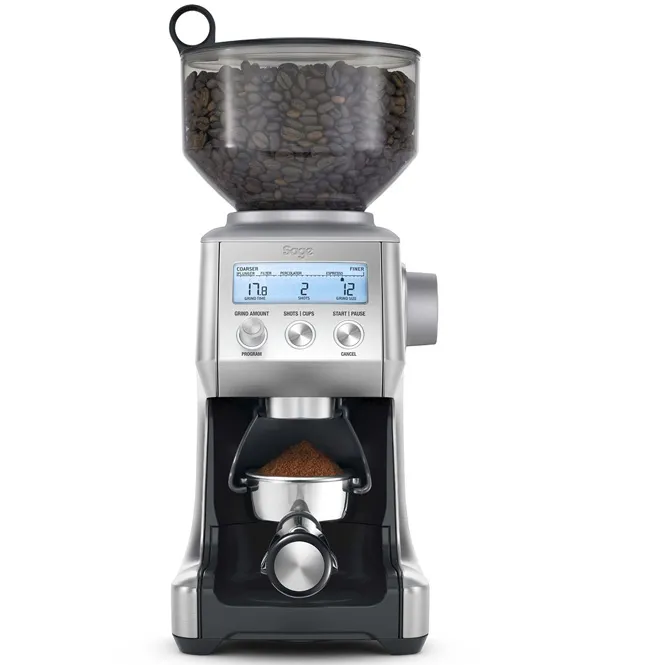 Heavy and weighted as you would expect from KitchenAid, the Artisan Burr Grinder will complement your mixer and other appliances in the Artisan range. It also has a glass bean hopper and glass ground jar to match unlike some of the other some grinders which are typically plastic.
The use of the 7 oz glass bean hopper and grind jar does mean that it minimises static clinging of the grounds on the inner surface of the jar. Being completely see through also has its advantages in letting you know when the hopper needs topping up or when you have the right amount of grounds. While the stainless steel cutting and grinding burrs turns as 450 rpm, with slow action that will minimise heat build up to maintain the flavour and aroma of the coffee.
For fineness (or coarseness) you can 15 grind settings but in terms of portioning, you will have to be the judge. Use the toggle switch to turn on the unit and allow the beans to pass through the grinder, once you have the right amount in the ground jar below, switch off the unit. You can then use the included handheld scoop to measure and fetch the right amount of grounds you need.
You can be sure that the KitchenAid Artisan Burr Grinder will look great in any kitchen especially next to your espresso machine. You can be assured of its exceptional design, excellent build quality and reliability. Also available in Onyx Black and Contour Silver.
What You Need to Know
burr grinder with all metal construction
15 adjustable grind settings
glass grind container with minimised static cling and sealing ring that reduces spillage
198 grams glass bean hopper
241 gram coffee ground container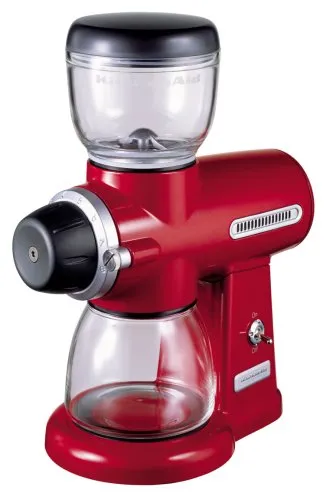 The Other Burr Grinders
The following burr grinders are what we consider low volume coffee grinders:
One of the best selling burr grinders in the market, the De'Longhi KG79 Professional is your no nonsense burr grinder available at an affordable price tag. The small grinder features an ultra modern and minimalistic design with square edges. Both the bean hopper and ground container is made from see through material.
An easy push to grind button is also accessible on the top of the grinder above the portion or cup selector. Choose from 2 to 12 cups setting. As for the ground fineness, use the rotary selector to the left side of the unit, to choose from fine to medium to coarse. When the upper grinding wheel can be removed for cleaning and there is a built-in cable storage to keep things tidy when not in use.
It's also worth noting that both bean hopper and ground container comes with built-in safety mechanisms that turns the power off when removed during operation.
What you Need to Know 
professional burr grinder
cup selector and separate grind selector dial
120 grams coffee bean capacity
transparent bean container
transparent and removable ground coffee container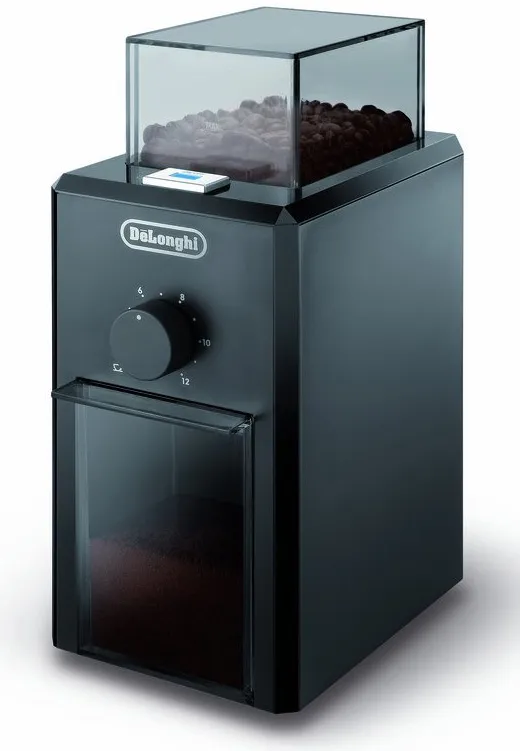 One of the top rated coffee grinders, the Krups Expert has been updated and re-engineered for improved performance. The grinder features portion controls set between 2 to 12 cups and 17 grind settings from fine to coarse. The unit's layout is similar to that on the De'Longhi with cup selector dial on the front, fineness selector dial on the side, a power button on the top in front of the bean hopper and both bean hopper and ground containers are removable and see through with safety lid.
Instead of looking all plasticky, the design does incorporate brushed stainless steel fascia and stainless steel bowl for a touch of class. Like most grinders, the upper stainless steel burr can be removed for thorough cleaning when switching beans for for regular maintenance. This together with the lower burr makes for an efficient two-burr grinder for precise and uniform grinding.
What You Need to Know 
burr grinder
number of cups (2-12) selector
fineness selector with 17 positions
turn off the grinder manually, or it will switch itself off when the required portion is ready
225 grams air tight coffee bean hopper
200 gram removable coffee container and safety lid and upper burr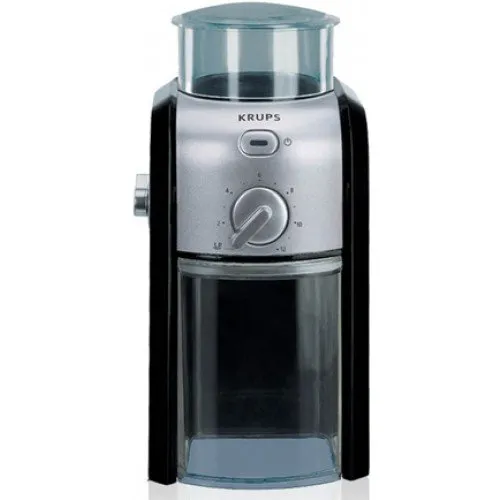 Cuisinart does add a touch of class to their professional burr grinder with an all stainless steel housing offering both durability and robustness to the units design. But it does not stop there, the burr grinder has 18 grind settings to satisfy any fineness requirements from fine to coarse to suit any brewing method.
There is however the issue of portion. The unit only starts from 4 cup and you can select up to 18 cups. If you are looking to make a mug of coffee for one, you may have to leave some grounds for the next mug. Most small to medium grinders offers 2 cup setting as a minimum. Otherwise the grinder is easy to use, simply fill up the bean hopper, select both coarseness (or fineness) grind setting and how many cups or portion to prepare and press the start button.
stainless steel housing burr grinder
18 position grind selector
cup quantity selector with auto shutdown
250 grams coffee bean hopper
4-18 cup capacity
all removable parts are dishwasher safe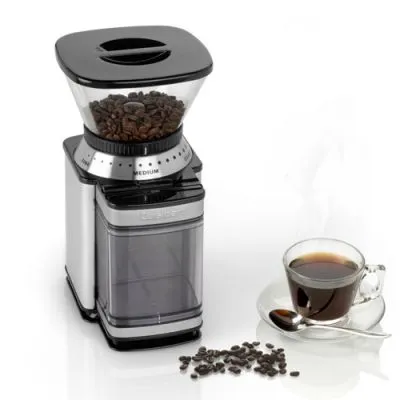 If you are a coffee connoisseur and expects nothing less but the best grinder for your beans then the Baratza Virtuoso Coffee Grinder with 40 grind settings will give you your run for your money. The unit has a transparent bean hopper and ground beans container for easy access.
It may not be cheap but it will offer you consistent grind every time from a somewhat quiet operation. The only thing which can be a hit and miss is the timer dial for the grind. It is not be the most precise of timers but you will get used to the settings and compensate for it to suite your taste in ground portion.
40mm Steel Burr
Grind range from 200 to 1400 microns with 40 steps adjustment
8 oz or 227 grams bean hopper capacity
5 oz or 142 grams ground beans capacity in a see through container
Also Available: lower model, Baratza Encore and higher model Baratza Preciso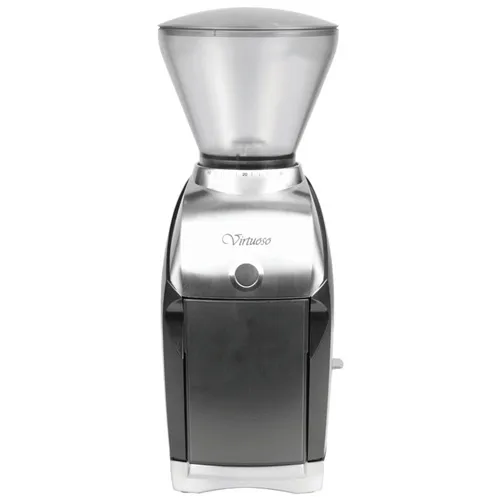 What You Need to Know
100% aluminium professional and durable grinder
steel plane blade grinder with the coffee beans grounded against 2 identical flat discs
uses cold grinding method to preserve the favour and body of the coffee
micrometric regulation and electronic time
600 grams unbreakable hopper
Available Colours: Anthracite, Love Red, Cloud White, Mandarin Orange, Mediterranean Blue, Sun Yellow, Sweet Cream and special edition, The Cow.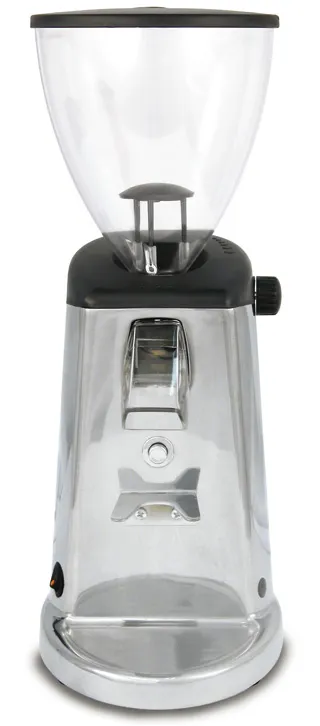 Our Line-up
Here is a quick look at our line-up again. For the most up to date prices, please click on the links below: