You may have heard of the company's latest Instant Pot Duo Crisp, a two-in-one, Pressure Cooker and Air Fryer or own one of their more popular Instant Pots or Instant Pot Duo pressure multi-cookers but have you heard of the Instant Vortex? From the same company that has made a solid name for themselves in the pressure-based multi-cooker sphere comes the Instant Vortex 4-in-1 Air Fryer.
In their first foray in to the counter top based Air Fryer segment, the Instant brand introduced three different air fryers, the Vortex Mini, Vortex and Vortex Plus. That is on top of the Air Fryer Ovens and Instant Pots that air fries (IP Pro Crisp + Air Fryer and IP Duo Crisp + Air Fryer. But the focus here is mainly on the Vortex 6 with a huge 6 Quart capacity or 5.7L in metric volume.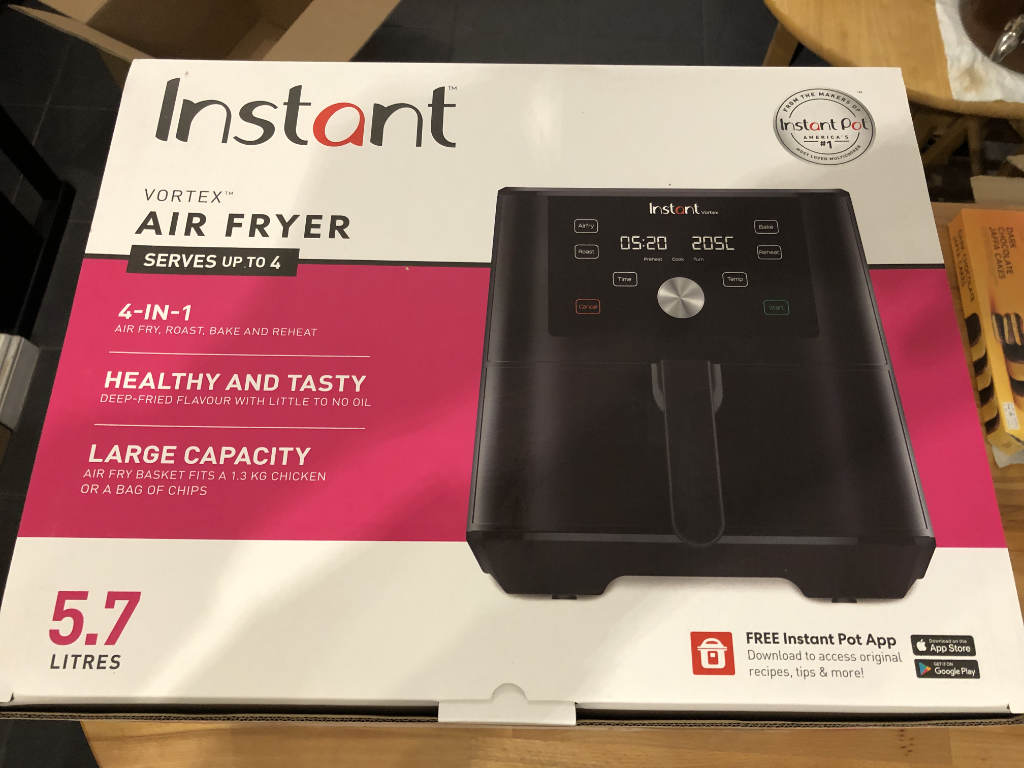 Search Instant Vortex Air Fryer on Amazon
Fat Frying vs Air Frying
While traditional fat frying used to be the only way to get super crispy fries and chips, and to ensure the ultimate crispy batter for fish or chicken nuggets, it is undeniably a messy affair. Not only will you get grease and fat in the air but when things settle, it goes all over the surfaces in the house including the floor. The smell of food and grease typically lingers for days and if you've been frying up a storm, you might actually face the risk of slipping on the floor if you do not clean it up quickly.
Air frying, on the other hand, uses heat from an electric coil or a heating element and a forceful fan to circulate hot air around the food to cook it until golden crisp. The result is very very similar to fat frying without the huge vat of oil, splatter and the rigorous cleaning afterwards. It also means, of course, that there is no old cooking oil to get rid of.
You can still enjoy the same crispy coating on your food using up to 95% less oil, making it a healthier and more efficient alternative to deep frying.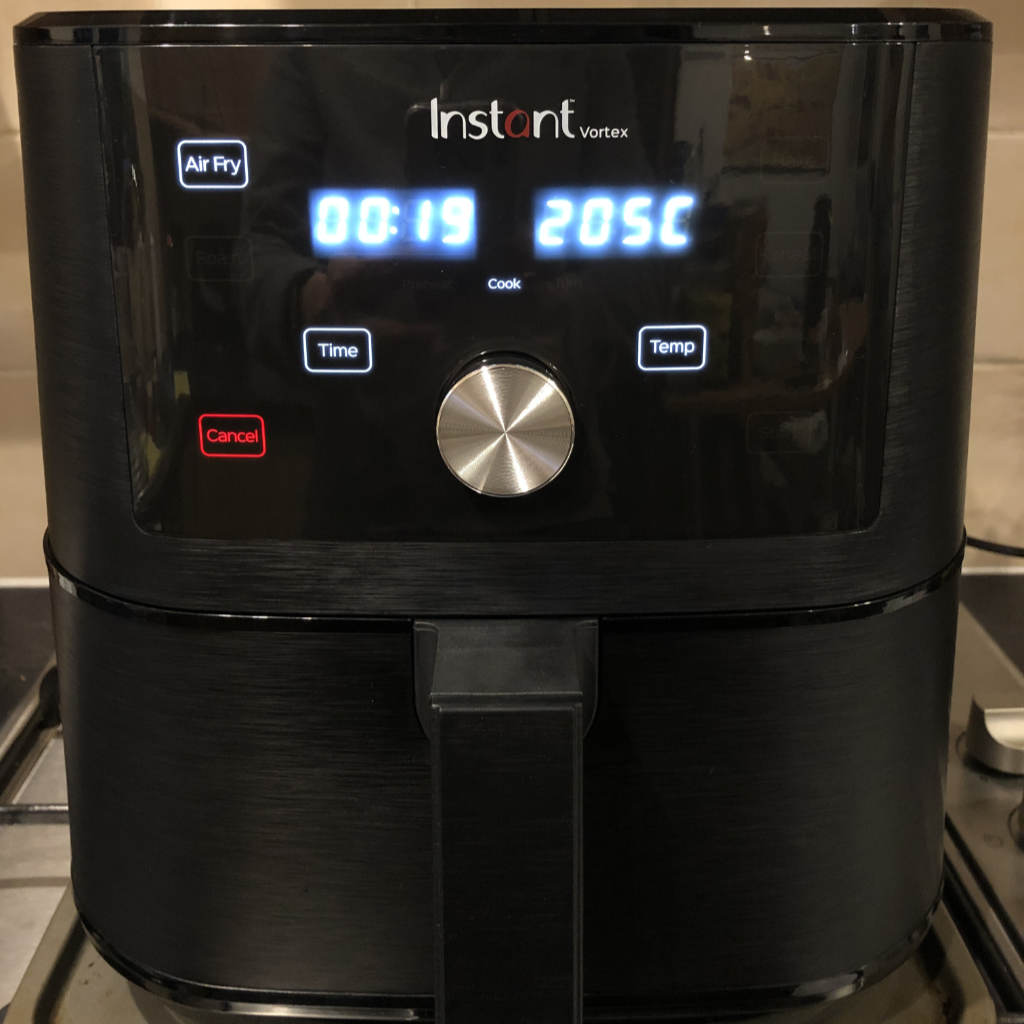 What does the 4-in-1 in Instant Vortex Air Fryer 6 do?
The quick answer – air fry, roast, bake and reheat. With its bigger capacity and faster pre-heating, it takes less time to cook the equivalent amount food compared to a conventional oven. It can be used to roast chicken, bake cinnamon rolls or even air fry doughnuts or churros. Cook any food and be surprised and impressed by the results of the Instant Vortex.
Instant Vortex 6 Air Fryer
The Vortex 6 looks smart from every angle. Its cube-like design with rounded corners and tapered bottom definitely looks and plays the part. The dark tone and brushed metal finish gives it a modern and premium feel. With its touch screen, digital display and single rotary knob, the controls are minimalistic yet friendly and functional.
On the back there is a small air grill and cable outlet with a protruding plastic tab below the air grill that acts both as a spacer and cable tidy. The plastic top comes in the same fingerprint proof brushed finish so it looks good and smart whichever angle you look at it from. Use the handle to pull out the drawer and you will find a flat removable cooking tray in a deep non-stick drawer.
This cooking tray is different to conventional air fryers where there is usually a removable frying basket within the pull out drawer. This just means that the Instant Vortex has a lot more space for food and the flat removable cooking try allows fat to drain through to the bottom of the drawer.
Overall, the design is fresh, more modern looking than most of the air fryers out there and the digital control is a real treat to use for precise time and heat settings. Add to that, the efficient square shape and you have a large internal space to cook with and an effective footprint on the kitchen counter top.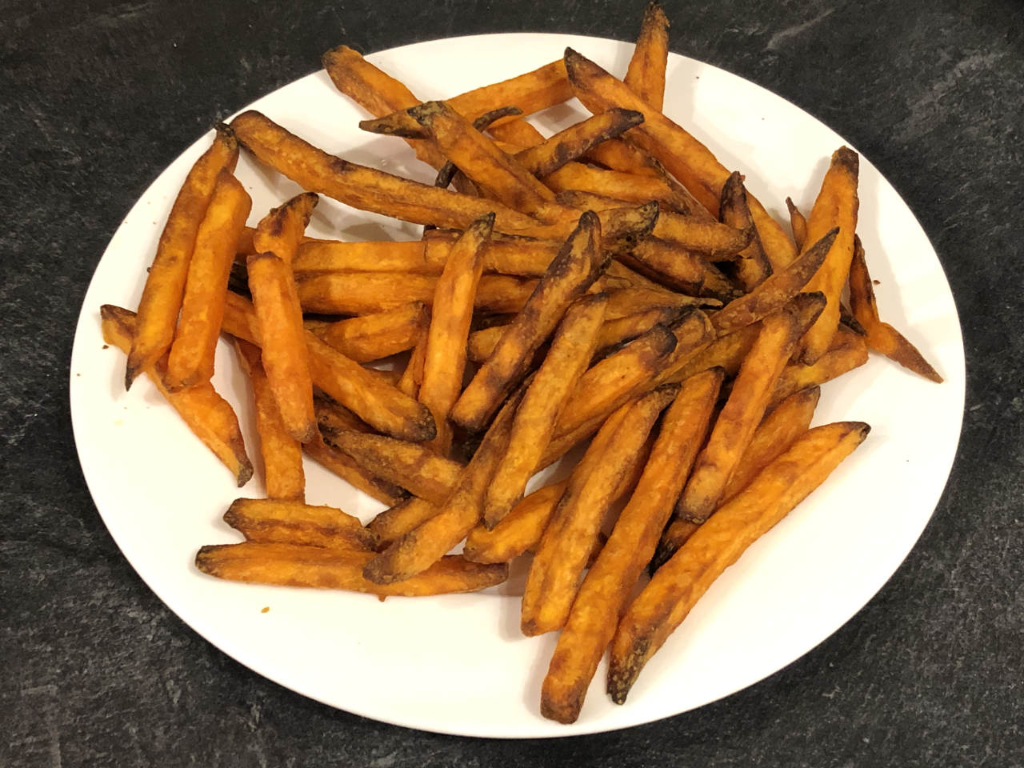 What Is It Like To Live With
Even after weeks of use, we are still amazed by the abilities and capabilities of the unit. Set your cooking preference (air fry, bake, roast or reheat), time and temperature, then press go to start. It takes some time to pre-heat (approximately 2 minutes) and when it is ready, it will prompt you to add food. We usually just add food right from start so we can effectively ignore this and it will start cooking automatically after preheating.
Just before the food is ready, it will again alert you to turn your food. Pull out the drawer and do what you must or you can also ignore this if there is plenty of room around your food and it will resume after a few seconds to finish cooking. Finally, when cooking is done, it again alerts you will a series of beeps.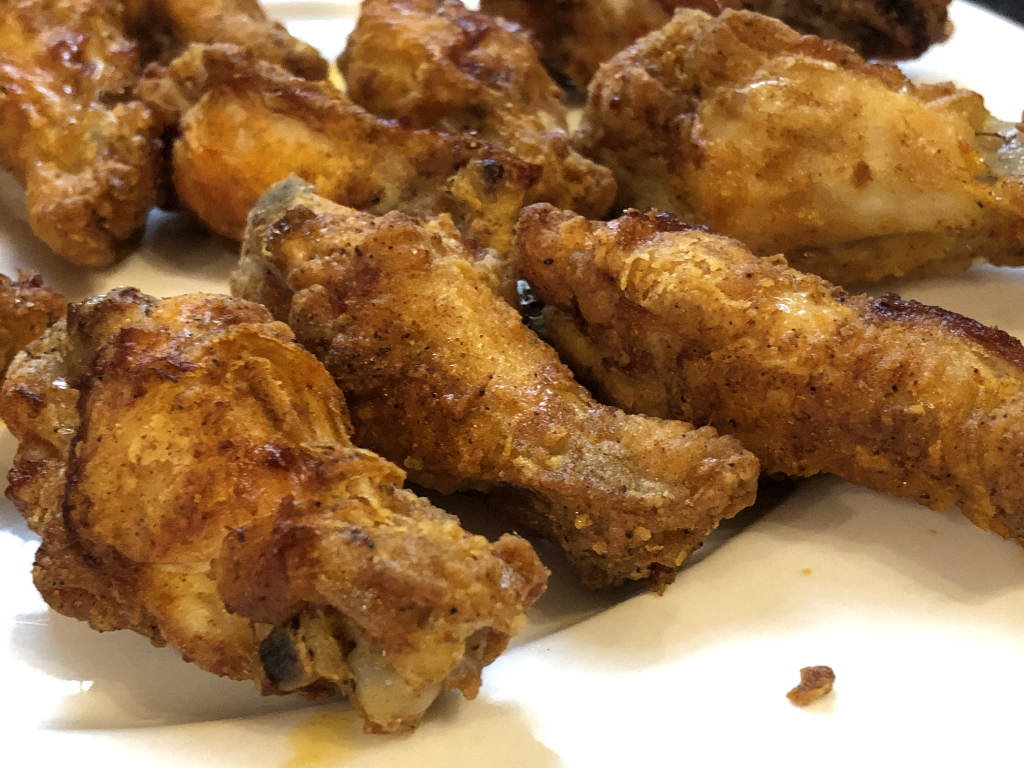 Before You Start Cooking
There is an initial test run to perfrom on the new unit. Make sure you remove all packaging and sticky fixes. Connect the power socket, remove the drawer, place the flat cooking tray inside the drawer (air fry basket) then reinsert the tray. Set the programme to Air Fry for 20 minutes at 205 degrees Celsius or 400 degrees Ferenheit. Then, press Start. This cooking cycle is the same as normal cooking cycle with a preheat stage, remove and reinsert the drawer to continue then first and second cooking stages again with remove and reinsert drawer in between.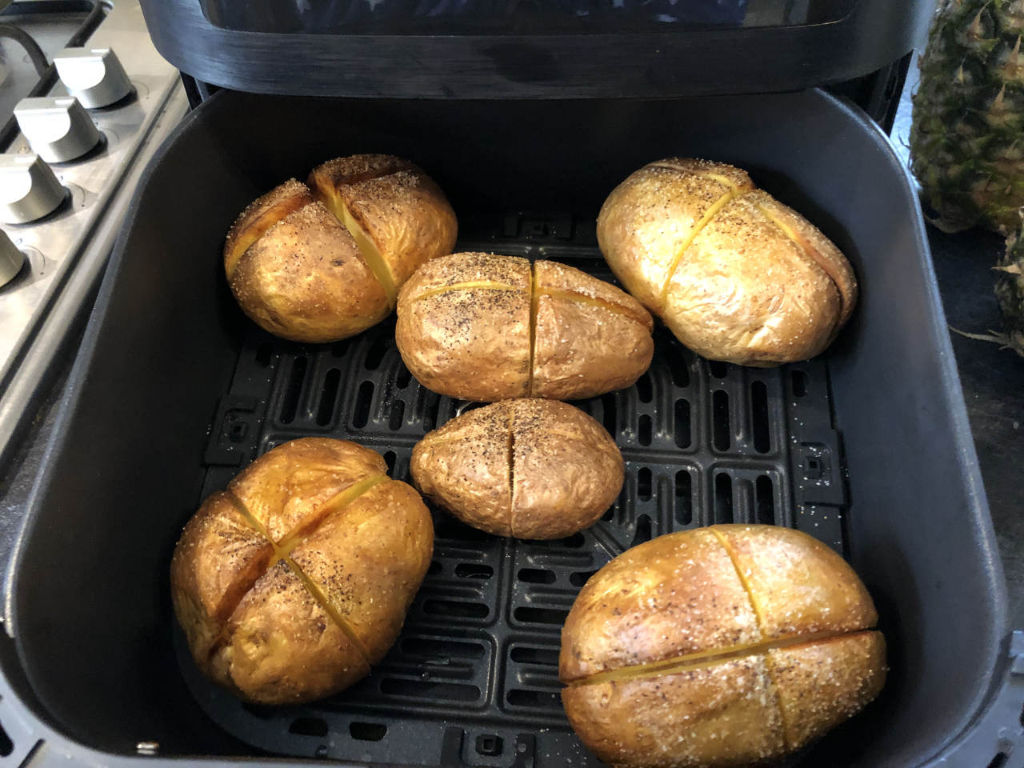 How to Cook With An Air Fryer
We started off with thick cut sweet potato fries. After downloading and installing the app, we hit the Air Fryer section and used the instructions for fries. We then experimented, seeing as this was our first time using an air fryer with chicken wings, roast potatoes, thin cut fries, reheated samosas both from room temperature and frozen, crispy kale and crispy chicken drums.
For cooking temperature and time, we followed the instructions in the packaging, setting the temperature to the same as fan assisted oven and took 5-10 minutes off the overall cooking time. You can always add more time at the end if need be, especially for larger cuts of meat and thighs. We found that frozen oven fries take a significantly shorter amount of time to cook compared to normal fan-assisted oven, 20 minutes at 190 degrees.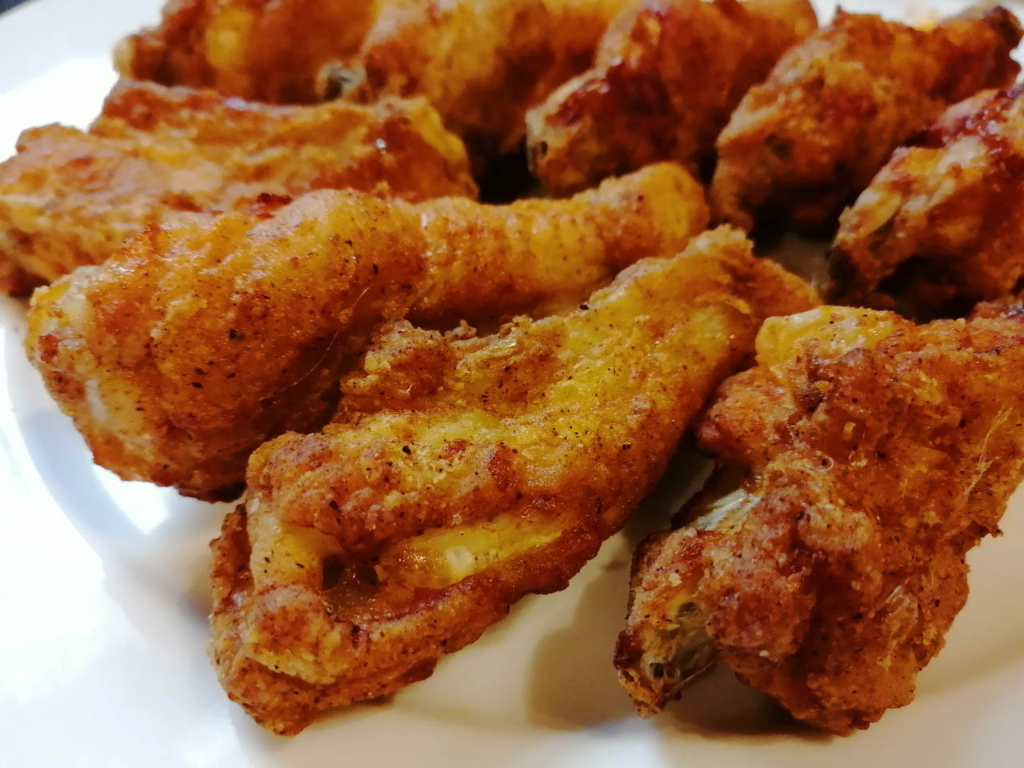 My daughter also used the Air Fryer to make crispy kale snacks with chopped, washed and dried kale tossed in oil with a generous sprinkle of salt and sugar. It took around 3 minutes to cook to crunchy but had to be done in small batches. As for the chicken drumsticks, this took 30-40 minutes at 182 degrees depending on the size.
We found the air fryer great for reheating food too especially fries that have gone soft and other pieces of deep fried food such as fried chicken, battered fish and fritters.
For all cooking times, the final 1 minute countdown is shown in seconds on the screen. If you do not remove the food, the fan continues to blow to cool down the air fryer. It then continues to remind you that the food is ready after 5, 30 and 60 minutes. Opening the drawer at any time stops the cooking. To reset the airfryer, simply press the cancel button or touch and hold either the smart programme or dial for three seconds.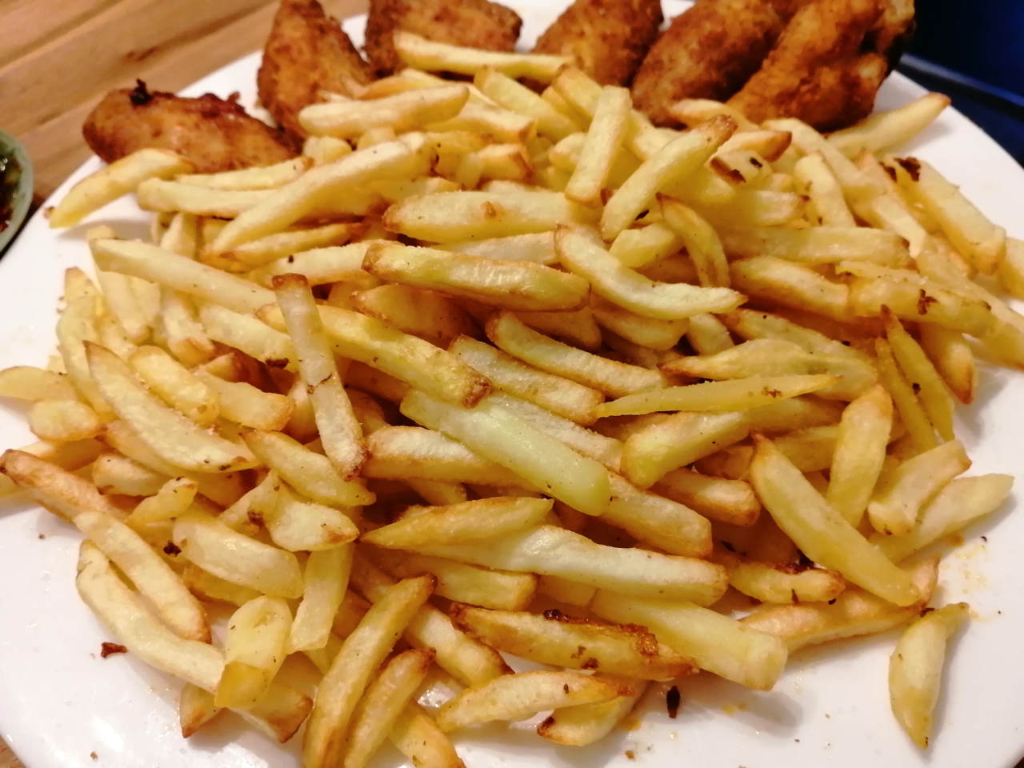 Cleaning the Air Fryer
All surfaces in the air fryer that comes into contact with food and oil is non-stick coated, making cleaning an easy task. The main frying drawer should only be wiped clean and not submerged in water. Although, I have occasionally washed it carefully with warm water and soap, rinsing it at the end with running tap water being careful not not to get water in the vents near the handle and front cover. Then, drying it with cloth. The removable flat cooking tray with a mesh like cut-out is dishwasher proof although I have often just cleaned it with warm water and soap and left it to dry on the dish rack.
Final Thoughts
We can fault the Instant Vortex. Yes, it may be loud with noise from the fan during cooking, but which air fryer isn't. At 5.7 litres it is one of the bigger capacity air fryers, large enough to roast a medium chicken. The drawer and basket is spacious allowing you to access the food easily unlike some air fryers that uses an inner basket, thereby reducing the overall cooking space.
It also has an advanced backlit touch screen, and to control the preset programmes, temperature and time, simply rotate the dial in the middle. The display turns off when not in use so the entire unit looks sleek and minimalistic in its brushed black metallic finish. Food cooks perfectly with crispy outer crust and it hasn't disappointed at all.
While it was not an essential addition to our kitchen, we have certainly be very very impressed and are always on the look out for more things to try and experiment with it. Definitely a worthwhile purchase!
Specifications
Model: Vortex 6
4-in-1 Air Fryer: air fry, roast, bake and reheat
Controls: touch screen digital display with control dial for time and temperature
Power Rating: 1450 – 1700W
Capacity: 5.7 Litres or 6 Quart
Weight: 5.65 kg
Dimensions: 42.6 cm (L) x 31.4 cm (W) x 33 vm (H)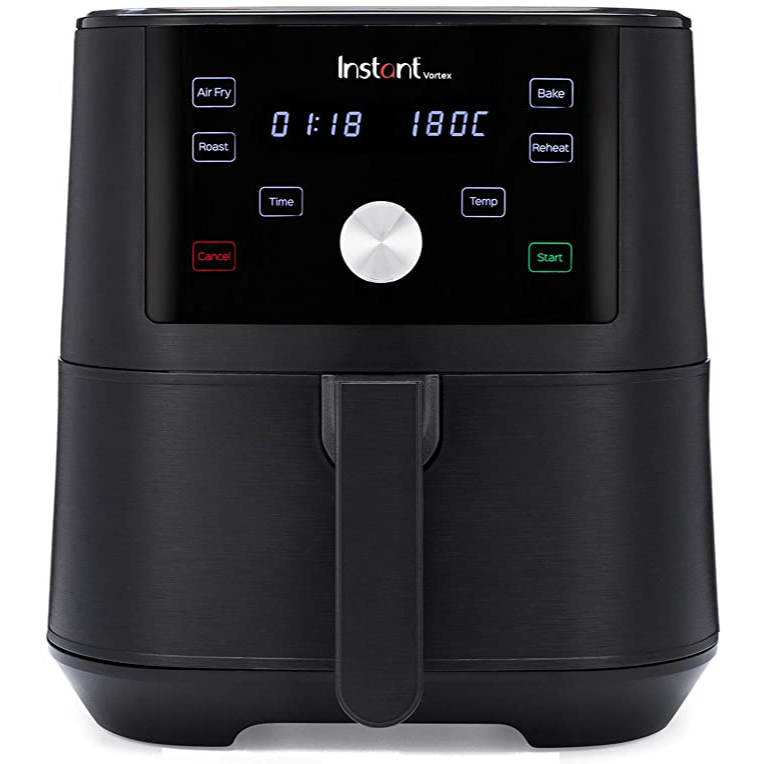 Search Instant Vortex Air Fryer on Amazon