If you've been on the fence about whether an Amazon Prime subscription is worth it, did you know you could sign up for a free 30-day trial? Now the thing is, you're only allowed to sign up for one trial every 12 months, so there's actually an 'ideal' time (or two) to sign up for the trial.
Let us explain further. Firstly,
It's not for everyone
Having been Amazon Prime members for the last decade or so, we have found it sufficiently worth our while to pay for its annual subscription. Through its first price hike which was a few years ago and now on to the next up-coming increase, we have considered it worth our while. But, for many of our friends, the idea of paying a hefty conglomerate as large as Amazon a recurring fee for what it offers really grates. So it really isn't for everyone. If it's not for you, no worries, just click away and we won't be offended.
However, (now that we've got principles out of the way) if you're curious about how we make the best of the membership, we'll go through the benefits and explain their appeal in detail.
Amazon Prime Benefits
The Amazon Prime membership initially started out as a free one-day delivery/shipping service on eligible items. When we joined, the only other thing going for it was Prime Reading. Over time however, Prime Video and Prime Music has also been added for no additional costs and we have found those to have been good value, especially as it was 'free' beyond its initial subscription.
We explain our experience in further detail below. Do keep in mind that we are Amazon Prime members in the UK and while the general offering is similar not everything is the same.
1. Free shipping
One of the main benefits of Amazon Prime is free two-day shipping on eligible items. We have found though that many products offer a free one-day service and some even by 10pm the day of the order. This may be due to a case of our geographical location being sufficiently close to a distribution centre. But it has been handy.
Yesterday, I ordered a bottle of Opticrom Eye drops and they arrived by about 8pm that same day. The bonus of course. was that it was even cheaper than the Boots pharmacy down the road or the Morrisons (large supermarket) up the road. Better yet, it helped that I did not need to leave the house as the high pollen count outside tends to aggravate.
So if you do frequently shop on Amazon, or think that you might start, and value fast delivery, this feature can save you money on shipping costs and expedite your orders.
Amazon Prime membership includes access to Prime Video, which offers a wide range of movies, TV shows, and original content. If you enjoy streaming video content and find value in the Prime Video library, this can be a significant perk. We have had Netflix, Disney Plus and Apple TV+, which we occasionally cycle through a random month at a time if we get bored with the options. However, as Prime Video comes 'free' at no additional cost due to our Prime membership, we have obviously tended to rely on it, when we drop the rest.
TV Shows and Amazon Original Series
Much like all streaming channels, at some point, the programming becomes a bit 'same-y' and you might want to look for something else, but we have thoroughly enjoyed some Prime specials – Mrs Maisel, was especially good. Other long sit-com series the Big Bang Theory are there in all its seasons and for a while, Prime had all the seasons for Grey's Anatomy, but this has now moved to Disney Plus. Other Amazon Originals series worth binging are Reacher, Tom Clancy's Jack Ryan, The Lord of the Rings: The Rings of Power, Hunters, Modern Love series and more.
Here is a look at all the Amazon Original Series.
Movies and Amazon Original Movies
The movies on offer range from some oldies to some newer shows like Ocean's Thirteen and more recently Everything Everywhere All At Once made an appearance. They are not available indefinitely though, and there is often a countdown reminder when the show will be taken off. New movies are being added all the time too including Amazon Studio's Original Movies. We were quite inspired by Air, the OG story of Nike's Air Jordan brand, reunited Matt Damon and Ben Affleck, with both cast in major roles and the latter, directing the show.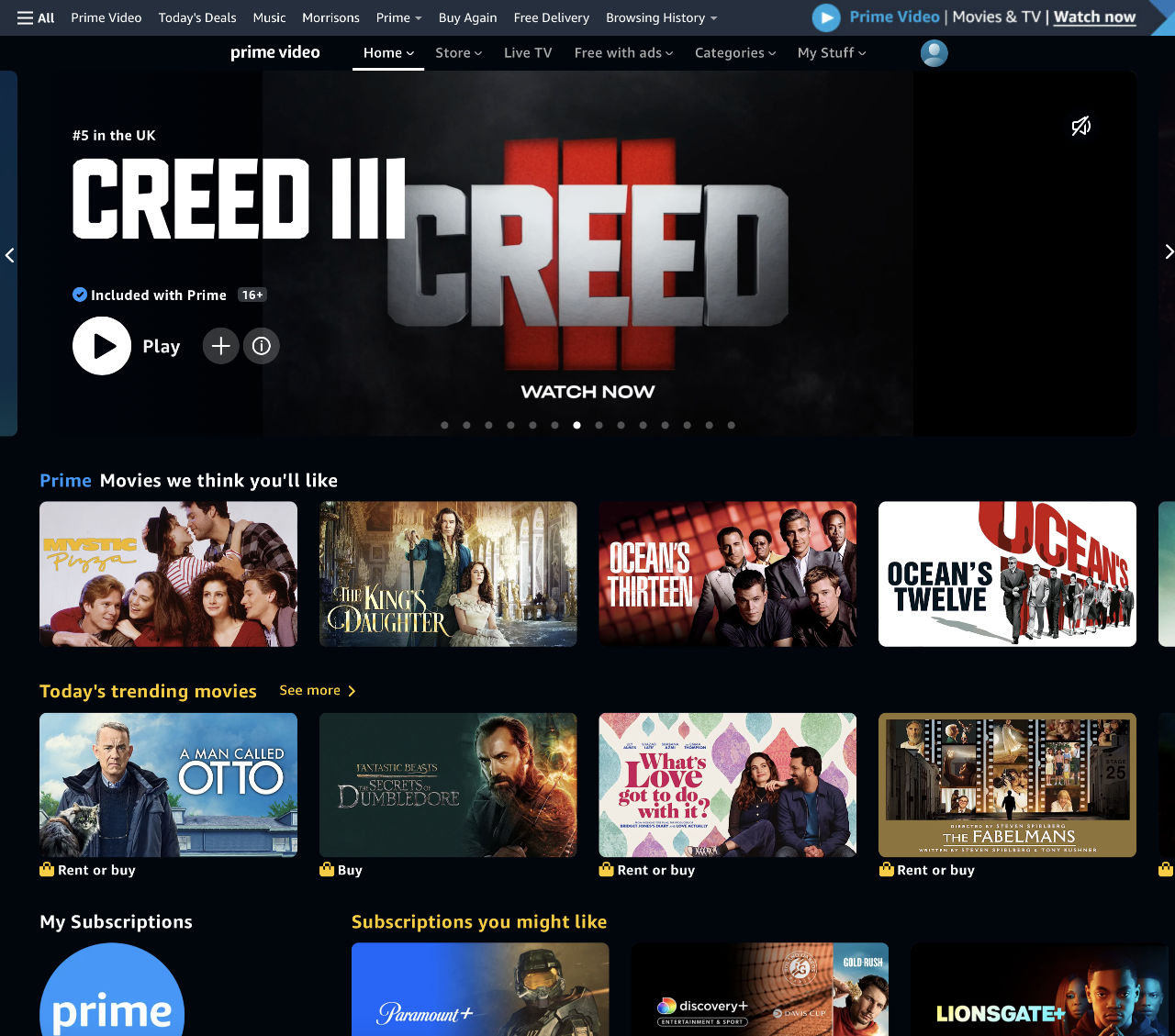 All in all, there are some good shows, some great shows and everything in between and worse. The fact that it does not cost any extra is the main bonus for us. You can find out more about latest and upcoming releases over at Amazon Studios Press Site showcasing all original movies, original series, freevee (free with ads) and sports.
Subscribers can access Prime Music, a streaming service that offers a large collection of songs, playlists, and stations. If you enjoy listening to music and find the Prime Music library to be sufficient for your needs, this can be a worthwhile addition.
The main difference between Prime Music and Amazon Music Unlimited is that Amazon Music Unlimited is an additional subscription service beyond the Prime annual membership. If you are a member of Prime, Amazon does offer a music streaming service that is completely ad-free. The downside of Prime Music is that on request, it may or may not play what you ask, but it will play '…and songs by similar artistes'. It seems to be random whether or not Alexa will decide to play what you ask, but so far, if like us, you're not too fussy about music choice, Prime Music suffices. One of the positives of being offered 'similar songs' is that we have found some new singers that we have now come to enjoy. Alternatively, choose to play one of Amazon's playlists or listen to top podcasts, all ad-free.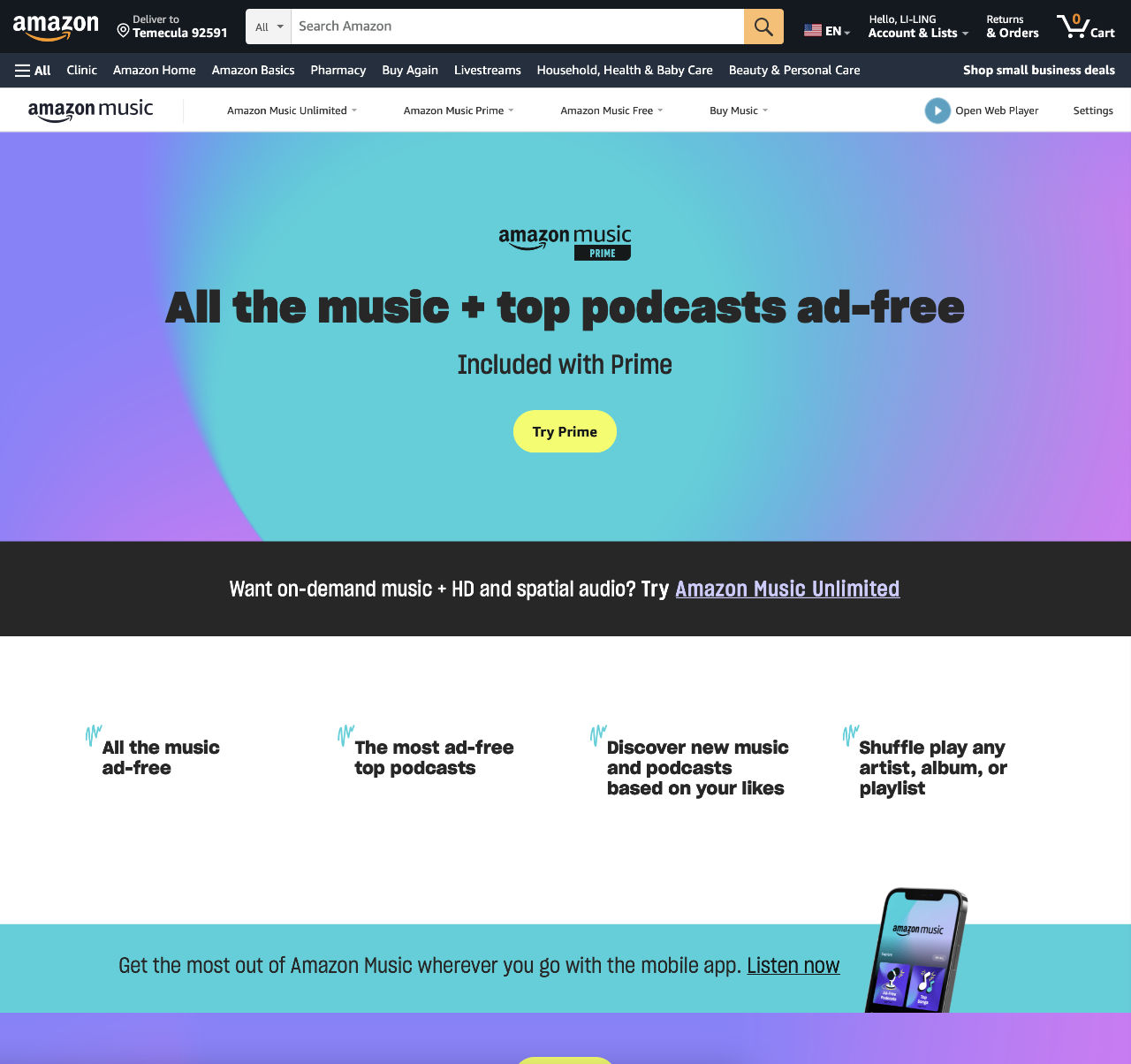 One of the biggest benefits of the Prime Membership for us has been Prime Reading. With Prime Reading, members can borrow up to 10 ebooks, magazines, and comics from a rotating selection. If you are an avid reader and take advantage of this feature, it can save you money on purchasing books.
Although it will not have all of the best sellers on it, there is often a fair amount available that you will not be left wanting. The 10 book limit works well, If you are at the limit and wish to borrow something new, you simply have to return something that you have read already out of the 10.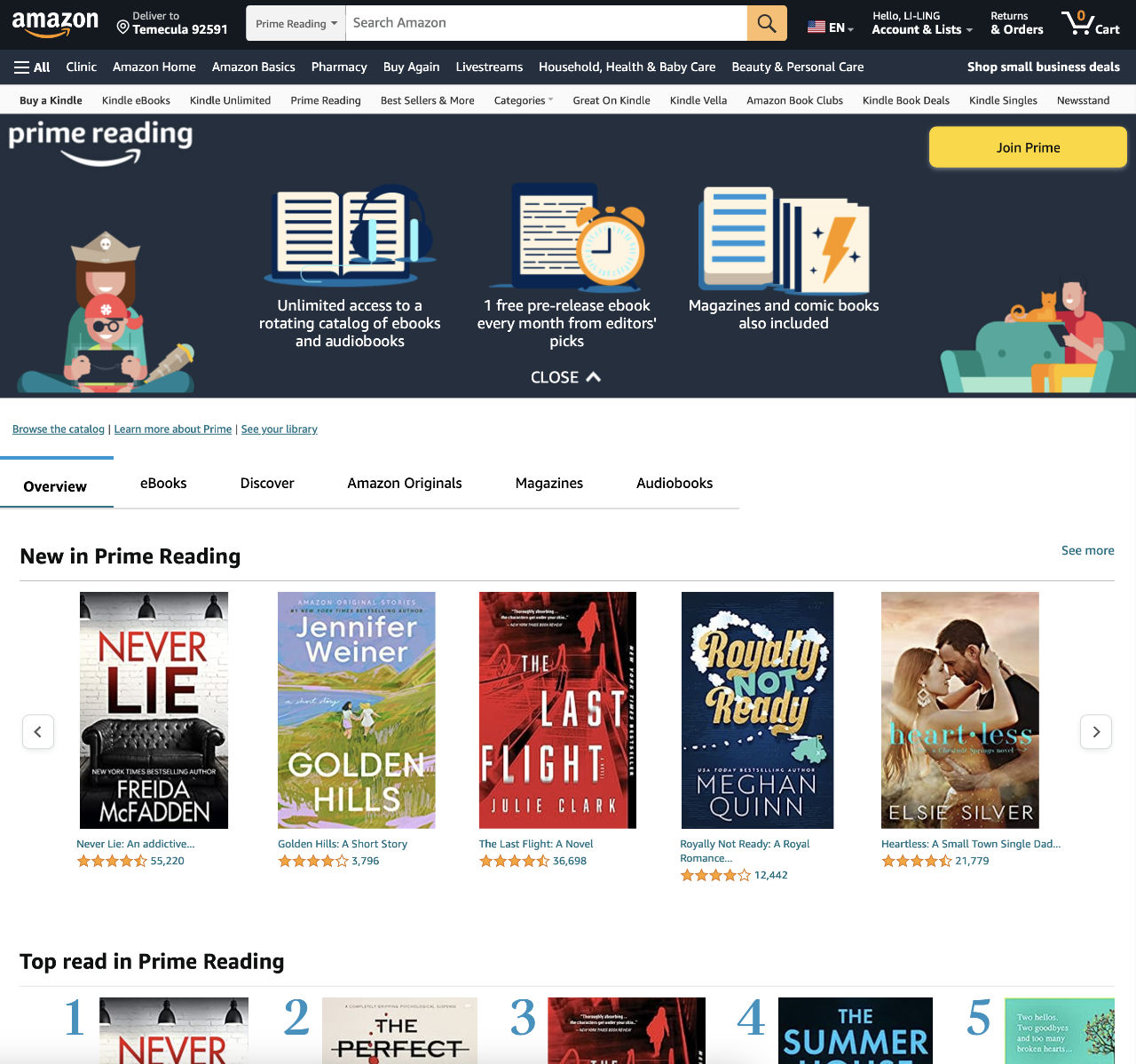 If you are into gaming be it on the PC, console (PlayStation, Xbox and Switch) or mobile (iOS and Android), you can take advantage of Amazon Prime Gaming as a Prime member. Prime members can claim at least one game per week. You can get popular titles like Overwatch 2, League of Legends, Fortnite, Diablo IV, Start Wars: The Force Unleashed, Call of Duty Mobile, Valorant and more. Titles come and go, so you have to keep an eye out for ones you like over at Prime Gaming. Login using your Amazon Prime credential, browse for the game or in-game content you like and click the "Claim button for full instructions. Sometimes, these are codes to redeem the content via a store front or to link your existing games and game launcher accounts with Amazon Prime Gaming. For full PC games, simply download and installed the Amazon Games app to play your claimed PC games.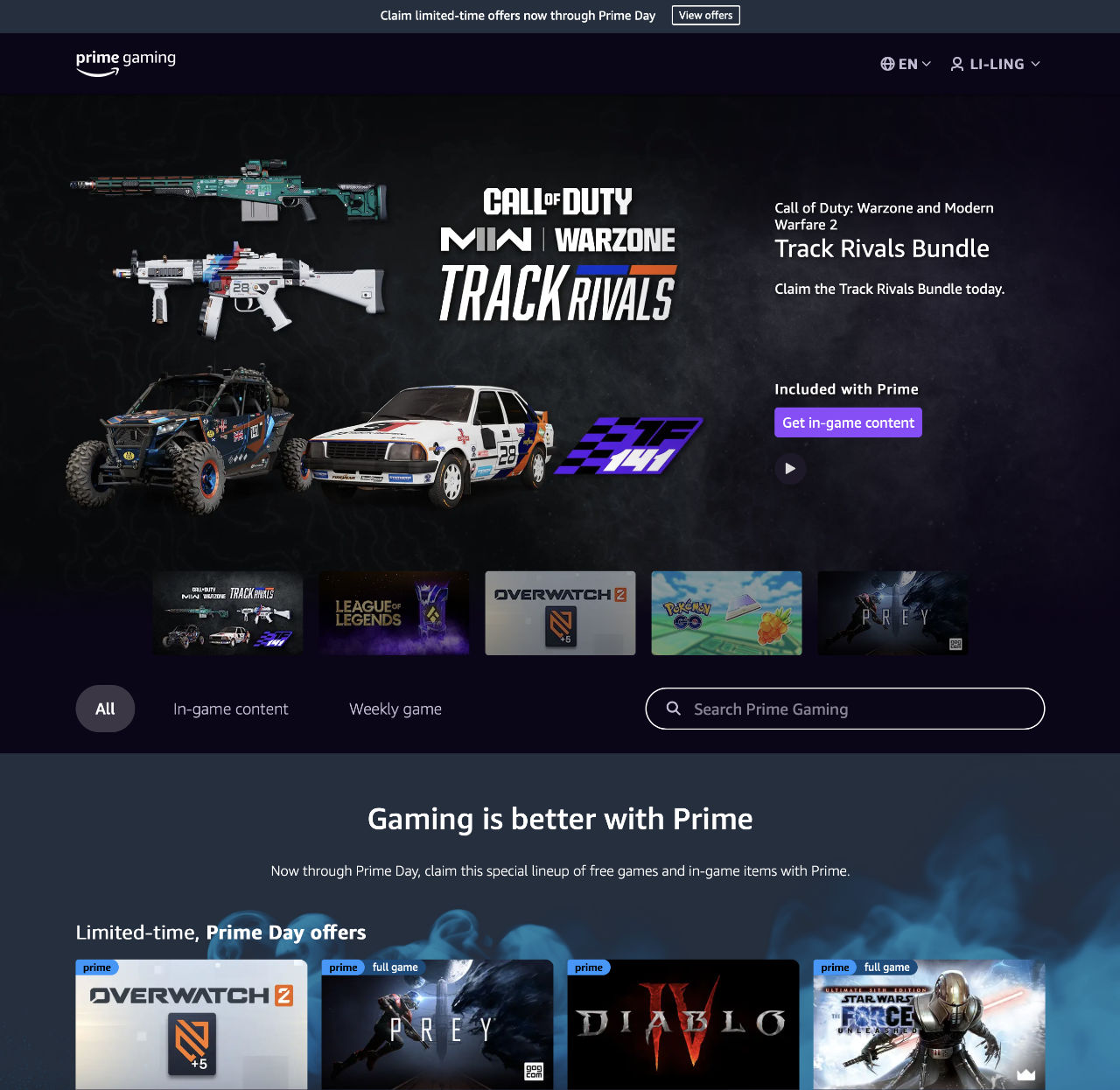 6. Prime Day and exclusive deals
One of the best benefits of Prime membership is that as an Amazon Prime member, you'll gain early access to deals during Prime Day, an annual sales event. Prime Day deals are often seriously discounted offers on major electronic, computer and other electronic  devices; deals on kitchen ware, kitchen electrical even fashion, gym and health categories. We have certainly benefitted from some of these deals, purchasing Robovacs, hardware tools and various electronics.
7. Additional perks
Apart from the benefits above, Amazon Prime membership also includes features like Prime Photos (unlimited photo storage), Prime Gaming (free in-game content and monthly Twitch subscriptions), and Prime Pantry (grocery and household item delivery). These extras can enhance the overall value of the membership.
If you do (or think that you might) frequently use  multiple Amazon services, shop online regularly, and enjoy streaming video and music content, the Prime membership can provide a lot of value. However, if you rarely use these services or prefer other alternatives, it may not be worth the cost.
If you're unsure if the Amazon Prime membership is worth it for you, a great way to find out is to trial it. Amazon Prime offers a free 30-day trial.
When is the best time to sign up
In our experience (and great wisdom), if we were doing it all over again,  the Best time to sign-up for a Prime trial would be just before Prime Day or if later in the year, before the Black Friday sales period.
And even if you were although thinking of signing up, it is still worth signing up for the free trial before converting your membership to a paid one – you'll get 13 months for the price of 12.
If you don't think you'll make full use of the Amazon Prime services, but are curious what the benefits are, the best time really is to sign up just before Prime Day and have access to all the deals too.  As you can only sign up for one free trial every 12 months, it's definitely worth making it count.