Love grilling but hate splatters and spills? Then these all-season contact grills are your answer. They are not only compact and small enough to put away when you don't need them but will cook your food fat free, making your meals healthier.
It has been a while since we last looked at electric contact grills. It is time once again to revisit the subject but this time, we look at the best contact grills for under $100. You will be surprised how well these affordable contact grills work. There is no real need to over spend as even well known brands such as De'Longhi, Hamilton Beach, T-fal and the undefeated George Foreman carries them.
Up to 4 Servings, Adjustable Thermostat
This retro looking grill from De-Longhi is nearer the top end of our budget but the most important thing is it does two things well. First, as a contact grill to grill meat, fish and vegetable. Second, to press your favourite sandwich or panini to perfection (see page below). The temperature control with indicator dial and window is pretty neat. We just wish that the control knob come with ridges for better grip. Excess grease runs to the bottom left corner of the unit and you use a great cup to collect this. The cooking surface is big at around 12-inch x 14-inch, enough for up to 4 servings. It is worth noting that the cooking griddle pans are not removable but they are non-stick and can be wiped down.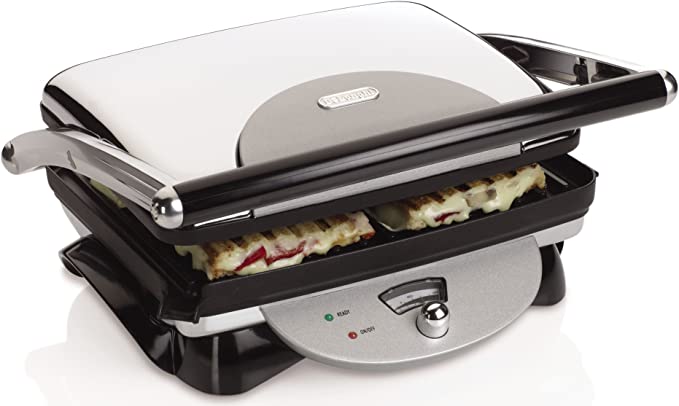 Up to 6 Servings
Next we have a no fill unit from Hamilton Beach big enough to prepare up to 6 servings of food. There are no buttons or knobs for temperature control. Simply turn it on, wait until the red light turns green to indicate that it has reached its optimum cooking temperature. Lift the cover and slap on your food then close it back up. To know when your food is ready, use again the red/green light indicator. Green to indicate that the grill has reached the proper temperature. At this point, you also need to judge for yourself if the food is ready or to cooked to your liking. he powerful grill Up front, there is a big pull out tray to catch the dripping fats from meat or fish. Again, like most contact grills, the pans are not removable and need to be cleaned in-situ. Unlike the De'Longhi, the hinges doesn't allow the top griddle to floating flat. It top cover will be anchored and tapered when thicker food is in place which isn't ideal.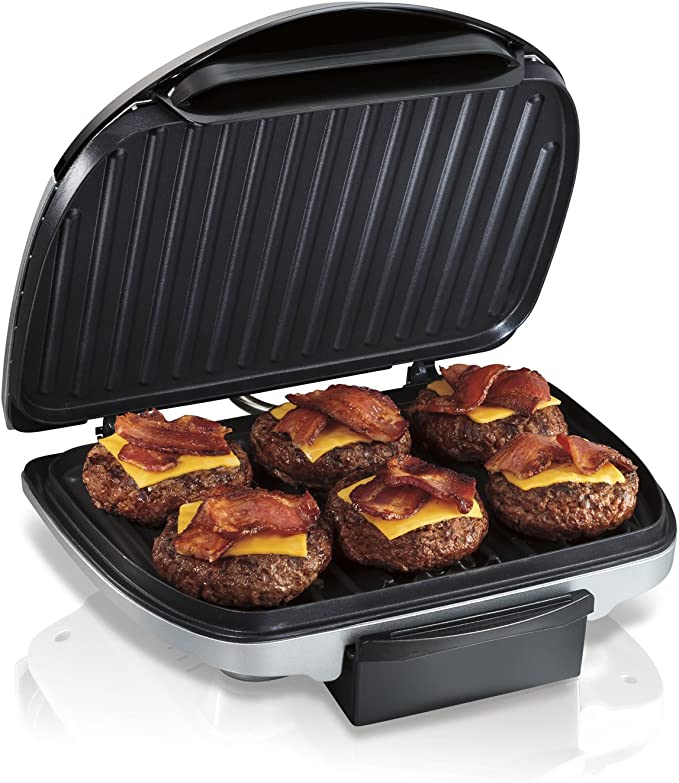 Up to 2 Servings, Vertical Storage
This really small George Foreman grill is super compact and very affordable. Perfect for one or two servings, the unit can be stored standing up to take up a very small footprint. The hinges are mounted and stationary and there lies its limitation but such is a trademark of affordable units. However, the adjustable rear legs does let you put the grill at an angle to better remove excess fat for grilling or flat for panini. Remember to place the drip tray at the end of the slippery slope to catch the fats when grilling. This is another wipe clean model with non-removable pans. Either way, you have to really want a small unit to go for this George Foreman Classic Grill.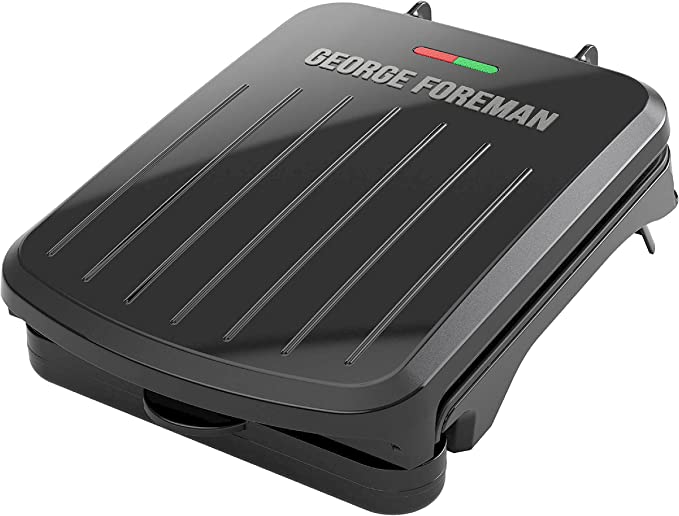 Up to 6 Servings, Viewing Window, Adjustable Thermostat, Removable Grill
Next, we have another Hamilton Beach but this is not your ordinary contact grill. It mimics an outdoor BBQ with only one cooking griddle pan. The cover itself comes with a viewing window so you can check on the food to see if it needs more time. They call this the searing grill with window. The grill pan is also slotted, so fats drip straight down into a big drip tray. There is an inherent height limitation due to the cover design but it should be big enough for most food. It can reach temperatures up to 450° F (232° C) which makes it great for searing to lock in the juices. And, you can change the temperature using the knob to set between 200° F to 450° F. Admittedly, it is at the top end of our $100 budget, but it is and will be a worthwhile investment for those who looks grilling.
Dimensions: 12.4″ L x 16.7″ W x 6.8″ H

Cooking Surface 118 Square Inch
Up to 4 Servings, Removable Plates
Once again, a non-nonsense choice from George Foreman. As usual, there are no fancy controls, knobs or buttons. Just switch it on with the lid closed, wait for it to reach preheat temperature and when the green light indicator is on, it is ready to cook your meal. Make no mistake, this is the biggest of the George Foreman grills featured here with around 12 x 12-inch cooking surface, enough room to cook up to 4 servings. But the biggest advantage of choosing this over the some of the other contact grills here is the fact that the plates are removable which makes cleaning a breeze. It also claims to be 35% faster at heating up compared to previous models. It's not a looker but it gets the job done at a price that everyone can agree on. It is worth noting that the hinge is adjustable up to 1-inch to accommodate thick cuts.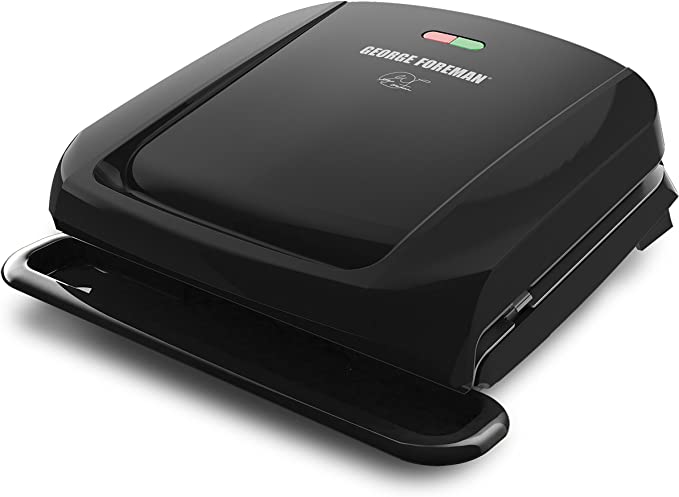 Up to 6 Servings, Digital Display
Steak Lovers rejoice. This Hamilton Beach 25331 electric indoor searing grill is for you. The contact grill with chunky handle and floating hinge is reminiscent of the De'Longhi that tops our list except, it is more affordable and comes with a digital display and controls. The large 100 square inch cooking griddle can fit 4 steaks or up to 6 small burger patties. It boasts a high searing temperature of up to 500° F (260° C) and once pre-heated, can cook most meals in under 10 minutes. The griddle also use a drip cup versus a tray with the grease outlet located at the bottom left corner. Again, this is one with fixed grilling plates so wipe clean only.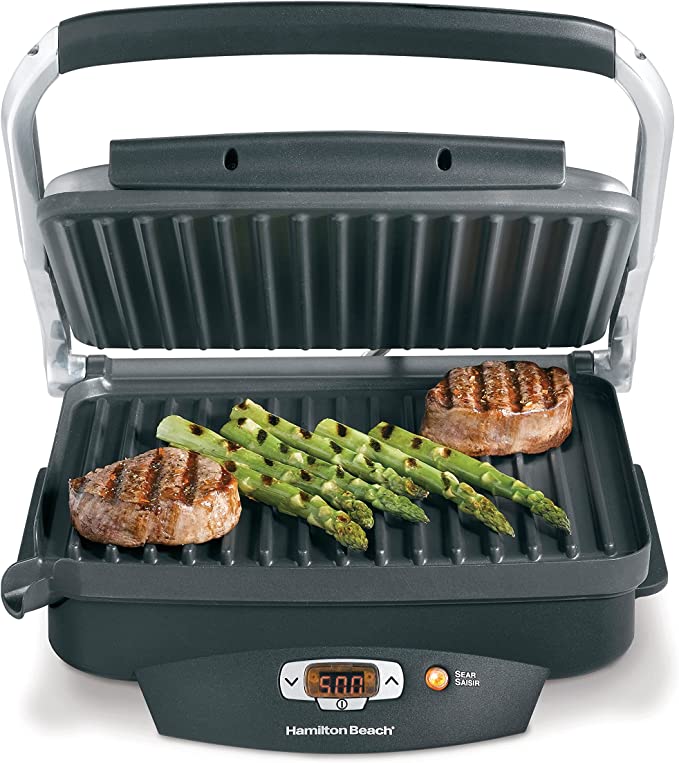 Cooking Surface: 100 Square Inch
4 Servings, Vertical Storage
Third George Foreman in our list. This time it is a compact 4 serving unit. The cooking grate measures approximately 13 by 9-inch making it a more rectangular grill. Reason for this, the GR340FB is designed to be stored vertically, taking up as little storage space as possible. It also comes with cord wrap built-in. The downsides are the cooking plates are not removable so wipe clean only and the hinge is rather fixed. Design wise, it is your typical George Foreman, plain looking with nothing to shout about.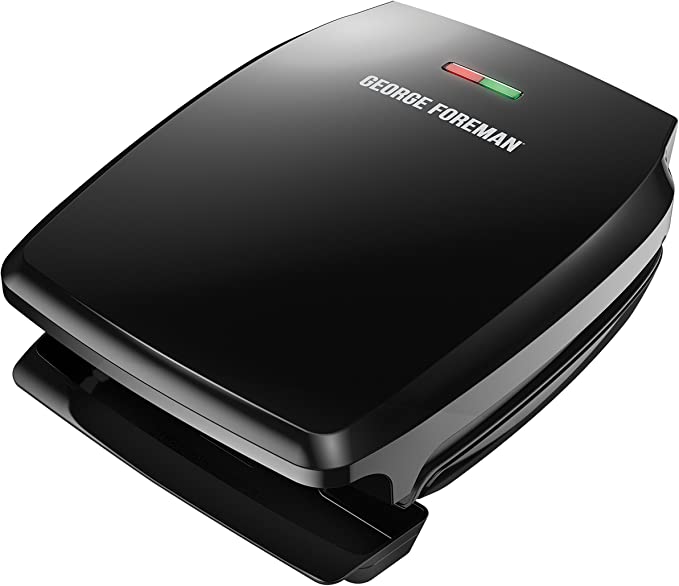 Up to 4 Servings, Open Flat
Easily the most affordable contact grill with floating lid and large handle bar. This Elite Gourmet, like the mid-range contact grills from De-Longhi and Hamilton Beach above, comes with a floating lid held on to the base with a large hinge. For some, this is a must have for their contact grill. But price may be a hindrance. Not with the EPN-2976 as it is priced to compete with even the conventional clam shell grills. It manages to keep the price low with a smaller cooking area of 9 by 10.5-inch. It also runs on lower power output at 1000W so it may take a little longer to heat up and cook. The disadvantages are the lack of temperature control and non-removable plates but these are compromises you make to get the contact grill profile that you want.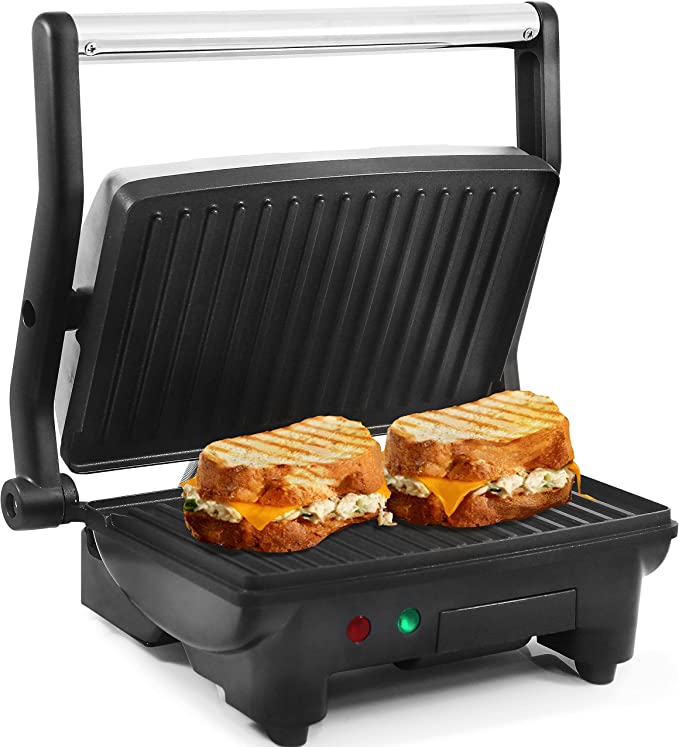 Up to 6 Servings, Open Flat
From a relatively unknown brand comes this versatile electric contact grill. The OMAIGA Indoor is all you need for pressing sandwich or panini, to cooking your favourite meat and fish. You can unfold the lid with its 180 degree hinge via a push button. This turns it into a flat grill with its handle on the cover doubling as a stand. As an open BBQ grill, you get a large 25.2 x 12.6-inch cooking surface for up to 6 servings of food. Also, the cooking griddles lock in place and can be lifted up via a safety release button for ease of cleaning. Plus, those non-stick plates are dishwasher safe. Another clever feature of the hinge is its ability to set the right amount of pressure whatever the thickness of your food, be it a sandwich, steak, burger, vegetable or fish. It comes with 5 level or gears to pick from so no need to manually pressing and holding down the cover.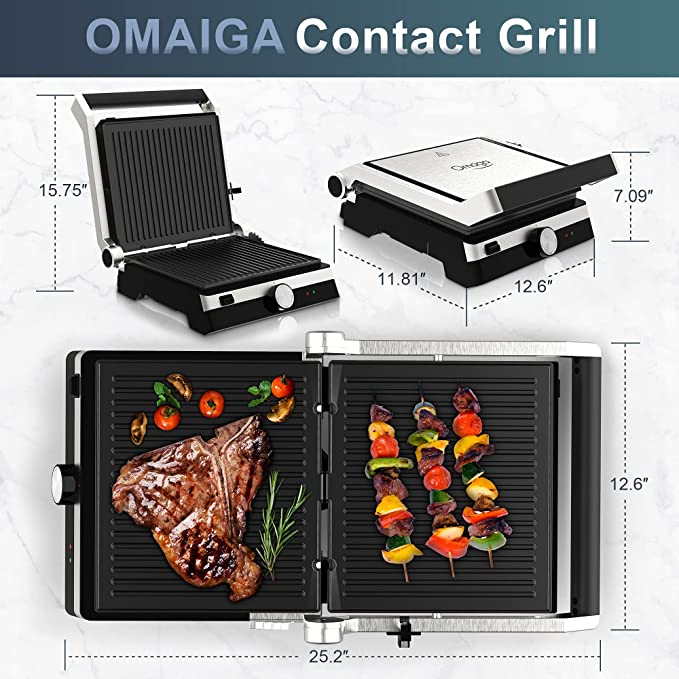 Power Rating: 2000W
Temperature range: 374℉-446℉
Up to 4 Servings, Odour Filter
First on our list with an air filter is this next unit from T-fal. It has a double charcoal filtration system to reduce up to 69% of grilling odour. This compact unit is big enough to cook up to 4 beef patties or 2 steak. As the cooking surface is tilted forward, excess fats run off quickly and lands in the drip tray. The corners and edges of the griddles are also raised and they come together to seal off the unit but only if you have flat food like burger, sausages or steaks. This helps reduce splatters and smell from escaping via the sides. The only disadvantage is that the non-stick grills are not removable so make sure you have some kitchen towels or cleaning sponge handy to wipe off those cook on food and fats.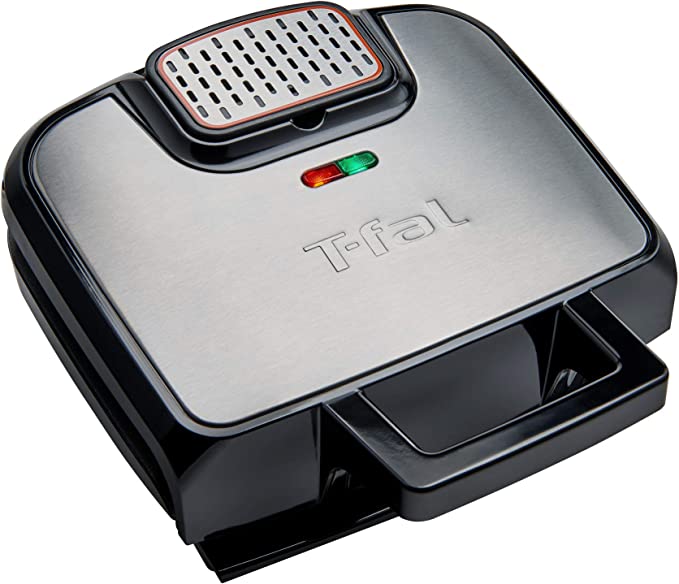 Final Thoughts
The real question to ask yourself first and foremost is how much are you willing to pay even though we are limited to contact grills under a hundred. The reason being, these contact grills costs between 20 to 95 dollars and that is a wide range. Obviously paying less gets you smaller and simpler grills but top dollar with get you big chunky handles, floating lids, viewing window, temperature controls, digital display and overall more thoughtful designs. There are also the questions of size, storage, the ability to convert into an open grill and if the cooking plates are removable. If you can tick off most of the items on the checklist I mentioned then you are off to a good start.
We leave you with an example of a big 6 serving contact grill with a 4-in-1 cooking modes combining grill and griddle surfaces (removable and interchangeable) and an open flat design. The Hamilton Beach 25601 will prepare everything from pancakes to eggs and even the entire breakfast as well as toasted sandwiches, meat, fish and vegetable.