If you think that the perfect afternoon tea party is all about the best cakes and pastries, perfect brews of tea and tall flutes of champagne, you're not wrong. However, it is just as important to consider exactly how all these wonderful goodies are to be served and presented.
Now that you've spent so much time deciding on the food and drink, collating the ultimate guest list, you really want to ensure that your guests have the best experience ever. To do that you want to make sure that everything is perfect. From the tea services to the tiered cake stands. You want your guests to not only enjoy the food, but you want to make sure it's a memorable experience.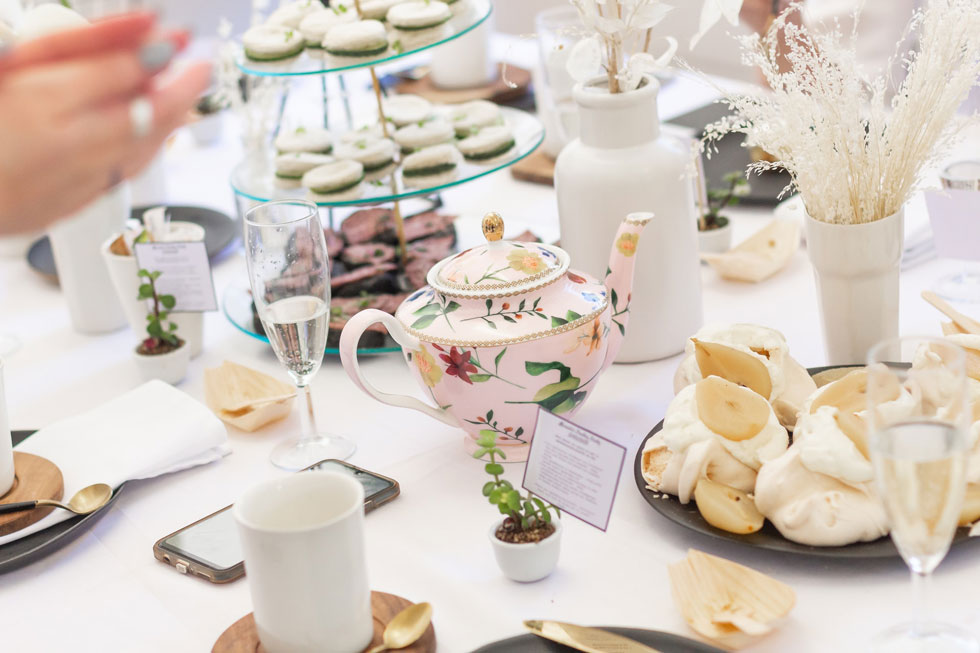 We looked at food and drink options for the ultimate champagne afternoon tea in our earlier post. Here's a list of everything else you need to consider when hosting an afternoon tea party.
Serving Up at your Garden Tea Party
With all the beautiful made, gorgeously enticing sweet and savoury treats all lined up, you really want to do more than just dish them up on foil trays. So once you've got your menu down and sorted, next consider how you are going to present the ultimate afternoon tea experience.
If your tea party is going to be a large one, it may be easier to opt for a garden party buffet with the food presented in large trays and servers behind the buffet table ready to help or dish out.
However, if your tea party is more intimate, then you can really go all out to ensure that everything is perfection on each table. Here's how you can accomplish that.
1. Chinaware and glassware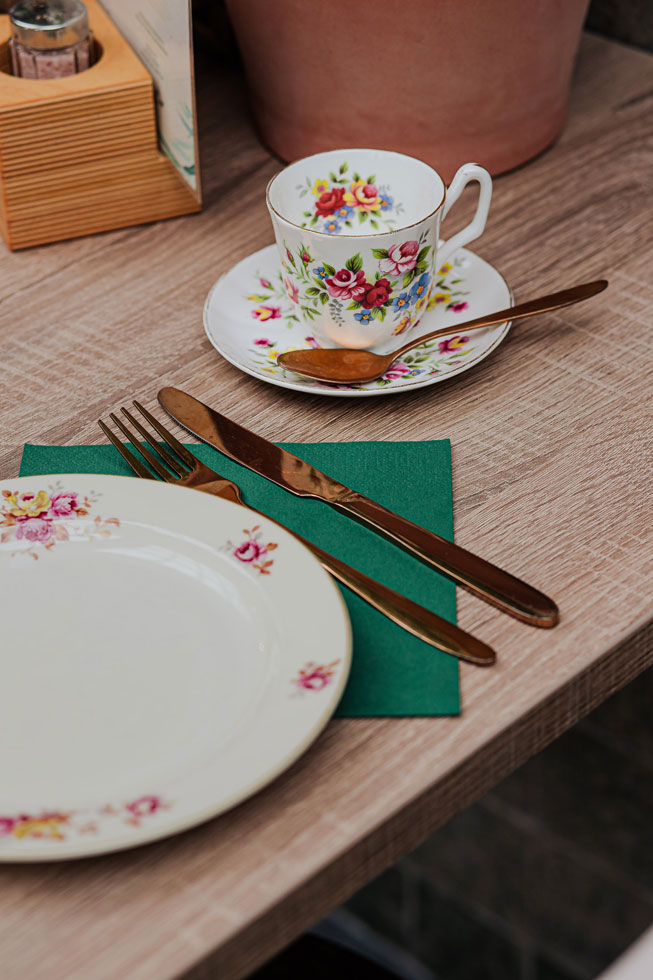 The perfect chinaware and glassware are essential partners in any tea party. Now by perfect I do not mean matching sets or luxurious brands. Perfect has to be right by your own standards.
If you prefer there are now wonderfully designed paper-based disposable option. The high quality and attention to detail in these mean that they do not detract too significantly from something more glamorous.
Search Disposable Partyware on Amazon
However, it is not a competition between the appeal of an all white table setting versus the bohemian chic glamour of vintage second hand tea sets. Either will work, it is entirely up to you where your preference lies.
Tea service
A tea service typically consists of a tea pot, cups and saucers in a set. These are often 'matching' in design and style. So fluted edges on a tea pot will often be mirrored somewhere either on the saucer or the cup. Placed all together a tea service is a thing of beauty. More so when the service is for 4-6 place settings laid out on a pretty table.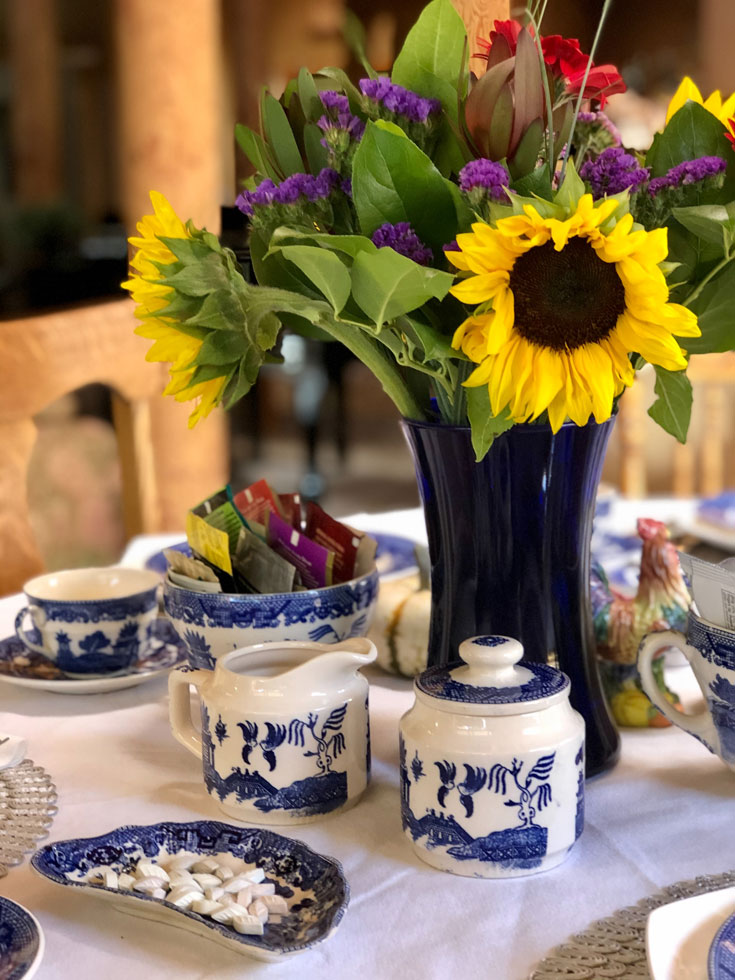 Do not fret though if you happen to have all the 'bits' but they do not necessarily come from the same set. You can still use other accessories and decorations to 'pull everything' together.
Side plates
Side plates are the smaller plates often used to serve bread rolls on at dinner time. The smaller, easier to handle size of these plates make them the perfection option for a tea party.
Champagne flutes and glasses
If you are serving champagne or some type of sparkling wine alongside your afternoon tea, it is worth making sure that you have tall champagne flutes. There's always something extra celebratory about drinking out of tall glasses.
Equally make sure that there are hi-ball glasses available for guests who would prefer just water or juice.
2. Silverware and essential accessories
Aside from chinaware and glassware, you'll need to have the right cutlery. Most high tea items are finger food, and at a buffet it is perfectly fine to be casual and eat with your fingers. In a more formal setting though you want to ensure that correct cutlery is available.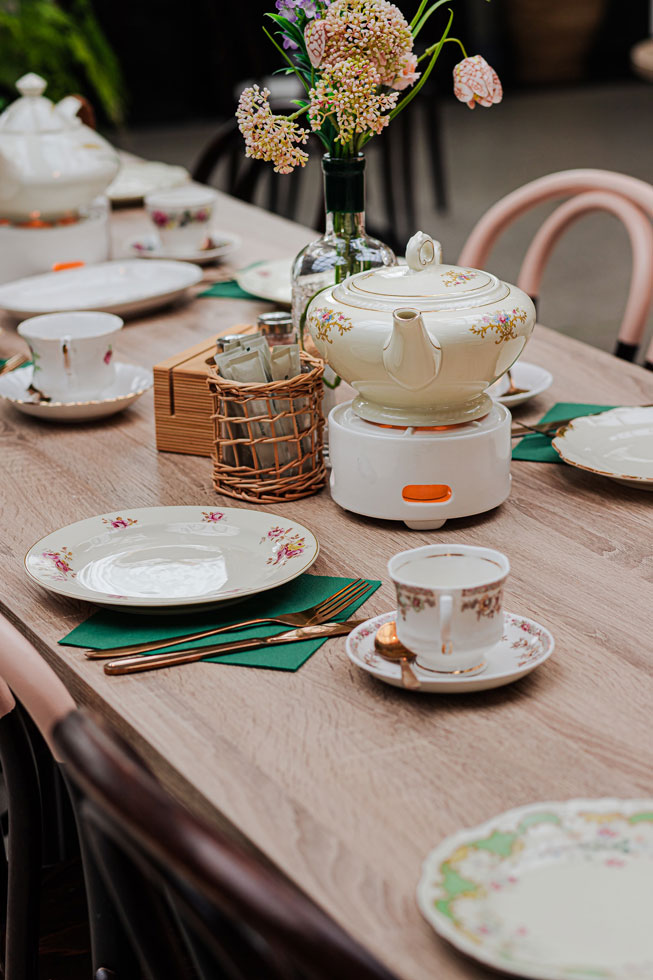 Cutlery
Cutlery for an afternoon tea party is far simpler than that for a dinner party. For cakes, sweet and savoury treats, a three-pronged cake fork is ideal. Alternatively, tea spoons can serve a dual purpose, as tea stirrers and if necessary, cutlery for cake as well.
Napkins
Paper napkins are by far the easier option and with the wide range of designs and sizes, it makes sense to use something that complements the entire set up of your tea party. However, if you only have a small group of guests, then cloth napkins are certainly more luxurious.
3. Tableware
The tableware and presentation of food and drink adds to the artistry and glamour of a tea party.
Tiered cake stands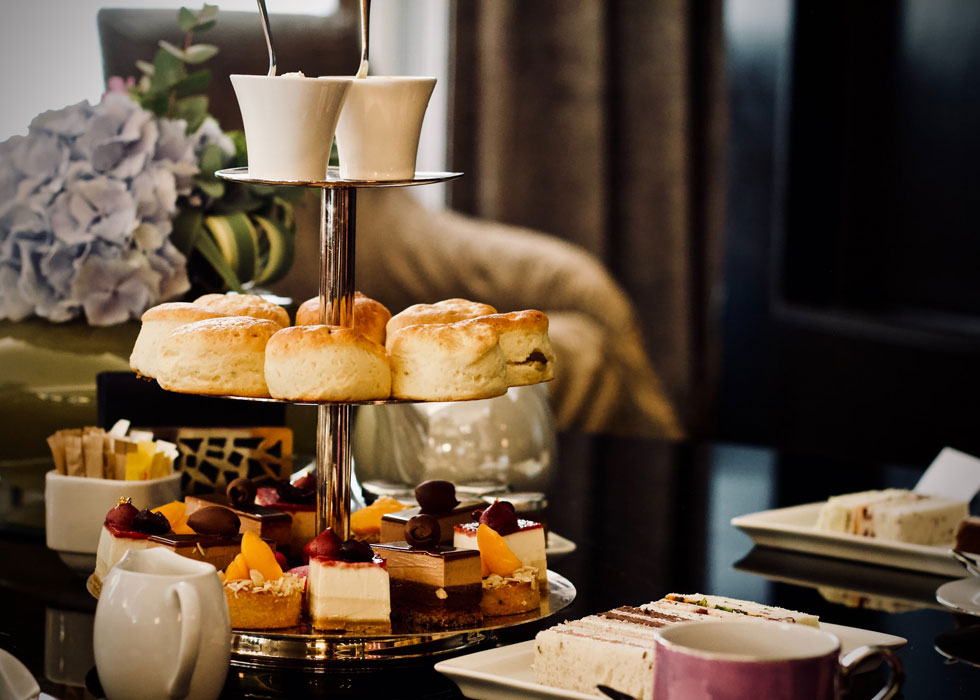 Small cakes, finger sandwiches, mini scones look even more enticing when presented together in a mix and variety. Remember to space things out so they don't look all cramped up together. It is a fine balance between ensuring there is enough on the platters to go round, yet good presentation also always considers spacing.
If you have spares, keep them in the kitchen for topping up as the party progresses rather than putting everything out all at once.
If you are planning in advance, you may even have time to DIY a tiered cake stand
Standard cake stands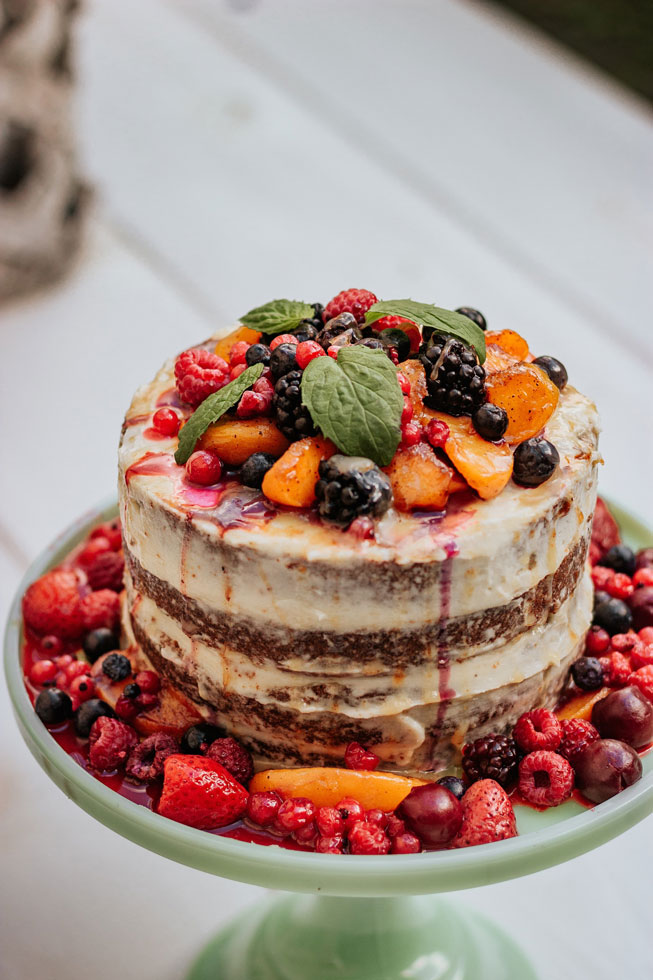 Standard single cake stands are perfect for serving whole cakes where people can help themselves to slices although this is more suited to the buffet setting. Ensure that cake servers and slicers are available and pre-cut the cake to make it easier for the guests to help themselves to individual slices.
Serving cutlery (tongs, forks and spoons)
Some serving cutlery on each table is necessary to make it easier for guests to serve themselves. For convenience, small tongs or a couple of serving forks and spoons on each table is helpful.
Table cloths
While not essential, covering tables with table cloths do add to the overall grandeur of any garden party. If you have a colour scheme or a theme for your tea party, then here is where it can all come together. In a more formal afternoon tea party, the typical go-to colour is white as it contrasts really well with the presentation of food and champagne.
For a more laid-back, casual setting, you could choose alternate colours of a gingham check pattern and make use of all three (gingham check and the other two colours) over adjacent tables.
Hosting
Now that we've covered all the essentials of food, drink, and serving essentials we can move on to all the complementary items that will make your afternoon tea party an occasion to remember.
While these are not essential, all the details come together to make your party a memorable one. Not to mention all the fun you'll have pulling it all together.
1. Decorations
Party balloons, confetti, table decorations all add to the delight and excitement of a party atmosphere. While some of these may be more suited to a classical birthday party, they are not wholly wrong if you'd like to add some fun and lift to your garden afternoon party.
2. Bunting
Heart Bunting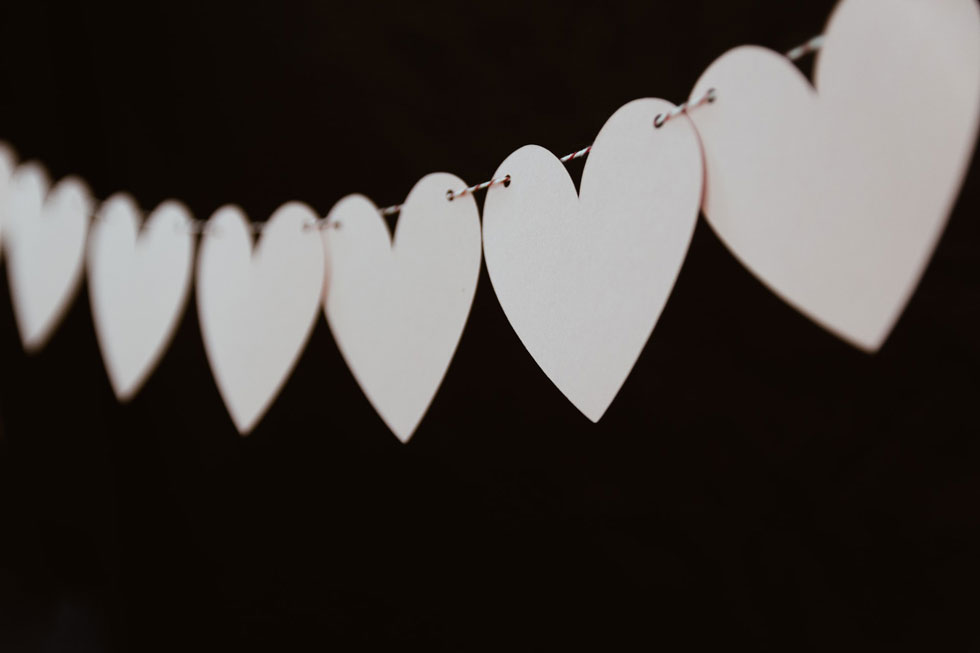 Something overhead always adds charm and contributes to the enfolding of your guests in a space. In a large open space especially, bunting can be used to great effect to mark out the boundary areas and bring splashes of colour or even highlight the theme you're working with.
There are many choices for bunting ranging from handmade cloth triangles to the more affordable plastic prints. Equally charming are the rough cut cardboard or paper shapes string together.
3. Centrepieces
Here again, centrepieces are optional, especially if your tables are on the small side. You could just let the beautiful food and it's presentation be centrepieces in their own right. However, if your tables seem a bit bare because they are big, it is worth 'filling them up' with vases of cut seasonal flowers or even just smaller pots of indoor plants.
Remember to enjoy yourself
While it might seem like a lot of work to even consider planning and hosting an afternoon tea party. Done right, it is really one of the best types of parties to have. It is both forgiving and more casual which means that everyone, including you as the host can be more relaxed.
There's a lot less pressure on ensuring everyone is well-fed. After all it is, tea – hence less of a meal, more of a treat of pleasure. It is a chance to 'dress up' if people would like to, socialise and catch up, without the need to be on their best behaviour.
At the end of it all, make sure that you enjoy yourself. You deserve it.
Related: How to Create The Champagne Afternoon Tea Party At Home