In this constant world of speed and motion, it is no wonder that the automated bean to cup coffee machines have taken a somewhat mainstream standing, add to that the burgeoning stylishness of an expensive cup of American branded coffee and you have what is now the coffee culture.
Reality is though for the true connoisseur, a simple bean to cup machine simply will not do. Why would one turn over the control of the grind, the art of tamping and the pleasure of the first whiff of the black gold oozing out under the tremendous bars of pressure to a machine?
While coffee has gone mainstream, the art of coffee remains a true aficionados territory.
The beauty of the hand-levered coffee machine though is second to none.
It may take a while to perfect that brew of espresso, and no its aim is not the Americano or Cappuccino (although most will make those too), but the true art of coffee lies in all its 'moving parts' and once perfected – a coffee lovers dream.
Like all coffee machines, these hand-cranked manual lever machines range from the relatively acceptable just over a hundred pounds to upwards of nine hundred.
If you're looking to develop your daily coffee habit in to that of a real expert – get one of these machines and start cranking.
Top 8 Best Manual and Lever Espresso Coffee Machines
We selected 5 of the best manual and lever based espresso machine for a wide spectrum of the budget. From the affordable Aeropress and Handpresso to the state of the art in Lever press machines, here is a quick look at our list:
UPDATE: WACACO Nanopresso Portable Espresso Maker
If you think Minipresso in our list is small, the Nanopresso is even more portable. It is basically an extra small travel coffee maker. Using a patented pump system, the Naopresso can reach a maximum of 18 bars (261PSI) for maximum extraction from your coffee grounds. Simply add boiling water to the 80ml tank and pump it manually and repeatedly to build up pressure. The pump action is even easier now requiring 15% less force compared to Minipresso. We think it's a must have for everyone who loves coffee especially when measures 6.14-inch (15.6cm) long and weigh 0.74lb (336grams) and a choice of colours.

Nanopresso Espresso Maker on Amazon
For those who prefer to use Nespresso capsules, check out the WACACO Minipresso NS2 Portable Espresso Machine.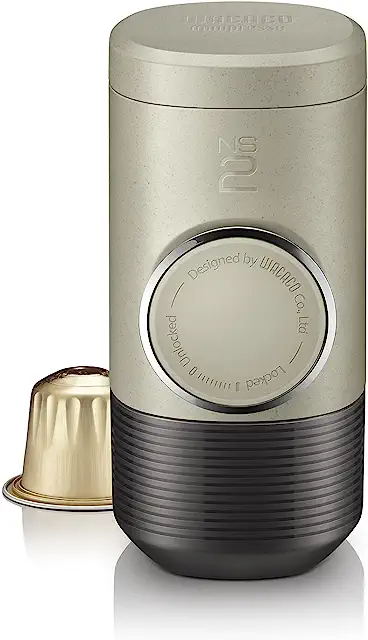 ---
Apart from the obvious caffetiere options, the Aeropress Coffee Maker is another option to consider if you're in for a more hands-on approach to coffee. It is also the most affordable manual espresso maker in our range.
The Aeropress Coffee Maker is effectively a filter with a 'press' that you can depress in order to 'press' the coffee out. It is meant to sit on top of a cup or mug and then depress the coffee through the paper filter.
Non-electrical, relying only on hot water and the pressure of a push, the only downside to the Aeropress is the requirement of the filter paper.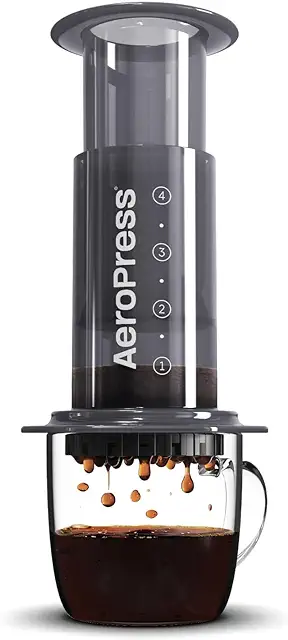 ---
Small and portable – specifically for the traveller, the Handpresso – although not quite the target of this list offers an option for the adventurous coffee lover.
Compatible with ground coffee or pods

Includes E.S.E. adapter for use with E.S.E. pods

Made of Aluminium

Easy maintenance with virtually no clean up

Brews with 16 bar pressure

Electricity Free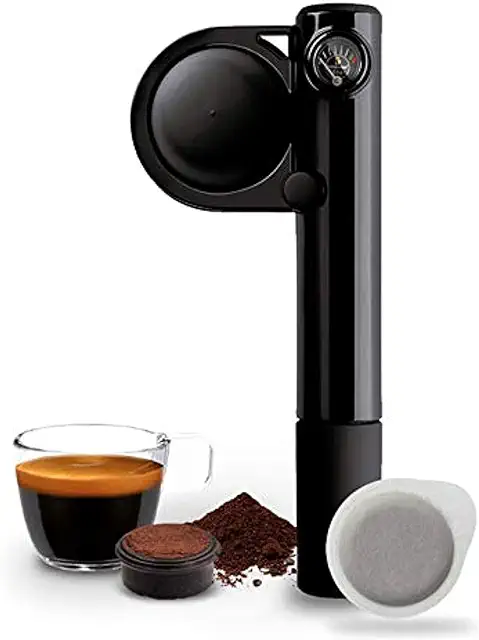 ---
The Flair Espresso Maker is an artistic take on a simple, single lever manual espresso machine. No plugs or electronics mean that the espresso produced by the Flair is completely manual. Simply adding 60ml of boiled water to a coffee dose of up to 18 grams will yield a strong black cup of gold of 40 ml.
Made with cast aluminium and stainless steel, this beauty is guaranteed by a 5-year warranty. To add to it's portability, each Flair comes with its own padded carrying case, which means that you'll never have to be without your own favourite espresso even when you're away from home.
The wide range of colour options from chrome and rose gold, black and rose gold, white and rose gold or black and red ensure that you'll be able to find a suitable version to take pride of place on your kitchen counter.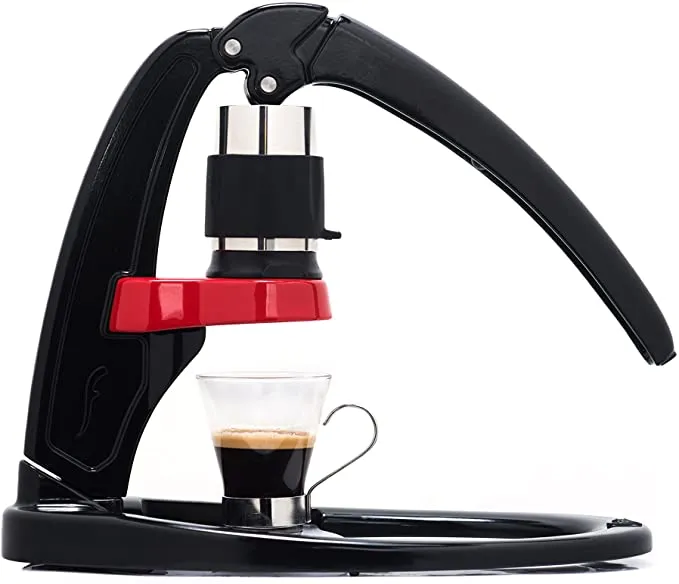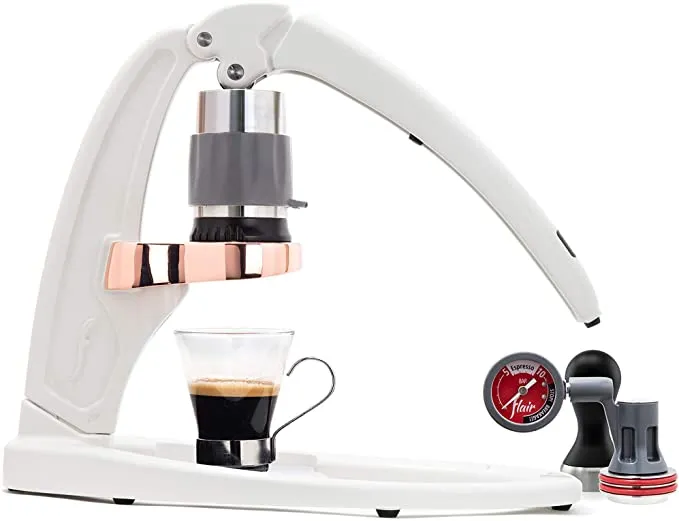 Flair Espresso Maker PRO 2
A PRO version is also available with pressure gauge and stainless steel brew head. Add 70ml of boiled water and a dose of up to 24 grams to yield up to a 56 ml shot with beautiful crema. A burr grinder is essential for use with the Flair Espresso Maker PRO 2.
The ROK Espresso Coffee Maker a beautiful piece of well-designed, and thoughtfully engineered options to the traditional single crank machine. Delivered in a reusable metal container, complete with a stainless steel milk brother, the ROK simply requires hot water and a decent grind of coffee beans. The actual act of getting a good espresso out of this machine of course is down to the art of the pull.
Non-electric espresso maker
Polished aluminium with strengthened alloy formulation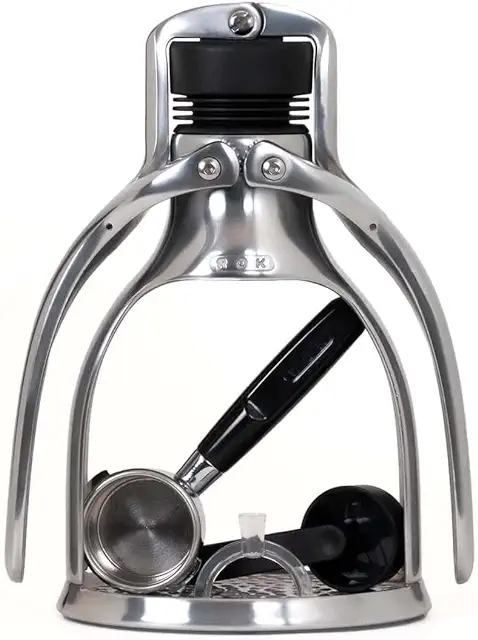 ---
Another manual espresso, the MiniPresso GR uses a bicycle pump action to put hot water through the coffee ground, extracting delicious espresso great for home and when you are out. The single serve, single shot espresso maker is compact and easy to take with you. The pump however is situated on the middle section horizontally to the main barrel instead of the bottom or top vertically. Still it has a sleek modern feel and is easy to operate. When not in use, the pump can be compressed and locked in place and the cover which doubles as a drinking cup, screwed on giving it a small ballistic missile look.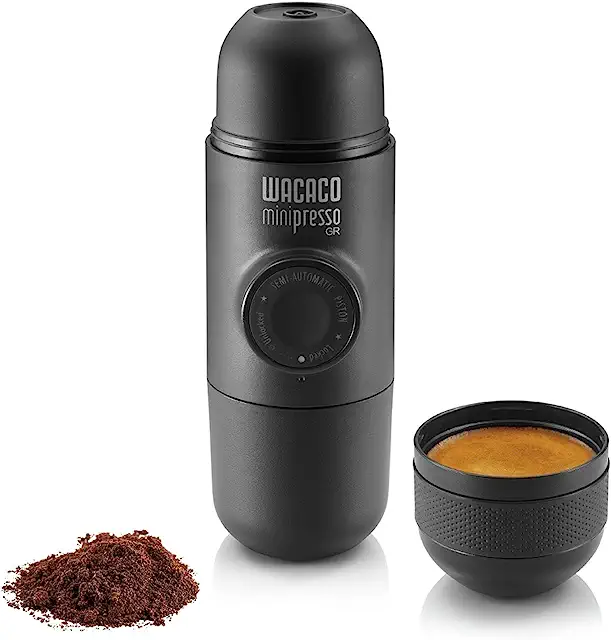 The Staresso takes a vertical approach similar to a french cafetiere for priming and pumping out espresso with the manual pump lever located on top. The pressure barrel is no bigger than a mug and is capable of producing 15 to 20 bar of pressure. It sits on top of a stainless steel cup with see through window. Between the pressure barrel and cup is an accessory holder. You can use a coffee ground filter or milk form maker or both to make your favourite beverage; strong espresso, frothy milk, latte, quick cold brew or french press coffee.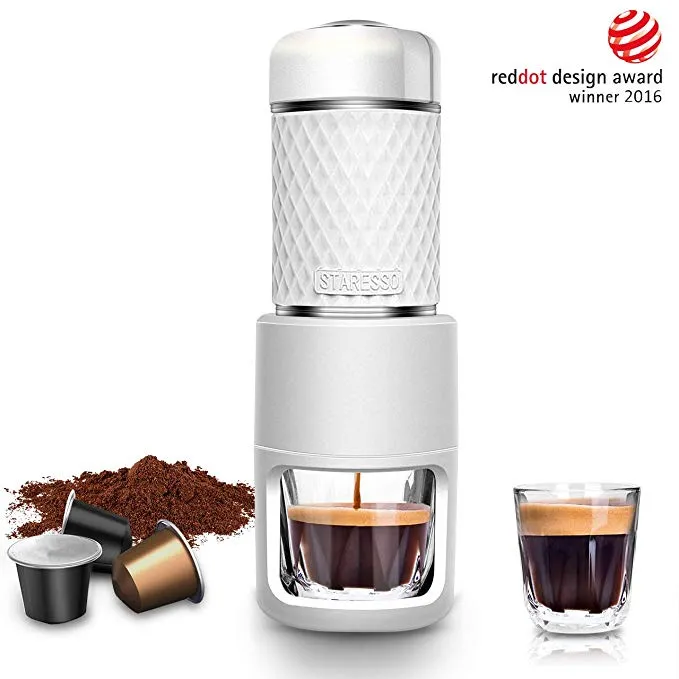 A smaller travel size version is also available for portability and comes complete with a travel case, the STARESSO Mini Travel Coffee Maker. Also compatible with ground coffee or capsules, making it a versatile 2-in-1 manual espresso maker.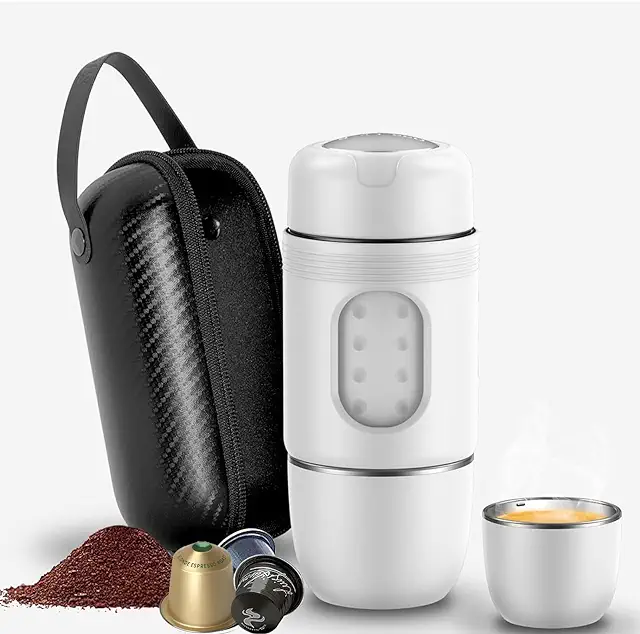 Next, we look at Lever based espresso machines. These may not be as portable as the Manual espresso coffee makers we have seen so far as they are quite heavy to begin with and require electricity to heat but where mechanically, it makes a great espresso.
The La Pavoni Europiccola Lever Espresso Machine is…
» Click Here for Lever Expresso Machines