» Back to Compact Hand Pressed Espresso Machines
The La Pavoni Europiccola Lever Espresso Machine is based on the original design of the 1950's lever machines which are an instantly recognisable design. Although it requires an electrical connection the Europiccola relies on the expertise of the coffee grind and the pull to create the ultimate espresso.
The Europiccola is La Pavoni's entry level model, available in standard Chrome, Deluxe (with chrome base) and Deluxe Wood (with wooden handle) Editions. The highest in the Europiccola range is the Europiccola ERG Gold Edition. Pictured below is the affordable standard Chrome Edition.
Made from brass and chromium, it relies on a 1K Watt heating element to ensure the pressure and steam build-up. This is kept at a constant 0.8 bars and takes about 5 minutes to reach this heat.
Power: 1000 Watt
Steam available
Capacity: 0.8 litre boiler (8 espressos)
Interchangeable steam wand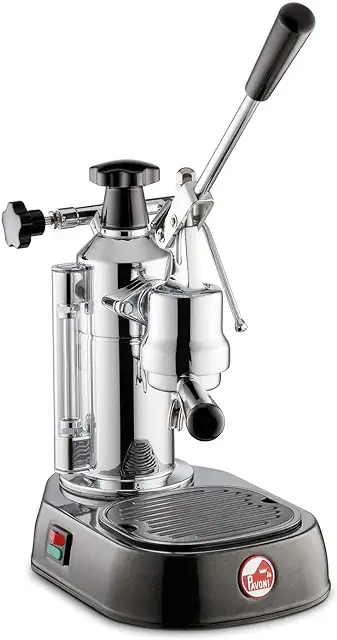 The Stradivari Lusso version of the La Pavoni takes the lever press espresso machine to the next level. Similar in build and layout to the Europiccola, the Stradivari has a larger boiler with a 1.6 l capacity therefore 16 possible espressos. Created in 2005, the technicalities of the espresso on this machine is the same as the original 1950s Europiccola.
The Stradivari range is available in two different sizes, from the cheaper Stradivari STL and STH (0.8 litre) to Stradivari Professional Lusso SPH and SPL (1.6 litre).
Power: 1000 Watt
Steam available
Capacity: 1.6 litre boiler (16 espressos)
Interchangeable steam wand
Wooden handle and knobs
Also available La Pavoni SPL Stradivari Professional Lusso with black plastic handle and knobs.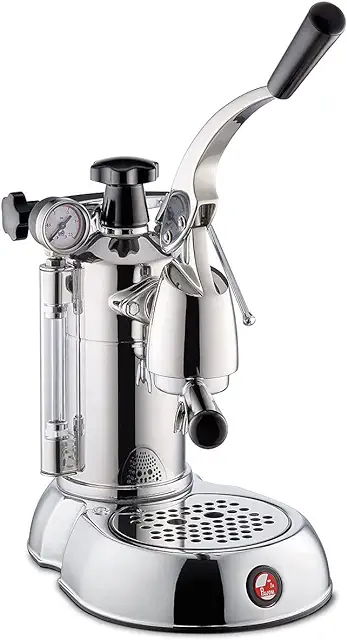 While not as the La Pavonis featured here, the Ponte Vecchio (also Italian) offers an alternative to the La Pavoni. It has a more industrial look and is available in three different finish; stainless steel, red and black.
Made from brass and stove enameled steel plate cased in stainless steel
Stainless steel base and drip tray
Automatic operation controlled by pressure switch
Power: 700 watt
Steam available
Capacity: 0.9 litre water tank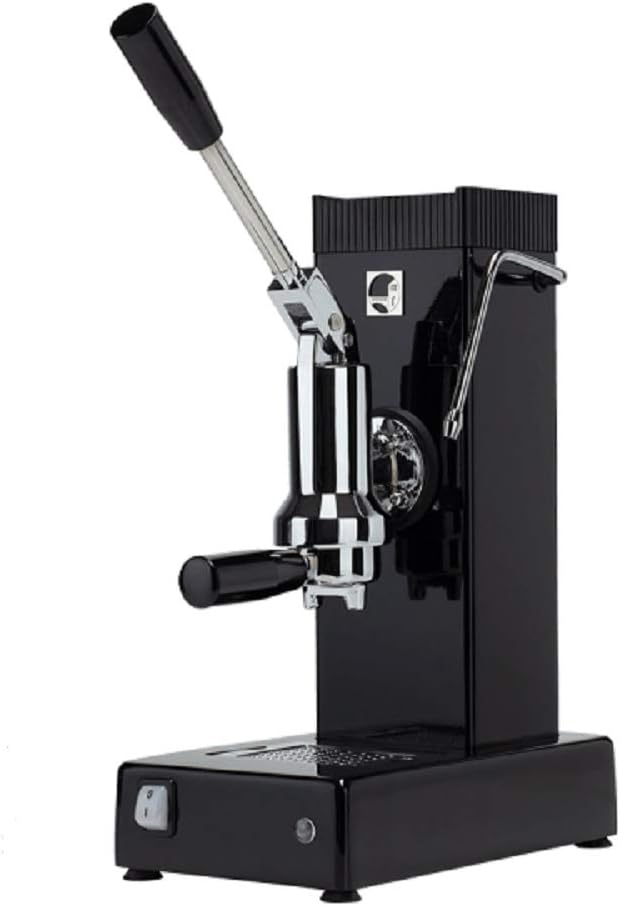 Also available: a bigger 3 litre capacity version is also available the Ponte Vecchio Lusso (single lever) and Ponte Vecchio Lusso 2 (dual lever)
Another lever coffee machine from the Italian manufacturer, this time, the La Pavoni Professional has double the capacity of the Europiccola with a boiler that holds 1.6 litres of water.
Laquered Copper Plated Brass Boiler and Brass base for traditional look
Interchangeable steam wand/automatic cappuccino device and Wooden handles and Boiler Cap
Steam pressure inside the boiler kept at a constant 0.8 bar
Power: 1000 watt
Steam always immediately available (up to 10 minutes without refilling)
Capacity: 1.6 litre boiler makes 16 espressos without refilling
Available in Chrome Deluxe PL, Chrome Wood PLH and featured here the La Pavoni Professional Gold PRG with Wooden, there is a La Pavoni to suit everyone.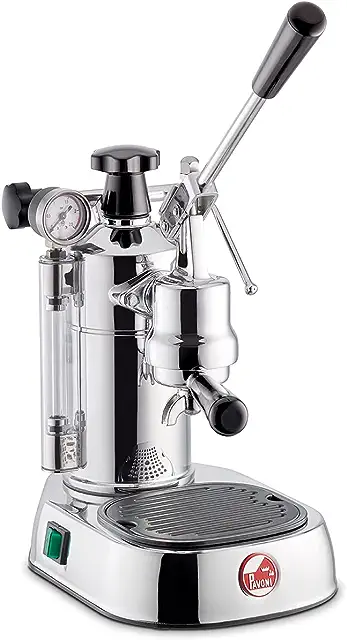 The Elektra ART-S1CO Micro Casa espresso machine features a spring in the piston that provides consistent pump pressure on every pull. The Elektra ART-S1Co espresso machine features a beautiful chrome and brass finish, wooden handles and a brass eagle situated on the dome. There is a water level sight glass that indicates the level of water in the boiler, a pressure gauge shows the amount of steam pressure in the boiler. When the needle is in the green zone, you are ready to extract your best cup of espresso. The machine comes with a detachable steam wand.
Features a built-in thermostat that prevents a meltdown if the machine is run without water

An internal pressure regulator automatically regulates the temperature

Includes a durable brass boiler that provides exceptionally dry steam for creating micro foam
Power: 800 Watt
Steam available
Capacity: 1.8 litre boiler (18 espressos)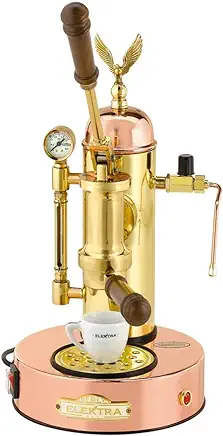 Few things in life to bring such immense joy to coffee connoisseurs as a beautiful cup of wonderfully brewed coffee. Having it produced by a beautiful coffee machine is just icing on the top.