While it's hard to believe, Thanksgiving really is not just about the feasting. It really is about creating an atmosphere that reflects the spirit of the season and the joy of coming together, providing an opportunity for warmth, gratitude and celebration. A great way to enhance the celebration is by choosing a theme for your Thanksgiving gathering. A well-chosen theme can transform your gathering, adding joy, depth and character to this special day.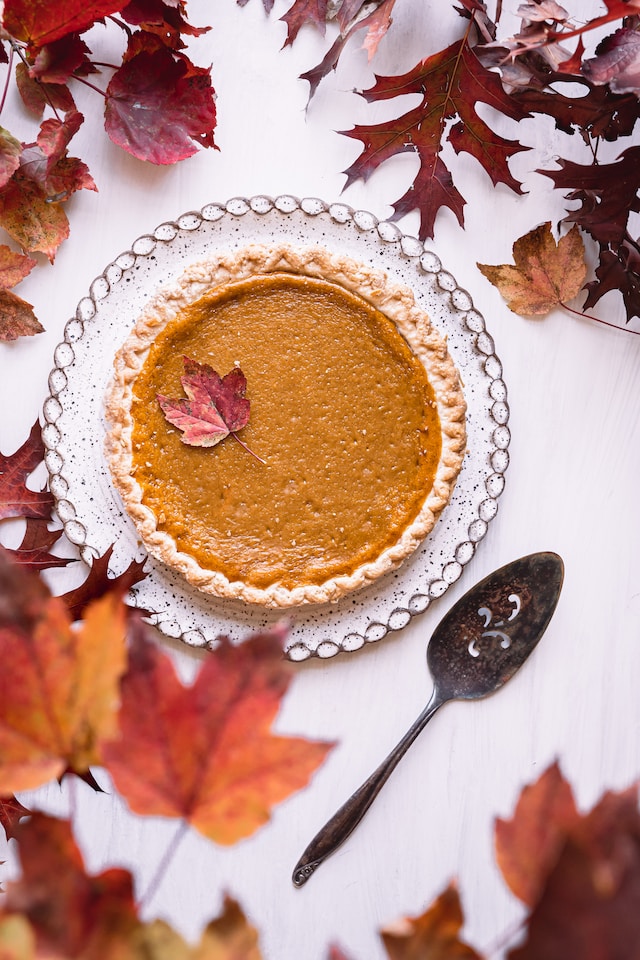 From the rustic charm of a farmhouse setting to the elegance of a gourmet gala, the possibilities are endless. Each theme offers a unique way to celebrate the bounty and beauty of autumn while making lasting memories with friends and family. Whether you're seeking to honor traditional roots with a Pilgrim's Feast, embrace the warmth of a Cozy Cabin gathering, explore the vibrant tones of a Fall Fiesta, or embrace the different cultures around the world with an Around the World Potluck, there's a theme to suit every taste and style.
In the following sections we share some ideas, each with creative ideas for table settings, decorations, activities, and menus. These themes are not just about aesthetics; they're about creating an experience that resonates with the heart and spirit of Thanksgiving.
Traditional and Historical Themes:
Pilgrim's Feast
Go traditional with a Pilgrim's Feast theme. Use simple, old-fashioned decor like candles, wooden utensils, and hand-woven baskets. Encourage guests to dress in pilgrim-inspired attire for a playful touch. In keeping with the theme use simple, earth-toned table linens and candle holders. Include old-fashioned games or activities for guests.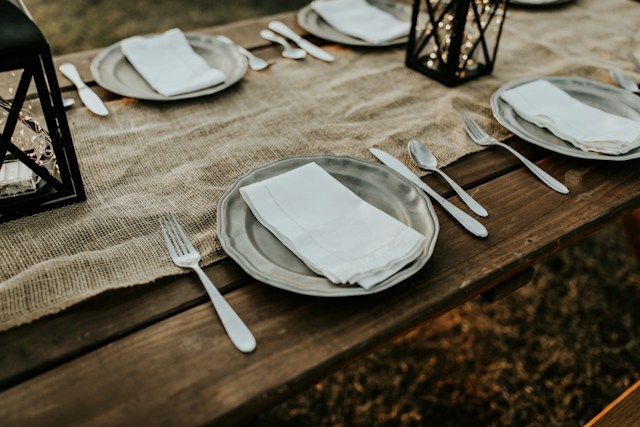 Colonial Style Feast
Take a historical approach with a Colonial Style theme. Use pewter dishes, wooden cutlery, and traditional recipes from the colonial era for an authentic experience. The menu can include traditional colonial dishes, and you could even have a history-themed trivia game for guests.
Vintage Americana
Give a nod to the past with a Vintage Americana theme. Use retro decorations like vintage flags, tin signs, and traditional Americana colors (red, white, and blue), and classic tableware. Play music from the mid-20th century to set the mood. Play period music and consider serving classic American dishes from the era.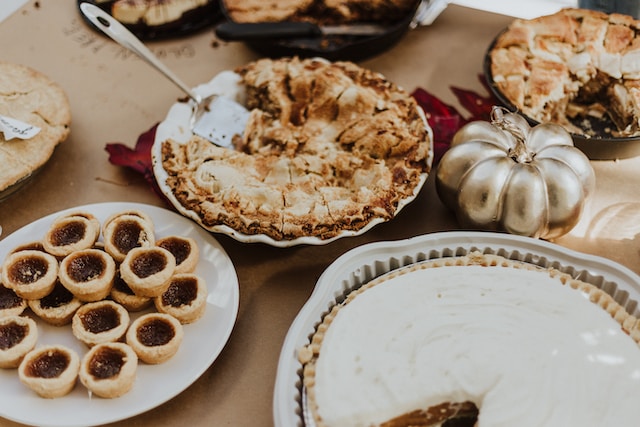 Vintage Glamour
Think of the roaring '20s or '50s Hollywood. Use elegant, vintage decorations, classic cocktails, and encourage guests to dress in period attire. Use period-appropriate decorations and encourage guests to dress in vintage attire. The menu could focus on most popular courses during that era.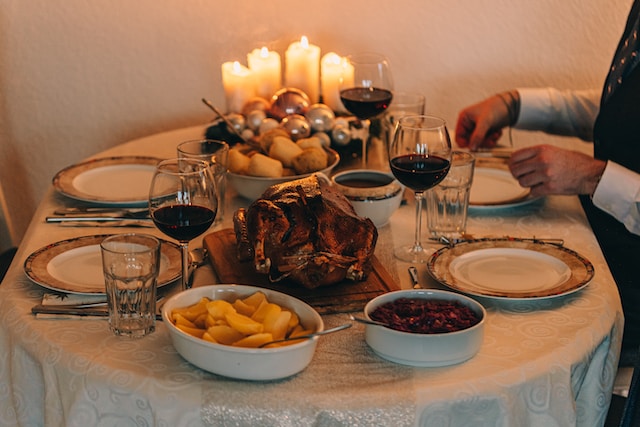 Search Vintage Thanksgiving Decor on Amazon
Cultural and Global Influences
Around the World Potluck
Celebrate the diversity of your guests by hosting an 'Around the World' potluck. Each guest can bring a dish that represents their heritage or a country they love, making for a unique and varied feast. Decorate with maps, globes, and flags. Set the table with eclectic, mismatched dishes and utensils to reflect the variety of cuisines.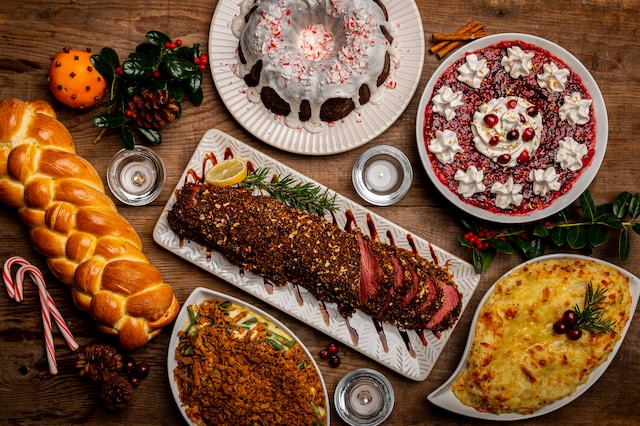 Fall Fiesta
Incorporate vibrant colors and Latin American inspired decorations. Serve dishes that blend traditional Thanksgiving ingredients with Hispanic flavors. Your menu can blend traditional Thanksgiving ingredients with Hispanic flavors, and you could even include a salsa dancing session or Spanish music.
Nautical Thanksgiving
For a unique twist, especially if you live near the coast, a nautical theme with maritime decorations, seafood dishes, and blue and white colors can be quite charming. Use maritime decorations like anchors, ropes, and seashells. The menu can include seafood dishes, and you can use blue and white colors to enhance the nautical theme.
Cultural Fusion
Similar to the Around the World potluck, Cultural Fusion blends elements from different cultures into your Thanksgiving. This can be a beautiful way to celebrate diversity and learn about different traditions and cuisines. This could include a mix of traditional Thanksgiving dishes with international flavors, and decorations that reflect a global theme.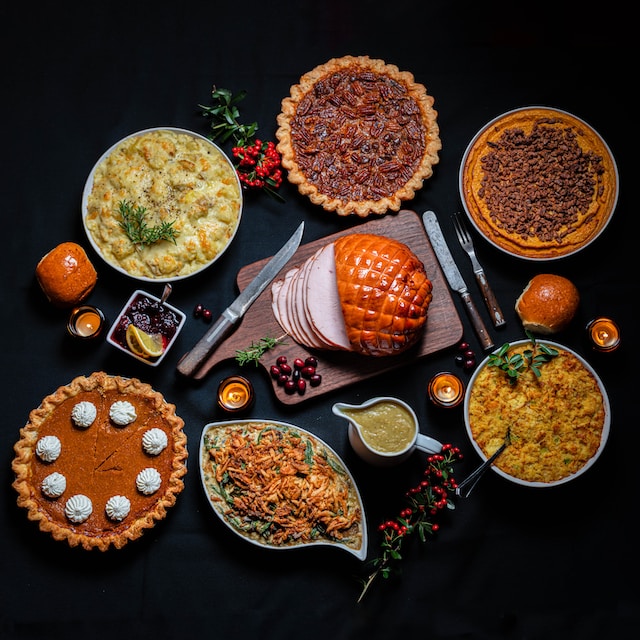 Search Thanksgiving Decor on Amazon
Nature and Rustic Styles
Autumn Harvest
Embrace the essence of fall with an Autumn Harvest theme. Decorate with fall leaves, pumpkins, and gourds. Use a warm, earthy color palette of oranges, yellows, and browns. Think centerpieces of pumpkins, squash, and corn stalks. Table settings can feature leaf motifs, and you can hang garlands of artificial autumn leaves around the room. For a fun activity, consider a mini pumpkin carving or decorating contest.
Rustic Elegance
Combine the simplicity of rustic decor with elegant touches. Think wooden tables, burlap runners, and delicate china. You can use mason jars as vases or candle holders, and add lace or soft floral arrangements for a gentle touch. Decorate with white pumpkins, pine cones, and candles in mason jars. For a bit of elegance, you could also use fine china and crystal glassware.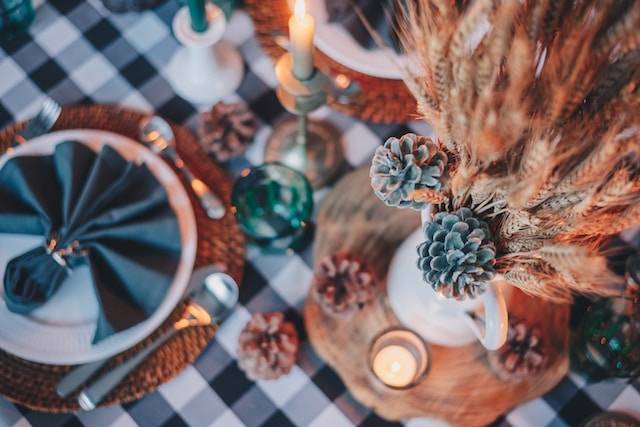 Farm-to-Table
Focus on local, sustainable food with a Farm-to-Table theme. Use fresh, organic produce and highlight the origins of each dish. Decorations can include elements from nature, like wood, fresh herbs, and flowers. Decorate with elements from nature, such as wood, fresh herbs, and wildflowers. You might include labels explaining the origin of the food items and their local significance.
Cozy Cabin
Create a warm, intimate atmosphere with a Cozy Cabin theme. Think plaid patterns, soft throw blankets, rustic wood decor and a fireplace (real or artificial) as a focal point. Serve warm, comforting dishes and drinks. Serving warm drinks like hot cider or cocoa will enhance the cozy vibe.
Nature's Palette
Embrace the natural colors of the season. Use earthy tones and natural materials like wood and linen in your table setting. Bring nature indoors with leaves, pine cones, and branches for decorations. Natural wooden plates, green, brown, and orange textiles can enhance the ambiance. Incorporate natural elements like leaves, pine cones, and branches into your decorations.
Modern and Chic
Modern Chic
For a more contemporary approach, opt for a Modern Chic theme. Use minimalist decor with clean lines, metallic accents, and a monochromatic color scheme. Opt for a clean, minimalist look with a neutral color palette. Incorporate modern design elements, like geometric shapes and metallic accents. Think white pumpkins, silver candle holders, and sleek table settings. Use simple, yet stylish tableware and consider a centerpiece of monochrome flowers or succulents.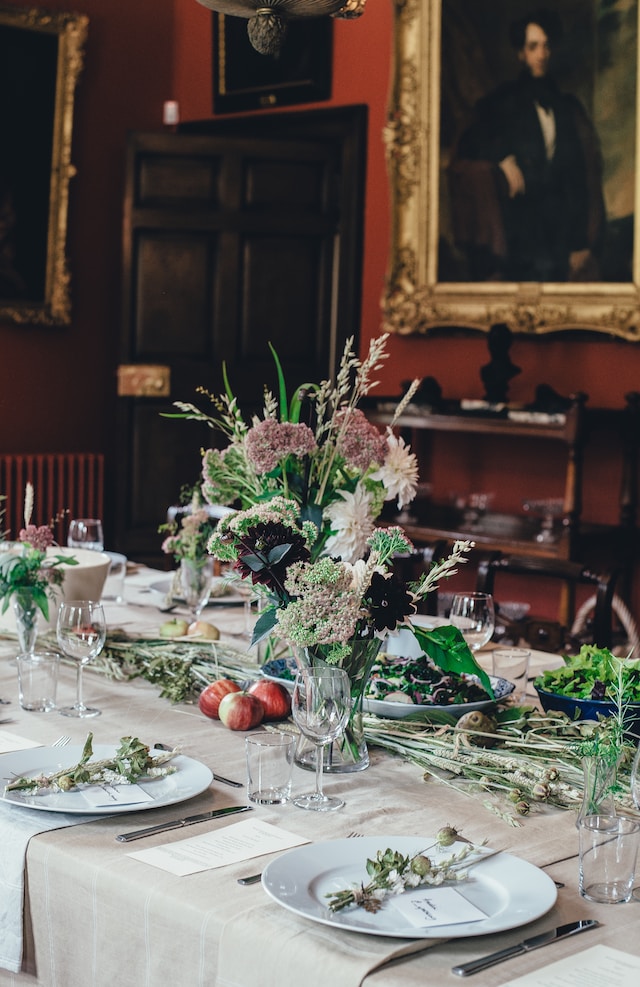 Gourmet Gala
For a more upscale approach, opt for a Gourmet Gala theme. Focus on fine dining with an exquisite menu, elegant table settings, and a dress code to match. This theme is perfect for a more formal Thanksgiving celebration. Use high-end tableware, cloth napkins, and elegant centerpieces. Plan a multi-course meal with gourmet dishes, and consider hiring a professional chef or sommelier to elevate the experience.
Golden Elegance
Use gold as your primary color for a touch of elegance and sophistication. Gold tableware, candle holders, and even gold-leaf accents in food presentation can make the day special.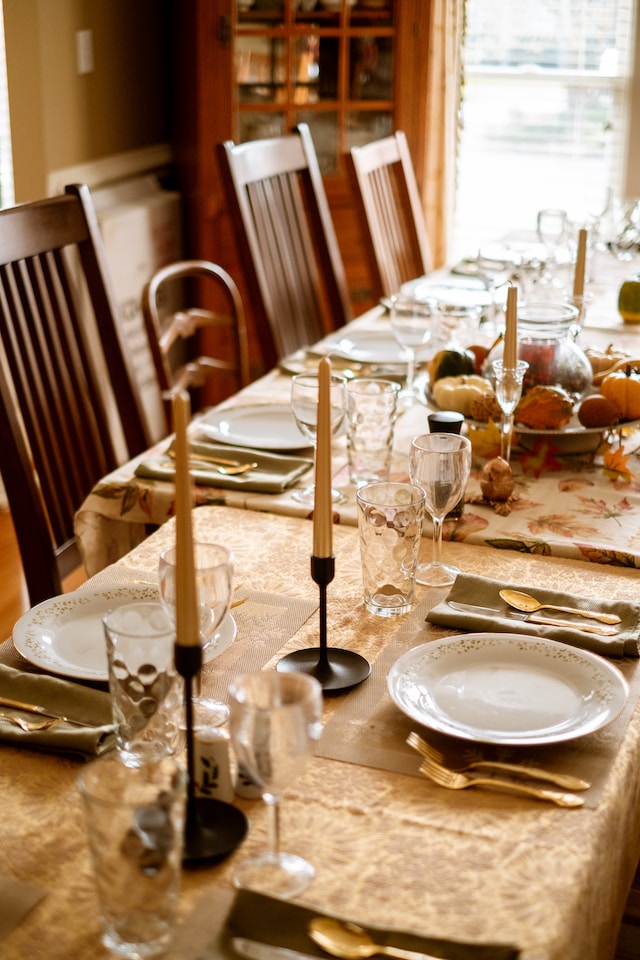 Artisanal Affair
Focus on handmade and artisanal items, from the tablecloth to the dishes. This theme celebrates craftsmanship and can include a DIY element where guests contribute handmade decor or food such as dishes made from scratch using artisanal techniques, and even a craft station for guests to make their own souvenirs.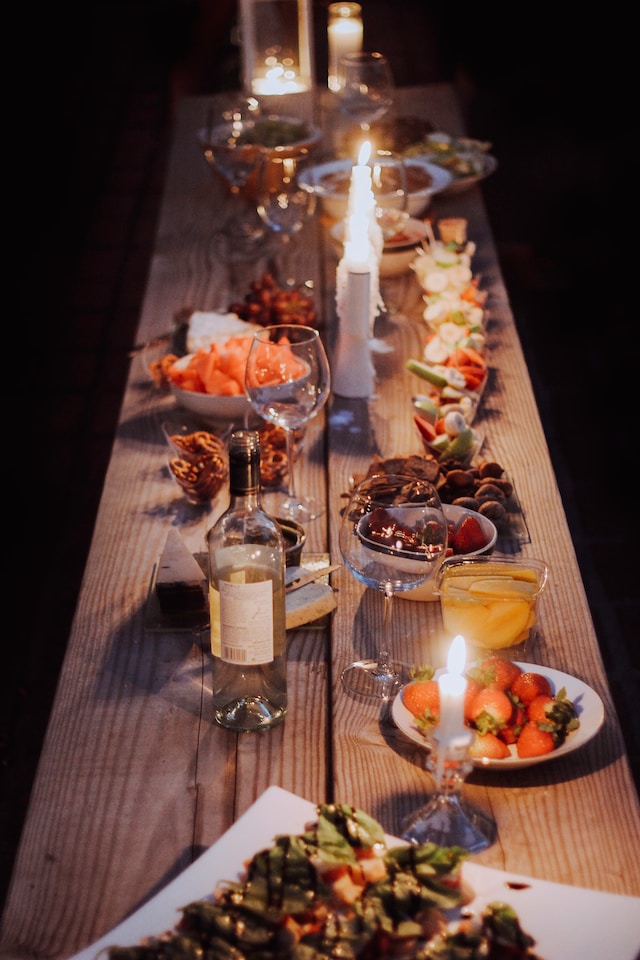 Casual and Fun Gatherings
Friendsgiving
Tailored for a gathering of friends, this theme can be more casual and fun. Incorporate elements that reflect shared interests, hobbies, or inside jokes. The decor can be eclectic and personalized, and the menu can be a potluck style, with each guest bringing a favorite dish.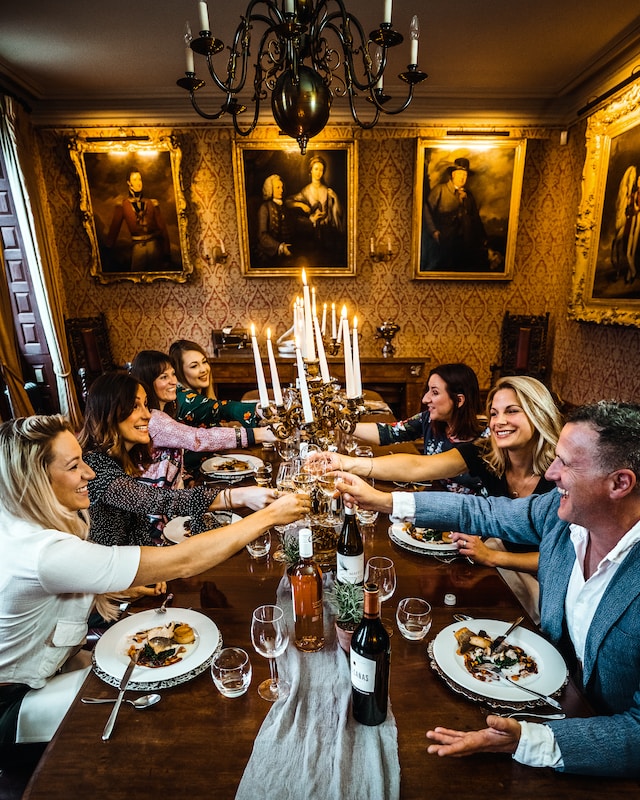 Sports Fanfare
If your friends love sports, why not center your Thanksgiving around a big game? Decorate in the colors of your favorite team and serve traditional stadium foods alongside Thanksgiving classics. Serve traditional stadium foods alongside your Thanksgiving meal, and set up a viewing area to watch a big game.
Thanksgiving Brunch
For a twist, host a Thanksgiving brunch instead of dinner. Decorate with bright, cheerful colors and serve a mix of breakfast and traditional Thanksgiving foods. Use bright, cheerful colors in your decor, and consider a morning-time cocktail like mimosas or Bloody Marys.
Specialized Themes
Gratitude Gathering
Center your Thanksgiving around the theme of gratitude. Have a wall or board where guests can write what they're thankful for. Decorate with quotes and messages about thankfulness and incorporate this theme into your toasts and speeches. Use warm, inviting colors and scatter quotes about gratitude around the space. Consider giving each guest a small notebook or journal to write down their thoughts.
Wine and Dine
Although a more formal and serious theme, if you and your friends are wine enthusiats, Wine and Dine is an unusual and interesting theme for Thanksgiving. Focus on pairing exquisite wines with each course of the meal. You can decorate with wine bottles, grapes, and vines, and maybe even host a small wine-tasting session. You could set up a tasting station with different wines paired with each course of the meal. Use elegant, wine-themed decor for the table setting.
Eco-Friendly Thanksgiving
Emphasize sustainability with recycled decorations, organic food, and minimal waste. This theme is great for raising awareness about environmental conservation. Use recycled or biodegradable materials for decorations. Opt for organic, locally-sourced ingredients for the meal, and minimize waste by planning carefully and encouraging guests to take leftovers.
Storybook Thanksgiving
Inspired by your favorite book (the Harry Potter series) or a classic novel (such as Pride and Prejudice), this theme can include quotes and characters as part of the decor. It's a fun way to merge literature with your dinner party. Choose a favorite book or novel as your theme, and decorate with quotes and imagery from the story. You could even encourage guests to dress as their favorite characters.
Festival of Lights
While typically associated with Divali, the Festival of Lights is a great theme for Thanksgiving. Incorporate a warm glow into your decor with candles, fairy lights, and lanterns. This theme brings a magical and cozy atmosphere, especially as the evenings grow darker. Consider a centerpiece with a large candle arrangement or a string light display above the dining area.
Conclusion
Whether you're one for Thanksgiving themes, or prefer to stick to the traditional tried and tested, it's imperative to remember that the essence of this holiday goes far beyond the traditional turkey and cranberry sauce. Each theme presents a unique opportunity to celebrate with loved ones, creating an environment that is both reflective of your personal style and welcoming to all who gather around your table. Whether you choose the rustic warmth of a Farm-to-Table setting, the historical charm of a Colonial Style Feast, or the bright vibrancy of a Fall Fiesta, the key is in creating a space where memories can be made and gratitude shared.
Remember, the beauty of Thanksgiving lies not just in the decorations or the food, but in the togetherness the occasion fosters. These themes are merely suggestions for starting points, mix and match elements to suit your tastes, and don't be afraid to add your own personal touches. After all, it is the personal, heartfelt touches that will transform a simple gathering into a cherished memorable occasion.
As you start on your Thanksgiving preparations, we hope these ideas inspire you to create a celebration that resonates with warmth, love, and joy. May your Thanksgiving be filled with laughter, good company, and an abundance of reasons to be thankful.