Creating a stunning Thanksgiving table is about more than just the food—it's about setting a mood, telling a story, and making your guests feel truly special. Whether you're going for a traditional look or something more modern, the centerpiece is the key to tying it all together.
Here are some creative ideas for both food-based and non-food-based centerpieces that will add both glamour and festivity to your table. If you're short of ideas, choose from exciting edible centrepieces that will delight and surprise your guests, or bring nature indoors with beautiful centerpieces inspired by fall colours.
Edible Food-Based Centerpieces for Thanksgiving
These food-based centerpieces are not just visually stunning but are also a nod to the holiday's origins—celebrating gratitude for the year's harvest. From vibrant fruit arrangements to artisanal bread displays, each idea here is designed to be as appealing to the eye as it is tempting to the palate.
Edible Cornucopia
Create a cornucopia, the classic symbol of abundance, using a wicker horn filled with an array of colorful fruits, nuts, and small gourds. It's not only visually appealing but also offers a healthy snack for your guests.
See instructions on how to make a DIY Cornucopia from Home is Where the Boat Is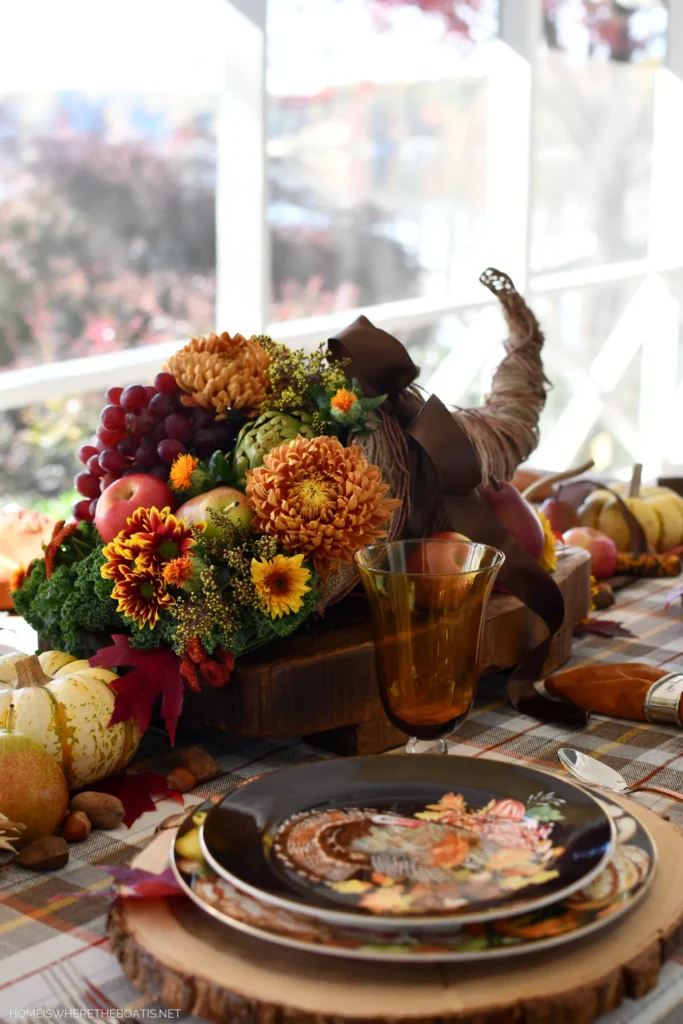 Herb Bouquets
Small bouquets of fresh herbs like rosemary, thyme, and sage, tied with a rustic twine, can be both aromatic and aesthetically pleasing. These can later be used in cooking or as take-home gifts for your guests.
Fruit and Vegetable Basket
Fill a rustic basket with an assortment of seasonal fruits and vegetables. Think apples, pears, artichokes, and colorful squashes. This not only looks bountiful but also celebrates the harvest season.
Cheese and Charcuterie Board
A beautifully arranged board with various cheeses, cured meats, nuts, and dried fruits can serve as a centerpiece that's both decorative and edible. Accentuate with sprigs of rosemary for an aromatic touch.
Pumpkin Bread Loaf Display
Bake a series of mini pumpkin bread loaves and arrange them on a wooden platter. Adorn the platter with fall leaves and cranberries for an extra touch of autumn.
See how to make the most gorgeous Pumpkin Rolls on Thistlewood Farms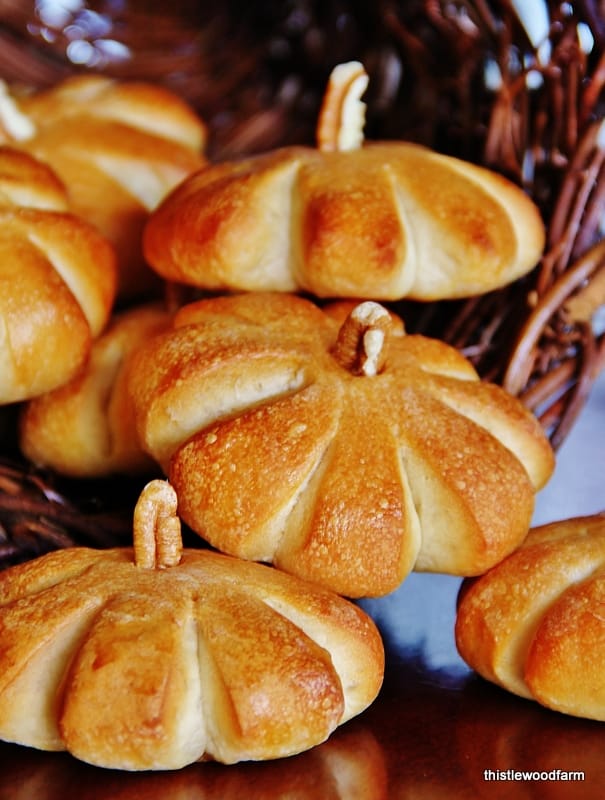 Baked Goods Tower
Create a tiered display of baked goods like muffins, scones, and mini pies. This can be a deliciously inviting centerpiece, especially for a more casual brunch setting.
Chocolate and Fruit Fondue
A fondue set with melting chocolate surrounded by cut fruits, marshmallows, and small cakes can be a delightful and interactive centerpiece.
Decorative Non-Food Based Centerpieces for Thanksgiving
These centerpieces are about adding character and charm to your table setting, whether through the soft glow of candle arrangements, the rustic elegance of autumnal florals, or the whimsical touch of handcrafted decorations. Each idea is selected to inspire and to add a unique touch to your Thanksgiving celebration.
Candlelit Elegance
Arrange a series of candles of varying heights in the center of the table. Surround them with a garland of fall leaves, pinecones, and berries for a warm, inviting glow.
Check out this Centerpiece with candles, pumpkins, leaves and berries at Whispering Pines Homestead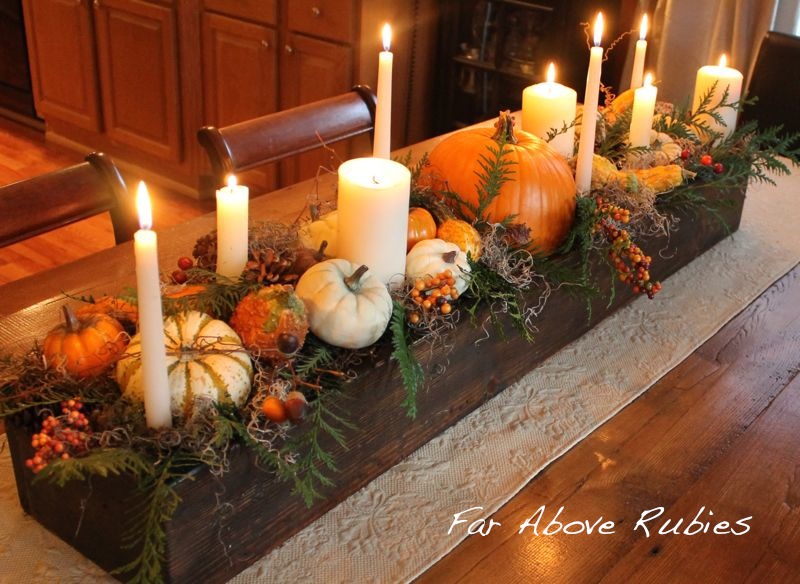 Rustic Lanterns and Gourds
Group a few rustic lanterns of varying sizes in the center of the table and surround them with an assortment of mini pumpkins and gourds.
Autumnal Floral Arrangement
Combine fall flowers like chrysanthemums, sunflowers, and dahlias with greenery and branches. Using a pumpkin or a rustic vase as a container adds a unique touch.
Vintage Book Stack
For a literary twist, stack some vintage books in the center and top them with a small vase of dried flowers or a single autumnal candle.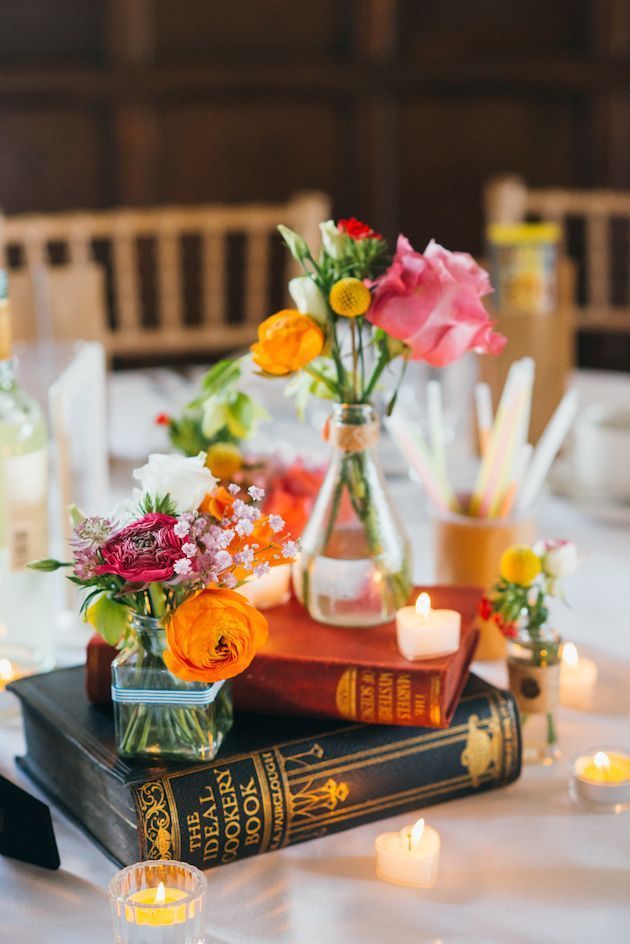 Autumn Wreath
Place a seasonal wreath flat on the table and put a large candle or a hurricane lamp in the center. This can be a striking focal point for your table.
Miniature Hay Bales
Small hay bales adorned with miniature seasonal decorations like pumpkins, corn stalks, or fall leaves can add a rustic charm.
Nature-Inspired Terrarium
Create a small terrarium with succulents, moss, and tiny autumnal decorations like miniature pumpkins or fairy lights.
See instructions for a Fall Terrarium with Fairy Lights at Clean & Scentsible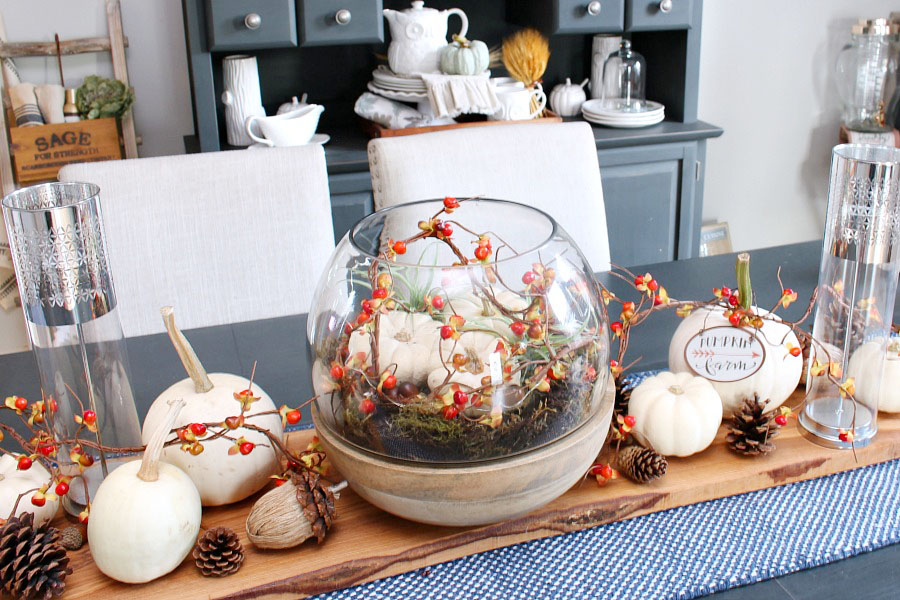 Fall Leaf Garland
A garland made of colorful fall leaves (real or faux) can run the length of the table, interspersed with small votive candles for a simple yet elegant look.
Where to Find Inspiration and Supplies
Craft Stores
Check out stores like Joann, Michaels or Hobby Lobby in the USA and HobbyCraft, The Works, CraftMill or The Range for supplies to create your DIY centerpieces. Craft supplies on amazon
Search Craft Supplies on Amazon
Farmers' Markets
For fresh, seasonal produce and flowers, local farmers' markets are a treasure trove.
Pinterest
An endless source of inspiration, Pinterest offers a myriad of ideas for both food-based and non-food-based centerpieces.
Check out ColourMyLiving's own boards on Thanksgiving Table Decorations on Pinterest and favourite recipes on Pinterest.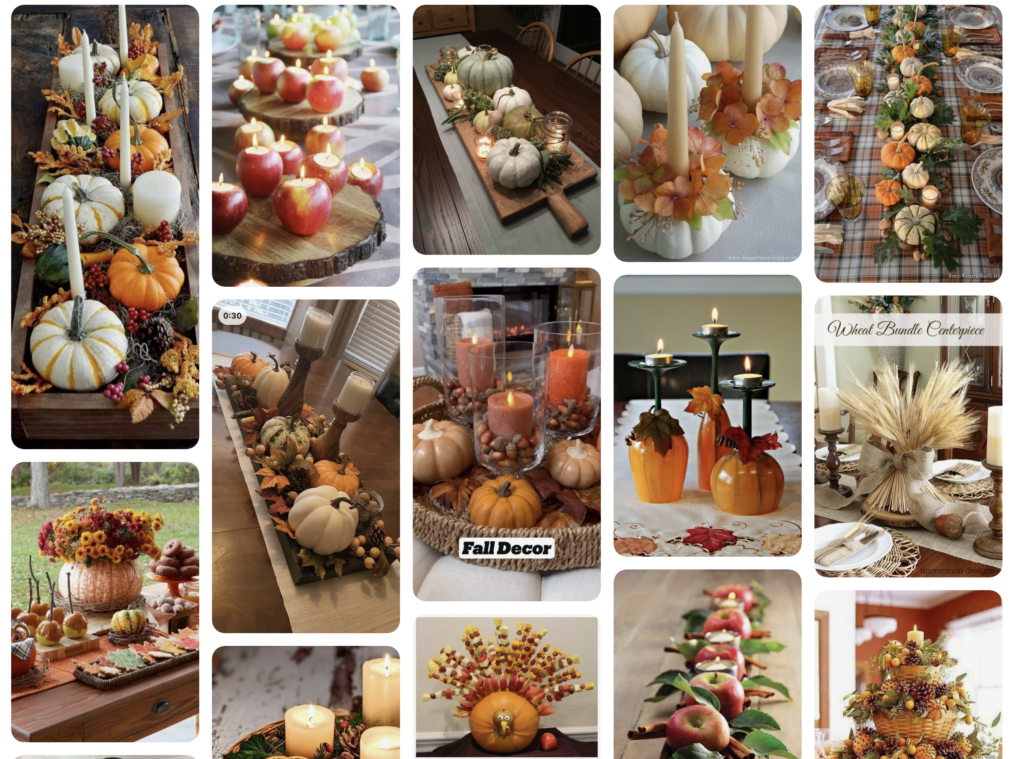 Etsy
If you prefer buying handmade or unique items, Etsy has a wide range of Thanksgiving decorations and centerpiece ideas.
Tips for Choosing the Right Centerpiece
Consider Table Size
Make sure your centerpiece is proportional to your table size. Larger tables can handle more elaborate centerpieces, while smaller ones benefit from simpler designs.
Keep it Low
While height makes a centerpiece impressive from afar, remember  that if you're keeping the centerpiece on the table throughout dinner, then you need keep it low enough to encourage easy conversation across the table.
Theme Consistency
If you have a particular theme or color scheme for your Thanksgiving dinner, choose a centerpiece that complements it. Try to keep a consistent color scheme or theme to bring cohesiveness to your Thanksgiving decor.
Personal Touch
Adding a personal touch, like handwritten place cards or family heirlooms, can make your Thanksgiving table all the more memorable.
Lighting
If your dinner will extend into the evening, incorporating soft lighting into your centerpiece can add a warm and cozy ambiance.
Creating a beautiful Thanksgiving centerpiece is about expressing your personal style and creating a welcoming atmosphere for your guests. Whether you choose to go with a food-based or non-food-based centerpiece, the key is to have fun and let your creativity shine. Happy Thanksgiving!