Bring the Wow to your dinner parties. Whether you're hosting a festive dinner party, a cozy family gathering, or a sophisticated soirée, the way you layer the elements on your dinner table can enhance the ambiance and impress your guests. In this guide, we will explore some of the secrets of creating stunning tablescapes, from choosing harmonious themes to considering the final decorative touches.
We will discuss using elegant table linens, how to strategically layer tableware for visual appeal and practicality, and how to select cutlery that complements your theme. Learn the nuances of glassware placement and napkin folding to add a touch of elegance and style. Finally, we'll guide you through adding those final touches that make your table setting uniquely yours – from eye-catching centrepieces to personalised place cards. Whether you're a seasoned host or a beginner looking to enhance your entertaining skills, this guide offers step-by-step instructions, practical tips, and creative ideas to inspire you.
Basic Guidelines
Creating the perfect table setting begins with understanding the basic guidelines. This section will introduce you to the fundamental steps in preparing your table, focusing on selecting a theme and choosing the right table linens. By mastering these basics, you set the stage for a beautifully layered table that reflects both your personal style and the occasion.
Start with a Theme
Choose a theme or color scheme to guide your choices. This could be seasonal, event-specific, or simply a color palette you love. For example, if you're a nature lover, perhaps consider rustic elements that you can include, burlap under layers, or colourful autumn leaves decoratively placed.
Table Linen
If you're hosting a party outdoors, you can forgo table linen, but if you're hosting a formal dinner, begin with a clean, ironed tablecloth or an attractive table runner. This sets the base for your setting and will help add colour and texture to the overall look.
While white or light cream are the classic colours for a table cloth, it is worth considering highlight colours, such as burgundy for a Christmas-time table.
Look for tablecloths on Amazon
Placemats
Place a placemat at each setting. This not only protects the table but also frames each place setting. You can choose materials like fabric, bamboo, or vinyl, depending on the occasion.
Layering the Tableware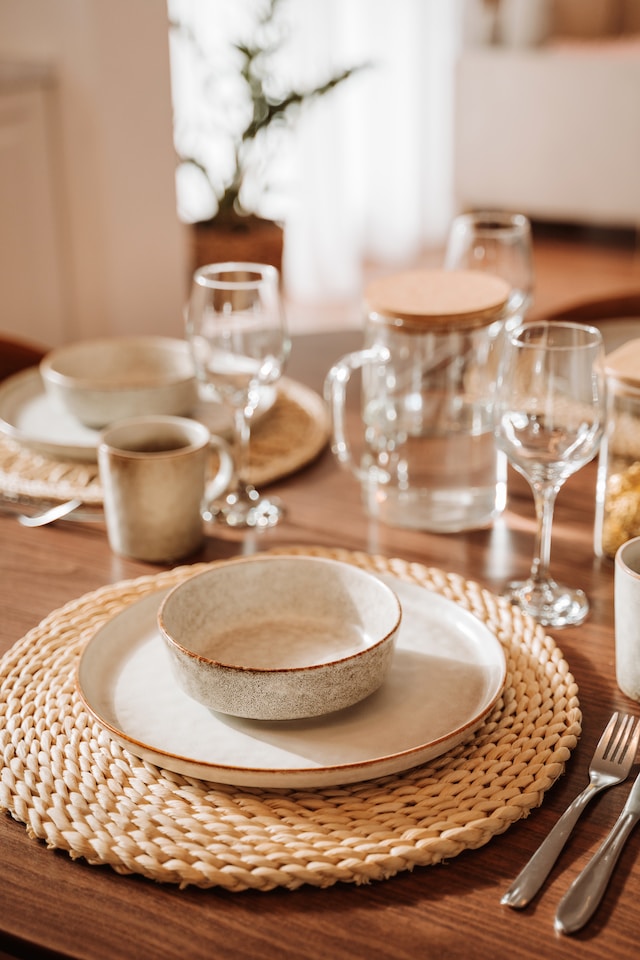 Layering tableware is an art that combines functionality with aesthetic appeal. In this part of the guide, we will explore how to effectively stack and arrange plates, from charger plates to dinner and salad plates, and even soup bowls. This step-by-step approach ensures that each layer complements the others, creating a balanced and inviting table setting.
Charger Plates
While charger plates are not strictly necessary, they add an air of formality to the overall table setting. Begin with a charger plate at each setting. These large, decorative plates act as a base for the dishes that follow.
Dinner Plates
Place the dinner plate on top of the charger. This is your primary plate and is usually the largest.
Salad/Appetizer Plates
You can stack a smaller plate on top of the dinner plate if you're serving a starter course. Alternatively if there is sufficient room on your dinner table, you can place the appetiser place on the top right place setting.
Soup Bowls
If soup is on the menu, place a soup bowl on top of the smaller plate.
Adding Cutlery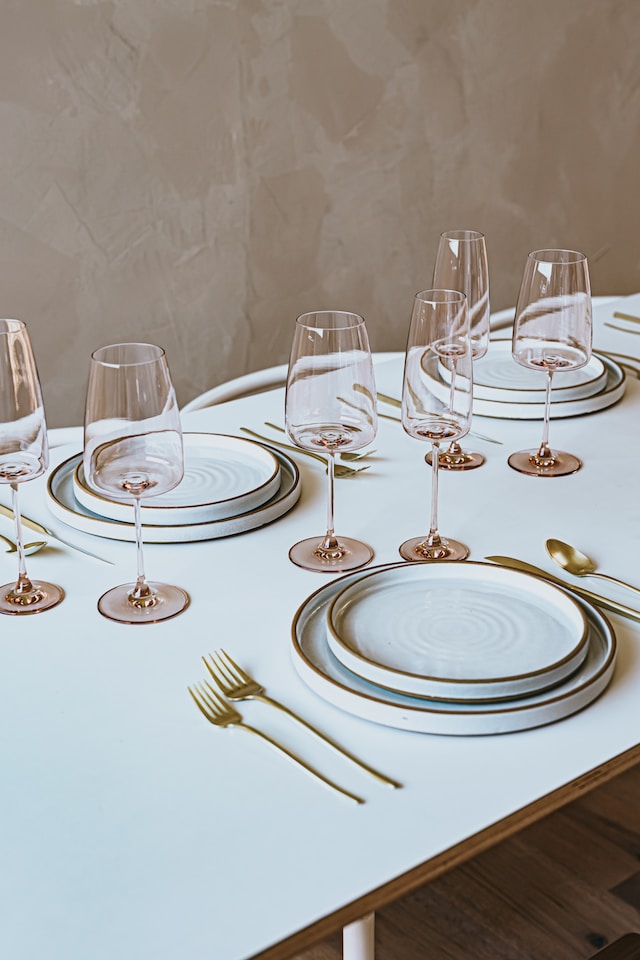 The arrangement of cutlery is both a practical and decorative element of table setting. The proper placement and order of forks, knives, and spoons, including specialty utensils for specific courses is done in response to the meals and courses that are being served. These details will enhance the table's appearance and make the dining experience more comfortable for your guests.
Cutlery Arrangement
Arrange the cutlery around the plate. The basic rule is to place forks to the left of the plate, spoons and knives are place to the right. The knives are placed facing towards the plates. A dessert spoon may be placed above the plate if required. The cutlery should be arranged in the order of use, from outside to in.
This means that the smaller sized cutlery is usually situated further away from the plate.
Specialty Utensils
If you're serving a course that requires special utensils, like a seafood fork or knife, place them accordingly within the type of utensil group and in the order in which it is to be used.
Glassware and Napkins
Choosing and positioning the right glassware and napkins can help make the dining experience all the more special. This section focuses on the types of glassware suitable for different beverages and the art of napkin folding and placement. These elements, while often overlooked, play a crucial role in completing the look of your table setting.
Glassware
Place the water glass above the knives. Add wine glasses to the right of the water glass, if using.
Napkins
Fold or roll napkins neatly. These can be placed under the forks or in the centre of the plates.
How to fold table napkins with classic images and step-by-step instructions: Homemade dessert recipes
Final Touches
The final touches are what make a table setting truly memorable. In this concluding part of the guide, we discuss adding centerpieces, place cards, and other decorative elements that personalize and complete your table. Whether it is a formal dinner or a casual gathering, these finishing touches can transform your table into a welcoming and festive space.
Centrepieces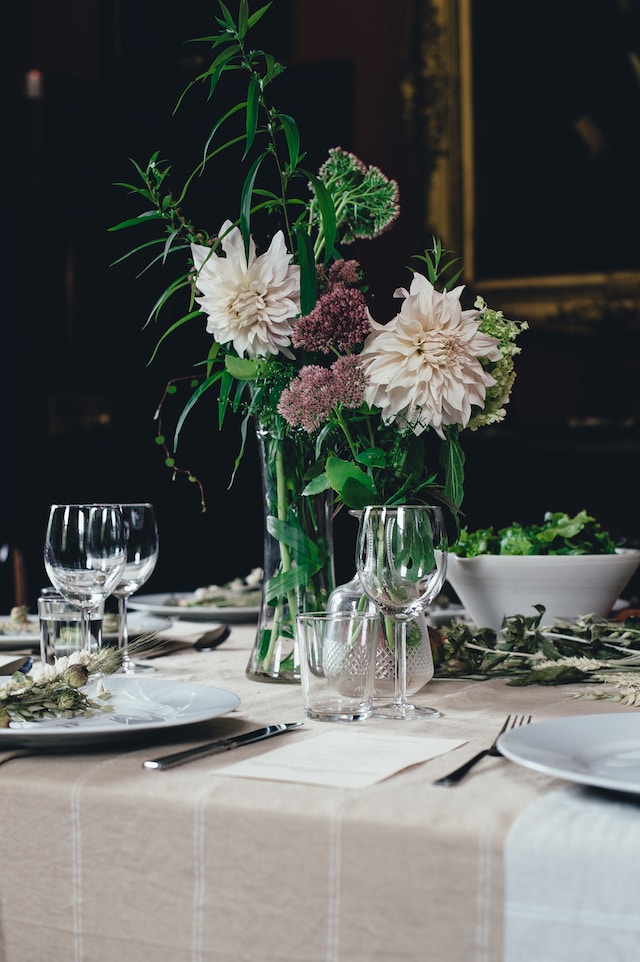 A centrepiece needs to add to the overall theme and feel of your table. Make sure that your centerpiece complements but doesn't overwhelm the table. While it is common to have non-edible centrepieces, a bouquet, or candleholders, other options include food based centrepieces.
Top 5 Amazing Foodie Centrepieces for your Christmas Table
Place Cards
If you're hosting a formal event, consider place cards for assigned seating. These can be placed within the napkin design or at the top of each place setting.
Decorative Elements
It is always an added bonus to have small decorative items like candles, floral arrangements, or seasonal decorations on the table. However, it is important to ensure that they are not strongly scented as they can overwhelm or worse contradict the scents of the food as it is served. If you want to use tea light candles, make sure that they are unscented. Similarly with floral arrangements, some flowers are more strongly scented than others, choose the ones which are gentle and less over-powering.
Serving Pieces
If serving family-style, ensure that there is space in the center of the table for serving dishes and utensils.
Important Tips
Consistency: Ensure that all the elements match the theme and complement each other.
Space Management: Don't overcrowd the table. Ensure there's enough space for guests to eat comfortably.
Adaptability: Be prepared to adjust the settings based on the meal and the number of courses.
Remember, the key to a great table setting is not just in the layers, but in the personal touches and attention to detail. Enjoy your meal!
Remember, the key to a successful table setting is balance and harmony. Whether you're opting for a minimalistic look or a lavish spread, the way you layer your tableware, cutlery, glassware, and decorative elements can transform an ordinary meal into an beautiful dining experience.
Above all, don't forget that the ultimate goal of any gathering is to bring people together. A beautifully layered table sets the stage for memorable moments, warm conversations, and the joy of shared meals. So, take these tips, infuse them with your creativity, and watch as your table becomes more than just a place to eat, but a place where memories are made.