Get ready to jazz up your dinner table with some super cool napkin folding tricks! We are so excited to share our my favorite napkin folds. Whether you're throwing a fancy dinner party, hosting a fun holiday bash, or just want to spice up your daily meals, napkins totally level up the occasion.
In our feature on Essential Guide to 12 Stylish Napkin Folds for Dinner Parties & Events, we're diving into a bunch of really neat folds that will totally transform your table. We're talking everything from the sweet and simple Leaf fold to the oh-so-elegant Rosebud, and even some holiday cheer with the cute Elf Hat and majestic Crown folds. These aren't just your average napkin folds; they're mini masterpieces that'll make your guests go 'wow'! So, grab a napkin, and let's get folding!
Requirements for Napkin Folding
Size: Standard dinner napkins, typically around 20 inches square, are ideal for most folds. However, some designs may work better with larger or smaller sizes.
Fabric: The choice of fabric plays a crucial role. Stiffer fabrics like cotton or linen hold folds well and are perfect for intricate designs. Softer, more flexible fabrics might not maintain complex folds but are suitable for simpler designs.
Condition: Napkins should be clean and well-ironed. Wrinkles and creases can interfere with the folding process and the final appearance.
Color and Pattern: Solid colors often highlight folds better, but patterned napkins can add an interesting visual element, especially for simpler folds.
Types of Napkins for Specific Folds:
Leaf, Rosebud, Rose, and Fleur De Lis: These elegant and intricate designs are best achieved with stiff, starchy linen or cotton napkins that can hold the folds crisply.
Peacock and The Crown: These showy, stand-up designs work well with sturdier fabrics like thick cotton or linen, which can maintain their shape.
The Bishop's Hat and The Knot: These folds can be done with a variety of fabrics, but crisp linen or cotton works best for maintaining the structure.
Bunny and Elf Hat: For these playful, thematic designs, softer and more flexible fabrics can be used as they're easier to mold into shapes.
Christmas Tree: This fold requires a napkin that can hold a shape well. A medium-stiffness fabric like a cotton blend is ideal.
Additional Tips:
Experiment with different types of napkins to see which works best for your chosen design.
Some folds may require starch for extra stiffness, especially for holding intricate shapes.
Practice makes perfect! Some folds might take a few tries to get right, especially with different napkin materials.
By considering these factors, you can choose the right napkin for each fold and ensure your table settings look as stunning as possible!
Search Napkins on AmazonSearch Napkins on John Lewis
Search Napkins on Macy'sSearch Napkins on Walmart
Inspired by Nature
Leaf Napkin Fold
Unveiling the elegance of nature on your dining table, the Leaf Napkin Fold transforms ordinary linen into a delicate leaf shape. This fold, perfect for garden parties or spring gatherings, adds a touch of organic beauty and simplicity. Learn how to create this natural wonder step-by-step, bringing a breath of fresh air to your table setting.
Full instructions on DIY Magazine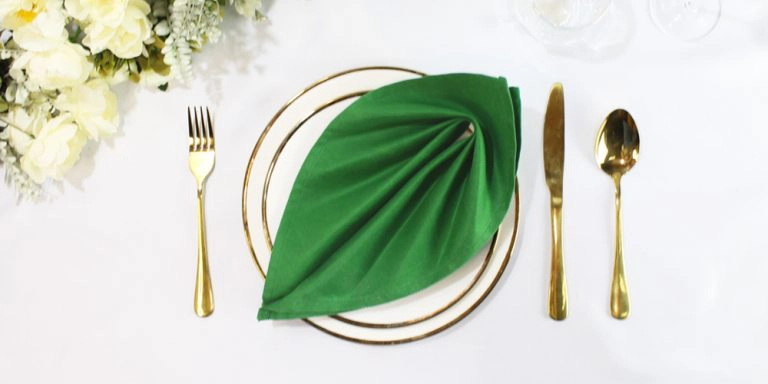 Rosebud Napkin Fold
Inspired by the romantic allure of a blooming rosebud, this napkin fold adds a touch of sophistication and charm to any table. Ideal for intimate dinners or Valentine's Day celebrations, the Rosebud Napkin Fold captures the essence of a budding romance. Discover the art of creating this floral beauty, and let your table bloom with elegance.
Full instructions on Kitchen Joy Blog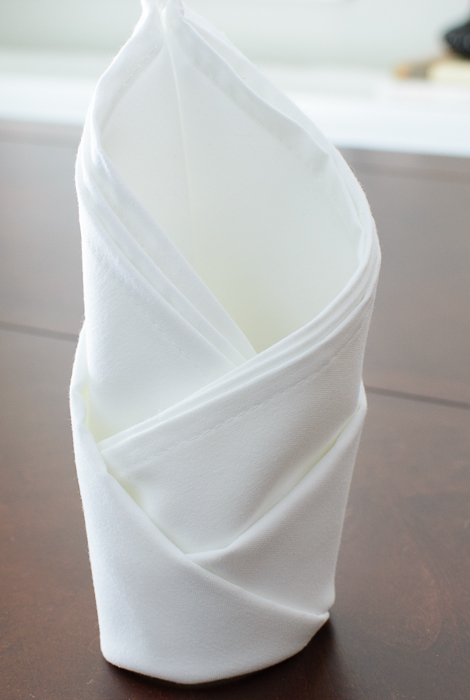 Rose Napkin Fold
Wow up your table setting with the Royal Rose Napkin Fold, a luxurious and intricate design that resembles a full bloom rose. Perfect for special occasions and high-tea events, this fold adds a regal touch, symbolizing love and beauty. Master this intricate fold and you can be sure your guests will marvel at their settings floral centerpiece.
Full instructions on Instructables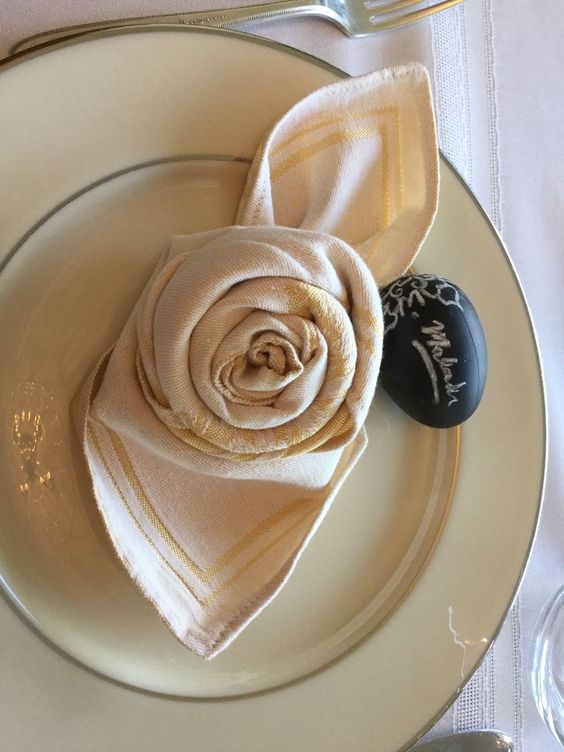 Peacock Napkin Fold
Bring the majestic beauty of a peacock to your table with this unique and eye-catching napkin fold. Ideal for themed parties or to add an exotic flair, the Peacock Napkin Fold stands tall and proud, mimicking the bird's splendid tail. Discover how to create this spectacular display and impress your guests with your creativity.
Full instructions on Sondra Lyn at Home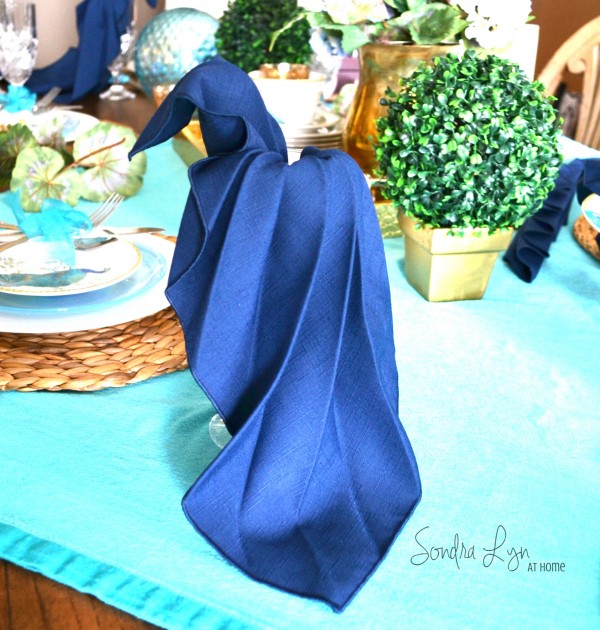 Royal Connections
The Crown Napkin Fold
Transform your table into a royal banquet with The Crown Napkin Fold. This majestic and stately design is perfect for celebrations or themed parties where you want to add a regal touch. Easy yet impressive, this fold will make each guest feel like royalty.
Full instructions on Napkin Folding Guide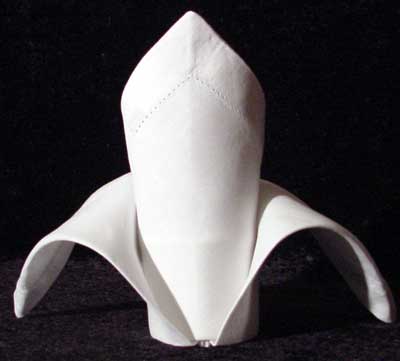 The Bishop's Hat Napkin Fold
Add a historical and elegant touch to your dining experience with The Bishop's Hat Napkin Fold. This classic fold, steeped in tradition, brings a sense of sophistication and timelessness to the table. Ideal for formal dinners, learn how to recreate this piece of art with a few simple steps.
Full instructions on Napkin Folding Guide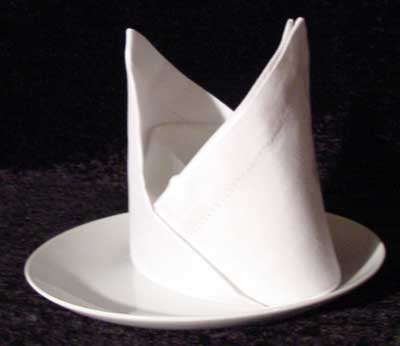 Fleur De Lis Napkin Fold
Infuse your table setting with a touch of French elegance with the Fleur De Lis Napkin Fold. This classic and sophisticated design, reminiscent of the iconic French lily, is perfect for formal dinners and events that call for an extra touch of refinement. Learn the steps to create this emblem of luxury and grace. You can hold the fold together with a rustic tie, a ribbon or if you have them a napkin ring.
Full instructions on Deb Bees Buzz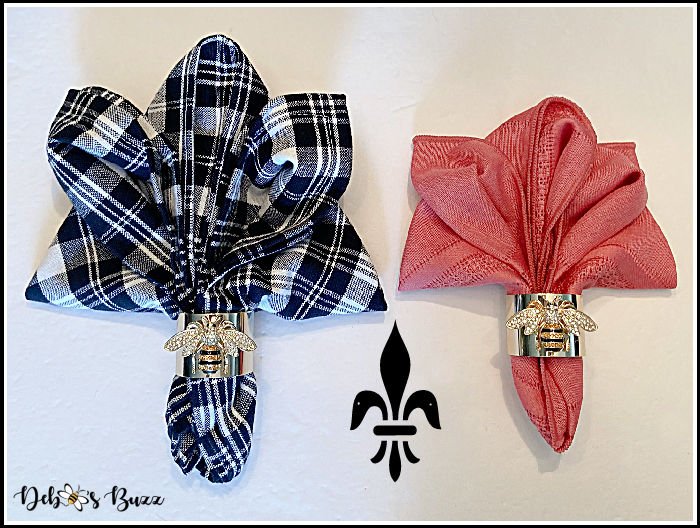 Search Napkins on AmazonSearch Napkins on John Lewis
Search Napkins on Macy'sSearch Napkins on Walmart
Perfect for Easter
Bunny Perfect for Easter Napkin Fold
Hop into the spirit of Easter with this adorable Bunny Napkin Fold. Perfect for Easter celebrations or springtime gatherings, this cute and playful fold brings joy and whimsy to your table. Learn how to create this bunny, ready to hop into your guests' hearts.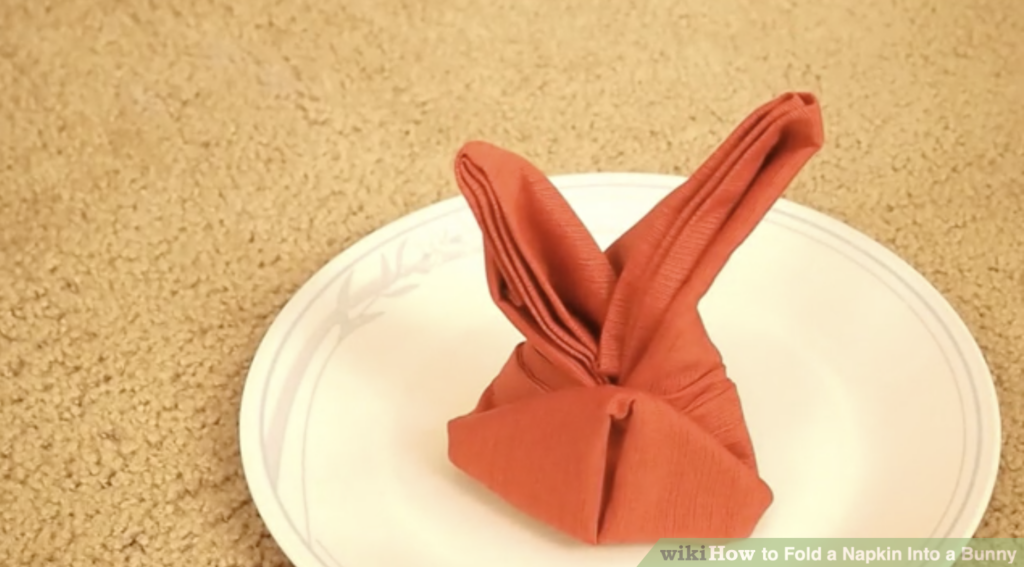 Bunny Variation Napkin Fold
Another take on the festive bunny, this variation offers a slightly different style, adding diversity to your Easter or spring table setting. This charming and easy-to-fold design ensures that each guest has a cute bunny companion at their place setting. And if you're sharing Easter eggs with your friends, this is the perfect way to share them.
Full instructions on Stone Gable Blog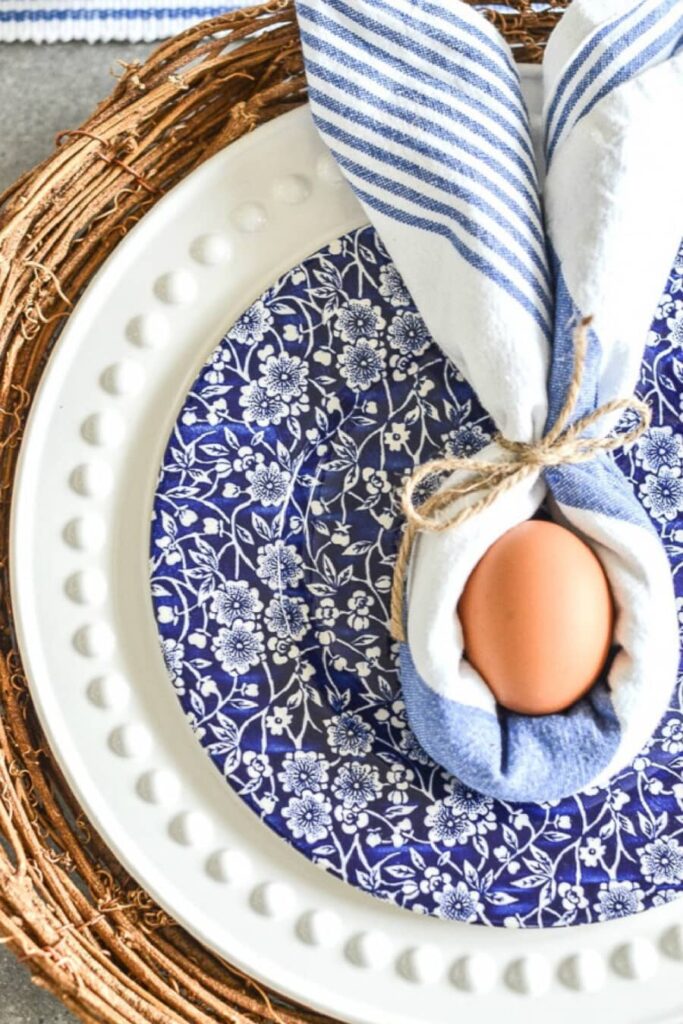 Christmas Celebrations
Elf Hat Napkin Fold
Add a touch of magic to your holiday table with the Elf Hat Napkin Fold. Perfect for Christmas celebrations, this whimsical and festive fold brings the joy and wonder of Santa's helpers to your dinner table. Learn how to create this enchanting design and make your holiday gathering extra special.
Full instructions by Squire's Garden Centre on Youtube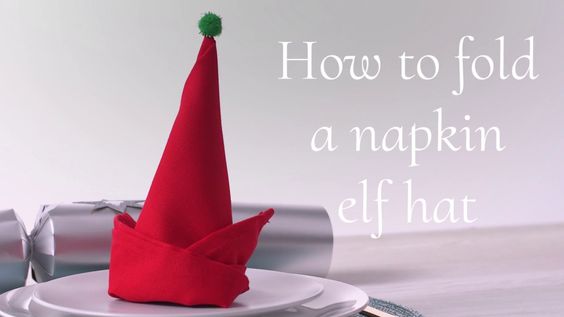 Christmas Tree Napkin Fold
Celebrate the heart of the holiday season with the Christmas Tree Napkin Fold. Ideal for festive gatherings and Christmas dinners, this fold transforms your napkin into a miniature Christmas tree, complete with all the holiday charm. Follow the steps to create this seasonal wonder and add a festive flair to your holiday table.
Full instructions on The Seaman Mom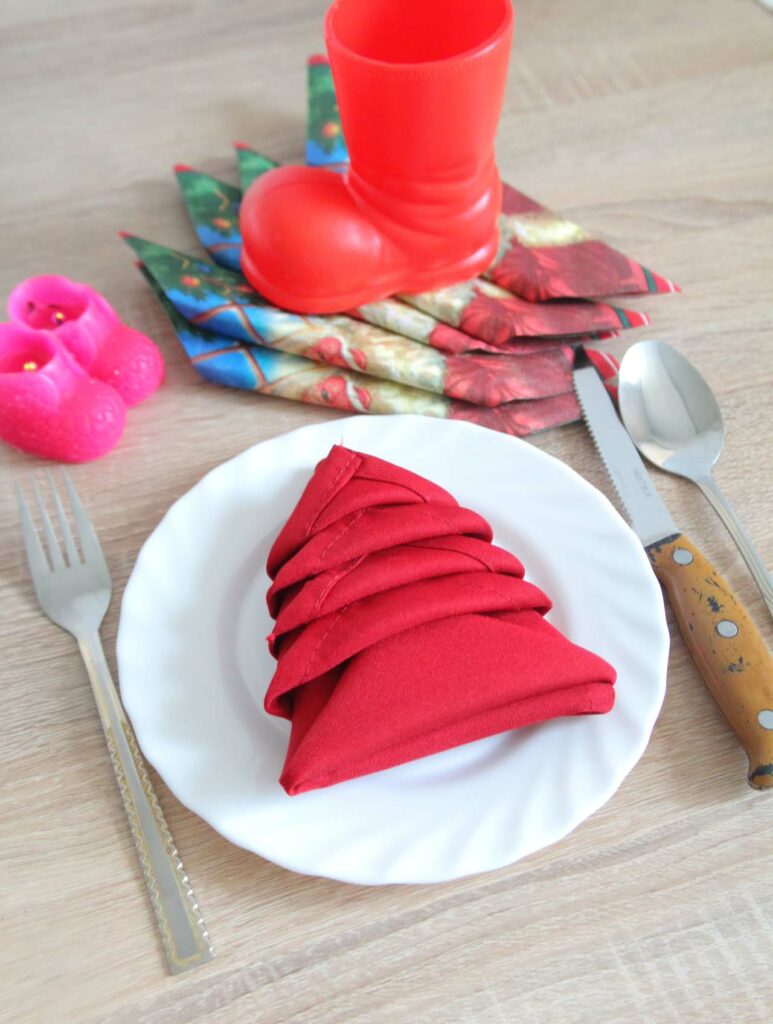 Elegant and Simple
The Knot Napkin Fold
Simple yet stylish, The Knot Napkin Fold brings a contemporary and minimalist charm to your table setting. This easy-to-create fold is perfect for casual dining and impromptu gatherings, adding a neat and tidy look to your dinner table. Discover how to tie the perfect knot and impress your guests with your folding prowess.
Full instructions by Marc J. Sivers on Youtube
Conclusion
While some many think it's only a napkin, it is clear that small touches can make a huge difference in setting the mood and tone of any gathering. From the delicate intricacy of the Rose fold to the playful charm of the Bunny design, each fold has its own unique way of adding a special flair to your table setting.
The art of napkin folding isn't just about impressing guests, it is a form of creative expression and a way to show your care and attention to detail. Whether you are hosting a grand dinner party or simply enjoying a meal with loved ones, these napkin folds offer something for every occasion and style. Next time you set your table, don't just reach for the napkin rings; challenge yourself to try one of these folds. With practice and patience, you'll not only master the techniques but also discover the joy in transforming a simple piece of fabric into a work of art.
Search Napkins on AmazonSearch Napkins on John Lewis
Search Napkins on Macy'sSearch Napkins on Walmart